UPDATE - 12/30@8:40PM: Reader OotS points that this is just an old poll from earlier in the Summer that Rolling Stone recycled. They fooled me by re-posting it to their Twitter feed. Oh well, not much else to talk about anyways as we wait for 2012 to come to a close. Have a Happy New Year everyone!!
Rolling Stone magazine recently conducted a readers' poll to determine the Favorite Prog Rock Albums of All Time and three Rush albums made their list including Moving Pictures at #10, Hemispheres at #8 and 2112 at #2:
It may not seem like it now, but Rush's 1976 LP 2112 was an extremely brave move for the band. Two years earlier the group got the attention of Mercury Records with their Led Zeppelin-esque song "Working Man," but once they got signed they shifted gears with new drummer Neil Peart into proggier territory. The resulting albums, Fly By Night and Caress of Steel, didn't exactly set the world on fire, and the label wanted more commercial material for their next disc. The band took things in a different direction, risking it all on a grandiose concept record about a dystopian future in the year 2112. Radio didn't touch it, but the album found a rabid fan base that's never let go of the music. Some of the big rock groups of the day now play county fairs, while Rush are still packing arenas worldwide.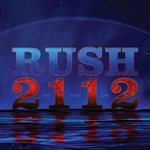 The 5.1 Surround Sound Deluxe Edition version of 2112 released 2 weeks ago and is now available as a CD plus Audio DVD Deluxe Edition, a CD plus Audio Blu-ray Deluxe Edition and a CD plus Audio Blu-ray Super Deluxe Edition. The re-release of the album propelled it back into the Billboard 200 where it currently sits at #138. All 3 versions of the Deluxe Edition contain a digitally remastered CD with 3 unreleased live tracks along with a DVD or Blu-ray 5.1 Surround Sound mix of the album. Also included in each version is expanded artwork, liner notes, lyrics, unreleased photos and brand new liner notes by David Fricke. The Super Deluxe version is housed in a hardbound book with a 40 page comic book by story artist Tom Hodges. The DVD/Blu-ray contains a digital version of this comic book, and an iBook version which also includes the lyrics, liner notes and photos is also available for sale separately. John at Cygnus-X1.net has transcribed/scanned the comic book, album artwork, and liner notes. For all the details and technical specs, check out the Rush.com press release. There's also this short, 20-second preview video that shows a few images from the included 2112 comic book with 2112: Temples of Syrinx playing in the background.