UPDATE - 11/11@10:49AM: Here's a 3rd row photo gallery from reader ikepigott.
UPDATE - 11/7@2:33PM: Here's a gallery of photos that was posted over at Cygnus-X1.net.
UPDATE - 11/4@4:11PM: Here's a review from the Paradiddler.
UPDATE - 11/2@7:18AM: Official photos have been posted at RushShowPhotos.com.
UPDATE - 11/1@10:43PM: Other than the one change outlined below, the band played the B set; complete setlist here.
UPDATE - 11/1@9:57PM: Scott from Atlanta spotted Rush producer Nick Raskulinecz at the show rocking out right in front of the stage in the pit area. He tweeted the following pic too. They are well into the 2nd set now and following the B setlist except for the one change from earlier.
UPDATE - 11/1@8:36PM: According to @2ndNightTweeter on Twitter, the band is mixing things up again with the setlist. They replaced the 5th song in the first set with the same track they inserted in that position in Buffalo last week (*SPOILERS*). Otherwise they are following the standard B setlist so far.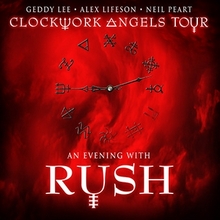 Rush takes the Clockwork Angels south to play the Verizon Wireless Amphitheater in Alpharetta, GA tonight - one of the few outdoor venues on the 2012 tour and the first since the September 9th Jiffy Lube Live show. It's expected that the band will be playing their Night B setlist, but it's always possible that they'll make an adjustment or two. If I here of any deviations from the standard B setlist I'll be sure to post them here. The weather forecast for tonight's show calls for clear skies and temps in the low 50s to upper 40s, so bundle up! For everyone going to the show - have fun, stay safe (and warm) and make sure to share your reports, reviews, and photos with us.
Date/Time: Thursday, November 1st @ 7:30PM
Show Number: 24
Venue: Verizon Wireless Amphitheater
Place: Alpharetta, GA
gallery: [view] [upload] [YouTube videos]
reviews: [reviews] [setlist]