UPDATE - 11/5@2:54PM: Here's a Flickr photo gallery from billylazer.
UPDATE - 10/26@10:34AM: Here's the video of Andrea Tantaros on Fox talking about how she went to see the show and is a big Rush fan.
UPDATE - 10/23@10:04PM: Fox News political analyst and The Five co-host Andrea Tantaros apparently was at last night's show. She was on America's Newsroom this morning and mentioned that she went to the Rush concert so had to watch the taped debate when she got home. This led to a very brief discussion about the band and they came back from commercial break with Tom Sawyer playing. Then later today on The Five she also mentioned how she had gone to the show and that she has been a big fan since the 80s. Thanks to Dave and Sancho for the heads up.
UPDATE - 10/23@4:30PM: Here's a great photo gallery that was posted over at Cygnus-X1.net.
UPDATE - 10/23@9:29AM: As expected, the band played the Night A set; complete setlist here. Official photos from the show have been posted at RushShowPhotos.com.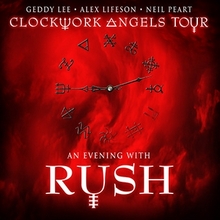 Rush will play the new Barclays Center in Brooklyn, NY tonight for stop number 19 on the Clockwork Angels tour. They are due to play their Night A setlist - the same that was played in Montreal (*SPOILERS*) on Thursday. As always, if there are any deviations from this setlist I'll post them here. In the lead up to tonight's show, The Village Voice wrote a piece on Neil Peart's monstrous drum kit earlier this week titled Neil Peart's Rush to Excellence. They ask 2 drum experts whether every piece of Neil's kit is absolutely necessary:
... "It's clearly not just for show, I can assure you that," ... "A lot of those '80s guys that came out with these ridiculous sets with four bass drums and two gongs, that's all for show. There's really only three drummers that can truly justify a set that's the size of a f**king warehouse: Terry Bozzio, Mike Portnoy, and Neil."...
One of the drummers they spoke to was Steve "The Mad Drummer" Moore (aka the This drummer is at the wrong gig guy). They posted a follow-up piece online this morning where they continue their conversation with Steve which you can check out here. For everyone going to tonight's show - have fun, be safe and make sure to share your reports, reviews, and photos with us. RUSH!
Date/Time: Monday, October 22nd @ 7:30PM
Show Number: 19
Venue: Barclays Center
Place: Brooklyn, NY
gallery: [view] [upload] [YouTube videos]
reviews: [reviews] [setlist]