UPDATE - 8/24@5:07PM: There were a couple of articles posted this afternoon on the subject of the Clockwork Angels novel where they chat with author Kevin J. Anderson; one from The Quill and Quire and another from The Globe and Mail.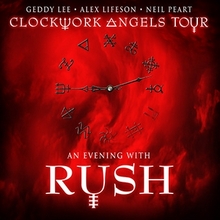 Things have been relatively quiet on the Rush news front over the past week as the band prepares for the first show of the Clockwork Angels tour in Manchester, NH just 2 short weeks from now. The Clockwork Angels album finally slipped out of the top 100 on the Billboard 200 Chart in its 10th week of release, coming in at #107. The Daily Athenaeum posted an article this past Monday highlighting the triumphant return of several classic rock acts including Rush. Here's what they had to say about the band's Clockwork Angels album:
... Vocalist/bassist Geddy Lee and company are well known as much for their progressive, complex songwriting approach as they are for their uncanny ability to create catchiness out of that methodology - and this is in full display on Rush's newest release. The album, "Clockwork Angels," and its subsequent single, "Headlong Flight," have been out since mid-June for your listening pleasure. The song pulls you in with a signature Geddy Lee bass line which is, of course, pushed way up in the mix and a bit on the trippy side. This bass line then gives way to an edgier, more distorted rhythm guitar line than you would expect from the band. Lee seems to have changed his vocal stylings, as well, opting for a more tempered and less nasal approach. While there are several solid head-bobbing moments, the song's biggest flaw is that there seems to be a big hook missing somewhere in the chorus. Nothing here sticks in your head like "Limelight" or "Tom Sawyer." While the song is not a home run, it does have several advantages against Kiss's track. The band still has energy, a point aided by great musicians like Lee and world-renowned drummer Neil Peart. It still feels like the band is creating and exploring 38 years after their debut, and the results show the group still cares about the quality of its music and is pushing itself to the limits of creativity. ...
As was mentioned last week, the album has also been nominated for Album of the Year in the 2012 Classic Rock Roll of Honour Awards, and Rush is up for Band of the Year as well. To cast your vote for Rush go to this location.
The official world premiere book launch of Kevin J. Anderson's Clockwork Angels: The Novel took place yesterday evening at the Richmond and John Chapters (142 John Street) book store in Toronto. Anderson is in town for a guest appearance at this weekend's Fan Expo but the Chapters event was open to the general public and was the first time the novel was made available for sale. Anderson gave a speech, answered questions, and autographed books for fans. Here's a photo from the event courtesy the WestSideBeemerBoyz Twitter feed. I also received a couple of photos from reader TMMB2112 which you can check out by clicking on the thumbnails above. In a recent interview by Phil Simon for the Huffington Post Anderson elaborates on how he and Neil Peart developed the novel:
... We brainstormed the structure of the story, the characters, the sequence of events, while we spent a day together climbing a 14,000-foot peak in Colorado (because what could be a better place for brainstorming?); the ideas kept flowing even as the oxygen level decreased. Later, as Rush continued on tour and I worked on other deadlines, and Neil kept writing the lyrics for other pieces of the story, we let the story lie fallow for a while, but when he had all the songs written, then I could start working. But the album is more than just words set to music; it wasn't until I finally heard the rough cuts of the tracks, with Neil's drums, Geddy Lee's [Rush's lead singer] vocals and bass, Alex Lifeson's guitars, that it all changed from black-and-white Kansas to Technicolor Oz. Then the story was real, and I was able to get to work, writing chapter after chapter as I listened to song after song. I would send the very rough drafts to Neil for his input, and he was like a conductor taking it to a higher level, suggesting changes and additions that tied strands together and pumped up the story. ...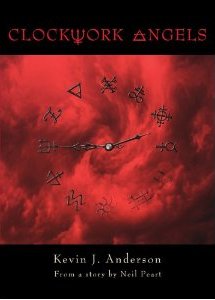 In addition to yesterday's Chapters appearance and his guest slot at the Fan Expo this weekend, Anderson will be attending several other Clockwork Angels book signings and fan conventions over the coming weeks. For a complete list check out this post at Anderson's blog. SF Signal posted their review of Clockwork Angels yesterday, giving the novel a 4 out of 5 rating:
... After a slow start, Clockwork Angels barrels through a world of alchemy, multiple universes and steamships, using a manipulative war between chaos and order as the canvas for a philosophical discourse based on lyrics by Neil Peart. Not just for Rush and KJA fans, but enjoyable for those who like different worlds and allegorical fables. ...
You can also check out the SciFi Pulse review of the novel here, and pre-order the audiobook version of Clockwork Angels (narrated by Neil Peart) at this location, and the hardcover edition here. Yesterday Anderson posted the first two chapters of his first novel Resurrection, Inc. to his blog along with this introduction:
My first novel RESURRECTION, INC. (originally published in 1988) has recently been reissued in eBook and in hardcopy. This book was inspired by the songs on the Rush album "Grace Under Pressure"-Someone to talk to and someone to sweep the floors; no swimming in the heavy water and no singing in the acid rain; suddenly, you were gone from all the lives you left your mark upon; are we the last ones left alive?; every muscle tense to fence the enemy within; one humanoid escapee, one android on the run; blind images flashing by, like windshields toward a fly... I see my novel, characters, and situations when I listen to the songs. ...
Sci-fi author and blogger David Mack is a huge Rush fan and wrote a very interesting piece for his blog last month which notes the similarities between the story told in Clockwork Angels and Rush's Fountain of Lamneth from Caress of Steel. You can check it out at this location (thanks Tom P).
Earlier this week Geddy Lee joined other artists such as Red Hot Chili Peppers, Paul McCartney, and Madonna, and spoke out in support of the Russian feminist punk-rock band Pussy Riot. Pussy Riot recently made headlines when they were jailed for a performance inside a Moscow cathedral where they criticized President Vladimir Putin and the Russian Orthodox Church. From CBC News:
... Geddy Lee, frontman of Canadian rock band Rush, called the verdict a "shocking abuse of power" and a "Neanderthal overreaction to a fairly harmless prank. Clearly artistic freedom has no place in modern-day Russia," he wrote in an email to Evan Solomon, host of CBC's Power & Politics. ...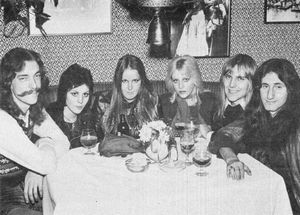 Kim Fowley was the producer and mastermind behind the '70s all-girl group The Runaways. He is currently in the process of trying to get the band to re-group for a tour. Fowley was recently interviewed by Legendary Rock Interviews and commented on a scene from The Runaways biopic movie where the band reacts against negative treatment from another band. The scene is supposedly based on the way Rush behaved towards The Runaways when they opened for Rush in 1977:
... Rush had pseudo-intellectual lyrics and very heady stuff that was all HP Lovecraft, and that doesn't always go over so well in Detroit. Add to that the complicated musical interludes and screaming vocals, and it's not hard to understand the appeal of the Runaways. They also weren't very nice to the girls. If you watch the movie there's an incident in which the girls rebel against an older bunch of guys they're on the bill with. That was Rush, and that actually happened, terribly, to them. ...
Rocker Joan Jett caused quite a flap a couple of years ago discussing this subject back when she was making the interview rounds promoting the film. Her former bandmate Cherie Currie later entered the fray. The Runaways actually attended a party in Rush's honor in December of 1976 as pictured here but didn't tour with them until a couple of months later in February of 1977 where the alleged incident(s) would have taken place.
Dave Bidini recently wrote an article for the National Post where he reminisces about the songs of the summer. One of the songs he profiles is 1975's Fly by Night from Rush:
... Fly By Night was to 1975's summer playlist what grindcore is to acoustic folk. Its opening chords sounded mean and nasty, even though, hearing them now, the guitar is more lightly flanged than fuzztoned, although I wouldn't have known the difference at the time. There was also something about the chorus, full of punches and accents in strange places at a time when a lot of pop songs just kind of loped along stepping easily from place to place. Throughout the song, the sun climbed and the day grew hot, but I remember not swimming the rest of the afternoon, instead laying there sunburnt and wanting to hear Fly By Night again, wondering if what I'd heard the first time was, in fact, real.
You can read the entire article at this location. Bidini is a Canadian musician, author and founding member of the Rheostatics who is also good friends with Geddy Lee. A couple of years ago Geddy optioned the film and TV rights to Bidini's 2005 book Baseballissimo.
Slate's David Weigel recently wrote a series of articles on progressive rock music and Rush gets a mention in the latest installment (thanks Brian C):
... Rush, who came late to the prog wave (1974), have trimmed back the pretention while flaunting the virtuosity. As a reward, they can still play stadiums, in basically any country. They just happen to be the most sellable artists in a niche genre. Virtuoso metal and math rock, bands like Mastodon and Protest the Hero, have nestled into the same place. That's one fractal of modern-day prog. ...

According to reader Mr. K and a few others, there's a minor Rush/2112 reference in the recently-released action movie The Expendables 2. At one point in the film Sylvester Stallone and his crew travel in a cargo plane/gunship with the number XP2112 printed on the side. If anyone has or can get a photo/screenshot of this, let us know.
Speaking of 2112 references, Standard Films is a snowboard film company that has produced a snowboarding film every year since 1991. 2012's film will be their 21st so they have titled it appropriately 2112. They even use a red star in the logo. For more information check out their website here (thanks Andy).
And continuing on this subject, Chicago-based band Local H has a t-shirt available at their official merchandise store that pays tribute to 2112. It depicts the Rush star-man dressed up in some party gear with the text Local H and 2012 in the familiar Rush 2112 font and colors. You can check it out at this location (thanks Micko).
Reader Doug B recently came across a YouTube video clip of a new Pioneer radio demonstrating bluetooth audio streaming. The display is fuzzed out but not enough to miss the fact that they are streaming Clockwork Angels. You can check it out at this link.
Eric at Power Windows recently updated the smartphone wallpaper download section of his website, creating a completely new collection of Rush album art customized for use as iPhone wallpaper. You can check it out at this location.
In light of the recent engagement of 27-year-old Canadian pop star Avril Lavigne to 37-year-old Nickelback frontman Chad Kroeger and the ensuing nickname of Chavril for the couple, Canada.com decided to take a satirical look at some other celebrity hook-up possibilities including this one involving Geddy Lee:
Rush bassist Geddy Lee and beloved poet Dennis Lee. Arguably the cutest couple of them all, "Lee-Lee" not only sounds like the name of a panda given to the Calgary zoo by the government of China, but imagine how epic the poems "Alligator Pie" or "Garbage Delight" would sound when accompanied by some sweet-ass bass licks.
Football season is nearly upon us and reader The Clansman 2112 wanted me to let everyone know about his Rush is a Band fantasy football league that he's put together. They only need 3 more teams and the live draft will be held the evening of Saturday, September 1st. If you are interested in participating just go to this link and use the league number 39135 with password freewill.
Speaking of football, reader charliecameron and several others reported that NBC Sunday Night Football used Rush's The Anarchist as outro music to their commercials this past weekend.
This coming Monday, August 27th Alex Lifeson celebrates his 59th birthday. In honor of this occasion here's some video of a much younger (and harrier) Alex arguing with his parents over his future as a musician back in 1972. It's taken from the Alan King documentary Come on Children. Happy birthday Lerxst!! May you have many more.
That's all for this week. Have a great weekend!!