UPDATE - 5/20@8:15PM: Here's a short review of the Clockwork Angels album from UberRock.com (thanks snowdog2113). It's a positive review although not as glowing as the ones we've seen thus far.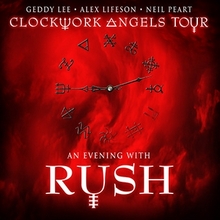 It was a whirlwind of a week for European Rush fans, as Rush announced on Monday a batch of tour dates for the UK and Germany in the late Spring of 2013 - over a year in advance of the shows! Pre-sales for the 5 UK dates are now complete, with general tickets sales having kicked off earlier today. General ticket sales for the 2 German dates begin tomorrow morning. As expected, earlier this week Rush also announced a 2nd show in Toronto on October 16th. Music Today and VIP pre-sales for this show began a short time ago at 12PM EST and are now underway, with AMEX and other pre-sales beginning over the weekend. General ticket sales for this show will kick off next Thursday, May 24th. The Rush.com newsletter that went out earlier this week also promised that more European dates would be announced shortly. Folks over here in North America are also wondering whether the band will play some more North American shows in early 2013. Hopefully we'll get some more news on that front shortly too.
Earlier this morning I let you know that the complete Clockwork Angels biography/essay written by Neil Peart has been posted online at the Roadrunner Records website. You can access it at this link by clicking on the Biography tab. While we've seen many excerpts from this essay in various interviews over the past several weeks, we hadn't seen the entire essay until now. Neil outlines the entire 3-year history of the Clockwork Angels album - from its inception in 2009 on through the recording of Caravan and BU2B, how the idea for a novelization was born, and the addition of strings from David Campbell in the 2012 mixing phase:
... On the bright side-even the brilliant side-one very special aspect of this project is the lush and exotic string arrangements, by David Campbell. One January afternoon at Ocean Way Studios in Hollywood, I stood in the control room listening while the strings were being recorded. It occurred to me that all songwriters should experience the sensual delight of hearing their songs performed by an accomplished string section. For example, when these virtuoso artists on violin, viola, cello, and double-bass executed David's plangent orchestration for "The Garden," there was not a dry eye in the studio. ...

You can read the entire essay at this link (click the Biography tab). The album will release in the US and Canada on June 12th (a little earlier in parts of Europe) and will be available on CD, vinyl and as a special edition fanpack. It will also be available as a download and can be pre-ordered via iTunes. The album will be exclusively released in the UK on June 11th as a special Classic Rock fanpack edition, with the regular UK release on July 2nd. The fanpack will include the album plus a 132-page magazine with extensive and exclusive interviews with all 3 band members, along with a full track-by-track rundown by the band, an interview with producer Nick Raskulinecz, long time cover artist Hugh Syme and more. The cover for the fanpack magazine was recently revealed online and you can check it out at this link (thanks Nick B). For more details on what's included in the fanpack along with order information, go to this link. Roadrunner Records is also offering a Clockwork Angels bundle for $40 that includes the album in CD, vinyl and digital formats.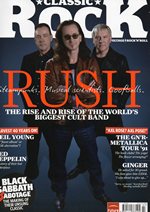 Rush is the subject of a 7-page cover feature in the July, 2012 issue of Classic Rock magazine. The cover (seen here) shows a great picture of the band with the tagline RUSH: Steampunks, Musical Scientists, Goofballs - The Rise and Rise of the World's Biggest Cult Band. The main article feature interview was conducted in Los Angeles during the mixing of the Clockwork Angels album. It mostly discusses the new album but they also touch on other various subjects including the Rush documentary Beyond The Lighted Stage and the band's future (Alex declares, we will be making albums until the day we die). The magazine also contains a glowing review of the Clockwork Angels album, giving it a 9/10 rating and declares that it's their best album in the last 30 years.
Geddy Lee hit the UK radio interview circuit last week, beginning with appearances on both Planet Rock radio and Real Radio XS last Thursday, and continuing with last weekend's appearance on BBC Radio Ulster's After Midnight with Steven Rainey. In all three interviews Geddy spends most of the time describing the concept behind the Clockwork Angels album, but also touches on a few other topics such as how Rush has stayed together after nearly 40 years, the upcoming tour, the Trailer Park Boys, fanboys, the Rock and Roll Hall of Fame and many other subjects.

Although he was in London last week, Geddy Lee is now back in Toronto and was spotted in his usual spot behind home plate at Wednesday night's Toronto Blue Jays game versus the New York Yankees. Deadspin.com dedicated an entire article to Geddy Lee's appearance complete with a photo of Ged watching the game and several bad Rush puns:
... Lee's actually been a Jays season ticketholder in the past, which leads you to wonder what he finds so interesting about the game. Certainly we imagine he was a fan of last season's waiver transaction when Toronto picked up a free Wil Ledezma. While the Blue Jays have called up some flat-out questionable prospects to the Show, don't tell Geddy Lee. What scouts may call a fly by night prospect is somebody the Rush frontman hopes can stick it out and show some grace under pressure.

But Lee's professed a love of being in attendance for other reasons: the signals from a third base coach, or a Bautista slam driven so far it ends up in the trees. Lee believes that in the modern finances of the American League East, it's a new world, man, and someday the Blue Jays will show the vital signs that a pennant might come before 2112.

But mostly he just loves the "Cold beer here!" call of salesmen, of salesmen, OF SALESMEN
Jared Max of ESPN radio sent me this screenshot of Ged and Sportsnet.ca mentioned Geddy in this article, making reference to how Omar Vizquel's walk-on music is Limelight:
Omar Vizquel started at short, and Geddy Lee was there to see it all go down

SR: It's precious that Geddy Lee came to watch Vizquel start and walk up to his song.

AD: And it's precious that we were only three Trailer Park Boys away from that episode of Trailer Park Boys where Ricky kidnaps Alex Lifeson for a private concert. Not to condone criminal activity, but I don't think any of us would be disappointed to find out that Team Unit kidnapped Geddy Lee tonight (and returned him safely) in the spirit of Rush and Canadian television. ...
Yesterday more details regarding this year's RushCon Rush fan convention were released including travel information and the event schedule. They are also putting out a call for Rush tribute bands, vendors, and auction items. The 12th annual RushCon will be held in Toronto at the Hard Rock Cafe Toronto on October 12-14, 2012 to coincide with the Rush concert on October 14th (and October 16th). For all the details just go to RushCon.org, and be sure to follow RushCon on Facebook and Twitter to stay up to date on all the latest RushCon news. Rush.com also gave a shout-out to RushCon in the official newsletter announcing the 2nd Toronto show pre-sales yesterday:
Thanks to the folks over at RUSHCON who run the 'By-the-fans, for-the-fans' event where fans have an opportunity to raise money for an important charity whilst having an amazing time learning more about the band, getting to know each other and connecting with other fans from around the world. Over the past 11 years- we hear how much those that attend enjoy it! As this second Toronto show goes on sale for October 16th, please note that RUSHCON will be held in Toronto on October 12-14th. For more details please go to http://www.rushcon.org/

Last year Alex Lifeson played the role of Dr. Fig in Toronto filmmaker Rob Heydon's indie film Irvine Welsh's Ecstasy. The film is an adaptation of Scottish author Irvine Welsh's book Ecstasy: Three Tales of Chemical Romance. It premiered last September at the Toronto International Film Festival and is currently in the process of raising funds for a worldwide release. To further that goal, they are giving away a bunch of perks/prizes to those who contribute - including a chance to win the very stethoscope used by Alex in the film. For all the details check out this post.
Back in March MIDIpedals.com posted part 1 of an extensive interview they conducted with longtime Rush roadie Tony Geranios (aka Jack Secret). In part 1 Tony talks about the early days with Rush, connecting the non-MIDI Taurus Pedals to Geddy's Oberheim synths, and about the redundant MIDI and sampling setup when they are touring. Part 2 of the interview is now also available. Topics in part 2 include his nickname, the Rock and Roll Hall of Fame, upcoming tour rehearsals, sausage, chicken, Barbies, his shop in Vegas, and much more! You can listen to both parts of the interview (along with part 1.5) at this link.
A recent article in the Toledo Blade profiles local guitar company Reverend Guitars. In the article owner Ken Haas relates a story of how he gave one of the company's guitars to Alex Lifeson last year when the band played Toledo:
... When Rush played in Toledo last year, Haas finagled his way backstage to talk to Lifeson, the guitarist for the band. He gave him three guitars, including one of the company's newer models, a Sensei, to try out, watching from the side of the stage before the show as the guitarist gave the instruments a workout. Lifeson loved the Sensei and it's now his warmup guitar. While Haas would like to see the Rush guitarist using his guitar on stage, endorsement agreements with industry titan Gibson preclude him from playing anything but its guitars. That's OK with Haas. "I got second-row seats for Rush out of the deal and I was good. For what that guitar cost me, we're even," he said, laughing. "It's all about just as many people as I can meet and that connection. I can't do anything with it now, but who knows what that will be worth in five years?" ...
Reader Nevetsrush2112 noticed this article at McSweeney's titled Bandwiches which describes different bands as if they were sandwiches (??), including Rush:
Rush: Seagrams-marinated grilled flank steak, carbonated pineapple-jalapeño cheese spread, maple-wasabi aioli, hand-milled laser-cut 37-grain flatbread.
As another Rush tour slowly begins to take shape, Eric over at the Power Windows site is reminding everyone to scan their ticket stubs and other memorabilia for his extensive Rush Tour Archive:
As another Rush tour is about to begin, I ask that you please take the time to scan your ticket for the Rush Tour Archive. I have been maintaining this archive for many years now (since the demise of the National Midnight Star), and and with the exception of the Boston Fleet Center show of the Vapor Trails tour, I have a stub or advertisement for every show of the last ten years.

If you can please take a moment to scan your ticket and email it to me, or if you do not have a scanner, take a quality photograph, please do.

In addition, if you have any ticket stubs or advertisements, handbills, photographs of marquees, etc, from previous tours, perhaps you can fill in the gaps? Who knows, you might have a stub for a show that has been forgotten in the depths of time.

My ultimate goal is to be able to provide a complete archive of the touring history of Rush for everyone to see.
If you've never checked out Eric's Rush Tour Archive before, I highly suggest that you do. This page has every known Rush tour and tour date listed along with setlists and scans of ticket stubs and concert posters. It's an invaluable resource for Rush fans.
Reader snowdog2113 recently unearthed a great Neil Peart interview from 1996 and posted it on YouTube. It's a nearly one hour interview with Newsworld International's Pamela Wallin. It's in 5 parts and you can check out part 1 below or at this link.
That's all for this week. Have a great weekend!