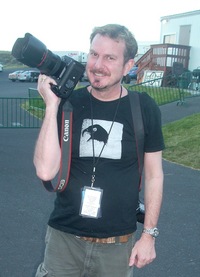 Neil Peart has penned a tribute to his late friend Andrew MacNaughtan at NeilPeart.net. MacNaughtan passed away suddenly this past week of a heart attack in Los Angeles.
... apart from the personal memories, it is his own art that will endure. Not long before his untimely passing, Andrew published a book of fine-art photographs titled Grace, based on his travels in East Africa. (Like a fair portion of his work in recent years, it was done to benefit others—Andrew contributed generously to worthy causes like the Casey House hospice and Art Gives Hope.)

In addition, his portraits and live shots of nearly every major Canadian performer of the past twenty-five years will be viewed forever—a rich national archive of our arts and entertainment history.

Many will feel fortunate to have known Andrew, and perhaps myself more than most—introducing me to Carrie was a life-changing gift. But even long after all of us who knew Andrew are gone, his name, his unique creative "eye," and his beautiful and perceptive images will live on.
You can read the entire thing at this location.