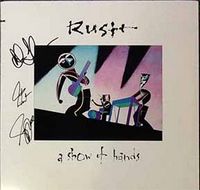 [Win an autographed A Show of Hands vinyl!]
The Rush Backstage Club is running a new contest where you could win an autographed, vinyl copy of A Show of Hands:
This coveted RUSH "A Show Of Hands Vinyl" was signed by Geddy, Alex and Neil many years ago. Found in the vaults, we are willing to give this rare item away to one lucky winner!
For all the details and to enter just go to this link.