This past Monday Neil Peart celebrated his 59th birthday, and to mark the occasion he updated the website for his upcoming Taking Center Stage instructional DVD with this awesome preview trailer. In addition to the preview trailer the site features a large photo gallery of behind-the-scenes pictures from the DVD filming, an informational page, and a four-part series of articles on the making of the DVD from lead editor and co-producer Joe Bergamini. Taking Center Stage: A Lifetime of Live Performance is slated for release on October 14th, 2011.
In a seemingly inadvertent coincidence, Neil Peart's latest book Far and Away: A Prize Every Time received a great review from Zachary Houle at PopMatters this past Monday on Neil's birthday. He gave it a 7 out of 10 and concluded the review as follows:
... While Far and Away is a disparate collection that rambles all over the place – both within its long-winded entries and in its dissimilar stories that touch upon motorcycling, drumming, and nature walks – the material is mostly engaging and well-thought out, and is a joyous celebration of a living legend. One thing is for certain, given Peart's growing role as a non-fiction writer, it seems as though he starting to acknowledge that strangers might just be, in some respects, long awaited friends. For fans of Rush, this is something to celebrate and behold, and, even if you've read much of this material before, Far and Away is a pretty good permanent collection of thoughts from one of the greatest and thoughtful minds in rock 'n' roll.
While on the subject of Neil Peart's writings, his first book was 1996's The Masked Rider which detailed his cycling adventures in West Africa in the late '80s. Reader Thom B dug up this old photo of Neil with some other members of his Bicycle Africa trip on a blog run by the trip leader - David Mozer.
Grapes for Humanity is an organization that helps to raise funds to benefit humanitarian causes around the world with the assistance of the international wine community and Geddy Lee is a member of the board of directors. Rush has sponsored past eBay auctions to benefit the charity and are doing so again this year. The auction kicked off this past weekend and among the items up for bidding are a Geddy Lee Signed Fender Jazz Bass used on the 2010 Time Machine Tour, an Alex Lifeson Signed Gibson Les Paul Axcess used on the 2011 Time Machine Tour, and a Neil Peart Signed Sabian 20" Chinese Cymbal from the 2011 Time Machine Tour. The auction runs through the weekend. To see the complete list of items up for auction and to place your bid check out this link.
Back in June of 2010 we learned that Geddy Lee had optioned the film and TV rights to Dave Bidini's 2005 book Baseballissimo. Earlier this week Variety magazine reported that development on the film is moving forward with Jay Baruchel and Jesse Chabot as co-writers:
... [the] Book was optioned last year by Rush frontman and baseball fanatic Geddy Lee, who hooked up with Toronto producer and A71 Productions prexy David Miller (2007 Toronto pic "Amal") and brought the project to Montreal-based Baruchel and Chabot last December.

Miller secured some Canuck development cash, and this summer took the writing duo, Lee and Bidini (both serving as exec producers) to Nettuno, and also began the scout for Euro co-pro partners.

"Bidini felt it was really important for Jay and Jesse to experience the town and meet the manager of the local baseball team," said Miller, whose shingle just wrapped Nova Scotia helmer Jason Buxton's feature bow "Bye Bye Blackbird," exec produced by Thom Fitzgerald ("The Hanging Garden").
Bidini is a Canadian musician, author and founding member of the Rheostatics who is also good friends with Geddy. The book details Bidini's story of his travels to the small town of Nettuno, the baseball capital of Italy since 1944.
Speaking of Geddy, syndicated guitar radio show The Chop Shop commemorated the 10th anniversary of 9/11 with a 2-hour radio tribute show this past weekend. Host Steve Black spoke with a number of rock celebrities including Geddy as they reflected back on 9/11. The entire program was made available for streaming online at UltimateClassicRock.com. Geddy Lee appears in the first segment:
... Geddy Lee recalls the moment when he learned about the attacks: "I was in Toronto and somebody found me and told me to turn on the television and of course I sat there for the next two hours just completely stunned and appalled by what I was watching."

He went on to say, "My reaction was much the same as any normal human being, I was sickened by it and it had a profound effect on the entire world I think and life has really not been the same since that day." ...
This past Saturday we learned via RockstarWeekly.com that legendary Canadian musician Tom Cochrane will soon be releasing a new 4-song EP called Voices At 4 AM. The first single will be the title track which is a collaboration with several other artists including Alex Lifeson.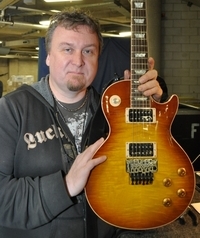 Speaking of Alex, Paul at The Canadian Music Scene posted his interview with Alex Lifeson guitar tech Scott Appleton earlier this week as part of his continuing series of Rush road crew interviews. Paul has Scott walk us through a typical day on the road as Alex's guitar tech, complete with plenty of great photographs. You can check out the interview/photos at this link. And in case you missed them, you can see all of Paul's other Rush road crew interviews at his website here.
Chicago-based alt-rock band Wilco will be releasing their new album The Whole Love on September 27th. Jordan Zivitz of the Montreal Gazette recently spoke with Wilco front-man Jeff Tweedy about the new album and Rush came up in the conversation. Tweedy talks about his respect for Rush, almost meeting Neil Peart and how Rush was a guilty pleasure when he was growing up. You can read the entire article/interview at this link.
Wednesday was the Big Four concert at Yankee Stadium in New York with Metallica, Megadeth, Anthrax and Slayer. It was a special day for the members of Anthrax, who grew up in New York, and Bronx Borough President Ruben Diaz, Jr. declared it Anthrax Day in the Bronx complete with a special presentation at the Hard Rock Cafe in Yankee Stadium. The presentation was videotaped and Anthrax guitarist Rob Caggiano is seen proudly wearing a Rush t-shirt in the video. You can watch the presentation at this link. Thanks to The Clansman 2112 for the heads up.
Reader DCRushFan let me know that yesterday's edition of the popular web comic Questionable Content (Number 2014: Lots of Extended Solos) contains a Rush reference. You can check it out at this link.
An article posted at The Rocky Mountain Collegian earlier this week discussing literary references in music makes reference to Rush:
... One of my favorite bands,(arguably one of the greatest bands of all time)a Canadian progressive rock band Rush, absolutely loves to reference literature in their songs. Granted, their drummer and primary lyric writer, Neil Peart, is also an author and enjoys writing his own literature for their music.

The objectivist percussionist is an admirer of Ayn Rand (the mere mention of her name makes me want to weep for humanity) and has accredited Rush's seven part epic "2112" to her inspiration. The song uses large parts of the plot from her book Anthem, a name that Rush titles a different song.

One of my favorite songs by Rush "Limelight," contains the words "All the world's indeed a stage, and we are merely players, performers and portrayers, each another's audience outside the gilded cage," which is almost a verbatim quote from Shakespeare. This might be my favorite reference to literature made by Rush. ...
Here's the preview trailer for Neil Peart's upcoming instructional DVD Taking Center Stage:
That's all for this week. Have a fantastic weekend everybody!