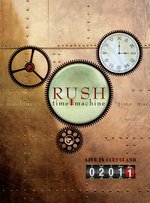 Now that it's September and Rush has a new record deal with Roadrunner records, we can only hope that our three heroes have resumed work on their forthcoming Clockwork Angels studio album. In the meantime we have the October 14th release of Neil Peart's Taking Center Stage instructional DVD and the November 8th release of Rush's Time Machine 2011: Live in Cleveland DVD to look forward to. According to a tweet from Rush sound engineer Rich Chycki earlier this week, Geddy Lee and Rush's management recently previewed the DVD:
Previewed the Rush Cleveland show w Ged and management in a listening theater. RAWK!
It's good to see that progress is being made and that Chycki is excited with the outcome so far. Hopefully Geddy and the band's management liked it too. In the press release announcing Rush's record deal with Roadrunner Records they mention that the first Roadrunner release will actually be a live album culled from the blockbuster tour. This seems to confirm that a live CD will be accompanying the release of the DVD/Blu-ray. Although it's still unclear whether the CD release will be included with the DVD or released separately. Hopefully we'll hear some more definitive news on that front in the near future.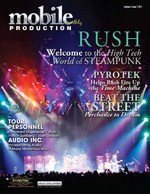 Rush's Time Machine Tour and the band's road crew are the subject of a huge 16-page cover feature in the latest edition of industry magazine Mobile Production Monthly. They talk to several members of Rush's road crew including Production Designer Howard Ungerleider, FOH Engineer Brad Madix, and Production Manager Craig Blazier. The article features a detailed run-through of Rush's stage show along with several great photographs. The entire article is available online as a PDF at this link.
Speaking of Rush's 2011 Time Machine Tour, Rush is in the running for the Eventful 2011 Fans' Choice Award for Best Tour of the Year at the 2011 Billboard Touring Awards. To vote for Rush just go to this link and demand Rush. Rush was awarded the Legend of Live award at last year's Billboard Touring Awards. On a related note, the Rush Backstage Club is running a huge sale on Time Machine Tour merchandise including several t-shirts for only $9.99. You can check out all the items for sale at this link.

Here's an interesting visual interpretation of Rush's upcoming Clockwork Angels album from deviantart.com artist Altalamatox. It was done as part of an assignment for the artist's illustration class where the idea was to create a promo poster for an existing musical group. From the artist:
If you're into cracking song lyrics (and Rush is great for cryptic lyrics), I submit that if BU2B and Caravan are indicative of the rest of the album we're looking at a lot of 'human reason and science shrugging off the paralyzing shell of faith and fantasy,' hence the cracking-stone-revealing-clockwork angel. The sea is for change, the storm for unrest, and the alchemy symbols feature on the album artwork so I borrowed them for this.
Well done. Thanks to LanceTheShred for the heads up.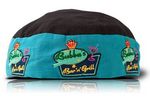 Neil Peart's official Bubba's Bar-n-Grill merchandise store is now selling hand-made drumming and cooking hats, similar in design to the caps that Neil wears in concert. The hats have a turquoise band around the base with embroidered Bubba's logos and are currently selling for $39.99. You can purchase yours at this link. Thanks to Nettie for the heads up.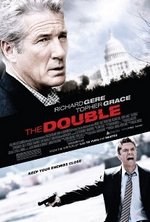 We learned earlier this year of Alex Lifeson's involvement with the film score for a new spy thriller due out later this month starring Topher Grace and Richard Gere titled The Double. The film was co-written by Derek Haas and director Michael Brandt and features original music by film composer John Debney with a little help from Alex Lifeson. Alex plays guitar on the score throughout the movie and also wrote the outro track which is titled Don't Look Back which you listen to a snippet of on YouTube at this link. Harmony Central posted an article yesterday (thanks Cat M) on how Alex and engineer Rich Chycki used the AT4080 Phantom-powered Bidirectional Ribbon Microphone from Audio-Technica when recording Alex's parts for the score. Here's a quote from Chycki from the article:
... Alex wrote some really interesting guitar pieces and added his touch to a number of existing feature pieces in the movie, in addition to writing and performing the composition for the closing credits. I've always been a fan of ribbon mics on guitars, but usually they are very fragile. My friend Joel Singer from M3 [Music Mix Mobile] told me about the virtues of AT4080, so I checked it out, and I've been very impressed. The AT4080 has all the great sonic characteristics of a ribbon, but without the fragility that often plagues that type of microphone. I was very pleased with the character of the AT4080 - so much so, that we used it as the core microphone for the heavier guitar tones. ...
The Double will be released to theaters in the US on September 23rd.

In addition to showcasing his musical chops on the film score for The Double, Alex exercised his acting chops for another film that's due out this month - Toronto filmmaker Rob Heydon's new indie film Irvine Welsh's Ecstasy. The film is an adaptation of Scottish author Irvine Welsh's book Ecstasy: Three Tales of Chemical Romance. Alex will be playing the role of Dr. Michael Figg; a character made specifically for the film who works in a mental hospital where Billy Boyd's character Woodsy is committed for a breakdown after consuming too much Ecstasy. The cast & crew screening of the film will take place at the Toronto Underground Cinema in Toronto, ON tomorrow, September 10th at 4PM, although it looks like there are not any tickets left. There's no word on whether Alex will be in attendance, but it's certainly possible. You can watch a short clip of Alex Lifeson as Dr. Figg at the film's YouTube channel here. The clip runs about 1 minute and features respected psychiatrist Dr. Michael Figg discussing his radical new treatment.
Grapes for Humanity is an organization that helps to raise funds to benefit humanitarian causes around the world with the assistance of the international wine community. Geddy Lee is a member of the board of directors for the organization and Rush has sponsored past eBay auctions to benefit the charity. They recently announced via Rush.com that they will be doing so again this year:
Once again, Geddy, Alex and Neil are mining their personal stash to
select some very special items to put up on the Rush Ebay auction with proceeds going to the Grapes For Humanity charity. We just wanted to give you a heads up so you can be ready to break open the piggy bank and bid on some personal Rush rarities. Stay tuned to rush.com for your once in a lifetime chance to own a piece of Rush history! In the meantime, read up on Grapes For Humanity here
http://grapesforhumanity.com/
Anaheim Angels rookie infielder Mark Trumbo is a candidate for the American League Rookie of the Year award and was recently interviewed by the Orange County Register. When asked the question what is the coolest thing about being a big-leaguer that most fans would not know? he replied:
... it's probably been being able to meet people in the various cities we go to that you wouldn't meet ordinarily. For instance, a big thrill for me was getting to meet Geddy Lee, lead singer of Rush, in Toronto. That was really cool for me. ...
We learned early last month that the special edition of San Francisco metal band Machine Head's upcoming album Unto the Locust includes a cover of Rush's Witch Hunt. The album will release on September 27th via Roadrunner Records and the special edition will also contain a cover of Judas Priest's The Sentinel. Machine Head front man Robert Flynn recently discussed Rush's influence on the band and on the upcoming album in a recent interview which you can check out at this link at around the 3-minute mark (thanks BloodofTheZodiac at The Rush Forum).
Readers Mitch18ss and Stephanie R pointed out a bit of Rush news that had slipped by us over the summer. Hard rockin' rapper Kid Rock has been playing his hit Forever on tour over a sample of Rush's Tom Sawyer. The original studio track does not include the sample, but it works well with the song. You can watch a bootleg clip on YouTube here.
Speaking of other artists playing Rush live, back on pop singer Katy Perry's 2009 tour she had been closing out her set with her hit song I Kissed a Girl. That's not surprising at all, but what is surprising is that at the end of the song the band would break into the ending of Rush's Cygnus X-1. I'd mentioned this back in August of 2009, but Eric at Power Windows recently dug up this great YouTube video of the performance. Ironically, Rush did the same thing (played part of Cygnus-X1) at the end of their 2nd set on the 2011 leg of the Time Machine Tour! Maybe Rush will reciprocate and play part of I Kissed a Girl on next year's tour? :)
One of the regular features on VH1 Classic's That Metal Show is the TMS Top Five, where the 3 hosts choose a theme and then try to come up with a top 5 list. On the latest episode of the show the theme was the Top 5 Lyricists. Neil Peart was #1 on Eddie Trunk's list but did not appear on Jim Florentine's or Don Jamieson's list at all. However, Eddie fought hard for Neil who ended up at #5 on their final list. You can watch the clip at this link beginning at about the 4:30 mark. Thanks to Power Windows for the heads up.
Guitar World magazine re-printed an old 1986 interview with Geddy Lee on their website earlier this week. It's from the May 1986 issue and the original headline was Geddy Lee: More Bass, More Space in the Modern World. The interview focused on Rush's new album at the time, Power Windows. You can check it out at this link (thanks RushFanForever).
Here's a Rush sighting but in a sad context. Reader Tim L noticed that one of the victims of the Texas wildfires depicted in this MSNBC article slideshow is wearing a Rush t-shirt. Let's send our thoughts/prayers to her and all the other victims of the wildfires. If you'd like to help out monetarily, you can donate to the Texas Wildfire Relief Fund which aids volunteer firefighters' battling wildfires across Texas.
Nathaniel Miller of the Odessa American wrote an opinion piece for today's edition titled Some band from Canada got the current American dream down in song in the 70s which relates Rush's Working Man to the idea of the new American Dream. You can check out the article at this link.
Legendary Canadian singer-songwriter Gordon Lightfoot was recently interviewed for a piece at WickedLocal.com and mentions Rush when answering the following question:
WickedLocal.com: Since then it seems it has become easier for Canadian artists to get a toehold; Rush maybe is the most notable example.

Gordon Lightfoot: I love them. They're great. I know Geddy [Geddy Lee, Rush lead vocalist and bassist] very well. In terms of acceptance, I think that the American side has kind of an appetite for Canadian talent. We are cousins in a certain kind of way.
Foo Fighters drummer Taylor Hawkins was interviewed for a cover feature in the September, 2011 issue of Modern Drummer magazine (thanks RushFanForever) and when asked how he warms up before a show he had the following to say:
I just have a pair of drumsticks in my hands for a half an hour before we get on stage. On whatever couch or pillow is available, I do single-stroke rolls, maybe paradiddles. Nothing strict. The chorus beat in "Rope" is a paradiddle, directly lifted from Neil Peart. It's "The Spirit Of Radio" all the way. When we were doing the demo for "Rope",everyone thought it was my idea. But I have to say to Neil Peart in Modern Drummer: I'm sorry I stole that from you, Neil, but it was Dave's idea to do that, not mine! [laughs].
September was a busy month in Rush history for studio album releases. A Farewell to Kings was released back in 1977; last Saturday, September 3rd was the 20th anniversary of the release of Roll the Bones; yesterday marked 24 years since the release of Hold Your Fire; today is the 29th anniversary of Signals' release; and tomorrow marks the 15th anniversary of the release of Rush's 16th studio album - 1996's Test for Echo. This was the last album that the band recorded before the tragic events in Neil Peart's life in the late '90s forced the band to take a long hiatus. Test for Echo was certified Gold by the RIAA on October 23, 1996 and peaked at #5 on the Billboard album charts. In celebration of the album's 15th anniversary, here's the video for Driven:
This coming Monday, September 12th our favorite drummer Neil Peart will turn 59 years young. On top of that, today is Neil's 11th wedding anniversary; he married photographer Carrie Nuttall 11 years ago today back in 2000. Happy anniversary Carrie and Neil! May you have many more. Have a great weekend everyone!