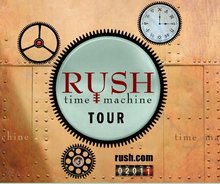 UPDATE - 7/1@9:52PM: Here's a review from Guitar Player magazine (thanks RushFanForever).
UPDATE - 6/29@2:25PM: Here's a review from Crawdaddy! Magazine.
UPDATE - 6/29@8:49AM: Here's a photo gallery from KTVU.com (thanks John at Cygnus-X1.net).
UPDATE - 6/28@7:36AM: Here's a short little article from the San Francisco Chronicle's The Poop blog where the author demonstrates the disparity between the men's and women's bathroom lines at the show last night. And here's a photo gallery from SoundSpike. Thanks to RushFanForever for the links.
UPDATE - 6/27@5:17PM: Official photos are now posted at the Rush on the Road Photo Store website.
Rush heads back to Cali to play the Sleep Train Pavilion in Concord for one more show before heading to the Pacific Northwest for the final few dates of the tour. For everyone going to tonight's show, have fun, be safe and make sure to share your photos, videos and reports with us.
Date/Time: Sunday, June 26th @ 7:30PM
Show Number: 35
Venue: Sleep Train Pavilion
Place: Concord, CA
gallery: [view] [upload] [YouTube videos]
reviews: [reviews]