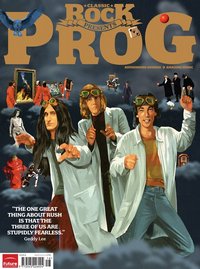 Issue #16 of Classic Rock's Prog magazine hit newsstands a few weeks ago. The issue features Rush on the cover along with a 10-page spread on the band including an extensive interview with Neil Peart and interviews with Geddy Lee. A couple of weeks ago I posted a few excerpts from the feature, but now the entire article is available online thanks to John at Cygnus-X1.net. You can check out the complete transcription of the article along with scans of all the images at this link. Both Neil and Geddy discuss Rush's upcoming 19th studio album Clockwork Angels among other subjects. Neil Peart is anxious to get the album done:
... "I feel a certain urgency, I really want to get that record made while I'm still able to," he says. "It was hard for me to set the album aside to tour, this really means a lot to me, I intend it to be my highest achievement lyrically and drumming wise, so I really want to get it done while we still can." ...
Geddy talks about the conceptual nature of the album:
... "We have about six songs finished and waiting to go into preproduction and then be recorded. ... "We're going in a conceptual direction on this record, for sure," says Lee. "We started with a 10-minute song idea that then turned into a concept and it's feeding off itself. ... We're spending so much time on this concept. It's been fun, because we haven't gone down that road in a while. Let's see if we can pull it off!" ... "It's not just the fans! We're hoping for another great Rush album ourselves!" ...
There's also a piece where Geddy talks about the Moving Pictures deluxe edition. Be sure to check out the complete article at this link.