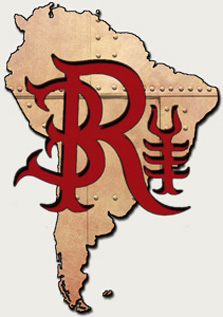 UPDATE - 10/5@9:39PM: Here's another article on the tour from Chilean newspaper La Tercera and here's the loose English translation (thanks troma). It has a few interview snippets from Geddy but nothing groundbreaking. There's also this article from Que Pasa magazine along with the loose English translation (thanks Alejandro T).
Rush kicks off the South American leg of the Time Machine Tour this coming Friday at the Estadio do Morumbi in Sao Paulo, Brazil. They'll then play the Praca da Apoteose in Rio de Janeiro on October 10th, GEBA Stadium in Buenos Aires on October 15th and close out the tour at the National Stadium in Chile on October 17th. Chilean and Argentinean Rush fans are particularly excited since this will be the band's first time ever playing each of these respective countries. Major Chilean newspaper El Mercurio recently conducted a short phone interview with Geddy Lee for today's edition. The interview is in Spanish but you can read a rough translation at this link. Geddy's answer to one particular question stuck out for me:
Are you traveling with cameras now? Could there be a tour documentary?

We're going to film certain aspects of the tour, and we have recorded some shows. Perhaps after that to a DVD.
If this is accurate, then it's welcome news. However, there hasn't been much evidence of any filming on the US leg of the tour so it's unclear exactly what Geddy is talking about. Maybe some behind-the-scenes footage? Or maybe something was lost in translation and Geddy is referring to filming one or more of the shows in South America. More details as I learn them. Thanks to Chilean reader Alejandro T for the heads up.
Related Posts:
[Rush Buenos Aires venue change, tickets on sale now]
[Rush confirmed to play Santiago, Chile on October 17th]
[Rush brings the Time Machine Tour to Buenos Aires October 15th]
[Brazilian newspaper reports Rush to play Sao Paulo October 6th]
[Rush confirmed to play Santiago, Chile on October 17th?]
[Rush South American Time Machine Tour leg in mid October?]