UPDATE - 8/17@8:51PM: Rush.com has finally made the official announcement (thanks patoagurto):
August 17, 2010
The RUSH Time Machine Tour will hit Santiago, Chile @ Estadio Nacional on Sunday October 17th. Get your tickets for the October 17th Chile show now! www.ticketmaster.cl/
----- snip -----
UPDATE - 8/16@2:57PM: Apparently about 10,000 tickets were sold in the first day of ticket sales yesterday! Here is a commercial from Chilean TV promoting the event (thanks kiwitron):
----- snip -----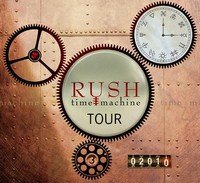 After several months of rumors and semi-confirmations, Chilean newspaper El Mercurio is reporting (thanks Julio) that Rush is now officially confirmed to play the National Stadium in Santiago, Chile on October 17th as part of the South American leg of the Time Machine Tour. The article states that tickets will go on pre-sale through Ticketmaster Chile this coming Sunday, August 15th with regular ticket sales kicking off the following week. You can read a Google translation of the article at this link. I expect that Rush.com will be making an announcement regarding the date in the next couple of days. Just last week Rush.com announced that the band would be playing at the Desarrollo al Rio in Buenos Aires, Argentina on Friday October 15th. They'll also be playing 2 dates in Brazil; Sao Paulo on October 8th at Morumbi Stadium and Rio de Janeiro on October 10th at Praca da Apoteose, bringing the total number of South American tour dates up to 4.
Related Posts:
[Rush brings the Time Machine Tour to Buenos Aires October 15th]
[Brazilian newspaper reports Rush to play Sao Paulo October 6th]
[Rush confirmed to play Santiago, Chile on October 17th?]
[Rush South American Time Machine Tour leg in mid October?]