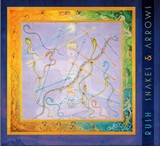 [Rush Snakes & Arrows DVD Album Limited Edition]
It appears that the DVD album rumors that Power Windows reported on Friday are true! The Rush preorder store store confirms it and Amazon has added a page for the Snakes & Arrows Limited Edition. Power Windows had reported that the rumor was that only 25,000 copies will be made. If this is the case you might want to order a copy sooner than later. As of this posting the DVD Album version of Snakes & Arrows was ranked #19 in sales at Amazon - just 3 hrs ago it was at #45! Here's the blurb from the preorder store:
New, never before released DVD-Album format.

The Rush Snakes & Arrows DVD-album comes in a deluxe box, and includes these 13 new songs in hi-resolution audio, the entire album in 5.1 surround sound, a video documentary on the making of the album, and more.

About DVD Albums: With a higher storage capacity than the standard CD, this DVD-album is loaded with exciting new features including superior sound quality plus a wide range of video features and interactive digital content combine to bring you closer to the artists and their music. It plays in all standard DVD players, computers, and game consoles with DVD drives. Digital music files are compatible with all MP3 devices.
Thanks to reader Rushguy for the heads up.
Related Posts:
[UK Snakes & Arrows press release with Neil Peart essay]
[Another Snakes & Arrows review]
[Snakes & Arrows to debut new DVD Album format!?]
[Snakes & Arrows review]
[Snakes & Arrows track times, 3 instrumentals]
[THREE instrumentals on Snakes and Arrows?]
[Far Cry promo image ... longer clip coming? 45-second clip!]
[Official Snakes & Arrows sales sheet verifies cover art, track list]
[Snakes and Arrows cover art revealed]