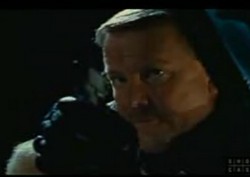 [Showcase: Trailer Park Boys movie]
UPDATE - 10/10@4:08PM: Mark sent me this link of a short little interview with Alex (and other TPB characters) from the premier. You'll need to view the video in Internet Explorer and Alex appears a couple minutes in.
UPDATE/CORRECTION - 10/9@9:30AM: Melissa pointed out in the comments that Alex does show up towards the end of the show (part 3). He briefly interviews the boys on set of the video shoot for I Fought the Law and asks them if he could have a part in the movie. They then show the short clip of Alex's cameo as a police officer which you can watch here.
Last week I posted about how Alex Lifeson would be hosting a show called Trailer Park Boys 101 on Canada's Showcase network to help promote the Trailer Park Boys movie which opened across Canada yesterday. The show aired last night and can now be viewed online at the Showcase website here along with the Trailer Park Boys: The Movie – Behind The Scenes show. Alex doesn't appear onscreen - he just narrates it. Thanks to reader subdivision40 for the heads up.
Related Posts:
[Trailer Park Boys "Supergroup" concert pics and video]
[Trailer Park Boys movie premier "Supergroup" concert tonight and the "QUIZNOID 2112"]
[Alex Lifeson to host Trailer Park Boys movie TV special]
[Music video for The Big Dirty Band's I Fought the Law on YouTube]
[Trailer Park Boys movie soundtrack available for preorder]
[The Big Dirty Band premiers I Fought the Law on MySpace!]
[The Trailer Park Boys movie: soundtrack tracklist and a cameo from Officer Alex Lifeson]