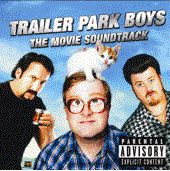 UPDATE - 10/4@9:08AM: You can watch several clips from the Behind the Scenes show at this link.
The world premier of the Trailer Park Boys movie is tonight in Toronto at 7:30. After the movie there will be a "Supergroup" concert. I can't seem to find any info on exactly who will be involved in the concert, but I'm betting on Geddy and Alex being there. Rushisaband reader Pat managed to finagle himself some tickets. He's got friends in high places (Alliance Atlantis). He's gonna give us a report and hopefully some pics. He's one lucky bastard is all I can say.
Another Canadian reader, Dino, watched a TV special about the film that aired Sunday night. I'm not sure if this is the same "Behind the Scenes" show referred to in this post or not. That show was supposed to air tonight but maybe there was an early showing on Sunday. Anyways, here's what Dino had to report:
Just finished watching a special on the upcoming TPB movie. The basic premise of course is a big 'ultimate' heist for the boys, aka 'The Big Dirty'. The subject of the heist is a giant sphere loaded with change, that people are supposed to guess the total in $ within. Being so large, it becomes the 'ultimate' in their eyes. The official name of the sphere? The "QUIZNOID 2112".
Yet another Rush reference. :)
Related Posts:
[Alex Lifeson to host Trailer Park Boys movie TV special]
[Music video for The Big Dirty Band's I Fought the Law on YouTube]
[Trailer Park Boys movie soundtrack available for preorder]
[The Big Dirty Band premiers I Fought the Law on MySpace!]
[The Trailer Park Boys movie: soundtrack tracklist and a cameo from Officer Alex Lifeson]
[The Big Dirty Band and I Fought the Law: single to be released Sept. 12 with video shortly after and ... live dates!?]
[Rumors within rumors in a spiral array: Richard Chycki, Rush and the Trailer Park Boys movie soundtrack]
[Nick Raskulinecz to produce new Rush album]
[Alex and Geddy to record a song for Trailer Park Boys movie?]
[New Trailer Park Boys movie trailer online]