Thursday, June 20, 2013
Rock and Roll Hall of Fame and Museum Rush fan promotion!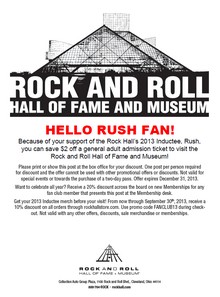 Rush was finally inducted into the Rock and Roll Hall of Fame back on April 18th at the Nokia Theatre in Los Angeles. The ceremony was later broadcast as a 3-hour HBO special on May 18th. The Rock and Roll Hall of Fame officially opened a 2013 inductees exhibit 2 days prior to the induction ceremony on April 16th. The Rush portion of the exhibit includes a Neil Peart snare drum, Alex Lifeson's double-neck guitar and a Geddy Lee bass along with various other items. The exhibit also includes a three-screen multimedia presentation that tells the stories of the inductees. You can check out a short video tour of the exhibit along with some photographs at the Cleveland Plain Dealer website. If you'll be in or near Cleveland anytime this year, I highly recommend checking out the inductee exhibit at the Rock Hall along with all the other great exhibits that the Museum has to offer. To make things even easier for you, the Rock Hall has graciously offered an exclusive discount to the Museum for RushIsABand readers, where you can receive $2 off admission in addition to a 20% discount on any new membership. Simply print out this pdf file and present it at the Rock Hall box office to receive your discount. The offer runs through the end of this year. They are also offering a 10% discount on all online orders made via rockhallstore.com through September 30th by using the code FANCLUB13 at checkout.
Related Posts:
[Rush Rock and Roll Hall of Fame induction ceremony HBO broadcast preview clips now online]
[Rush Rock and Roll Hall of Fame induction ceremony to air on HBO this coming Saturday, May 18th]
[Rush inducted into the Rock and Roll Hall of Fame]
[Rush Rock and Roll Hall of Fame induction open thread]
[Founding Rush drummer John Rutsey excluded from Rock Hall induction as a member of Rush]
[2013 Rock Hall inductees exhibit opens April 16th]
[Rock Hall induction ceremony update from RollingStone.com]
[Rush on their fellow 2013 Rock Hall inductees in new Rolling Stone article]
[Foo Fighters to induct Rush into the Rock and Roll Hall of Fame; induction ceremony pre-sale details released]
[Rock and Roll Hall of Fame inductee announcement open thread]
[It's official! Rush FINALLY nominated for induction into the Rock and Roll Hall of Fame!!]