UPDATE - 11/4@12:54PM: Further clarification on the bonus program directly from Rush management. Sheffield erroneously sent an email that has since been corrected. Here's the correct info: in addition to the hardcover first edition of the book, ticket holders will receive a 16 page color tour book which features unpublished stories, photographs and more! So the only difference being no promise of a signed letter. But the good news is that this will apply to ALL dates - both in the UK and North America.
UPDATE - 11/3@4:21PM: Reader Chris K has tickets to the Wolverhampton event and reported that he also received info from the ticket seller (AXS) that the program mentioned below will also be included. So that likely means all UK ticketholders will get the bonus program. Still unsure about North America at this point.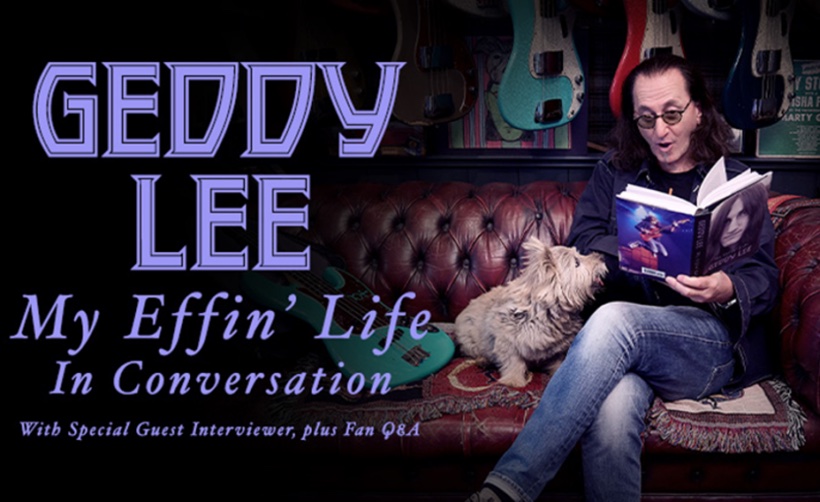 Geddy Lee will be releasing his long-awaited memoir My Effin' Life one week from this coming Tuesday on November 14th, and will be embarking on a spoken word In Conversation tour to promote it starting a week from Monday. The North American leg kicks off Monday, November 13th at the Beacon Theatre in New York City, followed up by another 13 dates across the US and Canada throughout late November and early December. The North American leg ends on December 7th at Massey Hall in Toronto before crossing the pond for the UK tour in Wolverhampton on Sunday, December 10th. All attendees will receive a copy of Ged's book, and - according to an email sent to folks who purchased tickets to the Sheffield show - they'll also be getting a free program with 2 bonus chapters not in the book, images not included in the book, and a signed letter. It's not clear yet if that will be the case for all dates, just the UK dates, or just the Sheffield date. If anyone else has received such an email, let us know. You can get all the details and learn how to get tickets at Rush.com (North America, UK). RushCon will also be hosting pre-show hangouts prior to Ged's appearances in New York City, Boston, Chicago, and Toronto, with details and ticket info available at Rushcon.org.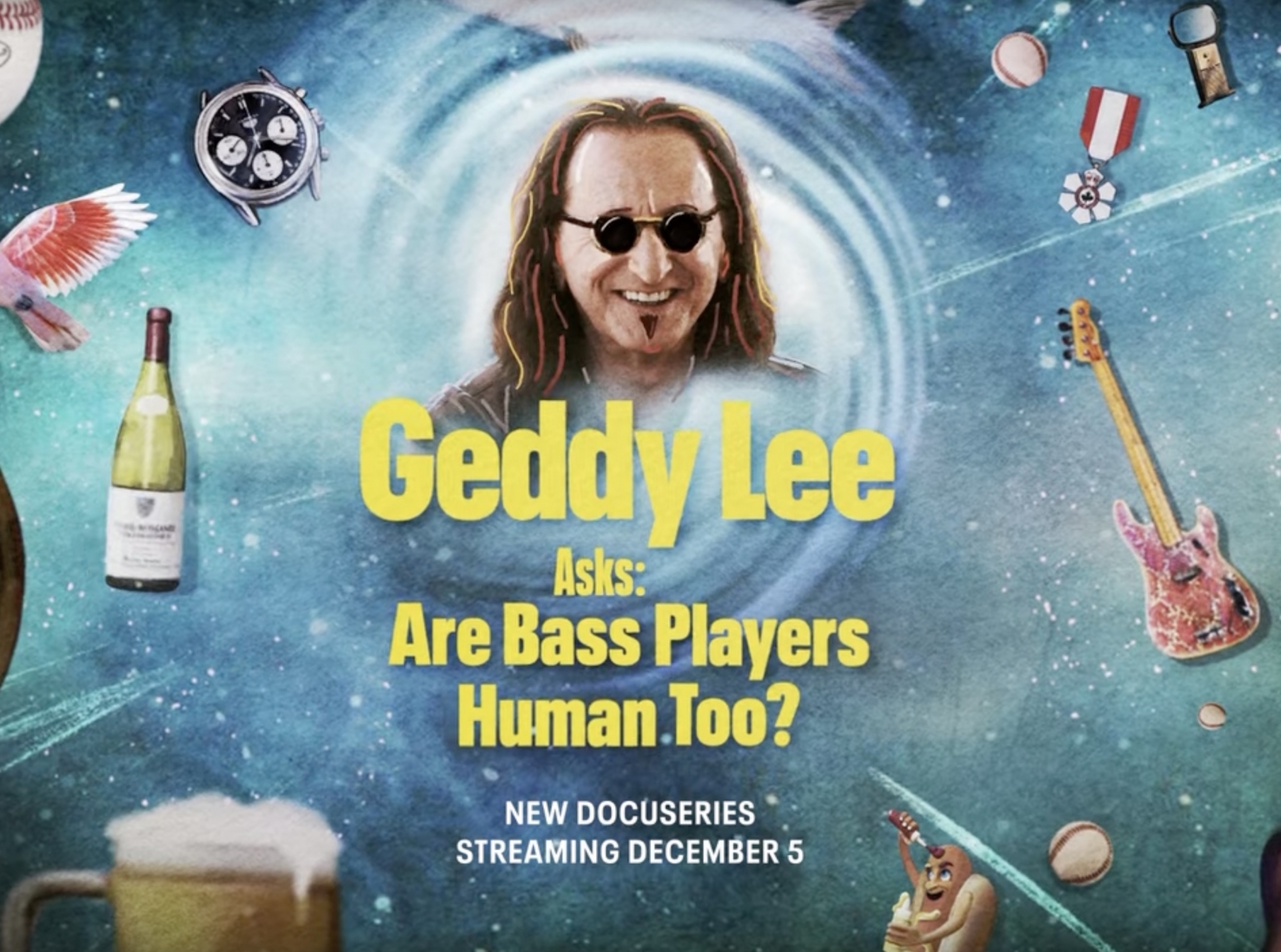 As if Geddy didn't have enough on his plate already, last week he announced the launch of a new docu-series on Paramount Plus titled Geddy Lee Asks: Are Bass Players Human Too? which will premiere on December 5th. The four-part series will feature in-depth conversations between Geddy Lee and Nirvana's Krist Novoselic, Metallica's Rob Trujillo, Primus' Les Claypool, and Hole/Smashing Pumpkins bassist Melissa Auf der Maur, as seen in the show's trailer. From Rolling Stone:
... The trailer shows Lee trading licks with Auf der Maur, flying in an airplane with Krist, canning tomatoes with Novoselic, and surfing with Rob Trujillo. "I'm trying to show the world that a bass player can do many things," Lee says in the trailer. "Join me as I travel to the homes of four bass legends and dive deep into their lives. And their inspirations. Plus some fun making music, as I try to answer one really important question: Are bass players human too?" ...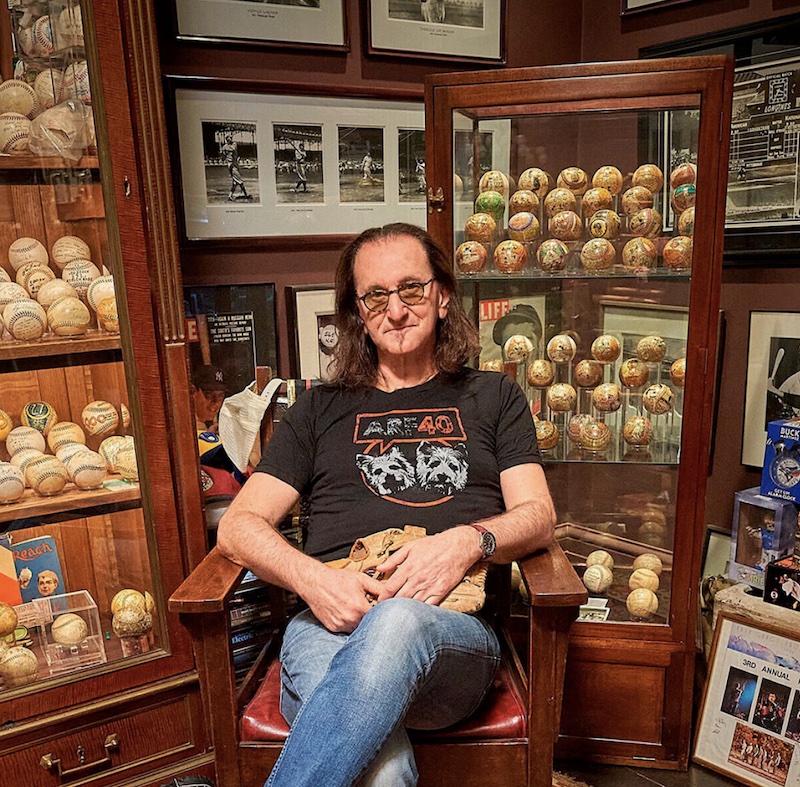 And that's not all! In addition to Ged's book release, tour, and TV show, Christie's and Hunt Auctions have announced that Ged will also be auctioning off some of his extensive baseball memorabilia collection as part of an online auction beginning later this month, and a live auction next month. Selections from the Geddy Lee Collection and Important Baseball Memorabilia auction will take place online from November 21st through December 7th, along with a live auction on December 6th. From the announcement:
This December, Christie's and Hunt Auctions proudly present an historic collection of baseball memorabilia during Selections from the Geddy Lee Collection and Important Baseball Memorabilia sales. As frontman and touring member of the storied rock and roll group Rush, Geddy Lee has spent over 40 years collecting hundreds of autographed and historic milestone baseballs. In that time, he's amassed a collection that spans three centuries of American and MLB history.

From baseballs signed by some of the most famous (and infamous) players, including the White Sox's "Shoeless" Joe Jackson and the Negro Leagues' Josh Gibson, to baseballs that boast signatures from epoch-defining leaders like JFK and FDR-this collection sits right at the intersection of the history of America and its national pastime. The Gladstone Collection, which holds iconic works like the 'The Base Ball Player' bronze sculpture, will complement the Geddy Lee Collection, in addition to never-before-seen items from the personal collection of "Shoeless" Joe Jackson. Other items brought to market for the first time include uniforms and caps worn by the likes of Babe Ruth and Lou Gehrig.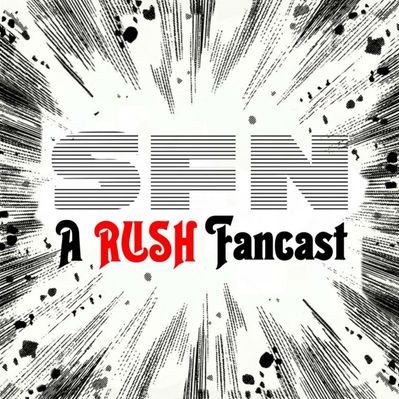 The Something for Nothing Rush Fancast podcast has returned from their nearly year-long hiatus with a brand new interview with Danny Peart - younger brother of Neil. Danny talks about his Rush origin story and watching the band skyrocket to fame with his very unique perspective as a sibling of one of the band members. It's a fascinating interview, full of great behind-the-scenes stories about Rush and Neil Peart, and you can listen to it below or wherever you get your podcasts.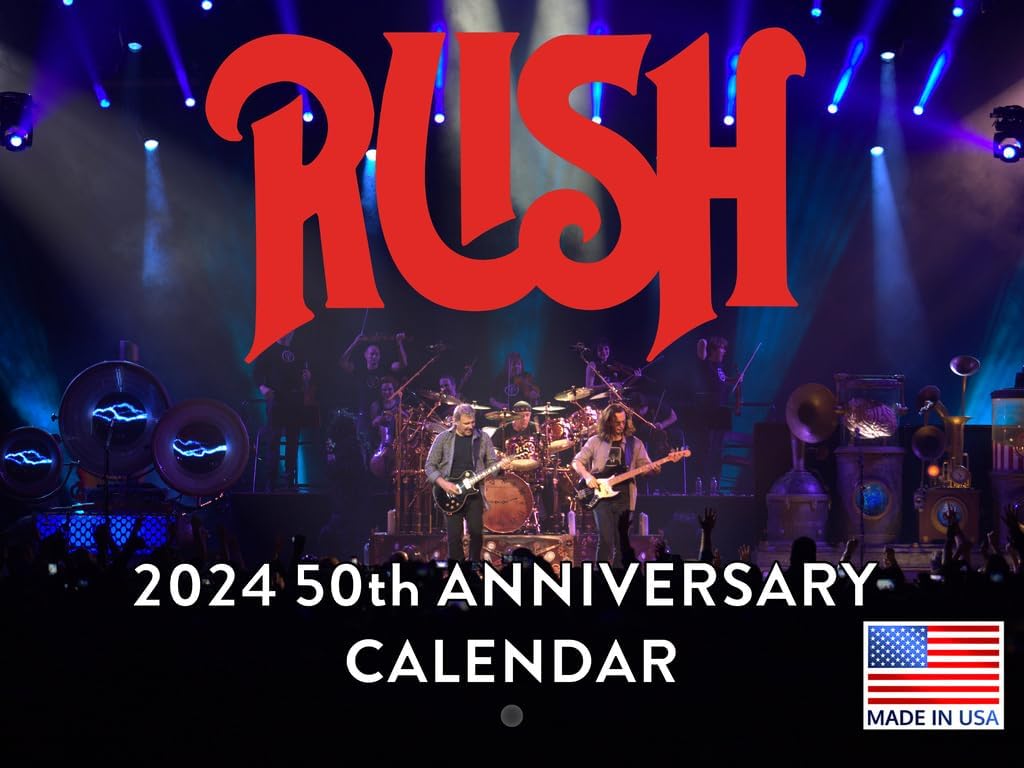 Rush has released a new, official 2024 wall calendar celebrating the 50th anniversary of the release of the band's debut album. The calendar was produced by Poster Foundry and can currently be ordered via Amazon and other online retailers. The 12"x18" calendar features a dozen photos of Rush showing the band's evolution over the years as seen here:
Celebrate 50 years of rock excellence with our RUSH 50th Anniversary Calendar. Each month, journey through the legendary career of this iconic band with striking visuals and memorable moments than span five decades of music mastery. Whether you're a lifelong fan or newcomer to the world of progressive rock, our calendar is a year-long tribute to Rush's unparalleled musical legacy.
It also includes a four-month (September-December) 2023 planner page. You can purchase your calendar today at this location. John over at Cygnus-X1.net has scanned the calendar and made all the images available online here.
Hal Leonard has released the latest addition to its acclaimed Play-Along series - Rush Play-Along packs for drums, guitar, and bass. The books include access to audio tracks online, for downloading or streaming, using the unique code inside. The tracks also include PLAYBACK+, a multi-functional audio player that allows you to slow down audio without changing pitch, set loop points, change keys, and pan left or right available exclusively from Hal Leonard. Songs include: Fly by Night, Freewill, Limelight, The Spirit of Radio, Tom Sawyer, 2112-I Overture, 2112-II The Temples of Syrinx, Working Man and Xanadu. Thanks to Blabbermouth for the heads up.
Angel Marcloid, known by her main pseudonym and project Fire-Toolz, is an American experimental multi-instrumentalist and record producer who creates music which blends several different genres, including prog. She recently recorded a cover version of Rush's Tai Shan for a new charity covers compilation titled FADER & Friends Volume 1, which is available exclusively on Bandcamp through the end of the month. 100% of the proceeds go towards the Transgender Law Center, Mermaids, and Rainbow Railroad. The Fader posted the Rush cover this past week along with an interview with the artist which you can check out here.
American Songwriter posted a piece this past week titled How Many of These 6 Best Classic Rock Bassists Would It Take to Change a Light Bulb?, and Rush's Geddy Lee is featured:
The compositions of Rush were so inventive and potentially unwieldy that it wouldn't have taken much for them to go wildly off track. Yet through all the complex time signatures and sudden thematic shifts, Lee was the guy who kept things rolling inexorably forward. Rush never let the fact that they only had three members stop them from going for the gusto on every single track. Lee could be the driving force in that quest, or the bedrock. He could dive down into the depths, or soar with shockingly mellifluous runs. Along with Alex Lifeson on guitar and the late Neil Peart on drums, Lee helped to take prog rock into a new era that embraced technology without sacrificing the chemistry of a tight trio.
Goldmine magazine posted their list of 10 spooky Prog songs that will give you the creeps this past week in celebration of Halloween, and Rush's Witch Hunt was included at #6:
The late Rush drummer/lyricist Neil Peart could really tell a story, and his words on this song from the classic 1981 album Moving Pictures certainly do that, describing the burning of a witch at the stake with vivid detail and plenty of metaphors that you could interpret as being about that era's political situation. Musically, Rush was starting to add synthesizers to its power-trio sound at this point, and they are promiment on this song, along with great bass and vocals by Geddy Lee, guitars by Alex Lifeson, and Peart's propulsive drumming.
Paul Elliott wrote a piece for Classic Rock this past week where he does a deep dive into Rush's Moving Pictures album, profiling the history of the making of the album, and its legacy in the annals of classic rock. You can check out the article online here.
Ultimate Classic Rock posted their list of the Top 40 Album-Opening Songs this past week, and Rush's Tom Sawyer made the cut at #32:
Rush had already started moving to a more accessible sound when their eighth album catapulted them to the big leagues. From the opening attack of "Tom Sawyer," Moving Pictures sharpened the Canadian power trio to their finest points.
Drummer and vocalist Tommy Taylor (Christopher Cross and Eric Johnson) was recently interviewed on the Trading Fours podcast to promote his new debut solo album Across the Stars (thanks RushFanForever). Tommy performed with Eric Johnson when Eric was the support act for Rush on the Roll The Bones tour, and they talk a bit about that starting around the 18:40 mark for a few minutes.
On the latest episode of Rush Roundtable (#203) on the Rushfans YouTube channel, the panel continues their Counterparts song discussions with Cold Fire:
That's it for this week. Have a great weekend everyone!!