UPDATE - 10/27@4:18PM: RushCon will be hosting a pre-show event for Geddy's Toronto appearance as well. Details and ticket info here.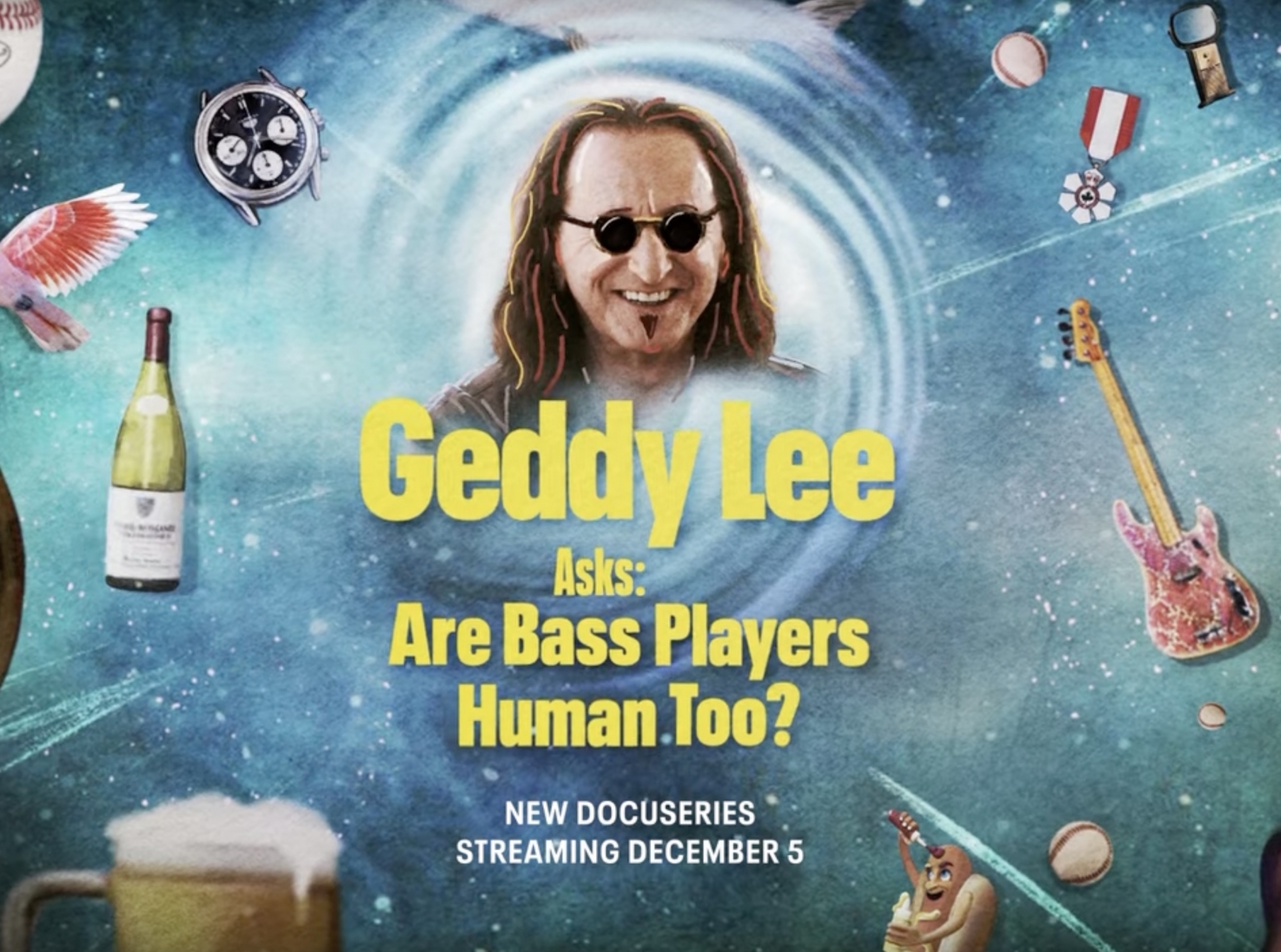 Earlier this week Geddy Lee announced the launch of a new docu-series on Paramount Plus titled Geddy Lee Asks: Are Bass Players Human Too? which will premiere on December 5th. The four-part series will feature in-depth conversations between Geddy Lee and Nirvana's Krist Novoselic, Metallica's Rob Trujillo, Primus' Les Claypool, and Hole/Smashing Pumpkins bassist Melissa Auf der Maur, as seen in the show's trailer. From Rolling Stone:
... The trailer shows Lee trading licks with Auf der Maur, flying in an airplane with Krist, canning tomatoes with Novoselic, and surfing with Rob Trujillo. "I'm trying to show the world that a bass player can do many things," Lee says in the trailer. "Join me as I travel to the homes of four bass legends and dive deep into their lives. And their inspirations. Plus some fun making music, as I try to answer one really important question: Are bass players human too?" ...
Geddy will be releasing his long-awaited memoir My Effin' Life on November 14th, and will be embarking on a spoken word In Conversation tour to promote it starting next month. The North American leg kicks off Monday, November 13th at the Beacon Theatre in New York City, followed up by another 13 dates across the US and Canada throughout late November and early December. The North American leg ends on December 7th at Massey Hall in Toronto before crossing the pond for the UK tour in Wolverhampton on Sunday, December 10th. You can get all the details and learn how to get tickets at Rush.com. RushCon will be hosting a special pre-show hangout prior to the Ged's opening night appearance in NYC on November 13th, with details and ticket info available at this location.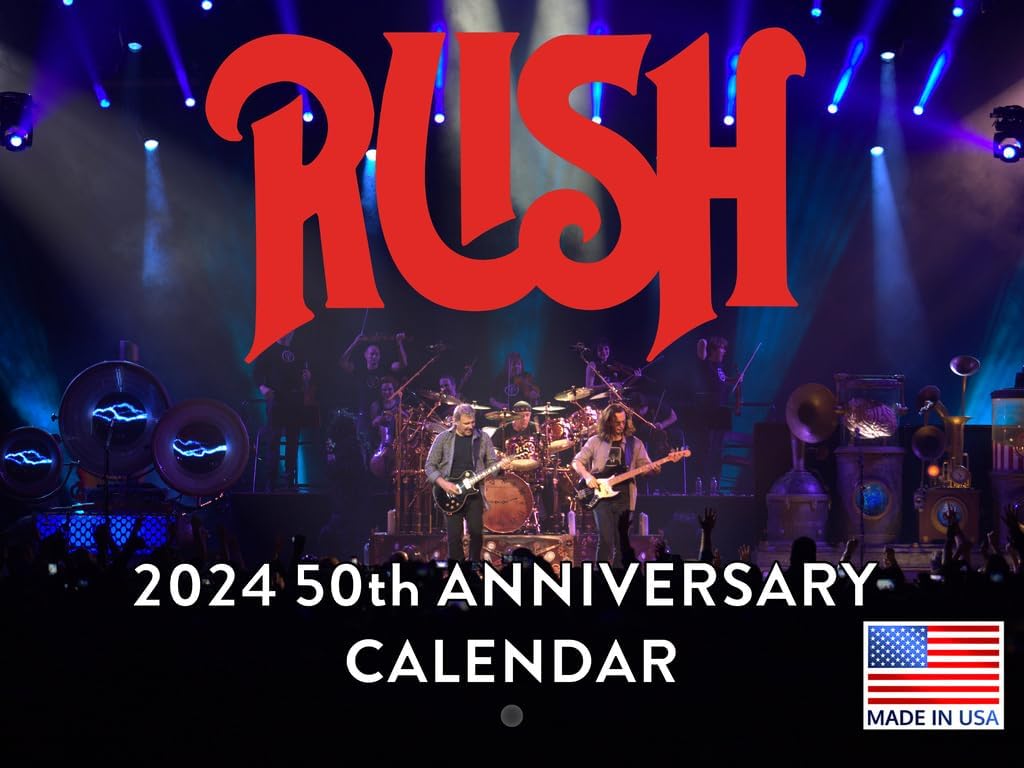 Rush has released a new, official 2024 wall calendar celebrating the 50th anniversary of the release of the band's debut album. The calendar was produced by Poster Foundry and can currently be ordered via Amazon and other online retailers. The 12"x18" calendar features a dozen photos of Rush showing the band's evolution over the years as seen here:
Celebrate 50 years of rock excellence with our RUSH 50th Anniversary Calendar. Each month, journey through the legendary career of this iconic band with striking visuals and memorable moments than span five decades of music mastery. Whether you're a lifelong fan or newcomer to the world of progressive rock, our calendar is a year-long tribute to Rush's unparalleled musical legacy.
It also includes a four-month (September-December) 2023 planner page. You can purchase your calendar today at this location.
Napalm Death bassist Shane Embury recently shared some thoughts about Rush, Neil Peart and prog rock in this LouderSound.com article (thanks RushFanForever):
"I got into Rush as a kid through 2112. I loved the epicness of having a whole side of a record dedicated to just one story. I've always loved fantasy and escapism, so it was perfect for me. Musically, too, it was amazing. ... "Neil Peart was a massively important lyricist for me. He was a big thinker, a philosopher. Even when he was writing fantasy lyrics, they resonated with me on an emotional level - he saw the layers in life. ... "People won't make a connection between Rush and Napalm Death, but as we've gone on, we've included some of their more odd timings into our music. There's definitely a little bit of Rush in my side-project Dark Sky Burial, which started out as something influenced by Italian horror movie soundtracks but has moved way beyond that. Dark Sky Burial is me chronicling my inner thoughts, which is what Neil Peart did with his lyrics."
UltimateClassicRock.com posted their list of The Worst Classic Rock Songs this past week, and Rush's Tai Shan from 1987's Hold Your Fire was included:
Believe it or not, Neil Peart's use of a "self-made recording of a plastic water bottle [being] struck by a toothbrush" is no where near the worst part.
Rush's Counterparts album celebrated its 30th anniversary last week, and to recognize the occasion, we set up a Ranked Choice Voting poll to determine the album's best track. After over 400 ballots cast, and 8 runoff rounds, Animate came out as the clear winner. For the full results breakdown, visit this link:
Speaking of Counterparts, on the latest episode of Rush Roundtable (#202) on the Rushfans YouTube channel, the panel continues their Counterparts song discussions with Leave That Thing Alone:
That's all for this week. Have a great weekend everybody!