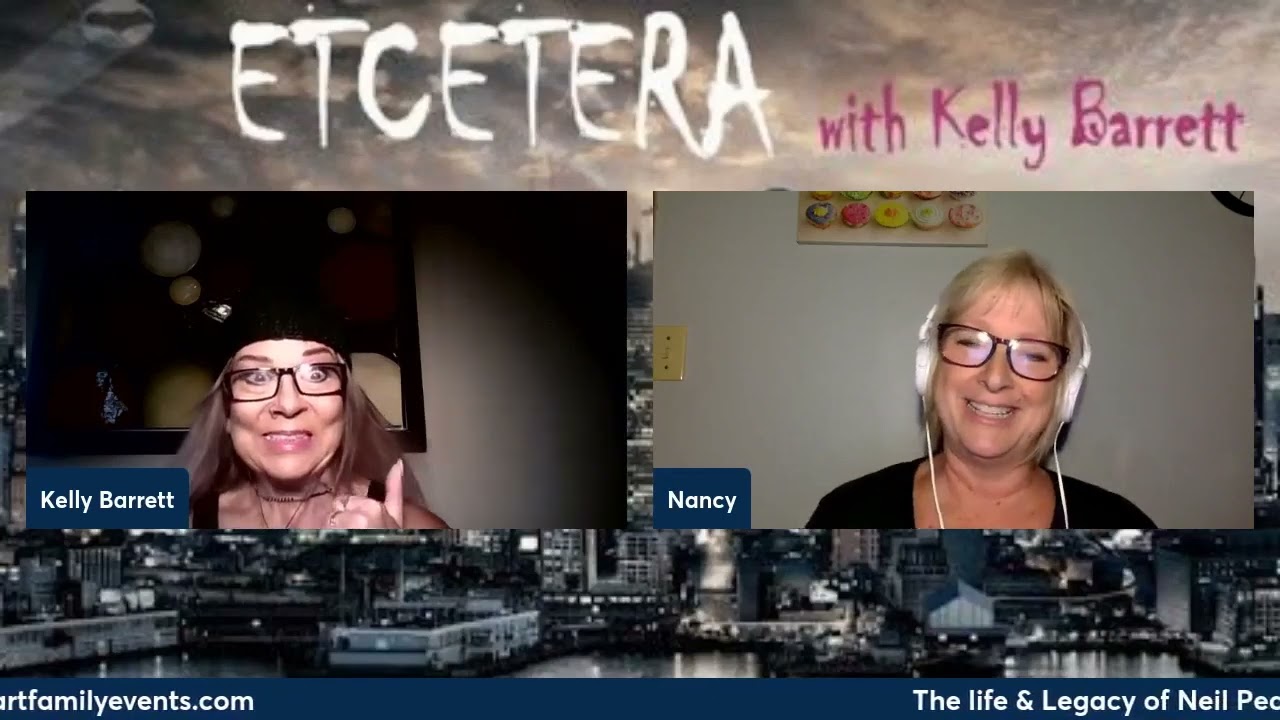 Neil Peart's sister Nancy Peart Burkholder was a recent guest on Etcetera Live with Kelly Barrett to talk about the Peart Family Memorial Fund and the various charity/fundraising events they have planned, including this past Monday's 3rd annual Peart Family Golf Tournament at the Royal Niagara Golf Club. At around the 7-minute mark, Nancy opens up about having to keep her brother's cancer diagnosis a secret for over 3 years:
... "we had 3 and a half years to prepare. So we knew it was coming, and then once it happened, we had that week of radio silence where we couldn't tell anybody. Then I think we had 10 minutes notice before it was going live to the world. So we had 10 minutes to tell everyone that we hadn't told in three and a half years that, 'Sorry, we lied. Everything's not okay.' So it was really hard. That week was probably the hardest that we went through because we knew and couldn't share it" ...
Nancy goes on to discuss how the Peart Family Memorial Fund came about, and details all of her family's numerous charitable efforts since Neil's passing in 2020, where they've raised tens of thousands of dollars to benefit cancer research. She also touches on several other subjects, including Neil's writings, growing up with Neil, and more. You can listen to the entire interview below or on YouTube.
Far Out magazine posted an article this past week in celebration of Alex Lifeson's 70th birthday where they countdown his 10 best guitar moments, with his work on Freewill topping the list:
At the start of the 1980s, Rush could do the impossible: have consistent hits. Although the group saw a handful of their singles reach the charts like 'Closer to The Heart', the radio juggernaut 'The Spirit of Radio' put them on the right track for rock dominance, especially when blending genres like reggae with their classic sound. Just because the band were toning down their melodies didn't mean they forgot how to write a great tune. Coming right after 'The Spirit of Radio', 'Freewill' is one of the most forceful solos that Lifeson would ever write. While sticking to intricate chords throughout the verse and chorus, Lifeson sounds like a man possessed when tearing through his solo, blending elements of jazz, classical, and blues into a sonic avalanche before crashing into the final breakdown to close out the song. Lifeson might not be the most vocal guitar hero in the world, but this solo alone should earn him a spot alongside fretboard masters like Eddie Van Halen.
Goldmine magazine came up with a similar list to commemorate Lerxst's big day, counting down the top 20 Lifeson riffs. Lifeson's 70th birthday was this past Sunday, August 27th. Here is Geddy's Instagram tribute to his best bud and bandmate on his big day:
Back in High School this was Joe Cool a.k.a my BFF a.k.a Alex... er .., whatsisname with a Z... ya know that guitar player... it's his birthday today ...So I wanna wish him the bestest happiest and Joe Cool-ist B-day !!
American Songwriter posted their list of 5 Iconic Drum Solos That Defined Rock & Roll this past week, and Neil Peart's The Rhythm Method made the cut at #2:
Neil Peart, the legendary drummer of the rock band Rush, was an icon whose influence on drumming is substantial. He was also the lyricist of the group, issuing hit tracks with rhythmic flows for the band. "Rhythm Method" is a solo piece from the album A Show of Hands, and it's an eight-minute-long percussion heaven with the incorporation of jazzy sounds. The drum solo was a highlight of Rush's concerts, featuring a blend of rhythmic complexity, intricate patterns, and captivating dynamics that demonstrated Peart's dedication to pushing the boundaries of drumming.
Trend Chaser posted an article this past week titled These Underrated Members Of Famous Bands Deserve More Credit, and Rush's Alex Lifeson is included:
Getting noticed or receiving praise in a three-piece band is no easy feat. However, when it comes to Rush, Geddy Lee's commanding presence and the remarkable drumming and songwriting skills of the late Neil Peart often overshadow Alex Lifeson. Nevertheless, Lifeson is an extraordinary guitarist and composer within the realm of Rush.
Candlebox vocalist Kevin Martin was recently interviewed for Sonic Perspectives to talk about the band's final album and farewell tour, and spoke a bit about when his band opened for Rush back in the '90s. You can listen to the interview online here (thanks RushFanForever).
Buzznet posted an article this past week on The Most Underrated Albums From The Greatest Bands In History and Rush's Vapor Trails is included:
During the early 2000s, Rush managed to release their album Vapor Trails despite facing challenging circumstances. The band's drummer and primary lyricist, Neil Peart, had to cope with the tragic losses of his daughter Selena in 1997 and his wife Jackie a year later. Nevertheless, Peart persevered, and the album marked their return after a six-year hiatus. Vapor Trails achieved significant success, reaching the top 10 in the U.S. charts. Some standout tracks from the album include the title track, "Out of the Cradle," "One Little Victory," and "Secret Touch."
As mentioned above, this past weekend was the annual Peart Family Memorial Golf Tournament. For this past week's Rush Roundtable on the Rushfans YouTube channel, the panel put their in-home Zoom-rooms behind, and ventured out to the Great White North to attend the Tournament and made a few stops along the way, capturing it all on video. They attended Rush Day at Henderson Brewery in Toronto on Saturday, they visited Lee Lifeson Art Park, the Ontario Legislative Building, Lakeside Park, Niagara Falls, and more. Check out the vlog below or on YouTube here:
That's all for this week. Have a great Labor Day weekend everybody!