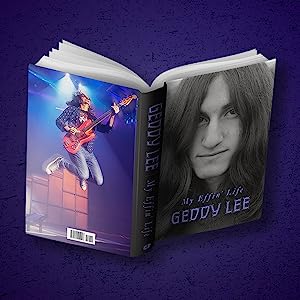 Geddy Lee's long-awaited memoir My Effin' Life will be released this Fall via Harper Collins, and is currently available for pre-order via Amazon and other retailers. From the book's description:
The long-awaited memoir, generously illustrated with never-before-seen photos, from the iconic Rock and Roll Hall of Famer, Rush bassist, and bestselling author of Geddy Lee's Big Beautiful Book of Bass.

Geddy Lee is one of rock and roll's most respected bassists. For nearly five decades, his playing and work as co-writer, vocalist and keyboardist has been an essential part of the success story of Canadian progressive rock trio Rush. Here for the first time is his account of life inside and outside the band.

Long before Rush accumulated more consecutive gold and platinum records than any rock band after the Beatles and the Rolling Stones, before the seven Grammy nominations or the countless electrifying live performances across the globe, Geddy Lee was Gershon Eliezer Weinrib, after his grandfather murdered in the Holocaust.

As he recounts the transformation, Lee looks back on his family, in particular his loving parents and their horrific experiences as teenagers during World War II.

He talks candidly about his childhood and the pursuit of music that led him to drop out of high school.

He tracks the history of Rush which, after early struggles, exploded into one of the most beloved bands of all time.

He shares intimate stories of his lifelong friendships with bandmates Alex Lifeson and Neil Peart-deeply mourning Peart's recent passing-and reveals his obsessions in music and beyond.

This rich brew of honesty, humor, and loss makes for a uniquely poignant memoir.
The publisher has released a few more photos of the book, including the back cover, which shows a photo of Geddy on stage in a mid-air jump. The book is slated for release on November 14th, and will be available in hard cover, on kindle, and as an audiobook (CD version available).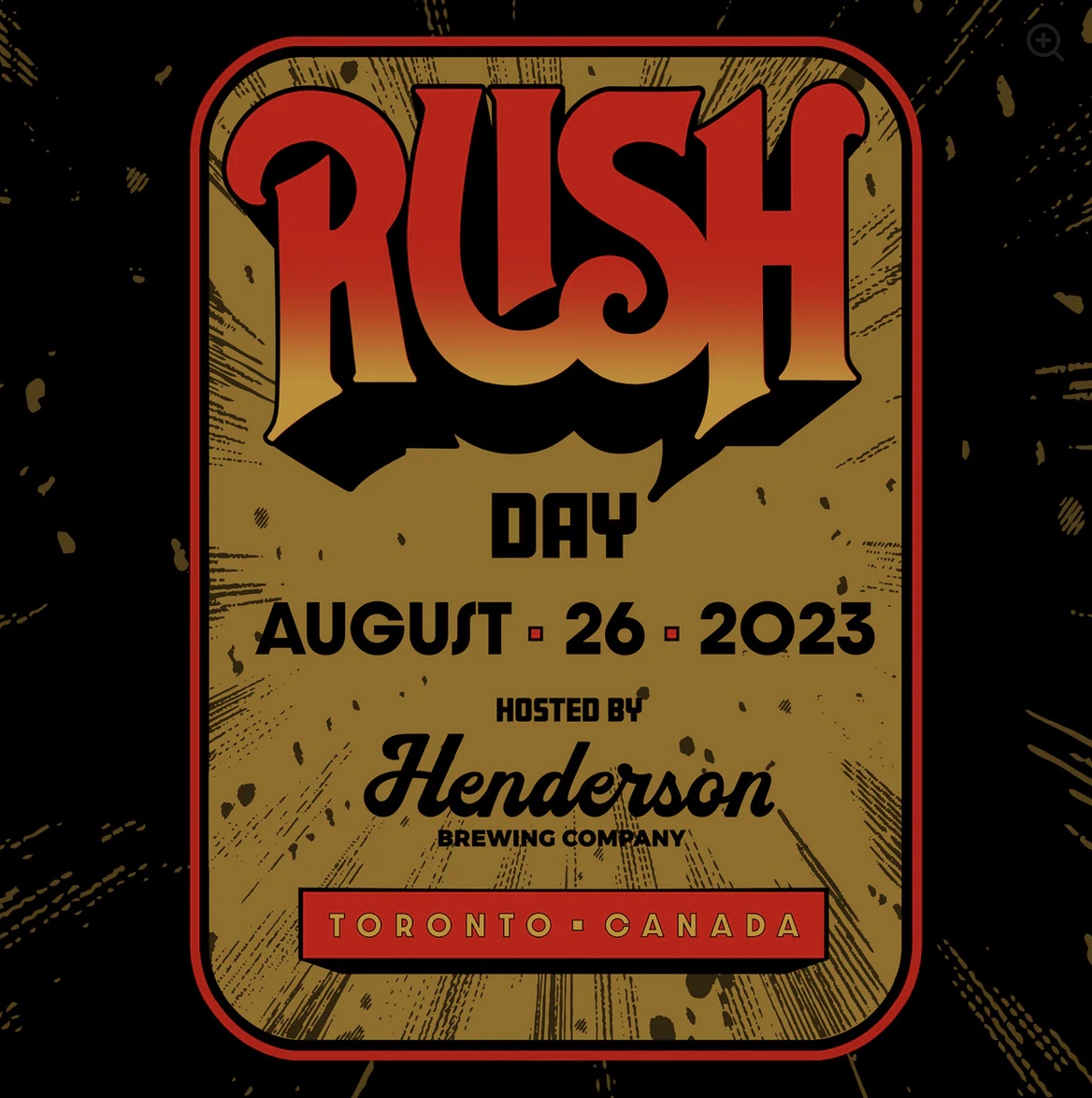 Toronto-based Rush beer producers Henderson Brewing Company will be hosting a Rush Day event at their brewery in Toronto 2 weeks from tomorrow on Saturday, August 26th. The event will feature Rush trivia, limited edition items, Rush memorabilia, a screening of the Time Stand Still documentary, Rush beer guided tastings (attendees will receive a personalized Beer Genuis certificate upon completion), and - of course - lots of Rush beer! Anyone can attend the event, but those who secure their free ticket online will receive a door prize and exclusive access to purchase a LE Rush Day Growler. The beer tastings also require the purchase of a ticket, which are available here. The Rush Day tentative schedule is as follows:
Rush Beer Tastings - Every 45 mins starting at 12PM with tickets limited to 20 per tasting time (ticket required).

Rush Karaoke - 2 sessions: 2 PM & 5 PM - Free to join

Rush Trivia - 2 sessions: 1 PM & 4 PM - Free to join

Rush Storytelling - 3 PM - Free to join, sign up for a slot the day of

Rush Raffle - Every hour starting at 12:30 PM - 7:30 PM - tickets available the day of, plus they'll be auctioning off special Rush items

Screening of Time Stand Still - 8 PM till 10 PM
You can get all the details and reserve a spot here.
Three Doors Down are celebrating the 20th anniversary of the release of their sophomore album Away From The Sun with a deluxe digital release that is available now via all the major streaming services. There will also be a limited-edition color vinyl edition available to purchase on November 10th. Rush's Alex Lifeson produced a few of the songs on the album; Dangerous Game, Wasted Me, and Dead Love.
American Songwriter posted a story this past week where they list off The 20 Best Taylor Hawkins Quotes, one of which mentions Rush's Neil Peart:
10. "The records that I grew up listening to had feel, and the drummers that inspired me-like Stewart Copeland, Neil Peart, Phil Collins and Roger Taylor-all had their own voice and individual style."
Planet Radio posted their list of The 50 Greatest Album Covers of All Time this past week, and Rush's Permanent Waves made the cut at #19:
The apocalyptic scene that forms the backdrop of the cover to Rush's seventh album 'Permanent Waves' was taken by the late photographer Flip Schulke of the Galveston Seawall in Texas during Hurricane Carla on in 1961. Somewhat juxtaposing this is the woman in 1950s attire in the foreground who is smiling and unaffected by the horrific devastation behind her. The woman in question is Canadian model Paula Turnbull - who was very famous in Europe at the time - and the photo was taken by British photographer Fin Costello.
Moving Pictures was also included at #44:
Created by long-time Rush collaborator Hugh Syme, the artwork to Rush's 1981 magnum opus 'Moving Pictures' is a very literal translation of the album title. A triple entendre, it features workers moving pictures, then the paintings themselves depict emotional - or moving - scenes, and finally the back sleeve has a film crew making a motion picture of proceedings. The sleeve was photographed outside the Ontario Legislative Building at Queen's Park, Toronto.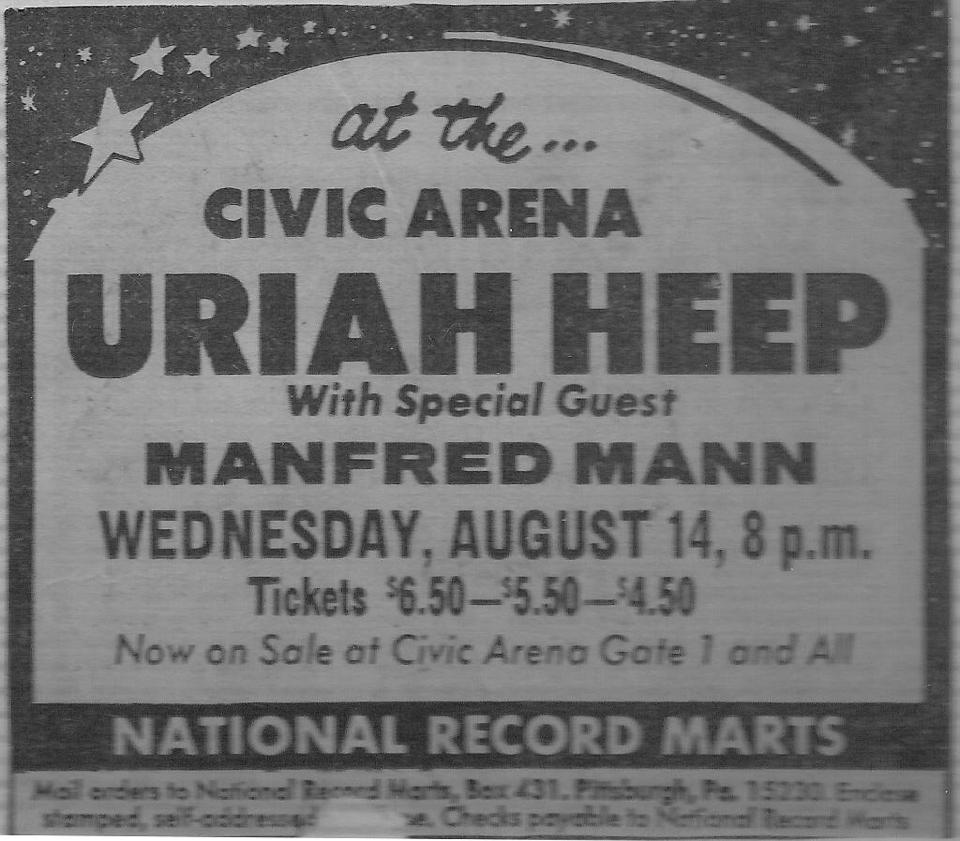 49 years ago this coming Monday, on August 14, 1974, the classic line-up of Rush with the late Neil Peart on drums played their very first live show, opening up for Uriah Heep and Manfred Mann at the Civic Arena in Pittsburgh. They played a short, 4-song set consisting of Finding My Way, In The Mood, Bad Boy, Working Man and a short Neil Peart drum solo - his first ever as a member of Rush. You can listen to a bootleg recording of the set below or on YouTube. The Pittsburgh Tribune-Review posted an article a few years ago on the 45th anniversary of the concert where they take a look back on this milestone show, including interviews from concert promoter Rich Engler and music writer Rex Rutkoski.
... Concert promoter Rich Engler, an East Deer native, didn't remember a lot about that first show other than the fact they played. Engler, one half of DiCesare-­Engler Productions, said he put Rush on as a favor to their agent, who he said pushed the band on him. "I didn't want them. They were unknown," Engler told the Tribune-Review. "Putting a third act on a show costs extra money. If you put somebody on like that, you want them to be able to sell tickets. Nobody knew who they were." ... After they started getting airplay with their second album, "Fly By Night" (1975), Engler was bringing Rush to town as headliners. "They're great guys, and I can't say enough about the band," he said. About a week later, then-Valley News Dispatch entertainment writer Rex Rutkoski reviewed the show in his "Vibrations" column focusing on Uriah Heep and Manfred Mann. "It was heavy metal in the city of steel last week, served up British style," he wrote about the show, during which the arena's retractable roof was open. His only mention of Rush was to say: "A Canadian trio, Rush, rocked in the preliminary." While Ultimate Classic Rock took it as Rutkoski being "less than enthused," Rutkoski said it wasn't intended as a slight against the band. "In those days, opening acts, or 'baby bands' as they were known, were virtually thrust on the promoter by the band management or the record company," he said. "I was not being dismissive of Rush. We generally didn't cover opening acts when space was tight, which it was for this particular column. When there was room, I loved turning readers on to new bands." ...
On the latest episode of Rush Roundtable (#194) on the Rushfans YouTube channel, the panel continues their Counterparts song discussions with Nobody's Hero:
Tomorrow, August 12th is the late Neil Peart's daughter Olivia's 14th birthday. Happy birthday Olivia, and have a great weekend everybody!!