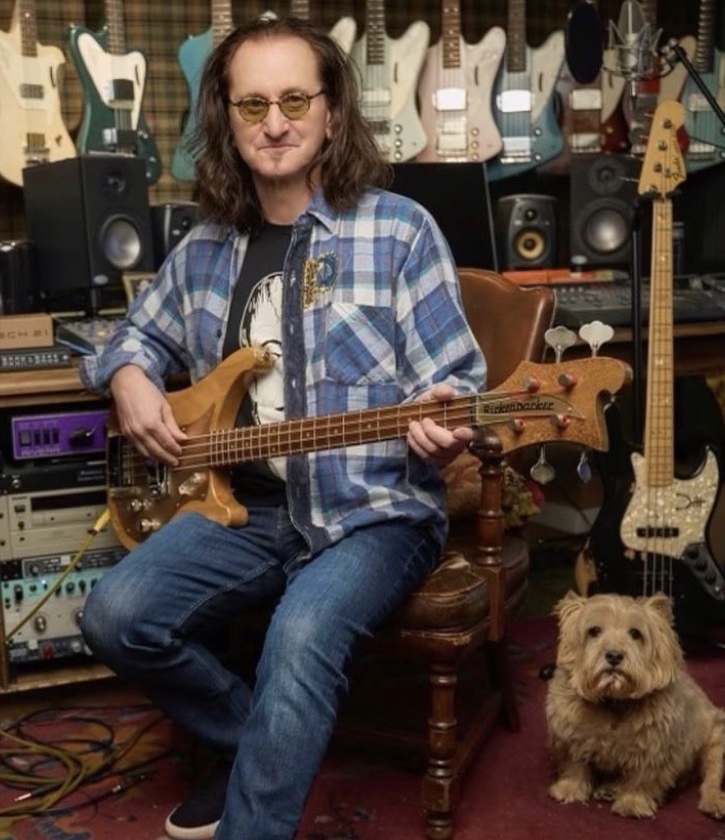 Rush's Geddy Lee turned 70 years old this past Saturday, July 29th, and the interwebs were abuzz with tributes to the legendary bassist all week, including this Instagram shout-out from Ged's best bud and bandmate Alex Lifeson. Ged spent his birthday enjoying one of his favorite pastimes - a Toronto Blue Jays baseball game - and the Blue Jays themselves recognized Ged's milestone birthday with this tweet:
Rush frontman AND Blue Jays fan ⭐️

Happy birthday to the LEGENDARY Geddy Lee 🤘 pic.twitter.com/lAcUobS4dE

- Toronto Blue Jays (@BlueJays) July 29, 2023
Not only was Saturday Geddy's birthday, but it also marked the 49th anniversary of one of the most important events in Rush history; 49 years ago on July 29th, 1974, the late Neil Peart joined Rush, replacing original drummer John Rutsey. Geddy along with his dog Stanley Wasserman thanked everyone for the birthday wishes via an Instagram post earlier this week: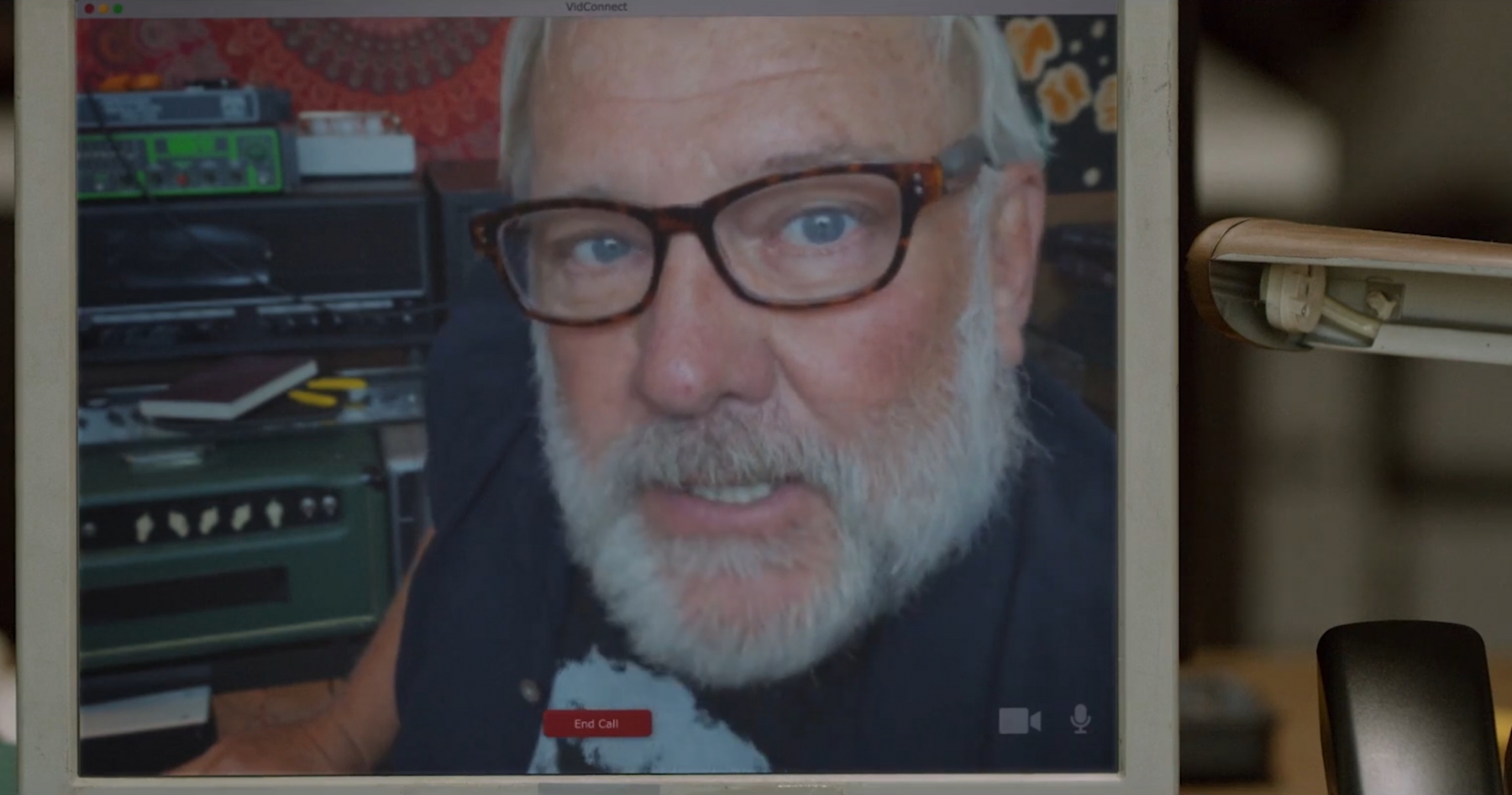 Rush's Alex Lifeson has a small role in the new Canadian horror film The Breach, which is based on a book by horror novelist Nick Cutter (aka Craig Davidson) with the screenplay co-written by him and Ian Weir. The film was directed by Mexican-Canadian Rodrigo Gudiño, and produced by Toronto's Hangar 18 Media with Guns 'N Roses guitarist Slash as an executive producer. It was filmed in Parry Sound, ON during September 2020 with an all-Canadian cast and crew, and starring Allan Hawco, Natalie Brown, Emily Alatalo and Wesley French, and Rush's Alex Lifeson. The film is set in the tiny Northern Ontario town of Lone Crow and follows Police Chief John Hawkins as he tries to solve a mysterious murder case. Alex Lifeson plays the role of conspiracy theorist named Alex and appears briefly in the film's trailer starting around the 1:05 mark. Alex is on a Zoom call explaining the origins of the mystery to someone, and says:
Black magic rituals. They are opening the gates of hell here. And I'm telling you - Parsons - he's at the center of it!
The Breach had its world premiere at the Fantasia international film festival in Montreal last year, and is now available in the US digitally and on-demand via Amazon Prime, YouTube, Google Play and Vudu. You can watch a trailer for the film on YouTube here. In a recent BANGERTV interview, Slash spoke a little about the film and how Lifeson ended up in the role:
... "Rodrigo [Gudiño, director] called me up, and he goes, 'What do you think about Alex Lifeson?' I was like, 'Are you kidding? That would be fucking awesome.' So I was really happy that he came in and did that. I know Alex, but I've never jammed with him or anything. I don't know him that well, but he's a really nice guy, and the fact that he's in this is really cool" ...
TVO Today is running an Ontariovision Song Contest this summer, where they are pitting 16 Canadian songs against each other to determine Ontario's signature song. One of the songs being considered is Rush's YYZ, and Michael Barclay argues the case for this instrumental classic in this article:
... As a candidate for a provincial anthem, "YYZ" also works precisely because it's an instrumental. No one needs to know the words, because no one's going to sing it. Words are loaded vessels. We keep changing the words to "O Canada" anyway, and we have for decades upon decades, despite what some "traditionalists" will tell you. "YYZ" doesn't dictate meaning: it allows you to bring whatever you want to it in whatever language or dialect you want. But, hopefully, it will make you want to pump your fist in the air with pride alongside your fellow citizens of every stripe. ...
Reader Brent let me know that Rush's Tom Sawyer was played during last week's Season finale of Hulu's The Hardy Boys (Season 3, Episode 8 - A Wild Ride). Without giving too much away, about 27 minutes into the episode, they play a 2-minute edited version of Tom Sawyer during one of the episode's most climactic scenes before wrapping up the season. You can watch the episode on Hulu (subscription required) at this location.
20 years ago this past Sunday, on July 30, 2003, nearly half a million people descended on Downsview Park in Toronto for what was officially called the Molson Canadian Rocks for Toronto concert, but more commonly known as SARSstock or SARSfest (thanks RushFanForever). The concert was the largest in Canadian history, and helped to raise funds to assist health-care and hospitality workers in the wake of a deadly SARS outbreak. It featured an all-star lineup with The Rolling Stones as the headline act along with AC/DC, Justin Timberlake, The Guess Who, Kathleen Edwards, Blue Rodeo, and - of course - Rush. You can watch Rush's short set from the concert below or via YouTube here.
A new Max Webster biography from author Bob Wegner titled Max Webster: High Class was released back in June, and it's now available to purchase via highclassmax.com. Max Webster were early labelmates with Rush at Anthem back in the '70s and opened for them many times. Rush also collaborated with Max Webster on the track Battle Scar from their 1980 Universal Juveniles record. So the book contains several references to Rush, Anthem and the Toronto music scene of the '70s. The Toronto Star posted an article this past week, profiling the new book, including interview snippets with the author and Max Webster frontman Kim Mitchell (thanks RushFanForever). From the article:
Up until very recently, Kim Mitchell had forgotten that day in Indianapolis in 1981 when he performed "Battle Scar" with his Toronto rock band Max Webster and a man wearing a mask of ex-U.S. president Richard Nixon snuck onstage to join them. The song had been recorded for Max Webster's 1980 album "Universal Juveniles" as a duet with Toronto label mates Rush, so it didn't take too long for the crowd to recognize the prankster. "It was Geddy Lee," Mitchell, 70, recalled with a chuckle over the phone. "He came on just to do 'Battle Scar,' but he didn't want the audience to know it was him until he started to sing. I remember that moment and that Richard Nixon mask as he blasted through the second verse of the song, but it was one that I had totally forgotten." Mitchell's memory about that incident - and a flood of others - was tweaked a few months ago when author Bob Wegner showed the band's founder his new, privately published coffee table book "High Class," an appreciation and compendium of Max Webster. ...
Brazilian bassist Julia Lage was recently interviewed for Bass Magazine and had the following to say when asked about the best concert she'd ever seen:
I've got to say the Rush concert in São Paulo was one of the best ones I've seen in my life. The way those three musicians were able to sound so big and tight was amazing. Plus, I love watching Alex Lifeson go from his solos to the rhythm guitar in a way you could swear that there are two players there. And of course, I won't even start on Geddy Lee! He was and is a huge influence for me. Also, I saw Aerosmith recently in Vegas, and it was an incredible experience to watch Steven Tyler up close doing his thing.
411mania.com posted their list of the Top 7 1980s Non-WWE Theme Songs this past week, and Rush's Tom Sawyer was included at #4 for its usage as Kerry Von Erich's entrance music:
Hindsight being 20/20, nobody's very surprised that Kerry Von Erich didn't become the biggest wrestling star of the 1980s. The drugs, distractions & injuries kept Kerry from becoming that tippy top guy. If you were living in that era and keeping up with our so called sport, you remember how heavily pushed Kerry was by World Class & the wrestling magazines. He had the look & a certain charisma about him, and with the right wrestlers he could get the job done in the ring. Not knowing all of the behind the scenes issues or physical limitations Kerry had, it was easy to believe that he could be a long-term World Champion. He also had a pretty kickass entrance tune. World Class really dove into the rock music sensation head-on, and Kerry using "Tom Sawyer" as his theme was one of the more memorable entrances of the era. It gave him the nickname of "Modern Day Warrior", which became attached to his name up until his WWF arrival. Heck, he was even included in "The Warriors" Survivor Series team, so it's not like it was completely swept under the rug.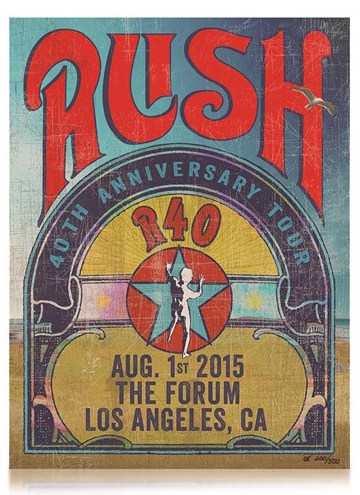 Eight years ago this past Tuesday, on August 1, 2015, Rush closed out the R40 Live tour at the LA Forum. Although fans were hesitant to accept the possibility at the time, this would end up being the last live show that the trio of Neil Peart, Alex Lifeson and Geddy Lee would ever perform together. Neil Peart's tragic passing in 2020 sealed that sad reality. Probably the most poignant moment of that show was when Neil Peart emerged from behind his kit after the final song to join his bandmates at the front of the stage to wave goodbye to the fans and take one final bow, as seen in this video.
The latest episode of Rush Roundtable (#193) on the Rushfans YouTube channel features a twist on thier great take or let's debate format, where the panelists each bring a SUPER hot Rush take to the table to see what the panel has to say:
That's all for this week. Have a great weekend everyone!