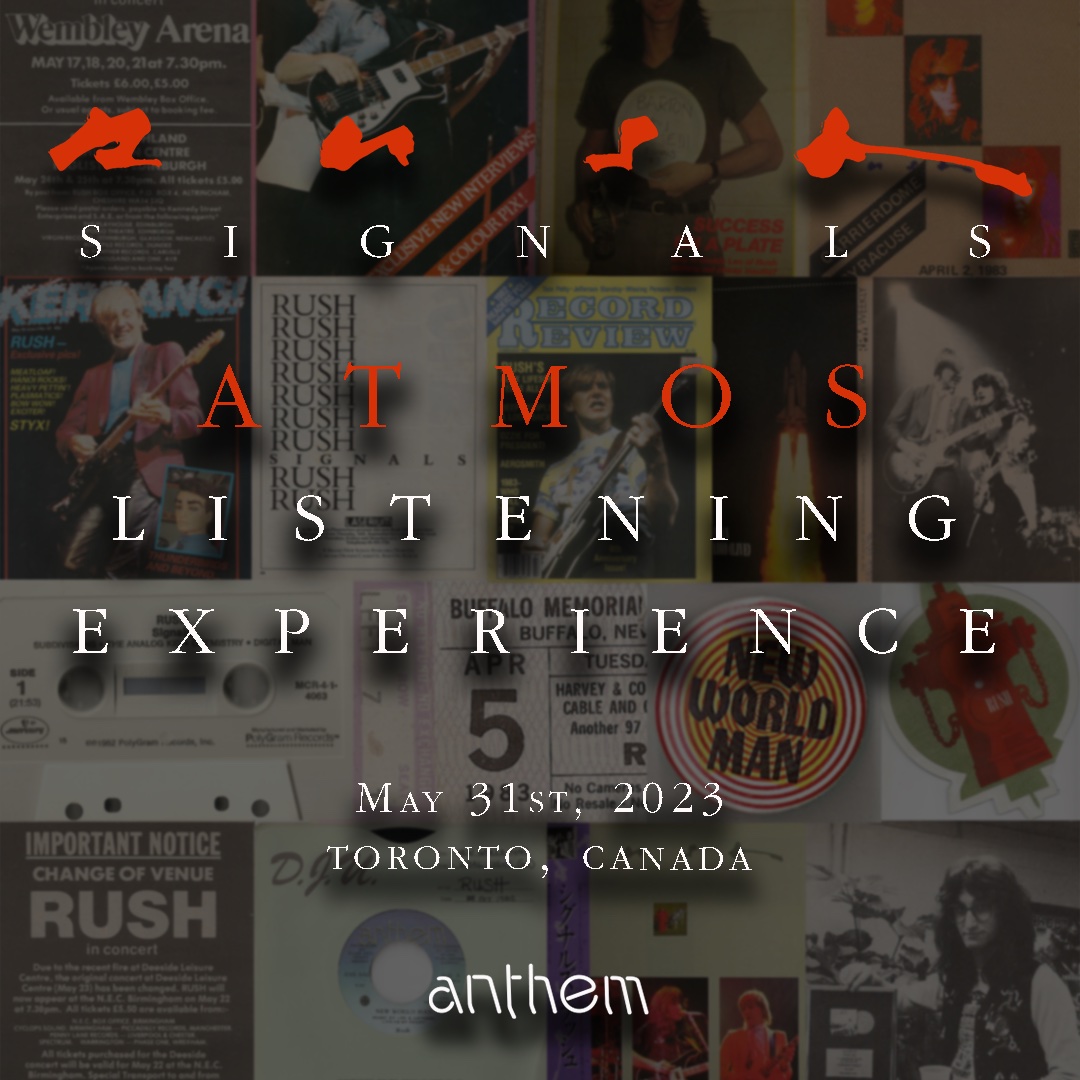 Rush's Signals 40th anniversary box set officially released a month ago and is now available for purchase via this link, or via Amazon and other online retailers. The set is the latest in a string of 40th anniversary box sets offered up by the band over the past several years, beginning with a 2112 set back in 2016. It is available in three distinct configurations, including a Super Deluxe Edition, an LP Picture Disc Edition, and a Dolby Atmos Digital Edition. To compliment the two official videos for the album's bookend tracks (Subdivisions and Countdown), the band released visualizer videos for the remaining six tracks in the lead up to the release which you can check out on Rush's YouTube channel here. There's also an unboxing video which you can watch here, and John at Cygnus-X1.net has scanned all the artwork and made it available online here. In order to showcase the Signals Atmos Digital release, Rush and Anthem Records will be hosting an invite-only Signals Atmos Listening Experience event at Complex Cinemas (10 Dundas Street East #402 Toronto, ON M5B 2G9 Canada) in Toronto this coming Wednesday on May 31st. The event will include pre-show giveaways and onscreen trivia at 6:30, the show itself at 7PM, and a post-show panel discussion with Rush insiders.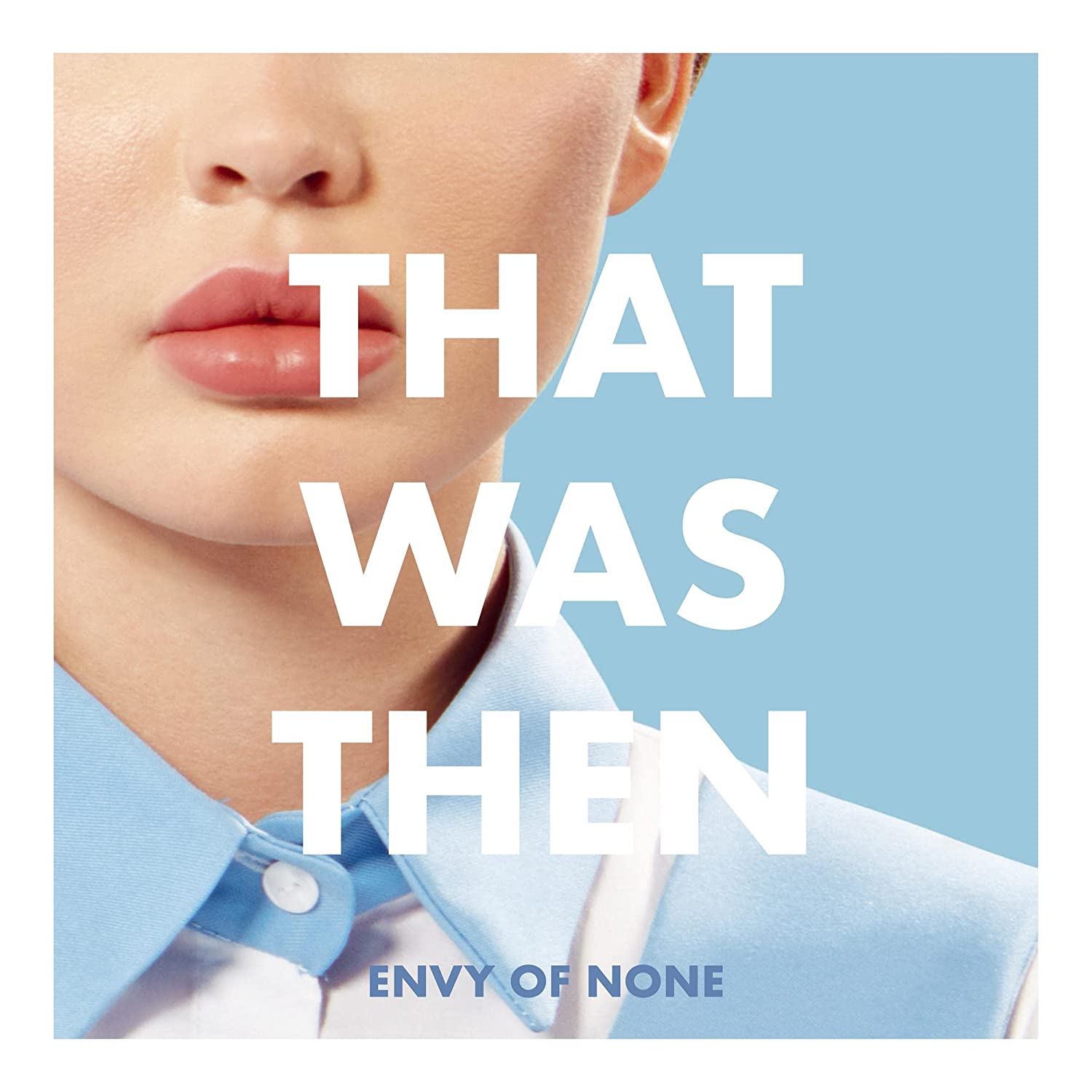 Alex Lifeson's Envy of None project with Andy Curran, guitarist Alfio Annibalini and vocalist Maiah Wynne released their self-titled, debut album last April, and it's currently available for purchase and streaming worldwide via several different online retailers and services, including Amazon and the official Envy of None merch store. The band will be releasing a new EP titled That Was Then, This Is Now 2 weeks from today on June 9th via Kscope Records. The EP includes one newly-recorded track titled That Was Then, remixes of Dumkoptf and Dog's Life, Lethe River, and You'll Be Sorry, which was previously released as part of the deluxe edition of their 2022 self-titled debut. MetalTalk.net got their hands on a review copy of the EP and had a lot of great things to say:
... The beautiful, lush pop of Lethe River opens, Lifeson's dancing guitar pattern and subdued power chords lifting whilst Wynne's vocals beguile and bewitch. Equally good, You'll Be Sorry hypnotises with a gossamer-light and ethereal atmosphere set to calm even the most fevered minds before the remix of Dog's Life shimmers in the heat of its magnetically punchy beat. Things calm again for Dumb (Der Dummkopf Remix) as it lifts and transport in an electronic haze, and the EP closes with That Was Then, a slice of soaring pop that mixes sharp-witted Sarah McLaughlin-like vocals with guitarwork not a million miles removed from the touches of David Gilmour, the whole with echoes of the invention of Kate Bush. A subtle mix of originality and touches of their influences, Envy Of None are prime painters of aural soundscapes, each new release a thrilling journey into the unknown as they weave elements together into a magical carpet ride that thrills as much as it surprises. Given the people involved, this was going to be good, but it never had the automatic right to be as outstanding as it is. Truly sublime and a treat for hearts, minds and ears. ...
The EP will be available digitally and on vinyl, and is currently available for pre-order via the Envy of None website and other online retailers. The vinyl edition can be pre-ordered via Amazon here.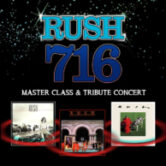 Music journalist, musician and Rush fan Jeff Miers along with Rush historian, archivist and author Ray Wawrzyniak, will be hosting a Rush 716 Master Class and Tribute Concert at The Cave in Buffalo later this summer on Thursday, August 3rd (716 refers to the Buffalo area code). From the event listing:
... The Rush 716 event will feature a master class with music journalist/musician/Rush maniac Jeff Miers and Rush historian, archivist and author Ray Wawrzyniak, in a discussion of the pivotal period in Rush history represented by the albums Permanent Waves(1980), Moving Pictures (1981), and Signals (1982). Following the master class, Rush tribute band Bravado (Jeff Miers, Ryan Nogle, Lucy Bell, Erin Ward, Nate Kalnitz, Mark Marinaccio) will perform a set composed of songs from Permanent Waves, Moving Pictures and Signals. Attendees will have the opportunity to register to win a variety of Rush merch (including deluxe box sets), enjoy Rush Golden Ale, view a Rush slideshow, and participate in a Rush trivia contest. A veritable paradise for Rush nerds in the 716! ...
The event will take place on Thursday, August 3rd from 7-10PM with doors opening at 6PM. Tickets are $15 in advance and $20 at the door, and you can purchase yours here.
Julien's Auctions Music Icons auction took place this past weekend in NYC and featured a spectacular line-up of over 1,200 pieces, including one from Rush's Alex Lifeson; a circa 1987 candy apple red Signature Aurora electric guitar that sold for $82,550. Lifeson sold the bulk of his guitar collection at last year's Music Icons auction, raising over $3 million.
Far Out Magazine posted their list of 10 rock albums that went from hated to loved and Rush's Caress of Steel album made the cut at #7:
... After making a dent in the charts on Fly By Night, Caress of Steel was the album that nearly destroyed Rush, going for something too progressive and the label considering dropping them before the tour for the record was over. In hindsight, though, this was the first time Rush experimented with some epic pieces, with 'The Fountain of Lamneth' being their first side-long epic that told a story over ten minutes long. Outside of the bombastic tunes, album opener 'Bastille Day' has become a fan favourite, having one of the greatest melodies of their early period before they transitioned into prog grandeur on later projects. ...
WealthOfGeeks.com posted an article this past week titled The Ultimate Nostalgia: Boomers' Top 12 Concert Experiences, and Rush was included at #3:
Many claim the Toronto-based rock band, fronted by Geddy Lee, Alex Lifeson, and Neil Peart, Rush, performed unforgettable shows. A few music lovers even air jealousy toward those who witnessed the greatness live. "They blew me out of the water with musicianship, dense lyrics, and the sheer amount of sound that three guys could generate," an individual articulates.
Primus frontman Les Claypool was recently interviewed for Bass Player magazine to talk about the 7 bassists who shaped his sound, with Rush's Geddy Lee taking the top spot:
Geddy was my first superhero. He just did things that were a real kick in the ass on bass. But Geddy was a very melodic player, and his tone was always so amazing. For a young man like me, the music of Rush was very enticing because it was unlike anything else. And honestly, Rush fans were unique people, and we still are. It's almost like being a Trekkie. It's like this exclusive club, and, before they got big, there was a cult element to the whole thing. But beyond that, Geddy's tonality, melodic sense, and overall power were all very enticing to me.
Throughout 2023, Axios Cleveland is looking back at the 15 greatest concerts in Cleveland history. In their latest installment from earlier this week, they list Rush's Cleveland stop on the 2011 Time Machine tour at #12. This show was filmed for the band's live release Time Machine 2011: Live in Cleveland.
Far Out magazine posted their list of the 10 greatest pop songs by classic rock artists this past week, and Rush's Time Stand Still was included at #10:
... Featuring a guest vocal by Aimee Mann, 'Time Stand Still' is the closest Rush ever came to sounding like power-pop, with Alex Lifeson playing beautiful arpeggiated guitar figures over the chorus. Although most of the album Hold Your Fire had to do with elements of free jazz, there is no room for improvising on this tune, with every part meticulously laid out, including a bridge where the band can play around with the song's meter a little bit. Even with the radio-friendly melodies, the eccentricities in Neil Peart's lyrics are still present, talking about the fleeting nature of life and how experience slowly slips away from humanity when they try to slow down time for themselves. Rush could play nice with the sounds of the time if they wanted to, but they would still drop the lyrical jewels in there.
In this week's episode of Rush Roundtable (#182) on the Rushfans YouTube channel, the panel attempts to draw eyes (and ears) to some of Alex Lifeson's solos that go under-appreciated and often forgotten by the general Rush fan public:
That's all for this week. Have a great Memorial Day weekend everybody!!