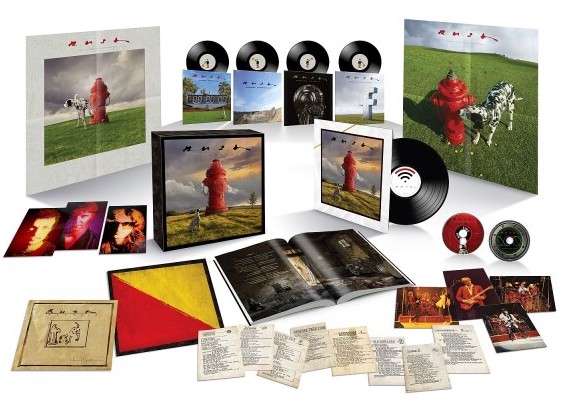 Rush's Signals 40th anniversary box set officially released last Friday and is now available for purchase via this link, or via Amazon and other online retailers. The set is the latest in a string of 40th anniversary box sets offered up by the band over the past several years, beginning with a 2112 set back in 2016. It is available in three distinct configurations, including a Super Deluxe Edition, an LP Picture Disc Edition, and a Dolby Atmos Digital Edition. To compliment the two official videos for the album's bookend tracks (Subdivisions and Countdown), the band released visualizer videos for the remaining six tracks in the lead up to the release which you can check out on Rush's YouTube channel here. There's also an unboxing video which you can watch here, and John at Cygnus-X1.net has scanned all the artwork and made it available online here. Several lackluster reviews of the set were posted in the past week, most referring to the lack of a live release as diminishing its appeal. The headline for Classic Rock's review reads Rush's Signals celebrates its 40th birthday with an underwhelming party, and it concludes with this paragraph:
... a note of caution here. While this box set includes the original album on vinyl, CD and Blu-ray audio, plus four nostalgia-inducing seven-inch singles, a hardback book and assorted artworks, there is no previously unreleased music - not even a period-accurate live set. Given the stature of this album, fans might expect a little more.
Goldmine Magazine's review echoed a similar sentiment:
... If the Super Deluxe Edition has any flaws, it's that apart from the two live tracks on the B-sides of the seven-inch singles, the rest of the set is the studio tracks from Signals presented in different formats. A live recording of a show from the Signals tour would have been a welcome addition to the set. Opportunity lost there.
And Paste magazine acknowledged the brilliance of the album, but was lukewarm as to the value of the box set itself:
... Admittedly, the Abbey Road remastering (from 2015) mostly favors tastefulness over gimmicky, artificial highlighting of details for its own sake. The same can't be said of original album cover artist Hugh Syme's new slate of visuals. Where there was a suggestive charm in the original cover's depiction of a dalmatian sniffing at a bright red fire hydrant, Syme opts for a more blunt, literal presentation this time around. His new image of a dog lifting its leg is un-subtle and unnecessary-much like this reissue. Should you buy the old CD used for three bucks? Sure. But does this box give us an occasion to revisit a Rush classic from a pivotal point in their history? You bet. For that alone, this set is worth acknowledging, if not necessarily celebrating or shelling-out for.
The Blu-ray contained in the set contains the core album newly mixed from the original multitracks in 24-bit/48kHz Dolby Atmos and 24-bit/96kHz Dolby TrueHD 5.1 by longtime Rush producer/engineer Richard Chycki, who recently sat down with Sound and Vision to discuss the mixing process:
... The label had said to me, "We want this to be true to the original," so I had to honor that. Now, you can hear there are a few little adjustments that were made. For example, Al's guitars for "Subdivisions" are a little bit more prevalent in the Atmos version. On everything I've done for Rush-as far as any of the 5.1 mixes, or anything I've done in Atmos-Al's always wanted to have a little more googjhh to his guitars on "Subdivisions." But overall, it's very accurate, and I've tried to stay true to the original. ...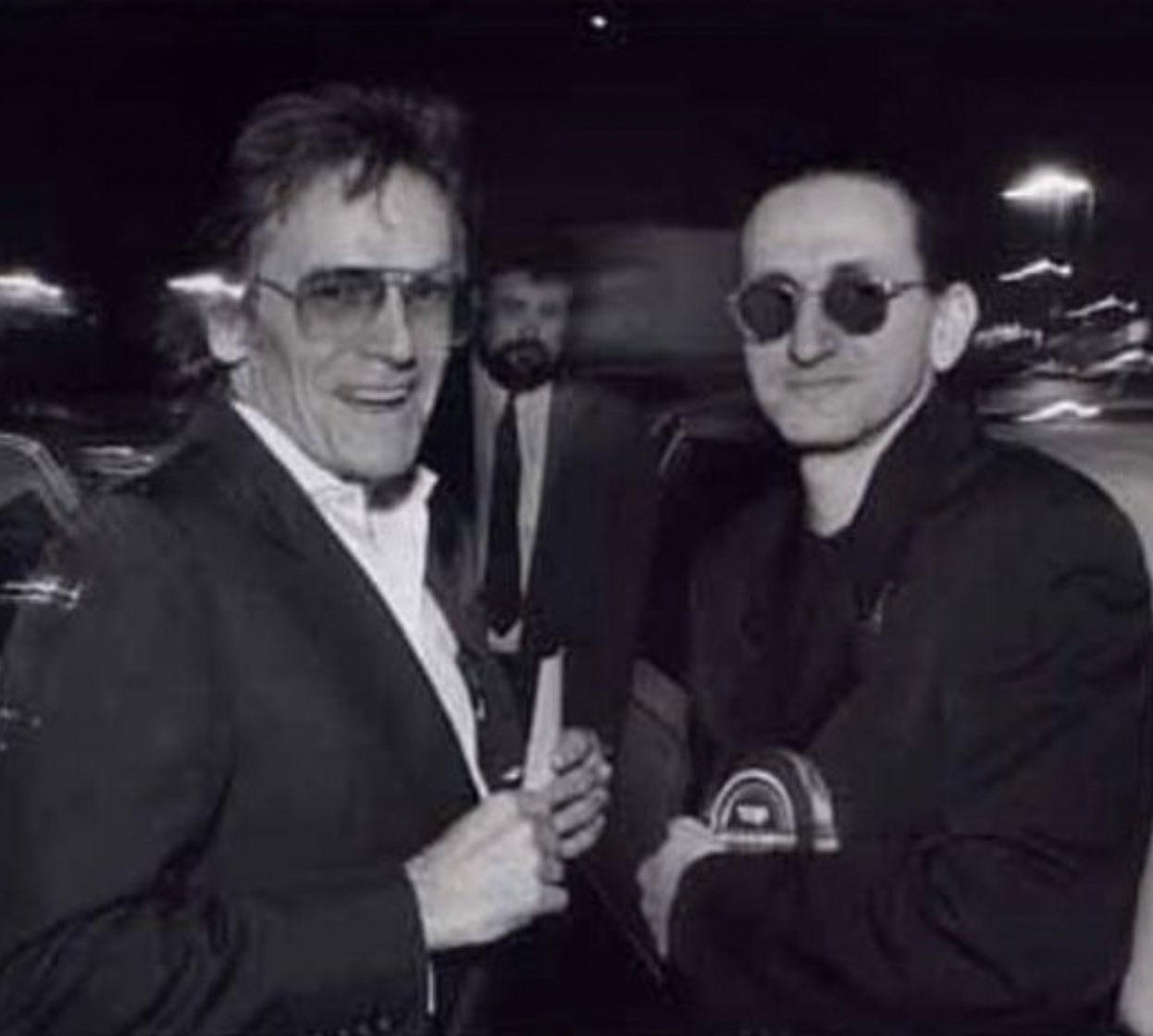 Legendary Canadian folk music icon Gordon Lightfoot passed away earlier this week at the age of 84. Lightfoot was the subject of a 2019 documentary titled Gordon Lightfoot: If You Could Read My Mind, and both Rush's Geddy Lee and Alex Lifeson appear in the documentary (Geddy mostly). Here's a transcription of their comments from the film:
Geddy Lee: He to me is one of the greatest examples of timeless singer-songwriter, you know. A man dedicated to the word and to the tune. He is our poet laureate; he is our iconic singer-songwriter. He sent the message to the world that we're not just a bunch of lumberjacks and hockey players up here. You know, we're capable of sensitivity and poetry and that was a message delivered by the success of Gordon Lightfoot internationally. People were more willing to listen to someone from Canada because someone of such enormous talent had paved the way.

Alex Lifeson: He was at the top of the totem pole and we were proud of it.
Geddy and Alex also both posted personal tributes to Lightfoot via their Instagram accounts. Geddy's post references a photo of himself with Lightfoot at the Toronto Music Awards in December 1989 when Gord was presented with a Lifetime Achievement Award:
The first time we met was outside a local award show at a club in Toronto - a legendary poet, a songwriting inspiration - a gem of a man - I loved him. He used to bring his daughter who was a fan, to our shows, and he'd sit with her in the audience getting blasted with volume for three hours - a few months back he phoned me out of the blue, for no other reason than to say he'd just watched one of our concert films and really loved it. Every time I ran into him the first thing he would ask was how many gigs we'd done that year - he'd then proudly counter with the fact that he had played even more! RIP Gord - you are the man - the greatest Canadian.
Alex's post reads as follows:
A Canadian legend and one of the greatest songwriters of all time has left us. I'll always remember Gord bringing his daughter Meredith to one of our Toronto shows and sharing a happy pre-show moment together. Safe travels, Gordie, on your Carefree Highway. ~Lerxst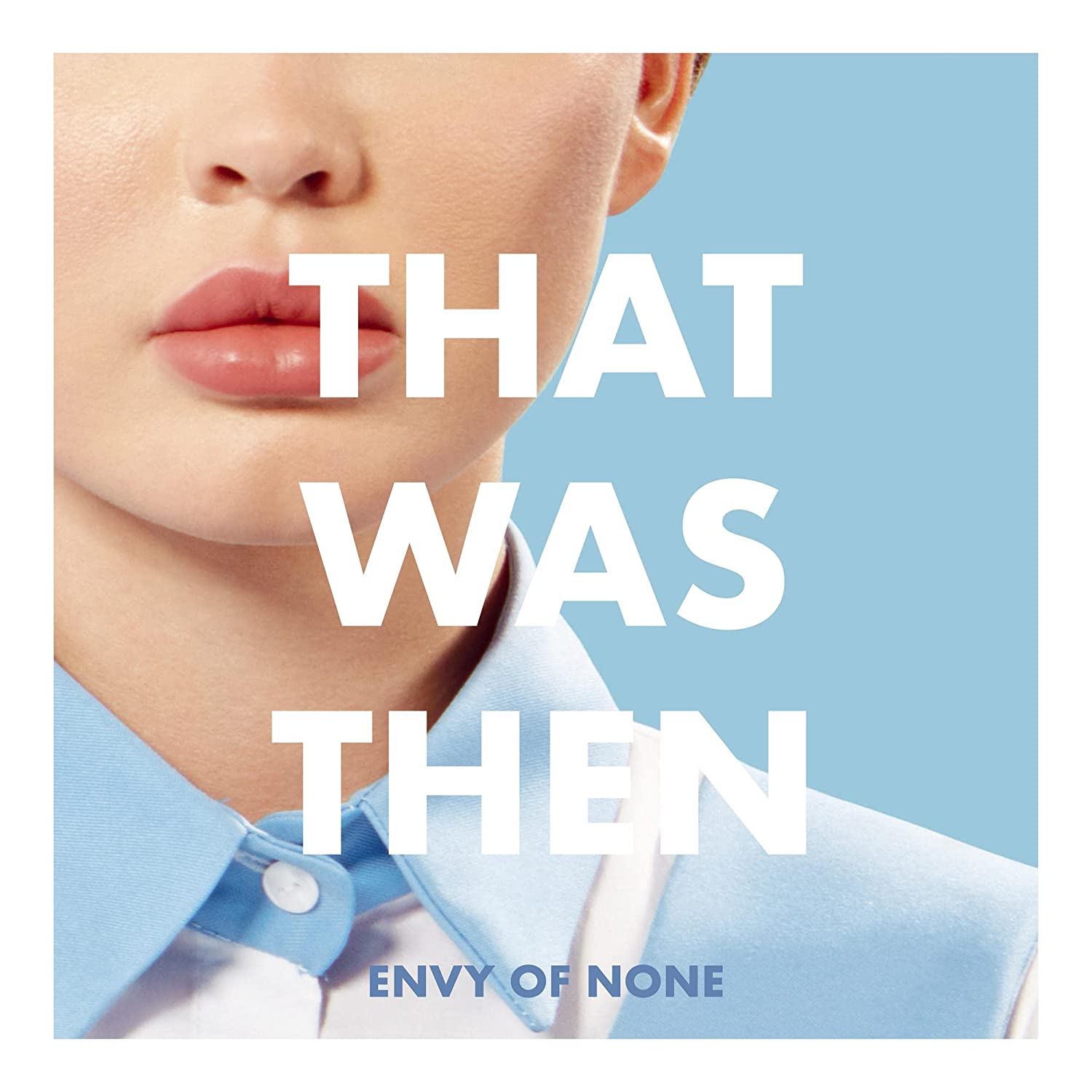 Alex Lifeson's Envy of None project with Andy Curran, guitarist Alfio Annibalini and vocalist Maiah Wynne released their self-titled, debut album last April, and it's currently available for purchase and streaming worldwide via several different online retailers and services, including Amazon and the official Envy of None merch store. A couple of weeks ago the band announced that they will be releasing a new EP titled That Was Then, This Is Now on June 9th via Kscope Records. From the press release:
... The EP consists of one newly recorded track, "That Was Then," along with remixes of "Dumkoptf" and "Dog's Life." It also includes tracks "Lethe River" and "You'll Be Sorry," which was previously released as part of the deluxe edition of their 2022 self-titled debut. "Very happy to say that chapter 2 for Envy of None has officially started," Curran shares. "We have a brand new song called 'That Was Then, This Is Now' which marks the first new track we've recorded since our debut album release almost a year ago."
The EP will be available digitally and on vinyl, and is currently available for pre-order via the Envy of None website and other online retailers. The vinyl edition can be pre-ordered via Amazon here. Andy Curran recently sat down with the Rock History Canada YouTube channel to discuss many of Curran's current projects, including Envy of None, and shared a few intriguing tidbits about Rush and Alex Lifeson in particular. In one excerpt from the interview, Curran mentions how Lifeson plays guitar "every single day", and in another clip he talks about the potential for Geddy and Alex to work together again. He mentions that he thinks next year would be a perfect time for Ged and Al to do "something" given that it's the Rush 50th anniversary (since the release of the debut album). Although it's not clear whether he's just speculating or has some inside knowledge. You can listen to the entire interview here (thanks RushFanForever).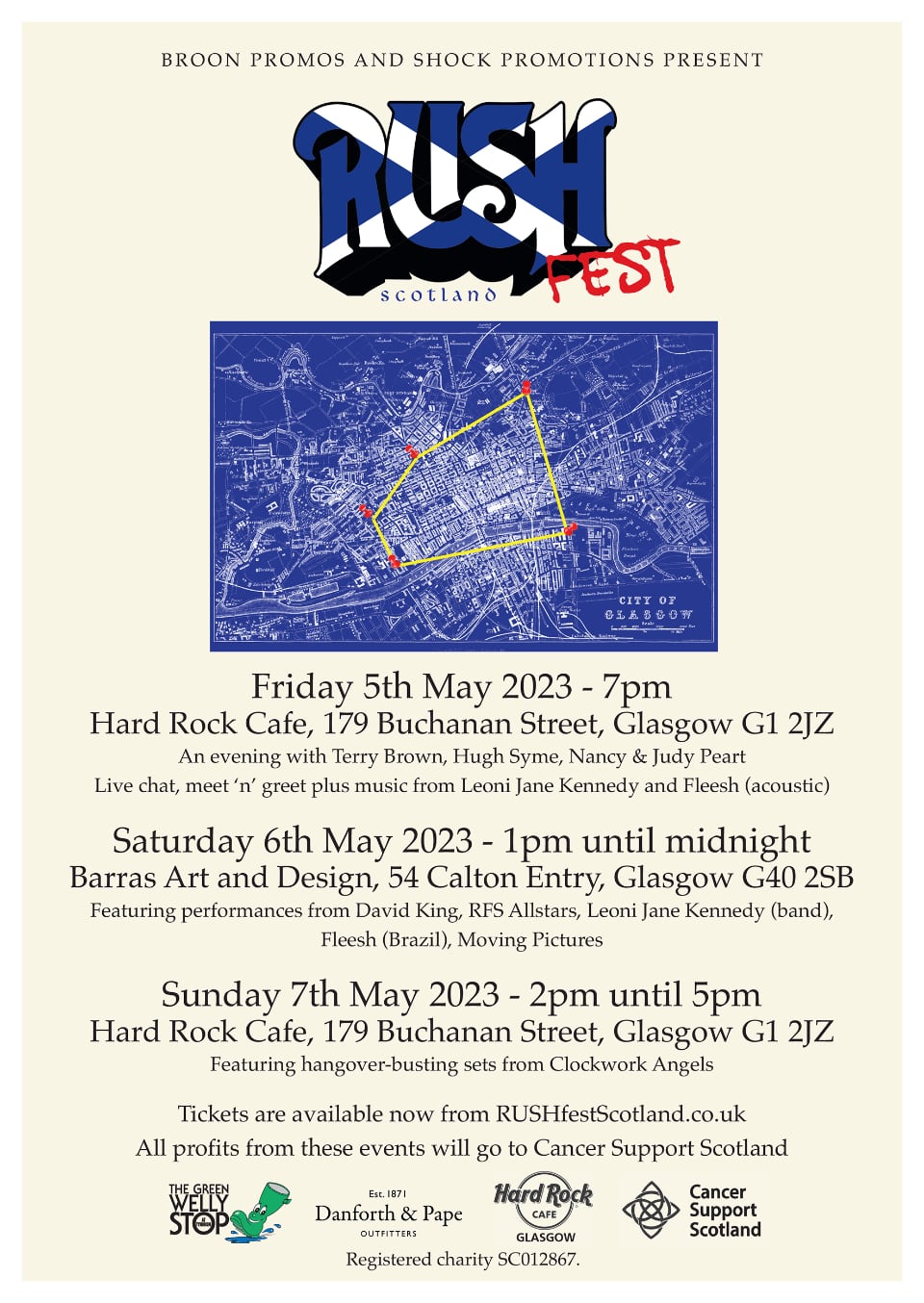 The annual RUSHfest Scotland Rush fan gathering takes place in Glasgow this weekend beginning tonight and wrapping up this coming Sunday, May 7th. The event will feature games, performances from multiple Rush tribute bands, special guest appearances from Hugh Syme, Terry Brown, Judy and Nancy Peart, and more. For all the details and to purchase tickets, visit RUSHfestScotland.co.uk.
Canadian rock band Dali Van Gogh has released a cover of Rush's Tom Sawyer which they are making available as a single. You can listen to the song below or on YouTube, and it is also available on all major streaming platforms. From BraveWords.com:
... "We are thrilled to release our version of Tom Sawyer'," said Rocky Moreau, lead vocalist of Dali Van Gogh. "Rush has been a huge influence on our music, not to mention my own personal journey, and this song has always been one of our favorites. We hope our fans will enjoy our take on this classic track." ... The single will be accompanied by a music video that will be released in a few weeks, which was directed by Keke Beatz. The video will feature Dali Van Gogh performing "Tom Sawyer" in a dimly lit studio, with moody lighting and dynamic camera work adding to the song's intense energy.
Ultimate-guitar.com posted their list of 25 Guitarists With the Most Recognizable Tone and Rush's Alex Lifeson made the cut at #23:
We could spend hours, days, and months talking about Alex Lifeson and it still wouldn't be enough to fully praise his musicianship. Of course, a huge part of all that is his incredible and unique tone.
ScreenRant.com posted an article this past week listing off the 10 best episodes of The Trailer Park Boys, and the Season 3 episode which featured a guest appearance from Rush's Alex Lifeson is included at #4:
One of the best Trailer Park Boys episodes is "Closer to the Heart," and it all has to do with the band Rush. In the installment, Bubbles wants to see Rush perform in Halifax, but Mr. Lahey purchases all the remaining tickets to get back at Ricky. Of course, this doesn't stop the boys, and they make several attempts to break into the concert anyway. What's even more, is that through various turns of events, Ricky kidnaps Alex Lifeson, Rush's guitarist and backup vocalist. It's a Trailer Park Boys episode that takes a typical Ricky and Julian scheme and blows it way out of the water. Lifeson turns out to be a pretty good sport, eventually letting Bubbles be his guitar tech at the concert.
HeyAlma.com posted an article on The Jews of the Rock & Roll Hall of Fame this past week, and Rush's Geddy Lee is mentioned:
Lee has often stated how much being Jewish influenced his music; the song "Red Sector A" is based on his mother's experience being liberated from Bergen-Belsen. Lee has stated that he considers himself a Jewish atheist.
Far Out magazine posted a couple of Top 10 lists this past week that included Rush. The first being their list of 10 classic rock songs based on classical music, which included Rush's nod to Tchaikovsky at the end of 2112: Overture:
... Opening their magnum opus '2112', the first few minutes of the overture give listeners a taste of all the motifs that will be reappearing, from the introduction of the priests of The Temples of Syrinx to the final push forward in the 'Grand Finale'. Since this was an overture of sorts, the band only thought it would be fitting to give a nod to Tchaikovsky at the very end of the movement. As the music swells and everything builds to one grand climax, Neil Peart's drums are replaced with the sounds of cannons, just like Tchaikovsky used in his '1812 Overture'. Despite being one of the most intricate prog bands in the world, it seems like Rush thought that even lifting a second from anyone's classical piece would still be considered cheating.
Far Out's second list including Rush this past week was their breakdown of 10 classic albums with terrible endings, which included Cygnus X-1 at #3:
... For most of the runtime, fans have grown accustomed to Neil Peart's flowery language about mythic beings and the unstoppable force behind the power trio's music. As fans enter the song 'Cygnus X1', it sounds like it will be more of that until the song fades away without any clear resolution. After droning on about a man succumbing to the force of a black hole, the record never resolves that storyline as Geddy Lee screams about being pulled further into the deep depths of space. The only reason why this song is unfinished is because of what happened next for Rush. On the following album, Hemispheres, fans are treated to the second chapter of 'Cygnus' on the first side, where they see where this space traveller has been after going into the black hole. While this was a cool idea in the era of vinyl, no one should have to buy two separate albums to listen to one song.
In addition to these 2 Top 10 lists, Far Out's Tim Coffman penned an article this past week on Rush's Vapor Trails album and how it saved Rush.
Guitar World recently interviewed guitarist Paul Gilbert and asked him about the 12 guitarists who shaped his sound, and Rush's Alex Lifeson is included at #7:
... "So, Rush was really my introduction to prog-rock: odd time signatures, long songs, and having to really memorize a lot of stuff to be able to play along with it. But it was a fun challenge to try and play these complicated songs that required more than a couple of lessons to understand. I used to play a lot of that stuff in the bands I was in, which meant it was a total pedalboard-building process. It was like, 'Okay, I want to play Red Barchetta, I need to have my delay set at a certain setting,' or whatever. I got very into all the pedal stuff to try to copy what Alex was doing. He was a very interesting guitar player who did a lot of stuff that I would never have thought of beyond the scope of the Jimmy Page stuff I was into. So, he exposed me to elements I didn't know about in very creative ways." ...
In this week's episode of Rush Roundtable (#179) on the Rushfans YouTube channel, the panel continues their Roll the Bones song discussion with Bravado:
That's it for this week. Have a great weekend!!