UPDATE - 4/15@11:45AM: John over at Cygnus-X1.net has posted a short excerpt from the feature and made it available online here.
UPDATE - 4/14@10:09AM: The feature includes an extensive write-up on the history behind the album's recording, including several new interview snippets with Alex Lifeson. Here are some comments from Lifeson regarding Rush's progression through their keyboard era in the '80s (thanks RushFanForever):
"I guess I just fought for my guitar rights for years after Signals," says Lifeson. "Of course, on the albums that followed, we really developed the whole keyboard character. But it was a bit of a fight." Grace Under Pressure (1984) - co-produced by Peter Henderson after U2 associate Steve Lillywhite blew out Rush to work with Simple Minds - went some way to restoring the balance, bringing Lifeson's guitars further up in the mix. "There's something about the sound and the power and the songwriting quality that really strikes me," says Lifeson. "I really love that record." Lee's keyboard obsessions peaked on 1985's Power Windows, an album that, sonically at least, came over like a more refined, glossy version of Signals. Lifeson told Classic Rock that he found the record "a challenge - but I thought, 'Go with it, it will work out in the end.'" It would, but it took a few more albums. Despite featuring Lifeson in a more prominent role (and one of the all-time great Rush singles in Time Stand Still), 1987's Hold Your Fire has been written off by many fans as a bloodless misfire. The 1989 live album A Show Of Hands was a de facto end on the 'keyboard era', but Presto, released in the same year, felt like a continuation, though it was better received than its predecessor. "The 80s was tough for me at times as a guitarist," concedes Lifeson. "I missed the more direct hard rock approach. But I think we came back around to that for [1993's] Counterparts."
----- snip -----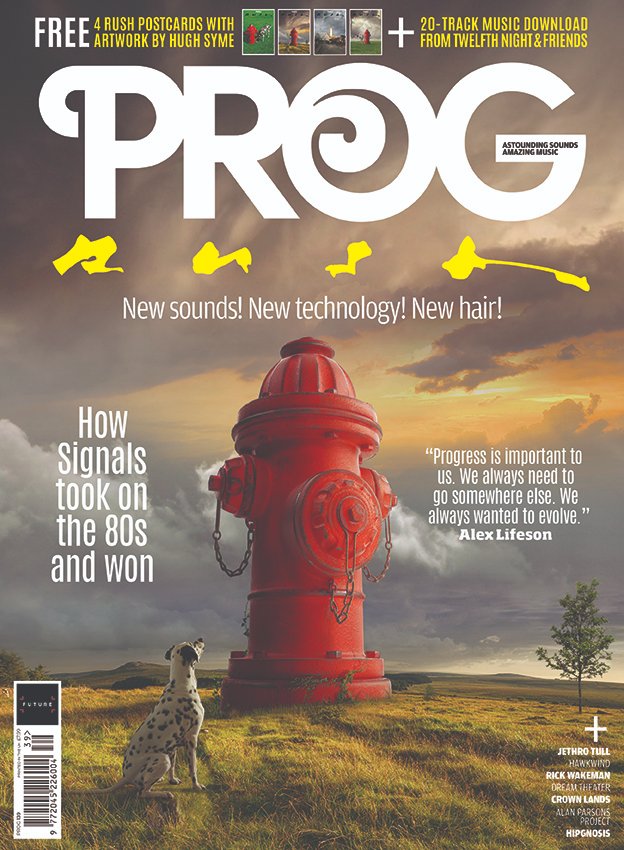 The latest edition of Prog magazine (Prog #139) goes on sale this Friday in the UK (May 12 in the US) and includes a cover feature celebrating Rush's Signals album in the lead up to the 40th anniversary box set release later this month. The magazine's cover is taken from the new album art from the box set, depicting the Signals dalmation looking up at a giant, red fire hydrant. The tagline reads as follows:
Rush: New sounds! New technology! New hair! How Signals took on the 80s and won.
The issue also comes with four Rush postcards designed by album cover artist Hugh Syme. For more information and to learn how to get a copy of the issue, visit the Prog magazine website here. The Signals 40th anniversary box set will release on April 28th and can be pre-ordered here.