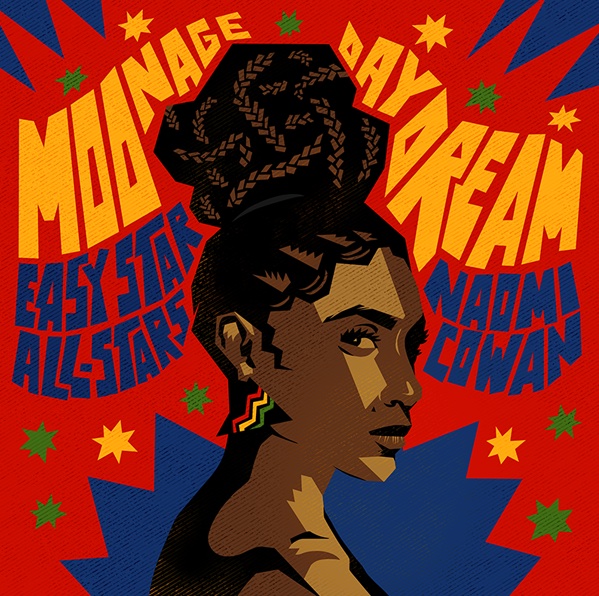 Easy Star All-Stars is a reggae collective founded in 1997 by Michael Goldwasser, Eric Smith, Lem Oppenheimer and Remy Gerstein of New York City-based Easy Star Records. The band is known for its reinterpretations of classic albums in reggae style, and this past week they released a new reggae cover of David Bowie's Moonage Daydream which features Rush's Alex Lifeson. The new single is part of their upcoming album, Ziggy Stardub, a reggae reinvention of Bowie's The Rise and Fall of Ziggy Stardust and The Spiders from Mars. From Consequence of Sound:
... The mesmerizing rendition strips the gritty sound of the original, leaving a slick and sultry cover in its place. Lifeson closes out the track with an ethereal guitar solo, while Naomi Cowan's vocals flow through the chilled track, blending his celestial guitar stylings seamlessly. Perfectly balancing an aura of psychedelic and reggae, the essence of Bowie's classic sci-fi song finds a new purpose in this genre-crossing performance. ... Lifeson reveals he already had admiration for Bowie going into the recording of the track. "Bowie was such an incredible artiste and the reggae concept for the project was an interesting approach," he explains. "Naomi Cowan's vocals were inspiring to track to and the arrangement was fun to play to, as it should be." ...
You can listen to the track below or via YouTube and other streaming services. Ziggy Stardub is slated for release on April 21st via Easy Star Records, and can be pre-ordered here. The night before the release, Easy Star All-Stars will be hosting an album release show at Sony Hall in New York City, which will also showcase guests Sister Carol and the Cannabis Cup Band. Tickets are availble here.
Steel Panther guitarist Satchel was recently interviewed for Loudwire.com to talk about some of his favorite albums as a teenager, and he mentions Rush's 2112 (thanks UG.com):
... "The next album I would say that had a really big influence on me was the band Rush and '2112.' So far, every record that I've named, people are like 'Oh, okay... Okay boomer.' Right? Yeah. Yeah, boomer. The boomers got it right, okay? '2112' by Rush was an incredible record for a lot of reasons. From the very first notes of that record, you cannot stop listening. This entire record was inspired by a book by someone named Ayn Rand. And if you've ever read Ayn Rand, set out and read some of her books because it's really boring. Neil Peart really did a great job of putting it to lyrics. And the whole band does such an amazing job. They're really some of the greatest musicians of a generation." ...
American Songwriter posted a story this past week on 6 Bands with Drummers Who Died Too Early, and Rush was included at #5:
When you're a giant band like Rush you need a drummer who can keep up and push the sonic envelope. That was Neil Peart. But sadly, Peart's life and career were cut short due to a severe illness. Peart died of an aggressive form of brain cancer on January 7, 2020, in California. He'd been diagnosed a few years early but not many people knew about it outside his close friends and family. He was 67 years old. His family announced the news and then on the Rush official website, the band wrote, "It is with broken hearts and the deepest sadness that we must share the terrible news that on Tuesday our friend, soul brother and bandmate of over 45 years, Neil, has lost his incredibly brave three and a half year battle with brain cancer (Glioblastoma). We ask that friends, fans, and media alike understandably respect the family's need for privacy and peace at this extremely painful and difficult time. Those wishing to express their condolences can choose a cancer research group or charity of their choice and make a donation in Neil's name."
HelloMusicTheory.com posted a story this past week on 13 Of The Best Songs About Trees And Forests and Rush's The Trees is included at #5:
Be entertained by the argument that's taking place in "The Trees." The song is from Rush's 1978 album Hemispheres, featuring quarreling anthropomorphic trees.
Alan Cross wrote a piece for Global News Canada this past week where he reminisces about the days when instrumentals still ruled the charts, and Rush is mentioned:
... starting with the 2112 album (1976), every Rush fan looked forward to some kind of insane instrumental from the band. Has anyone ever beaten La Villa Strangiato from 1978's Hemispheres? Not to my ears. (Yes, the piece is subtitled An Exercise in Self-Indulgence, but we Rush fans didn't see it that way). ...
Rock and Roll Garage posted an article this past week on Neil Peart's opinion on Phil Collins, where they compile several quotes that Peart had made about Collins over the years, including this one (thanks hannuFIN):
"Phil Collins was an enormous influence on my drumming in the '70s. Thus remains a part of my playing even today. His recorded drum parts with Genesis and Brand X in those years were technically accomplished, yet so musical - even lyrical. (Also) his rhythmic patterns were woven into the intricacy of the music. While lending a smooth, fluid pulse to the songs and extended instrumentals."
Canadian rockers Nickelback recently sat down with the American Songwriter to talk about the band's latest album Get Rollin', and they also reveal their 5 favorite songs, one of which is Rush's Red Barchetta:
"One of them is going to be a Rush song," Adair said of his first pick. "I'm heavily influenced by Neil Peart." 'Red Barchetta' was released on Rush's 1981 record Moving Pictures. The song was inspired by the futuristic short story, A Nice Morning Drive by Richard Foster. In Foster's version of the future, car manufacturing has become intensely safety oriented - the drivers, less so. Those with the new and improved "safety vehicles" make a sport out of aggressively ramming older cars. In the same vein, Rush's song acts as a cautionary tale to the follies of innovation. ...
That's all for this week. Have a great weekend everyone!!