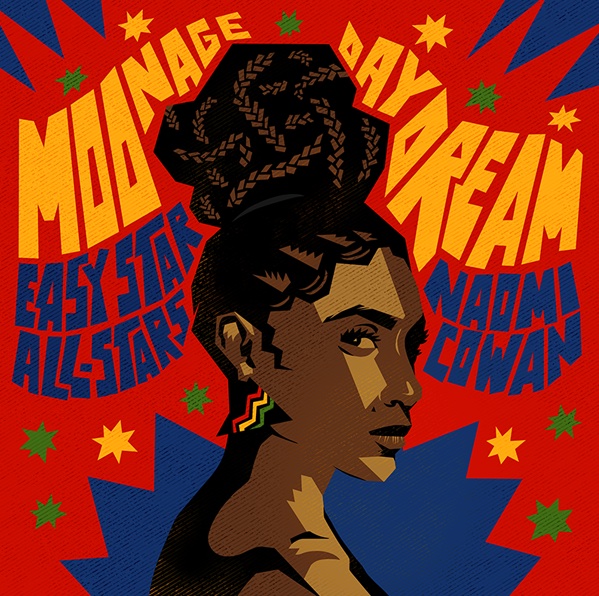 Easy Star All-Stars is a reggae collective founded in 1997 by Michael Goldwasser, Eric Smith, Lem Oppenheimer and Remy Gerstein of New York City-based Easy Star Records. The band is known for its reinterpretations of classic albums in reggae style, and they have just released a new reggae cover of David Bowie's Moonage Daydream which features Rush's Alex Lifeson. The new single is part of their upcoming album, Ziggy Stardub, a reggae reinvention of Bowie's The Rise and Fall of Ziggy Stardust and The Spiders from Mars. From Consequence of Sound:
... The mesmerizing rendition strips the gritty sound of the original, leaving a slick and sultry cover in its place. Lifeson closes out the track with an ethereal guitar solo, while Naomi Cowan's vocals flow through the chilled track, blending his celestial guitar stylings seamlessly. Perfectly balancing an aura of psychedelic and reggae, the essence of Bowie's classic sci-fi song finds a new purpose in this genre-crossing performance. ... Lifeson reveals he already had admiration for Bowie going into the recording of the track. "Bowie was such an incredible artiste and the reggae concept for the project was an interesting approach," he explains. "Naomi Cowan's vocals were inspiring to track to and the arrangement was fun to play to, as it should be." ...
You can listen to the track below or via YouTube and other streaming services. Ziggy Stardub is slated for release on April 21st via Easy Star Records, and can be pre-ordered here. The night before the release, Easy Star All-Stars will be hosting an album release show at Sony Hall in New York City, which will also showcase guests Sister Carol and the Cannabis Cup Band. Tickets are availble here.