UPDATE - 1/16@1:17PM: Here's video of YYNOT performing Losing It with Jonathan Dinklage on electric violin at last weekend's Bubba Bash 2023:
----- snip -----
UPDATE - 1/15@12:55PM: Here's a video of Jason Bittner and YYNOT performing Natural Science at last weekend's Bubba Bash 2023:
----- snip -----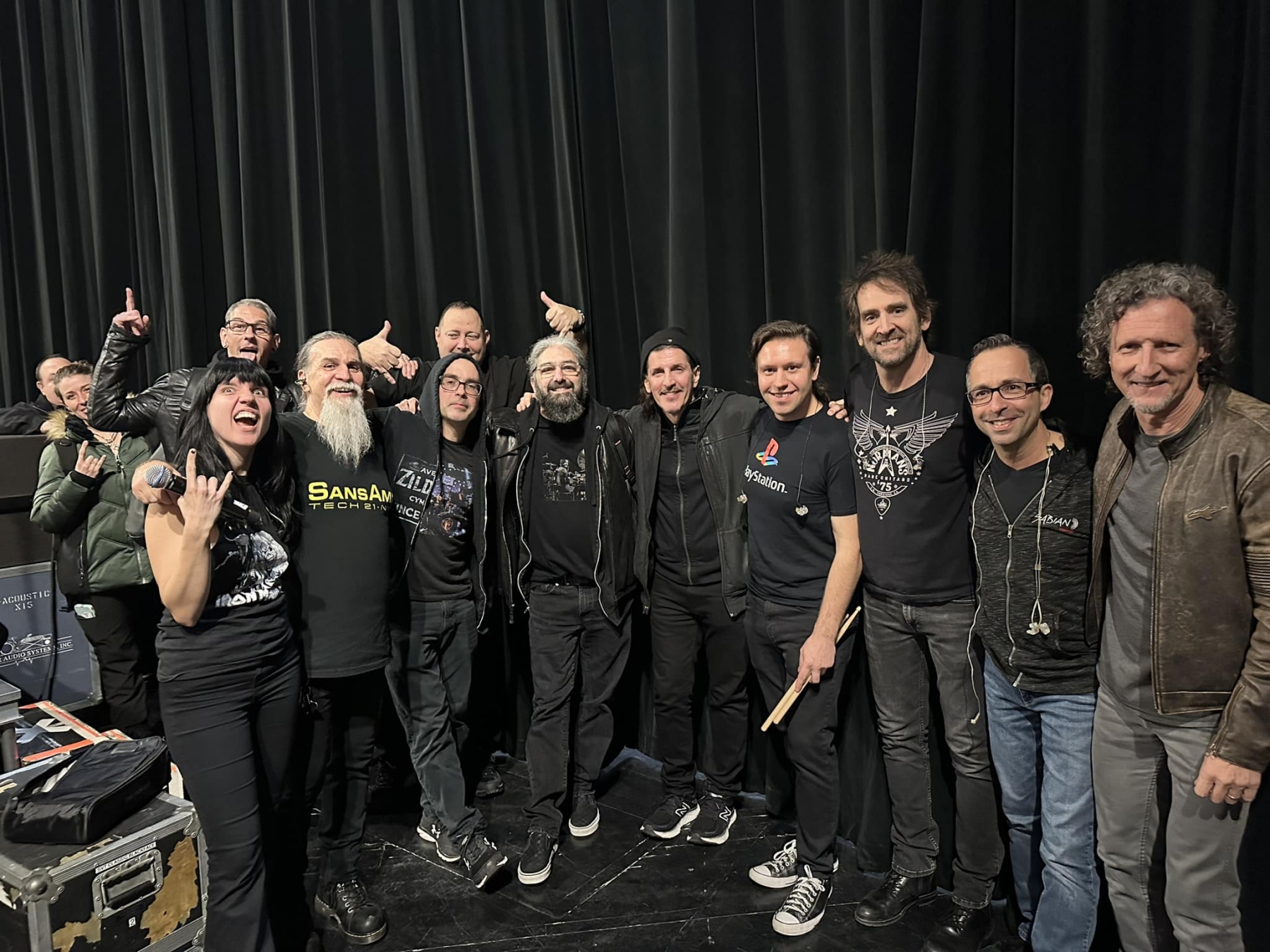 Three years ago this past Saturday, on January 7, 2020, Neil Peart passed away at the age of 67 after a three-year battle with brain cancer. To commemorate the occasion, Rush tribute band YYNOT hosted a charity concert dubbed Bubba Bash 2023 at the Keswick Theatre outside Philly (Glenside, PA) this past Saturday evening. The show was "In Celebration of Neil Peart", and featured YYNOT along with special guests Mike Portnoy (Dream Theater, etc.), Frank Bello (Anthrax), Jason Bittner (Shadows Fall, Overkill, etc.), Jon Dinklage (Clockwork Angels string ensemble), Joe Bergamini (drum instructor, author, etc.), John Wesley (Porcupine Tree), and Seven Antonopoulos (Opiate for the Masses). Loudwire.com posted this great summary of the concert earlier this week:
... YYNOT opened up the night running through some of the Rush classics such as "The Spirit of Radio," "YYZ" and more before starting to bring out the night's specials guests. Anthrax's Frank Bello and Porcupine Tree's John Wesley were first up, getting a chance to rock out "Tom Sawyer" and "Limelight," ... Bergamini joined the band for "Vital Signs," before Opiate for the Masses drummer Seven Antonopoulos took his spot behind the kit for "Freewill" and "Closer to the Heart." Overkill's Bittner took his turn behind the kit on "Natural Science" and "Red Barchetta," giving way to Dinklage for "Losing It." Portnoy then got the epic penultimate climax on drums for the night nimbly working his way through "2112 Part 1: Overture," "2112 Part 2: The Temples of Syrinx" and "La Villa Strangiato." YYNOT then closed out the night with "By-Tor & The Snow Dog / In the Mood / 2112 Part VII: Grand Finale." ...
The concert and associated fundraiser raised over $30K to benefit Cedars Sinai Hospital, and you can add to that total by sending along your donation here. You can check out a couple of videos from the show below or in this BraveWords.com article.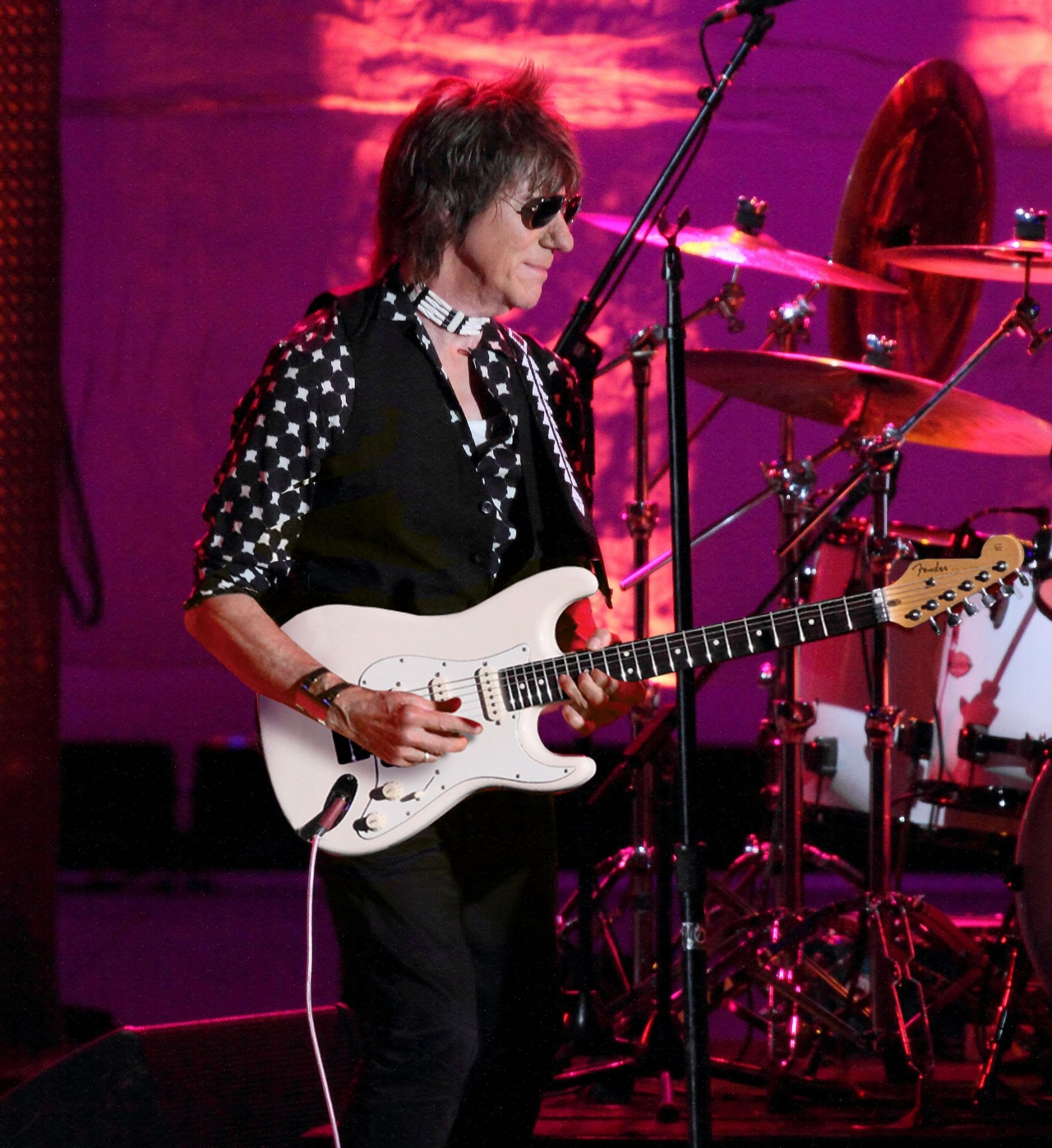 The family of Jeff Beck announced on Wednesday that the legendary guitarist passed away at the age of 78 earlier this week. His family broke the news via this Twitter post:
On behalf of his family, it is with deep and profound sadness that we share the news of Jeff Beck's passing. After suddenly contracting bacterial meningitis, he peacefully passed away yesterday. His family ask for privacy while they process this tremendous loss.
Beck was a huge influence on both Geddy Lee and Alex Lifeson, and the pair reacted to the news via tributes posted to their official Instagram pages.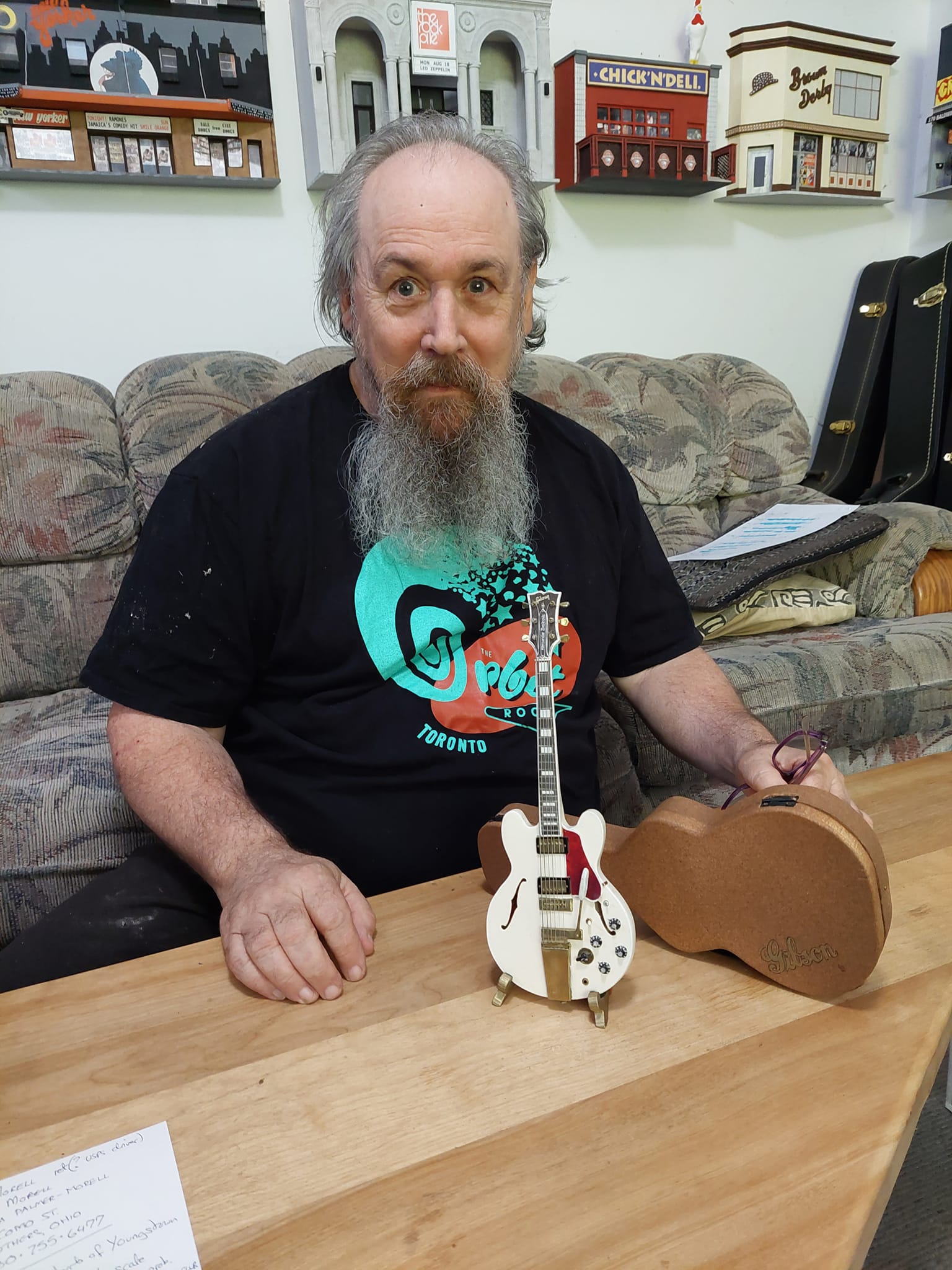 For much of the last 3 decades, Alex Lifeson was the co-owner of the now-defunct Toronto night club The Orbit Room. While cleaning out some old boxes of stuff from the closed location, a 7 1/2 inch scale model of a Gibson 355 was found and restored, as described in this Facebook post:
Dear friends of the Orbit Room and RUSH fans. During our time on College Street, Rush fans would sometimes send letters and parcels to Alex via the club. Usually these items were forwarded to the office but this one item was admired and then put in a box in a closet and forgotten about for 10 years. A lot of stuff from the closed location ended up in my garage. It's when Alex auctioned off a lot of his guitar collection that I went searching. It is a 7 1/2 inch scale model of a Gibson 355, just like the one Alex had played for years. Built by a fan in Struthers Ohio, it needed a little TLC so I took it to Andrew Smith, creator of the "Toronto, Lost Music City" models for a tune up.( See pics of Andrew and the Orbit Room model) So, 10 years later, from a fan in Struthers Ohio by way of the Orbit Room and Andrew's studio, the tiny 355 is finally on its way to Alex.
Chilean prog-rockers Aisles recorded a video cover of Rush's Red Sector A back in 2020 during lockdown, and have now released the cover for streaming. You can check out their cover via the original YouTube video, and it's also now available via all of the major streaming services.
Ultimate Classic Rock posted a story this past week on 30 Albums Turning 30 in 2023, one of which is Rush's Counterparts:
Rush, 'Counterparts' (Oct. 19, 1993): Rush weathered the grunge revolution by returning to the more aggressive, guitar-focused sound of their early days on 1993's Counterparts. Alex Lifeson told UCR that while the new generation of bands had some influence on the direction of the album, it wasn't the main factor. "I think more so, it was a reaction to the previous couple of records,Roll the BonesandPresto. We changed co-producers, and those records, in terms of sound, were lighter. I was never quite comfortable with that."
Daily Music Roll posted their list of the Top 10 Greatest Guitarists of All Times this past week, and Rush's Alex Lifeson made the cut at #8:
Alex Lifeson, the Canadian guitarist is globally known for his contribution as a guitarist and a backing singer in the band 'Rush'. He was the co-founder of this band and mesmerized all with their stunning pieces of music. His brilliant talent has made his listeners fans and created a buzz among everyone.
Rush's Moving Pictures 40th anniversary box set made Classic Rock magazine's list of 20 spectacular reissues from 2022 you should definitely own:
What we said: "Fourth record 2112 will always be the cult favourite, but Moving Pictures is Rush's masterwork - and their biggest seller. The £270 Super Deluxe Edition includes three CDs, one Blu-ray audio disc and five 180g black vinyl LPs - featuring the 2015 Abbey Road remasters (the first time on CD) - plus a 44-page book.

"The irresistible bonus is Live In YYZ 1981 (included in more affordable 'basic' editions). This reissue is a real treasure."
That's all for this week. Have a great weekend everybody!