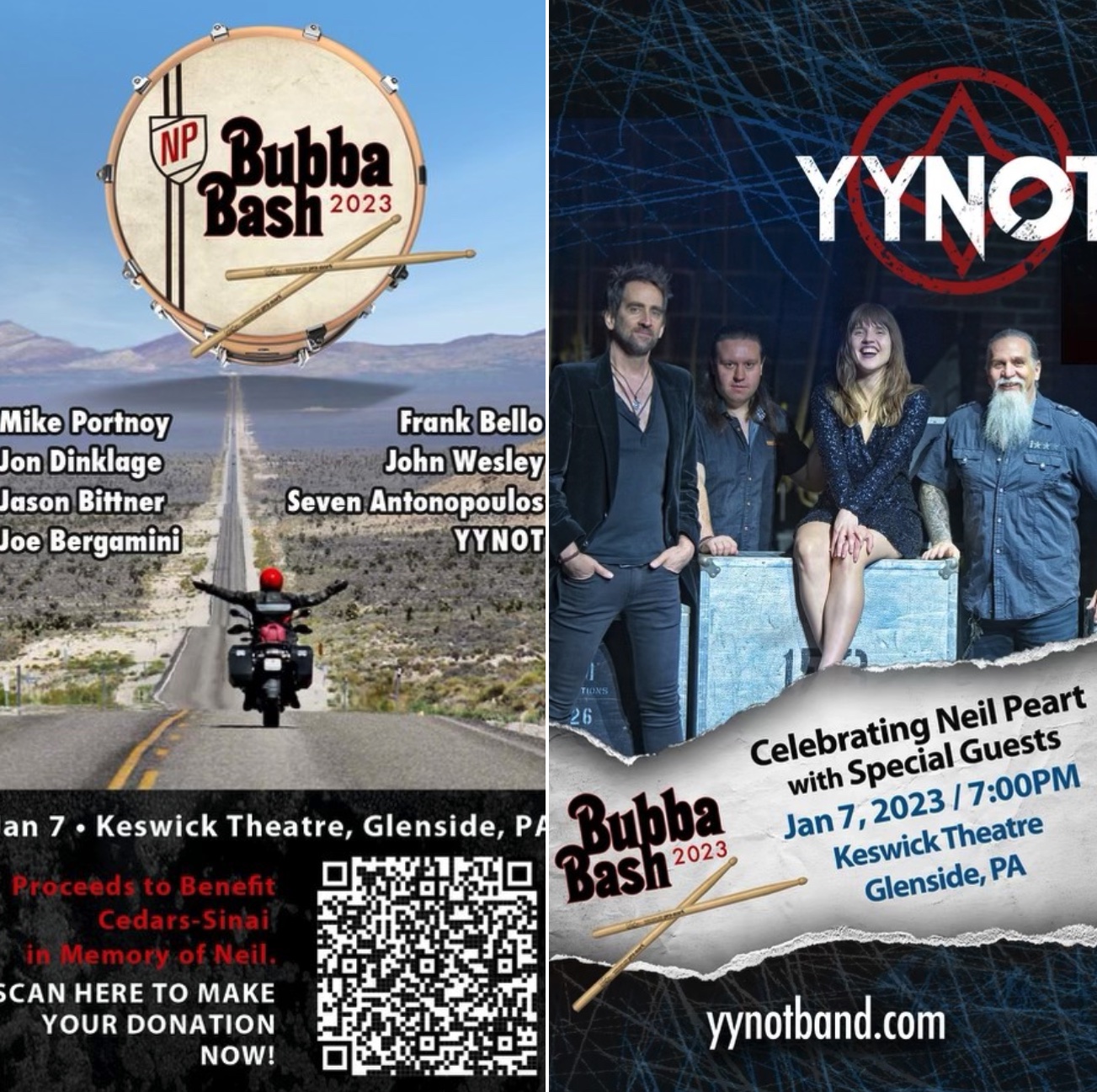 Tomorrow, January 7th, will be the 3rd anniversary of the tragic passing of Neil Peart. To commemorate the occasion, Rush tribute band YYNOT will be hosting a charity concert dubbed Bubba Bash 2023 at the Keswick Theatre outside Philly (Glenside, PA) tomorrow evening. YYNOT has made a name for itself in recent years for being one of the premier Rush tribute bands, as well as a great prog-rock band in their own right with 3 albums of original material under their belt. The show will be "In Celebration of Neil Peart", and feature YYNOT along with special guests Mike Portnoy (Dream Theater, etc.), Frank Bello (Anthrax), Jason Bittner (Shadows Fall, Overkill, etc.), Jon Dinklage (Clockwork Angels string ensemble), Joe Bergamini (drum instructor, author, etc.), John Wesley (Porcupine Tree), and Seven Antonopoulos (Opiate for the Masses). All proceeds from the show will go to benefit Cedars Sinai Hospital, and you can send along your donation here. They are also auctioning off some items as described in this Facebook post. They have been posting links to the eBay auctions via their social media, so be sure to follow them on Facebook and Twitter for all the latest updates. For tickets and more information visit the Keswick Theatre website here. The event will also be professionally videoed with Executive Producers Michael Mosbach and Tim Starace. Anthrax bassist Frank Bello posted a video of himself rehearsing for the show to Instagram which you can check out below or at this location.
I hope everyone had a safe and happy New Year's celebration this past weekend. Geddy Lee spent the day with his dogs - Dr. Lucy and Stanley Wasserman - and posted a couple of photos to Instagram:
The Something for Nothing Rush "fancast" podcast first launched back in September of 2019 and we've been regularly featuring them here on RIAB ever since. We learned earlier this week that episode 175 would unfortunately be their final one. In that episode, hosts Steve and Gerry explain the reasons why they are hanging things up, and reminisce about all of their many amazing guests and discussions they've had on the podcast over the last 3 years. I had the honor of appearing on episode 41 back in June of 2020 and had an absolute blast talking to the guys about my Rush fandom and rushisaband.com, and I cannot thank them enough for all of the great content they've provided over the years. Thanks!! We will miss you. You can listen to that final episode below or wherever you get your podcasts: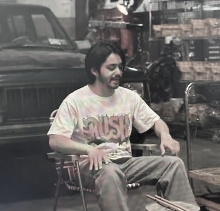 Reader Nick G let me know about a Rush t-shirt sighting in the new Netflix show Kaleidoscope. At around the 44:32 mark of the Yellow episode, one of the characters is wearing a white Rush explosion logo t-shirt as seen in this screenshot. The show is now available to watch on Netflix (subscription required) here.
Iconic Cleveland record store Record Revolution will be permanently closing its doors this weekend after 55 years as a mainstay of the Cleveland music scene. The store holds a special place in Rush history, as it was the first store in the US to sell Rush's debut album as described by Rush discoverer Donna Halper herself:
... Cleveland fans were heavily into imports, so right away, the question came up as to was this record available. Well, it was early evening, and as far as I knew, I had the only copy, so the next day, I called Bob Roper to thank him for the interesting new album, and to ask him how i contact their management to get some import copies into a record store in Cleveland. He gave me the names of Ray Danniels and his partner Vic Wilson, and I called them right away. To be honest, I don't recall which one I spoke to first-- I think it was Vic-- but suffice it to say the band's managers were totally shocked to get a call from a big album rocker in the States. They told me nobody in Toronto would give them any airplay, and they were really grateful that they were getting some spins in Cleveland. They had no idea how popular the song "Working Man" would become over the next few days; we added "Finding My Way" too, and also "Here Again." And, yes, "In the Mood" got a few plays too. The requests kept growing, and suddenly, I was getting phone calls from record stores. I asked Vic and Ray to send me down some copies of the album, which they did. The big import store was "Record Revolution," and the manager, whose name was Peter [Schliewin], sold out of the few copies he had fairly quickly. ...
Coincidentally, the store's final day will be tomorrow, January 7th - the 3rd anniversary of the passing of Neil Peart.
A new book from author Will Romano on Rush's seminal Moving Pictures album released earlier this week. The 300-page book is titled Moving Pictures: How Rush Created Progressive Hard Rock's Greatest Record and you can purchase a copy at this location.
Guitar Player posted an article this past week on the genius of Alex Lifeson's chord voicings. Author Vinnie DeMasi dissects some of Lifeson's more notable chord work on several Rush tracks.
BraveWords.com posted a story this past week on 10 Amazing Later Releases By Classic Rock Bands, and Rush's Clockwork Angels is highlighted:
... Starting with "Caravan", it's almost like you're being transported into a different world, following the story of a man that's looking to find his place in the world amid a steampunk environment. Though there are some great narrative driven moments on this record, you can hear the band flirting a lot more with new musical ideas, like bringing in strings for the first time on tour and breaking out the acoustics for "Halo Effect". The hard rocking Rush hasn't gone anywhere though, and songs like "Headlong Flight" and the title track are everything that Rush songs are supposed to be, balancing the sounds of hard rock with some of the most off the wall song arrangements that you would ever hear. Rush might not have envisioned this as their swan song when they were making it, but for the last record with the classic lineup, this is how you bow out gracefully.
Ultimate Classic Rock took some time out this past week to ring in the new year by taking a look at 45 albums that will turn 45 in 2023, including Rush's Hemispheres, which released on October 29, 1978:
"Hemispheres was one of our most challenging and demanding records to make," Rush guitarist Alex Lifeson said in 2018. Featuring the conclusion of the Cygnus X-1 saga that began on 1977's A Farewell to Kings, as well as fan-favorite tracks like "The Trees," Hemispheres was, according to Lifeson, a "key transitional album" for Rush.
No Treble magazine released the results of their year-end readers poll on New Year's Day, and - not surprisingly - Rush's Geddy Lee took the top spot as laid out in this article.
BraveWords.com rang in the New Year this past week by highlighting their top 66 stories of 2022, one of which involved Alex Lifeson's guitar collection:
51) RUSH's ALEX LIFESON On Auctioning Off His Guitars - "It Was Probably One Of The Most Difficult Things I've Ever Done In My Life"

Rush axman Alex Lifeson unloaded over 60 of his guitars for Julien's Auctions' "Music Icons" auction in May. Lifeson told Guitar.com that it was painful to part with the instruments.

He said, "It was probably one of the most difficult things I've ever done in my life; it was so emotionally difficult packing those guitars up. I cleaned them, polished them, did string changes. I made sure every single one was in tune when it went back in the case, and then I kissed it goodbye."
Sam Kemp wrote a piece for Far Out Magazine this past week highlighting the Oscar Wilde influence in the lyrics for Rush's Resist:
... 'Resist', a jangling number that reflects Rush's optimism and determination at the time. "I can learn to resist / Anything but temptation," Lee sings over a glimmering piano arpeggio. "I can learn to coexist / With anything but pain." The dandies among you will likely have read that first line somewhere before. It is, of course, a paraphrased quotation from Oscar Wilde's first play Lady Windermere"s Fan. A comedy divided into four acts, Lady Windermere was first performed in St James's Theatre on 20th February 1892. Following rave reviews, it was published a year later and remains one of Wilde's most revered works for the stage.

An exploratory critique of gentile morality in the era of "the fallen woman", Wilde's play traces Lady Windermere's discovery of her husband's infidelity with Mrs Erlynne, her subsequent decision to leave him for her own lover, and Mrs Erylenne's attempts reunite the couple. Full of the wit that made Wilde so popular in his own day, Lady Windermere's Fan, like The Importance of Being Earnest, is infinitely quotable, so much so that it's hard to say if Rush deliberately quoted Wilde or simply absorbed the line and ended up regurgitating it unknowingly. ...
BraveWords.com posted an article this past week listing off 10 Rock Songs That Were Written About Drugs, one of which was Rush's A Passage to Bangkok:
Rush was never known as a very tongue in cheek band. Even though they could play circles around almost anyone in the prog scene, they were always about something deeper than your average rock and roll lyrics, telling elongated stories of people in far off lands. Right as you get done one of their masterpieces though, the guys decided it was time to get a little bit baked. After 2112 leaves you with your jaw on the floor, "A Passage To Bangkok" seems to start off just like any other Rush song, as Neil Peart talks about the band traveling through different regions of the world to find new scenery.

When you delve a bit deeper, this is actually about the guys going from one scenic place and finding the greatest reefers they can. Though there are some lyrical gems about the exotic nature of their stops, there's still a playful side to it, like the band including one long toke off of...something before Alex Lifeson's guitar solo starts, which sounds like someone half-baked ripping the greatest solo of their career. The fans definitely latched onto the meaning of the song too, with Alex being surprised at how much the atmosphere changed when they were playing it on tour. This song might be about traveling through different landscapes, but the real theme here is a ride of a different kind.
That's all for this week. Happy New Year everybody!!