UPDATE - 12/18@3:23PM: Here are a few photos from the event that were posted to Twitter:
An extraordinary night at the @HotDocsCinema. Ron Chapman premieres his "Revival69: The Concert that Rocked the World" #documentary. @alancross, Geddy Lee, and Chapman now onstage with a post show Q&A. pic.twitter.com/eFBVh4LMAs

— Steve Paikin (@spaikin) December 18, 2022
Would you call this a "RUSH LINE" ? @rushtheband 😉
Absolutely Full House at the #Revival69 documentary #Toronto Premiere tonight at @HotDocsCinema as filmmakers celebrate alongside Geddy Lee with an excited audience! 🎟📽💫✨🎸Screens across Canada this week! #StoriedNorth 🤘🏻 pic.twitter.com/M9g69GIJmn

— Storied North (@StoriedNorth) December 18, 2022
DEC 18 2022 - #REVIVAL69 doc film premiere @HotDocsCinema last night. 🇨🇦's GEDDY LEE @rushtheband in crowd @ SEP 13 1969 Rock & Roll Revival to see @johnlennon @yokoono PLASTIC ONO BAND perform live. Geddy shares his FAB story of BEING THERE in new RON CHAPMAN doc. ❤️ 💙 pic.twitter.com/JFeZmgSNvg

— Piers Hemmingsen (@beatlesincanada) December 18, 2022
----- snip -----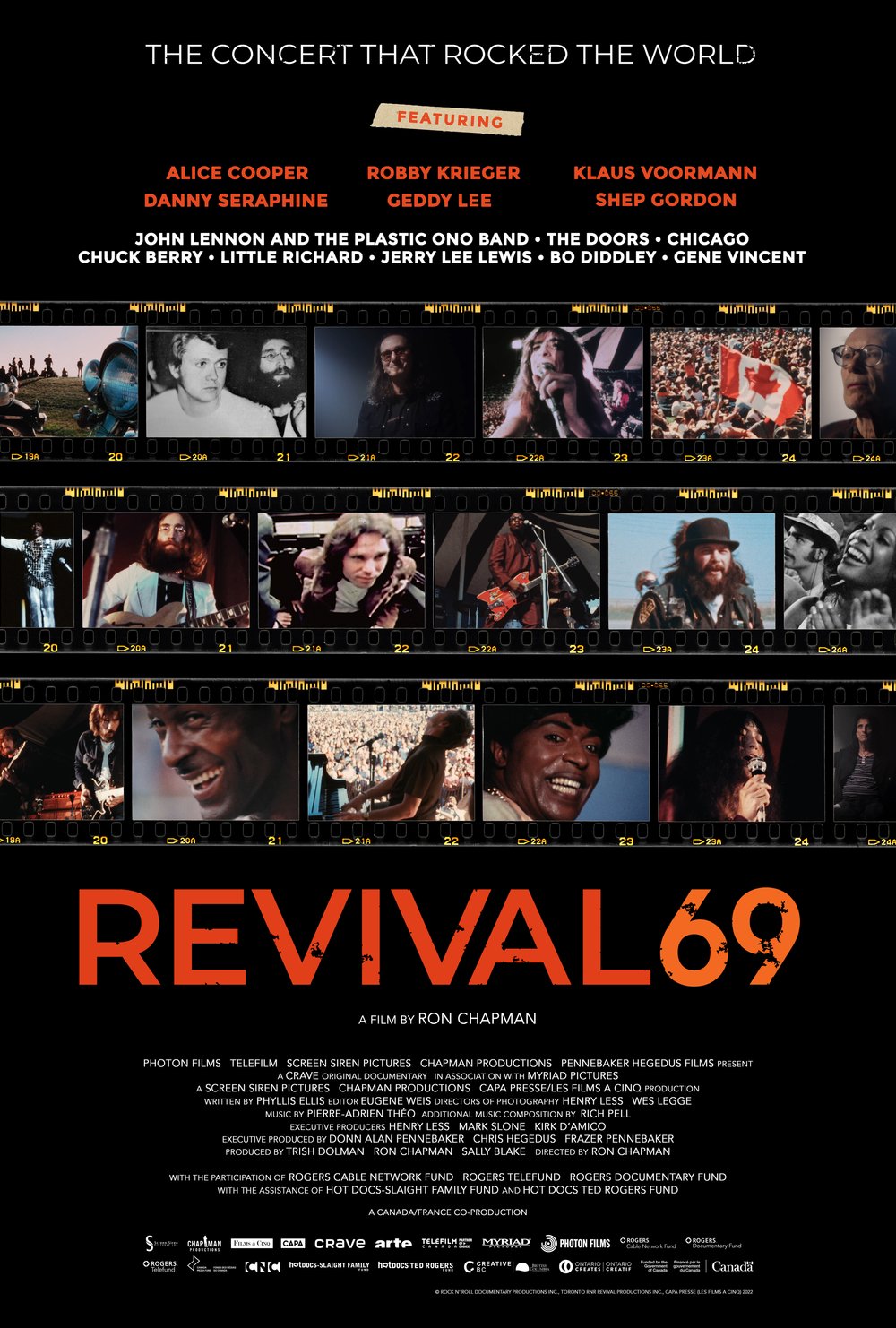 A new documentary from filmmaker Ron Chapman titled Revival 69: The Concert That Rocked the World was released in September. After a few film festival screenings this fall, the movie will officially open in theaters across Canada this weekend. Alan Cross will be leading interviews and Q&As with director Ron Chapman, Rush's Geddy Lee (attended the festival), Robby Kreiger (via Zoom) and John Bower (concert promoter) tomorrow evening at Toronto's Hot Docs Cinema, with tickets available here. The film chronicles the events behind the Toronto Rock & Roll Revival - an iconic Toronto music festival that took place at the University of Toronto back in 1969. From the film's synopsis:
In 1969, there were three music festivals that changed the world. "The second most important event in rock & roll history" was a one-day event held at the University of Toronto's 20,000 seat Varsity Stadium called the Toronto Rock & Roll Revival. An incredible back-door story of how - against all odds - a life-changing concert came together. Director Ron Chapman reveals a series of colourful characters, murky deals and broken promises, culminating in John Brower, a young struggling promoter, putting his life on the line (literally) in order to achieve his goal. Included in the lineup were Chuck Berry, Little Richard, Jerry Lee Lewis, Bo Diddley, Gene Vincent, The Doors, Alice Cooper, and John Lennon with The Plastic Ono Band.
A young Geddy Lee attended the concert, and he makes an appearance in the documentary as seen in the film's trailer at about the 40-second mark. You can get the full list of upcoming Canadian screenings in this FYI Music News article, which also includes an interview with the filmmakers.