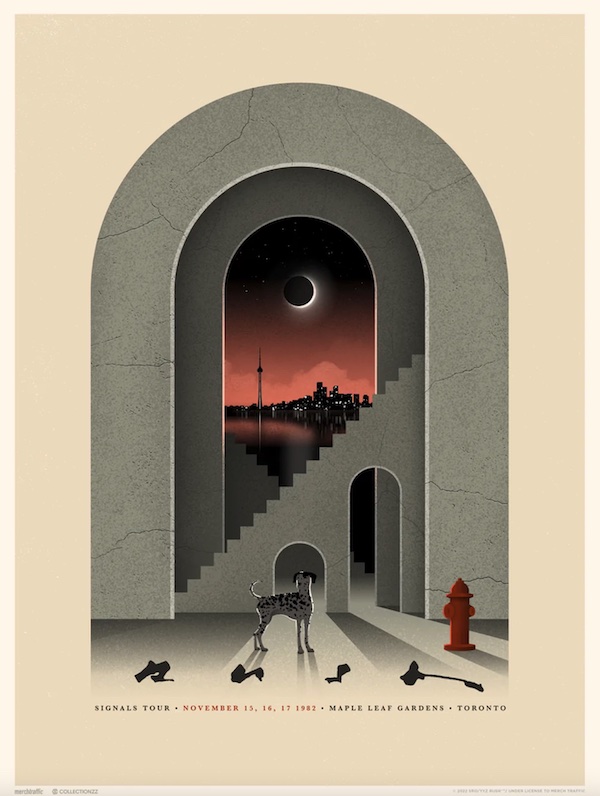 Iconic By Collectionzz is commemorating the 40th anniversary of Rush's Signals album with a set of two officially-licensed, limited-edition poster screenprints by illustrator Simon Marchner. The 18"x24" screenprints come in a main edition for $75 (150 available) and a Rainbox Foil Edition for $150 (50 available). The print is a tour poster replica for Rush's November 15,16,17, 1982 run of dates at Toronto's Maple Leaf Garden, and depicts the Signals Dalmatian looking out over the night skyline of Toronto. Each hand-numbered screenprint has a holographic authenticity sticker on the back. Unfortunately the Rainbow Foil Edition is already SOLD OUT, but you can still purchase the main edition at this location while they last. Iconic By Collectionzz has produced a number of Rush-themed prints in recent years, including last year's SOLD OUT Oracle: The Dream 3D lenticular print by artist Cuyler Smith, as seen in this post. They've brought back a miniature 8.5"x11" version of that print (original version was 18"x24") for the Holidays which you can purchase here for $25. You can also check out their entire line of Rush prints here although most are now SOLD OUT. While on the subject of the Signals 40th anniversary, many fans are wondering whether Rush will be releasing a Signals box set to mark the occasion. Although there are few details at this time, a box set is in the works, with a likely release coming sometime next year.
Speaking of box sets, Rush's Moving Pictures 40th anniversary box set made Metal Edge's list of the 10 best box sets of 2022:
The roll Rush were on in the late '70s and early '80s hit its apex with their eighth full-length, the groundbreaking Moving Pictures, where the Canadian prog-rockers delivered the hits - and future classic rock radio staples - "Tom Sawyer" and "Limelight," alongside fan favorites "Red Barchetta," "YYZ" and "Vital Signs." The slightly-delayed 40th anniversary edition of the 1981 record came out earlier this year in various configurations, with a beast of a super deluxe edition leading the pack. Featuring three CDs, a Blu-ray and five 180-gram black vinyl LPs, the set has an array of extras like 44-page hardcover book with liner notes from Soundgarden's Kim Thayil, Les Claypool of Primus, the late Taylor Hawkins and others. Collectibles include a Red Barchetta model car, Neil Peart signature MP40 drumsticks, two metal guitar picks - each with Geddy Lee and Alex Lifeson's signatures engraved - concert posters, handwritten song lyrics, a lithograph and more. Musically, in addition to the 2015 remaster of Moving Pictures, there's a previously-unreleased and freshly-restored live show from 1981 at Toronto's Maple Leaf Gardens mixed from the original analog live multi-tracks. The Blu-ray Audio disc sees the core album newly mixed from the original multi-tracks in Dolby Atmos, Dolby TrueHD 5.1 and DTS-HD Master Audio 5.1 surround sound as well as four bonus videos.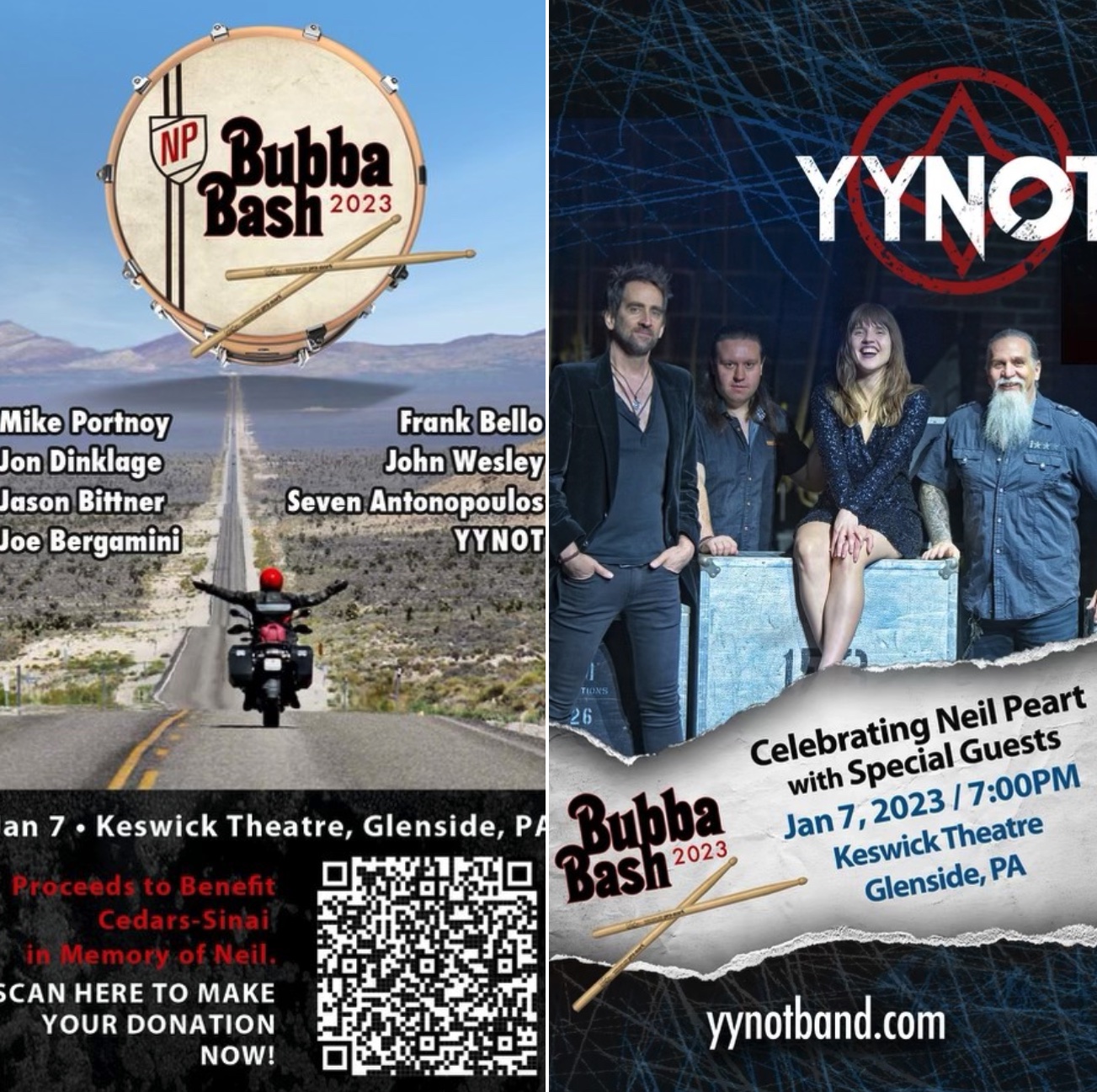 Earlier this week, Rush tribute band YYNOT announced a charity concert dubbed Bubba Bash 2023 that will take place on Saturday, January 7th (3rd anniversary of Neil Peart's passing) at the Keswick Theatre outside Philly (Glenside, PA). YYNOT has made a name for itself in recent years for being one of the premier Rush tribute bands, as well as a great prog-rock band in their own right with 3 albums of original material under their belt. The show will be "In Celebration of Neil Peart", and feature YYNOT along with special guests Mike Portnoy (Dream Theater, etc.), Frank Bello (Anthrax), Jason Bittner (Shadows Fall, Overkill, etc.), Jon Dinklage (Clockwork Angels string ensemble), Joe Bergamini (drum instructor, author, etc.), John Wesley (Porcupine Tree), and Seven Antonopoulos (Opiate for the Masses). All proceeds from the show will go to benefit Cedars Sinai Hospital, and you can send along your donation here. For tickets and more information visit the Keswick Theatre website here. It will also be professionally videoed with Executive Producers Michael Mosbach and Tim Starace.
Speaking of Neil Peart and charity fundraisers, Neil Peart's younger sister Nancy Peart Burkholder was the latest guest on the Something for Nothing podcast, and talks about her older brother, her first Rush concert, and the upcoming Peart Family Memorial Golf Tournament. You can listen to the conversation below or wherever you get your podcasts: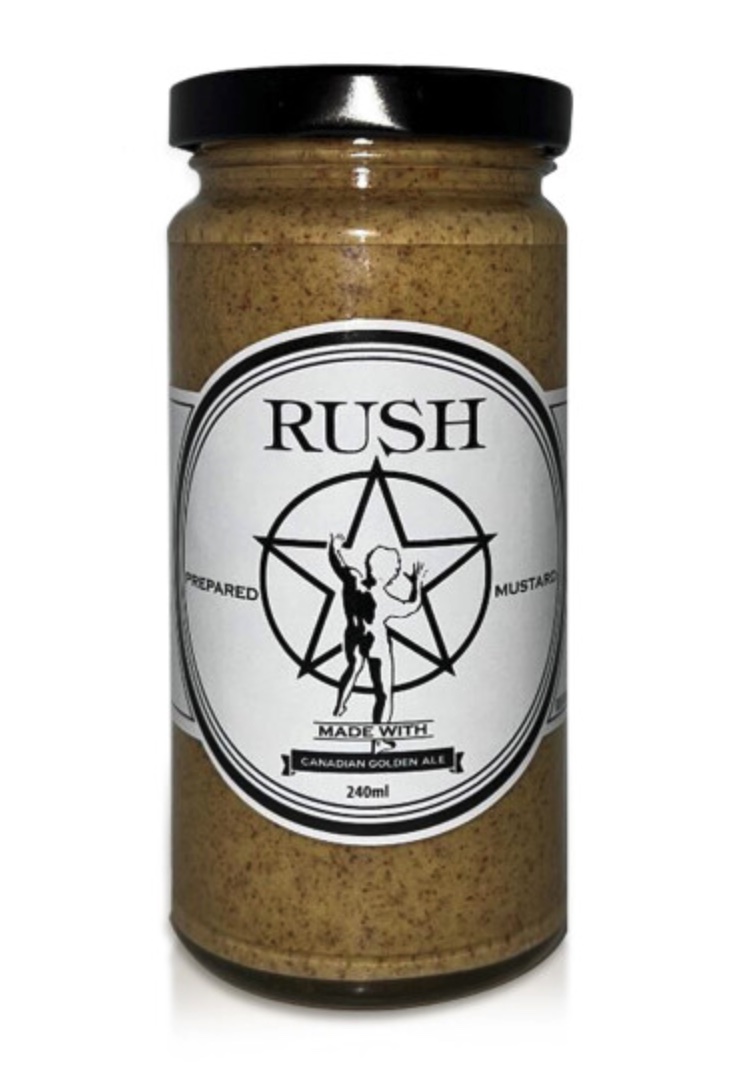 The Rush Backstage Club has released a number of new items for the Holidays, including a unique stocking stuffer that Rush developed with the help of Kozliks Mustard and Henderson Brewery - makers of Rush beer. Rush Golden Ale Mustard is now available for purchase, as explained by Alex Lifeson himself in the product listing:
We have teamed up with our friends at Kozlik's Mustard and Henderson Brewery, to produce a Rush Mustard! Kozlik's are the Geniuses of Mustard, and they have added the Canadian Golden Ale into the mustard for a distinct flavor. Alex describes the adventure here..

"After extensive and pretty serious scientific analysis using only the highest quality hot dogs, Kozlik's Rush Mustard has been birthed. The magical pairing of the honey infused mustard with the legendary Rush Canadian Golden Ale, fuses to forge one of, if not the most compelling mustards ever created that I currently have in my kitchen.

With the Kozlik's mustard labs possibly running 24 hrs a day in pursuit of the most excellent mustard in all history, and like the smashing of the first atom, the meeting of mustard, honey and vinegar with the Canadian Golden Ale ignited a virtual explosion heard round the room, kind of. This is perhaps the apex of mustards. So good, you could put it on top of another mustard you used by accident.

Made with loving care not to get it in your eyes, try Kozlik's Rush Mustard and be transported to a time when mustard freely roamed the plains in the days before ketchup.

Alex Lifeson" ...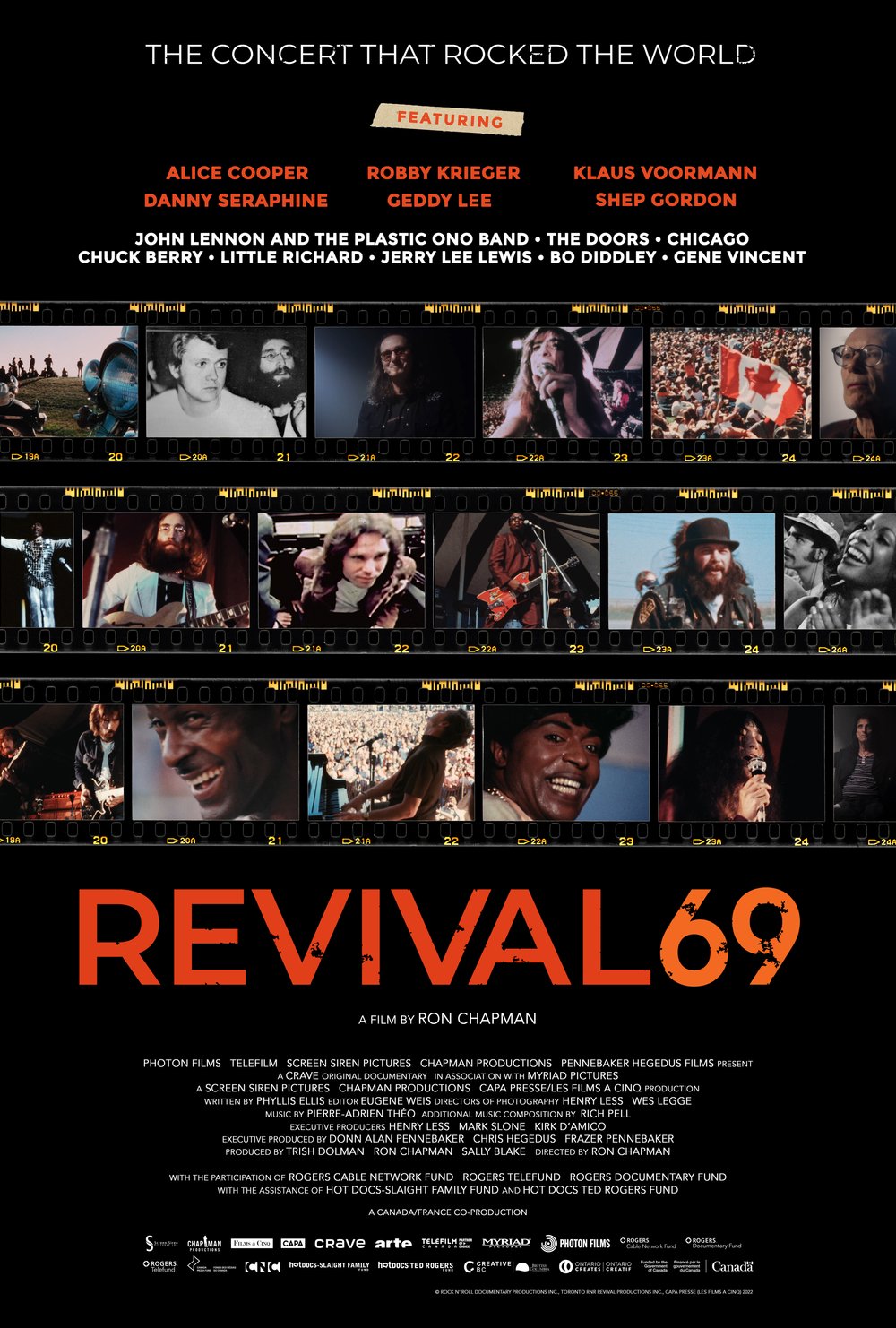 A new documentary from filmmaker Ron Chapman titled Revival 69: The Concert That Rocked the World was released in September and is currently making the film festival rounds. The film chronicles the events behind the Toronto Rock & Roll Revival - an iconic Toronto music festival that took place at the University of Toronto back in 1969. From the film's synopsis:
In 1969, there were three music festivals that changed the world. "The second most important event in rock & roll history" was a one-day event held at the University of Toronto's 20,000 seat Varsity Stadium called the Toronto Rock & Roll Revival. An incredible back-door story of how - against all odds - a life-changing concert came together. Director Ron Chapman reveals a series of colourful characters, murky deals and broken promises, culminating in John Brower, a young struggling promoter, putting his life on the line (literally) in order to achieve his goal. Included in the lineup were Chuck Berry, Little Richard, Jerry Lee Lewis, Bo Diddley, Gene Vincent, The Doors, Alice Cooper, and John Lennon with The Plastic Ono Band.
Rush's Geddy Lee makes an appearance in the documentary and can be seen in the film's trailer at about the 40-second mark. You can learn more about the film at this location. It will be screened in several theaters across Canada later this month, including a couple that will also include a Q&A with director Ron Chapman. You can get the full list of Canadian screenings in this article.
24/7 Wall Street posted an article this past week on The Most Successful Touring Artists of the Past 40 Years and Rush gets a mention at #42:
Tickets sold: 8.6 million
Est. concert gross: $341.8 million
Certified U.S. album sales: 26.0 million
Top charting song: New World Man (1982)
Top charting album: Moving Pictures (1981)
Buzzfeed posted an article this past week where they list off 24 Songs That Fit Movie Trailers So Well, It Was Almost Like They Were Written For The Movie, and the 2018 film Ready Player One is mentioned. The film featured Rush's Tom Sawyer in the original, Comic-Con version of the trailer, as seen here.
Rush album artist Hugh Syme opened up a new exhibit yesterday evening at Gordy Fine Art and Framing in Muncie, Indiana. The exhibit consists of several examples of Syme's album art - including Rush's many albums - along with several rare originals. The exhibit will be on view with framed works for sale in the gallery and at gordyframing.com through January 28, 2023.
Ultimate Classic Rock posted an article this past week on 45 Farewell Tours: When Rock Stars Said Goodbye, and Rush's purposeful avoidance of a farewell tour is mentioned in the introduction:
... Not all goodbyes are premeditated, though. In some instances, bands didn't realize they'd embarked on a farewell tour until after the final bow. Such was the case for Rush and their 2015 R40 tour. "It's clear we are at a point in our career that we have to slow down and slow down dramatically," frontman Geddy Lee said in a VH1 interview at the time. Even though guitarist Alex Lifeson thought the band could have played more, he came to appreciate the way things wrapped up. "There were lots of reasons - and very valid reasons for ending the tour in 2015 when we did," he told UCR in 2021. "I'm glad we did because we ended off on a really high note. We were playing great." ...
Yahoo! Entertainment posted an article earlier this week on How Classic Rockers Embraced Synths In the 80s, and Rush is one of the featured artists:
Rush might have been among the more likely rockers to go synth crazy in the 80s. In the 70s, they weren't afraid to slap a synthesizer on a tune if needed, especially on their proggier epics. On "Tom Sawyer" from their 1981 blockbuster Moving Pictures, the synth even takes center stage for a hot minute. By the time they followed that album up with 1982's Signals, Rush was ready to take things to the next level. In a 1982 interview with Scene, Geddy Lee - who was doing triple duty on vocals, bass, and keys - said, "Ours was basically a guitar-oriented sound with the rhythm section poking through and an occasional synthesizer line enhancing it. This time, though, we decided on more synthesis.... When I first started, I used a synthesizer bass pedal to fill in the empty spaces in the band. Then I got a Minimoog, and then bigger stuff, and as time went on, the more I learned about the use of sound."...
Music author Tony Bacon wrote a piece yesterday for Reverb.com on the legacy of Gibson double-neck guitars, and Rush's Alex Lifeson is mentioned:
... Alex Lifeson in Rush got a cherry EDS-1275 in the mid '70s, soon replaced with a white one when that was damaged. He had less trouble than some double-neck players with the relative neck heights. "The six-string height is very comfortable," Alex tells me, "very close to the height I normally play on stage with a regular guitar. The 12-string neck is much higher than normal, but it, too, is easy for me to handle, because when I'm in the studio I usually adjust the straps on my single-neck guitars up two notches. When the instruments are higher, they're more comfortable to use, especially after three or four hours of playing." ...
John at Cygnus-X1.net came across a brief Rush reference on MeTV's Toon in with Me. The show is hosted in live-action segments by Bill, MeTV's cartoon curator, along with his puppet friend, Toony the Tuna. Each episode contains five animated shorts taken from classic series. In one recent episode, Bill and Toony are looking for a 3rd member of their Christmas card trio, and Toony says, "A power trio - like Rush", and they then show a photo of the band. You can watch the clip on Facebook here.
The latest Rush Deep Dive from the Rush Fans YouTube channel focused on Rush's sophomore release, Fly By Night. You can watch Donna Halper and a few of the Rush Fans crew discuss the album in detail below or on YouTube here:
That's all for this week. Have a great weekend!!