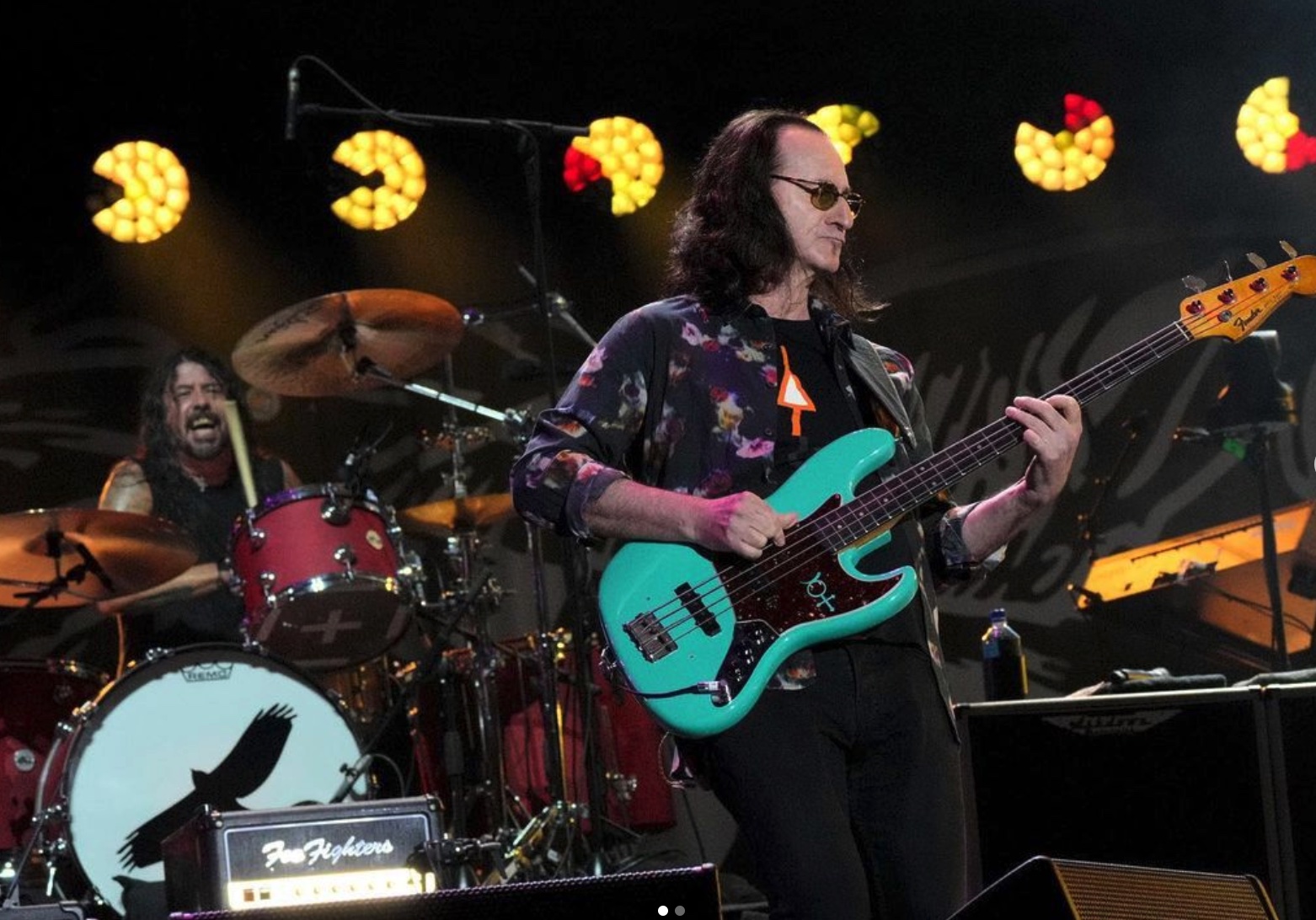 The first of two planned tribute concerts for the late Foo Fighters drummer Taylor Hawkins took place 2 weeks ago at Wembley Stadium in London, and Rush's Geddy Lee and Alex Lifeson along with dozens of other members of rock royalty participated in the event. Alex and Geddy took the stage about 3 and a half hours into the epic, 6-hour show, and played 2112: Overture and Working Man with Dave Grohl on drums, then finished off with YYZ with Omar Hakim on stick duty. The entire show was streamed live worldwide on Paramount+ (US only), MTV YouTube channels (Globally), and Pluto TV internationally, but those streams have since been taken down. A heavily truncated, 1-hour TV special edit of the show aired on CBS the evening after the show, but Rush's performance was not included. There is also supposed to be a 2-hour TV edit airing later this month on MTV globally. Although the official video links have been removed, the entire show can currently be found on the Internet Archive here, although that's likely to be removed at some point. John over at Cygnus-X1.net posted a bunch of screenshots of Rush's performance and made them available online at this location. Both Geddy and Alex posted some reflections on the concert to their Instagram pages this past week, with Geddy saying the following:
What a week it was in London. An incredible gathering of diverse and brilliant musicians from so many branches of the tree of rock and roll. Bonded by a single goal, to honour Taylor Hawkins. Led by the immeasurable talents and generous soul of "Super" Dave Grohl, who wrapped us all in the welcoming warmth of the Foo's and Hawkins' family, despite the obvious pain that they are understandably still enduring.

And for Alex and myself, it was also an important moment to reflect on the loss of our own brother Neil.

Truly an experience I shall never forget.

Looking forward to the LA tribute on Sept 27.
And here's what Alex had to say:
The London tribute to Taylor Hawkins was such a beautiful celebration of the power of music. Performing onstage with Dave Grohl, Omar Hakim, Greg Kurstin and especially my brother, Geddy, lightened the burden of our losses. Facing off with Dave on the opening note and knowing how much he loved Neil as well as Taylor was such a joy for us both, as you can see. Looking forward to the LA tribute show on Sept 27.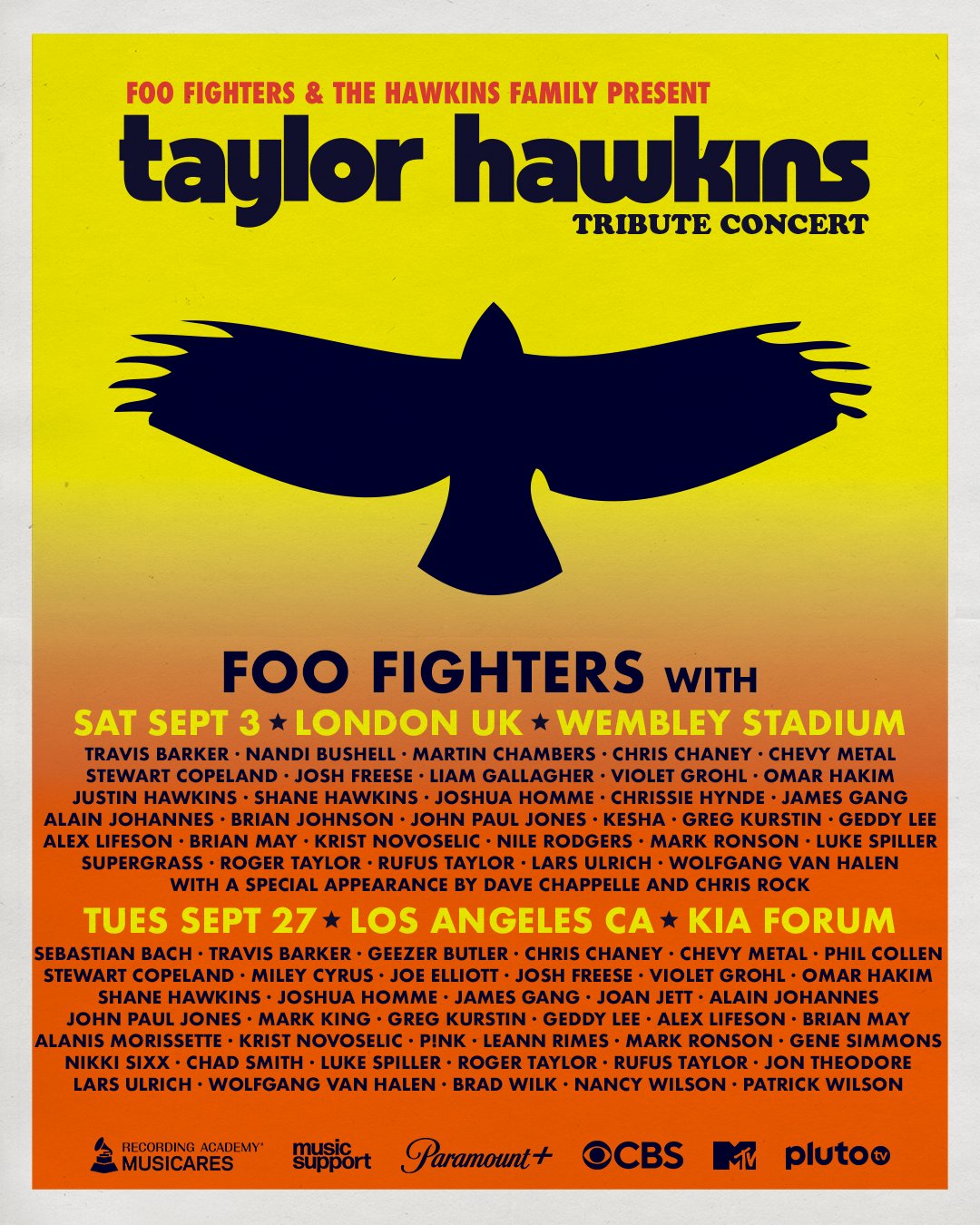 As mentioned above, a second Taylor Hawkins tribute concert will take place a week from this upcoming Tuesday on September 27th in Los Angeles at the Kia Forum, and both Geddy and Alex will once again be participating. Several of the performers from the first show will also be performing in addition to many new ones, such as Sebastian Bach, Geezer Butler, Miley Cyrus, Joe Elliott, Joan Jett, Alanis Morrisette, Pink, Leann Rimes, Gene Simmons, Nikki Sixx, Chad Smith, Brad Wilk, Nancy Wilson and many others. No streaming information has been provided yet, but it's assumed that all the same options that were available for the first show will apply. Tickets have long since sold out, but Philly radio station WMMR is running a contest where they are giving away 2 tickets to the show. For all the details and to enter the contest, visit this location. It's not clear whether Ged/Al will repeat the same 3-song set from the first show, or change things up a bit. It should be another epic show regardless. More information as we learn it.
MetalInsider.net posted their list of Five unforgettable moments from the first Taylor Hawkins Tribute Show this past week, and Rush's appearance was included at #4:
This really could have been any of the countless classic rock performances of the night. After all, Brian Johnson and Lars Ulrich performing "Back In Black" together is pretty awesome and Wolfgang Van Halen shredding to his late father's music was chilling. However, a rare performance from Rush's Geddy Lee and Alex Lifeson was both an amazing tribute for Hawkins and for their own drummer, Neil Peart, who passed away in 2020 from cancer. This was only the second time Lee and Lifeson performed together since Peart's passing. Dave Grohl rocked it behind the drums (naturally) while Lee's and Lifeson's bass and guitar swirled in a cacophony of sound.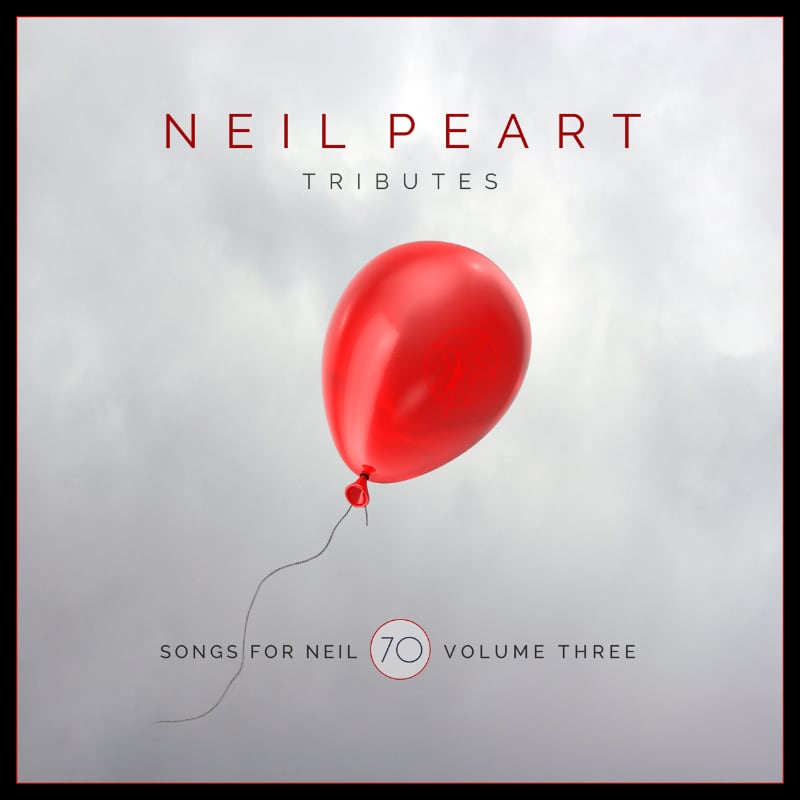 Neil Peart was taken from us back on January 7, 2020 after a long battle with glioblastoma, and this past Monday would have been his 70th birthday. For the past 2 years, on Neil's birthday, RUSHfest Scotland has sponsored the release of an album of Rush songs dedicated to the iconic drummer titled TRIBUTES - SONGS FOR NEIL, played by Rush tribute bands and musicians from around the world. Proceeds from sales of the albums were split equally between two charities - Glioblastoma Foundation Neil Peart Research Award in the USA and Cancer Support Scotland (registered charity SC012867). They continued the tradition this year with SONGS FOR NEIL VOL. 3, which released on Monday in celebration of Neil's birthday, and features a unique cover design and gatefold from longtime Rush album artist Hugh Syme. The album includes 23 Rush songs covered by artists from around the world including - Clockwork Angels (Scotland), David Barrett (Canada), Leoni Jane Kennedy (England), Lotus Land (USA) and featuring special guest appearances by Terry Brown and Darren Redick (Planet Rock). As before, all profits from sales of this album will be going to Cancer Support Scotland in the UK and the Glioblastoma Foundation Neil Peart Research Award in the US. The album is available as a red vinyl double LP, CD, and digital formats. Prints of the album artwork are also available, along with copies of the Songs for Neil tributes from the past 2 years. Visit the RUSHfest Scotland website for all the details and to order your copy. RUSHfest Scotland's Steve Brown was the guest on this past week's episode of the Something for Nothing podcast, and he chats with hosts Steve and Gerry about the album and the annual RUSHfest Scotland Rush fan convention. You can listen to the show below or wherever you get your podcasts:
Speaking of the Something for Nothing podcast, co-host Gerry Schramm co-wrote an article with philosopher Liz Swan for Psychology Today this past week titled Philosophical Insights on the Climate Change Catastrophe which uses Rush's Natural Science as a framework for discussing climate change.
Sports Broadcaster and award-winning talk show host Ann Liguori will be hosting her 24th Annual Ann Liguori Foundation (ALF) Charity Golf Classic this coming Thursday, September 22nd, at the Maidstone Club in East Hampton, NY, and Rush's Alex Lifeson will be participating. The annual charity outing benefits not-for-profits that work in the field of cancer research and care including the Samuel Waxman Cancer Research Foundation, St. Jude Children's Research Hospital and East End Hospice. In addition to participating in the event, Lifeson will be receiving the 2022 ALF Music Honoree Award at the Award's Dinner that evening:
... "We're thrilled to honor Hall of Fame guitarist Alex Lifeson, who is a passionate golfer as well. And Dan Pontecorvo, our Business Honoree, is a shining light! And we so appreciate the support from our amazing sponsors, golfers, donors, and volunteers. And the golf community is so very generous, which we're so grateful for," adds Liguori. ...
For all the details, and to register for the event, visit annliguori.com.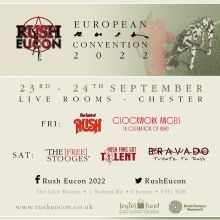 The annual European Rush fan convention Rush Eucon will take place next weekend on September 23-24 at The Live Rooms, Chester. Proceeds from ticket sales will go to Jessie's fund and Brain Tumor Research in honor of Neil Peart. For more information, follow Rush Eucon on Facebook and Twitter, and get tickets via seetickets.com.
Neil Peart's former drum tech Lorne Wheaton was recently interviewed for the Modern Drummer podcast and spoke at length about his time working with The Professor. You can check out the interview on YouTube here (thanks RushFanForever).
The Rushfans YouTube channel has a new series titled "RyGuys Rush Quizzes," where Ryan Murphy and Ryder Hyduk (the RyGuys) battle each other in Rush-themed quizzes, hosted by Eric Winter. Numerous quiz topics are featured, so test your Rush knowledge with the RyGuys. They also encourage viewers to create and submit quizzes to be used on the show. Check out all of the vids so far here, and watch their latest offering below:
That's all for this week. Have a great weekend everybody!