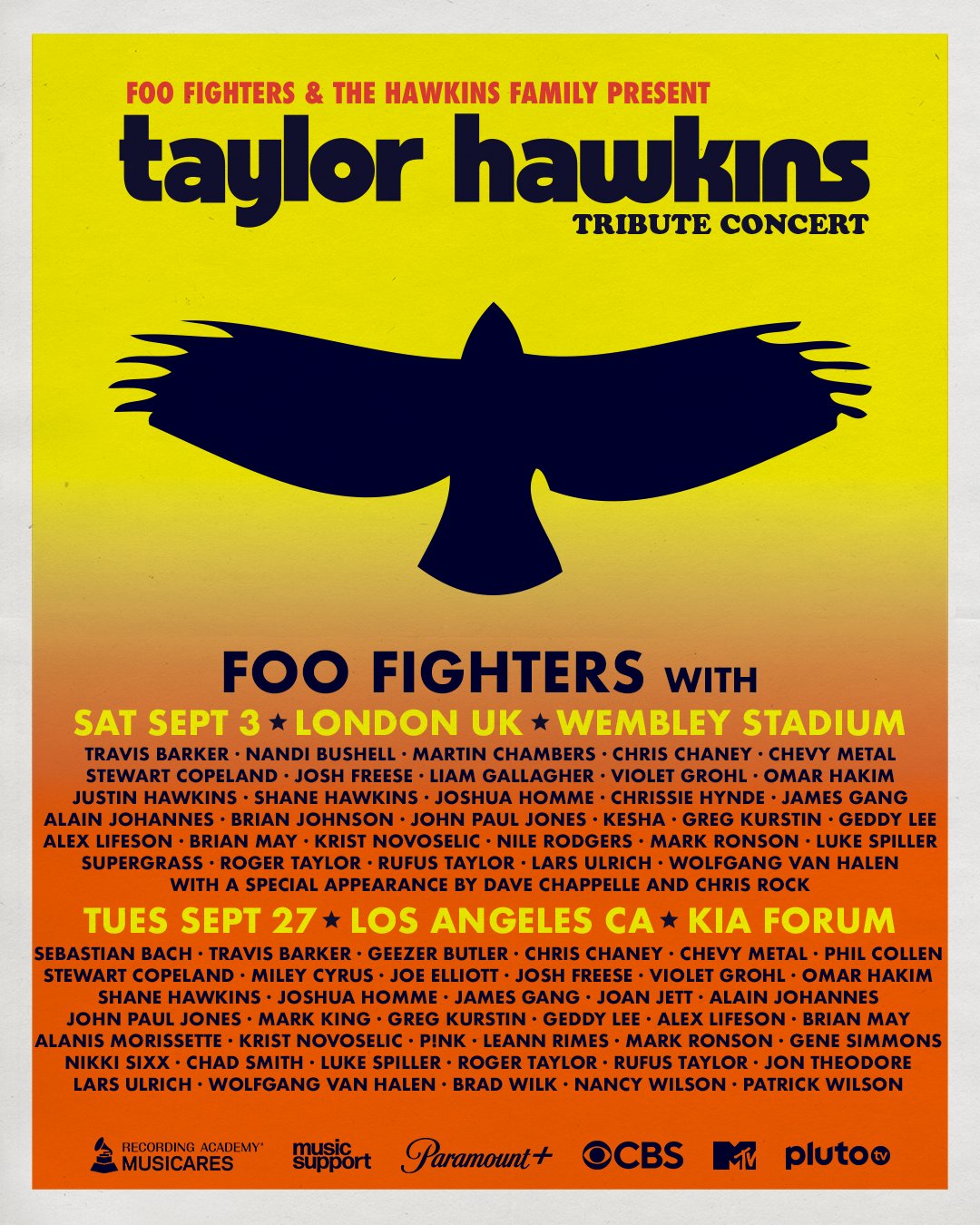 Rush's Geddy Lee and Alex Lifeson will be one of the many performers to participate in a pair of Taylor Hawkins tribute concerts this month - the first of which will take place tomorrow in London at Wembley Stadium beginning at 11:30AM EST (5:30PM CEST). The second concert will take place in Los Angeles at the Kia Forum on September 27th. Tomorrow's show will be available for streaming worldwide on Paramount+ (US only), MTV YouTube channels (Globally), and Pluto TV internationally. The YouTube link is already live, and you can visit the page and set a reminder here. There will also be a 1-hour TV special edit of the London show airing on CBS in the US at 9PM EST tomorrow evening, along with a 2-hour TV edit airing later in September on MTV globally. No streaming information is available for the September 27th show in LA yet, but it's expected that those details will be released closer to the concert date later this month. Also appearing at tomorrow's concert will be Travis Barker, Nandi Bushnell, Omar Hakim, Stewart Copeland, Liam Gallagher, Justin Hawkins, Chrissie Hynde, Brian Johnson, John Paul Jones, Krist Novoselic, Brian May, Lars Ulrich, Dave Chappelle, Chris Rock and many others. For the complete guest lineup and all the details, visit foofighters.com.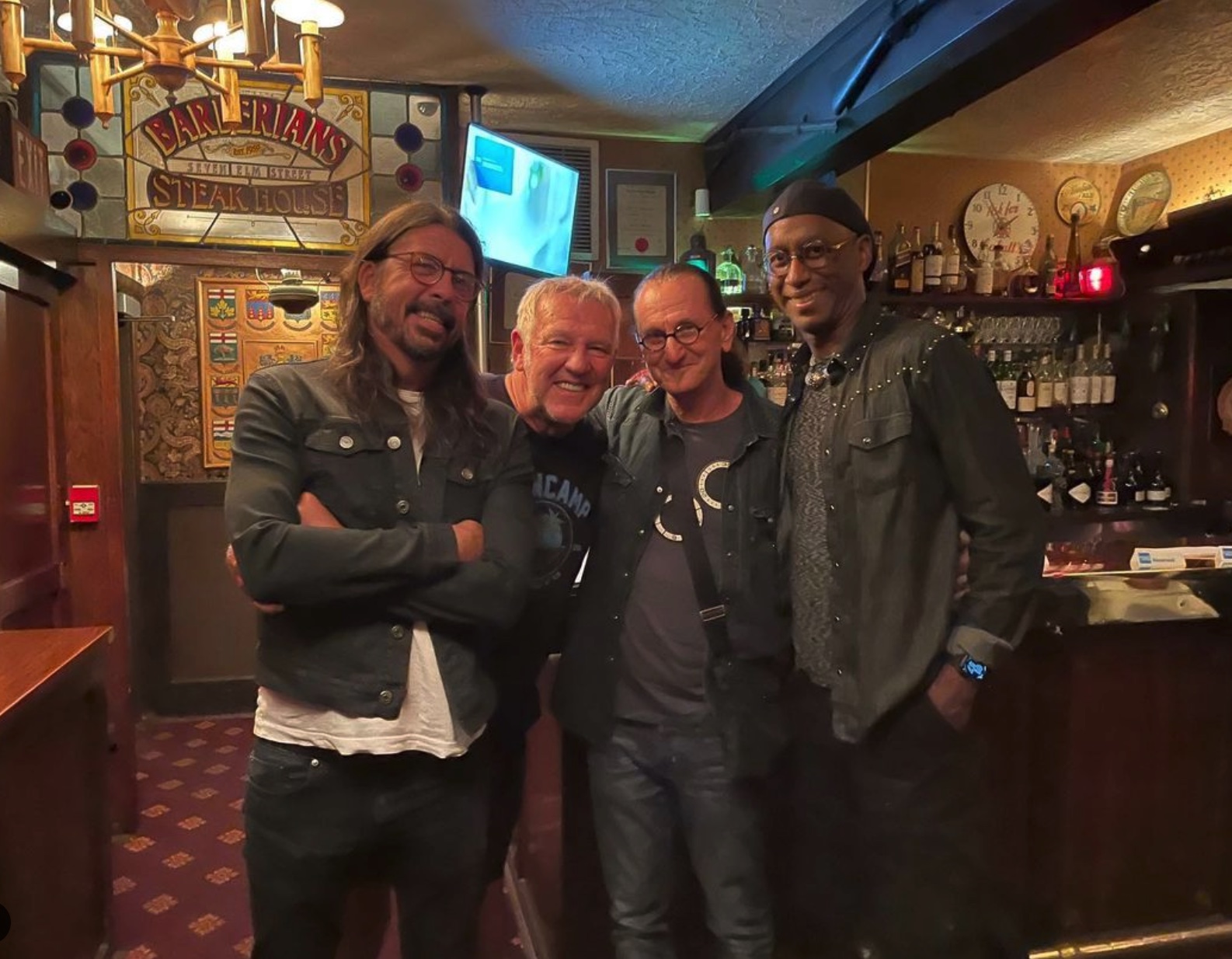 Geddy and Alex have been quietly preparing for the tribute shows over the summer, and the duo made a surprise appearance at the South Park 25th anniversary concert in Colorado last month, playing Closer to the Heart with Primus and South Park co-creator Matt Stone on drums; the first time the pair had played Rush music together on stage in over 7 years. Alex spoke about that appearance and the upcoming Taylor Hawkins tribute shows in a couple of recent interviews, saying the following in his BBC interview with Craig Charles:
... We're gonna play in London at the Taylor Hawkins tribute on September 3rd. So we're looking forward to that. Then we're gonna reprise that at the end of September in Los Angeles. So we're joking [about this] being our new tour. It started with the South Park thing - that was the first leg. The second leg is in a month from now, so we have 3 weeks off to rest after this last difficult gig of doing one song. So we're having fun with it. It's in our blood, but I don't know where it goes from here. ...
Last week, Geddy and Alex were spotted at Barberian's Steakhouse in Toronto with Dave Grohl and well-renowned drummer Omar Hakim, who posted this photo to Instagram with the following caption:
Getting ready for the first Taylor Hawkins Tribute Show in London! So FUN for Dave and I to rehearse with Geddy and Alex of RUSH!!
There's no indication of what song(s) they were rehearsing, so we can only wonder - was it a Rush song? Foo Fighters song? Something else? We'll just have to wait and see.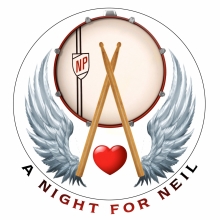 After several postponements over the past 2 years due to COVID restrictions, A Night for Neil: The Neil Peart Memorial Celebration concert and charity fundraiser will FINALLY be taking place next month on Saturday, October 22nd at the Meridian Centre in Neil Peart's hometown of St. Catharines, Ontario. The event had originally been planned to take place in May of 2020, but was postponed several times since due to the uncertainty surrounding travel restrictions in Canada brought on by the Pandemic. For more information and to purchase tickets, visit OverTimeAngels.org. You can also follow the event on social media (Facebook, Twitter, Instagram) and/or subscribe to the email list at this location to get the latest information.
Toronto-based progressive blues-rock duo Crown Lands consists of drummer/singer Cody Bowles and guitarist Kevin Comeau, who bonded over their shared obsession with Rush several years ago and formed Crown Lands shortly thereafter. The duo released their blues-rock, riff-laden, self-titled debut album in 2020, and were named Breakthrough Group of the Year at last year's JUNO Awards, with the album winning Rock Album of the Year. The pair make no secret regarding their obsession with Rush - the Crowns Lands album includes a 10-part song with sections referencing Rush's work titled Context: Fearless Pt. 1. They made a demo of the song with former Rush producer Terry Brown, and later worked on the track with Nick Raskulinecz, co-producer of Rush's last 2 albums, and David Bottrill (who remixed Rush's Vapor Trails album). The pair also joined Alex Lifeson and others as part of an ensemble performance of a Led Zeppelin medley at the Andy Kim Christmas show this past year. One of the duo's favorite Rush albums is Rush's A Farewell to Kings, which recently celebrated the 45th anniversary of its 1977 release, and they sat down with Exclaim! to discuss the album and their obsession with Rush. Here's part of what Comeau had to say:
... The opening two tracks, "A Farewell to Kings" and "Xanadu," just blew my mind with the fact that they recorded a lot of those pastoral sounds - like the acoustic guitar and the percussion - out in the courtyard of Rockfield Studios, so you can hear all the birds chirping. I had never really heard that kind of ambiance on recorded music before, and that really just captured my imagination. At that point, I was 14 years old and playing bass guitar, so I got to Rush through getting into music with really prominent bass playing. You know, [Green Day's] Mike Dirnt, [the Clash's] Paul Simonon were big influences, but I had never really heard anyone like Geddy Lee before, other than maybe John Entwistle from the Who. ...
The latest edition of the Something for Nothing podcast features Rush superfan and lead singer of Rush tribute band The Spirit of Rush, Vicki Flier Hudson. Vicki recently went to Toronto and Willowdale to visit every band-related sight she could see for a Rush pilgrimage, and she joins hosts Steve and Gerry to provide all the details. You can listen to the show below or wherever you get your podcasts:
Classic Rock magazine posted a story this past week featuring Every Rush album ranked from worst to best. The list was based on an article that originally appeared in a 2008 Classic Rock article, and they have Hold Your Fire as Rush's worst album, with Moving Pictures tagged as their best:
The benchmark album for Rush - and it sounds as fresh today as when, after five months of often fraught work, the band sat in a playback at Quebec's Le Studios and declared it was finished. Side one of the original vinyl featuring Tom Sawyer, Red Barchetta, the instrumental YYZ and Limelight was faultless. Flipping it over, we heard a newly matured Rush - each aged 27 or 28 at the time - rein in the epic The Camera Eye (inspired by John Dos Passos) to 11 exhilarating minutes, terrify us with Witch Hunt, then set our techno pulses racing with Vital Signs. Rush at the top of their game.
American Songwriter posted an article this past week on 10 of the Best Rock 'n' Roll Bassists, and Rush's Geddy Lee was included at #9:
Geddy Lee is a one-man rhythm section. Playing the bass, keyboards, and taking on lead vocal duties (sometimes all at once with foot pedals), you can't ignore Lee's contribution to Rush. He rails on the strings of the bass and focuses on the high treble. His playing eventually inspired Fender to release the Geddy Lee Jazz Bass signature model in 1988.
Rush producer Nick Raskulinecz was recently interviewed for the Working Drummer podcast and talks about a number of subjects including his many high-profile production credits, including Alice in Chains, the Foo Fighters and Rush. He also reflects on the death of Foo Fighters drummer Taylor Hawkins. You can listen the the podcast at this location, with the Rush part coming in at around the 42-minute mark (thanks RushFanForever).

Reader Chad H let me know about a number of Rush references in the new video game from Atari called Yars Recharged - a fully modern update to the Atari 2600 classic, Yars' Revenge. The game includes a number of accomplishments/levels you can achieve, and nearly all of them are named after Rush songs/lyrics as seen in these screenshots (image 1, image 2, image 3).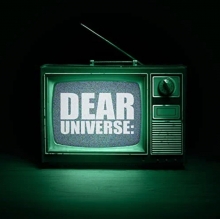 Former Lifer guitarist/vocalist Aaron Fink released his new solo album Dear Universe earlier this week, and it includes a song featuring an Alex Lifeson solo titled Forever is Yours. Lifeson has known Fink for over 20 years and produced Lifer's 2001 self-titled debut album. Fink mentions the Lifeson collaboration in this making of video at about the 5:40 mark. You can listen to the track below or on YouTube.
The month of September is now upon us, and fall is right around the corner. September was a HUGE month for Rush releases over the years so there are several recent and upcoming anniversaries to mention. Caress of Steel (September, 1975), A Farewell to Kings (September, 1977), Roll the Bones (September 3, 1991), Hold Your Fire (September 8, 1987), Signals (September 9, 1982), Test for Echo (September 10, 1996) and All the World's a Stage (September 29, 1976) all celebrate anniversaries this month. That's all for this week. Have a safe and happy Labor Day weekend everyone!