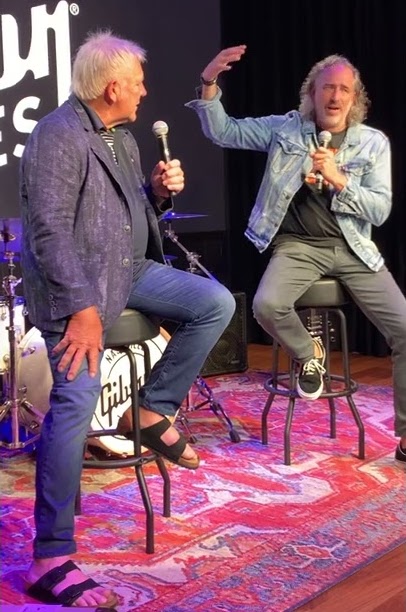 Alex Lifeson made a couple of interview appearances this past week where he discussed his long career in Rush and his many side projects, including Envy of None, last week's South Park 25th anniversary show, the upcoming Taylor Hawkins tribute concerts and more. On Tuesday, Gibson Guitars opened up their Gibson Garage in Nashville an hour early to media and music fans for a special charity event which featured Alex. Some video from the event is available online, and you can watch most of Alex's interview below or on YouTube. There was also a local news story about the event that includes some video of Alex which you can watch here, and a great write-up of the event from The Tennessean. Gibson also posted some nice photos along with a kind message for Alex to their Facebook page. The event helped to support music artists and programs at Children's Hospital-Vanderbilt and Room in the Inn which offer vital services to the local Nashville community. Alex's other interview took place this past Monday where he was a guest on the Craig Charles show on BBC 6 Music. At one point Craig asked him about he and Geddy playing together at the South Park 25th anniversary show and what - if any - implications that might have for the pair working together as Rush or something else in the future:
Well, I don't think so [as Rush]. 41 years of touring together, not only just as a unit, but as friends and brothers - we can't even develop another version of that. ... We loved doing the South Park thing. It was the first time we'd played together in 7 years. I wouldn't be surprised if we did something together in the future, but I wouldn't be surprised if we didn't. ... Life is many different things, and music - for us - as Rush was one [thing], and that's over now. If something comes of it - great. We're gonna do a couple of other gigs. We're gonna play in London at the Taylor Hawkins tribute on September 3rd. So we're looking forward to that. Then we're gonna reprise that at the end of September in Los Angeles. So we're joking [about this] being our new tour. It started with the South Park thing - that was the first leg. The second leg is in a month from now, so we have 3 weeks off to rest after this last difficult gig of doing one song. So we're having fun with it. It's in our blood, but I don't know where it goes from here.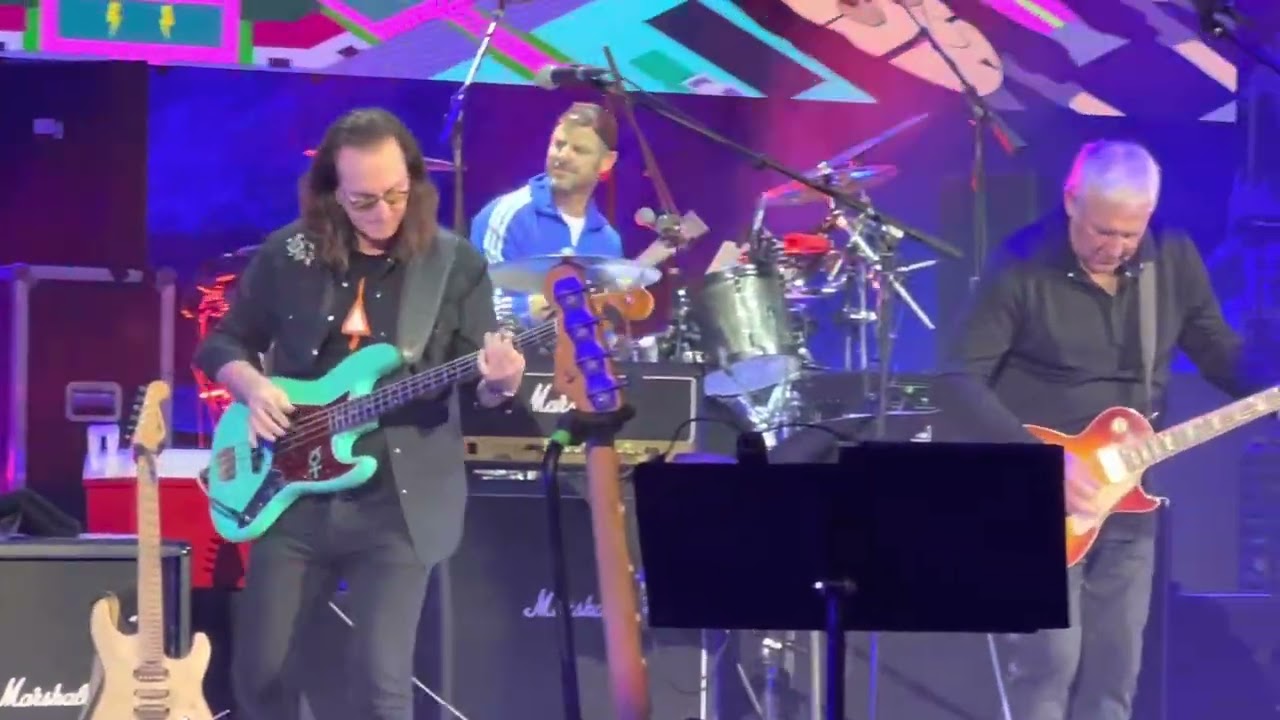 You can listen to the entire interview online here, with the Alex Lifeson portion coming in starting at the 1 hour, 6 minute mark and lasting for a total of 20 minutes, including Craig playing Limelight and Enemy (Envy of None song). Speaking of the South Park 25th anniversary concert, Comedy Central aired the entire concert this past Saturday night and posted the Closer to the Heart performance from the broadcast to YouTube. You can check out more details and some behind-the-scenes photos from the concert in this post.
As Alex mentioned in both of his interviews this past week, he and Geddy will be performing at both of the Taylor Hawkins tribute shows next month. Some more details about the shows, including live streaming info and updated guest lineups were released this past week. The September 3rd show in London will be available for streaming worldwide on Paramount+ (US only), MTV YouTube channels (Globally), and Pluto TV internationally. There will also be a 1-hour TV special edit of the London show airing on CBS in the US at 9PM EST on the day of the show, along with a 2-hour TV edit airing later in September on MTV globally. No streaming information is available for the September 27th show in LA yet, but it's expected that those details will be released closer to the concert date next month. For all the details, check out this Sonic Perspectives article.
In this past week's episode of the Something for Nothing podcast, hosts Steve and Gerry discuss the R30: 30th Anniversary World Tour live set. You can listen to the show below or wherever you get your podcasts:
Loudwire.com posted their list of 10 Rock and Metal Tours from 1982 We Wish We Could See Now, and Rush's Signals tour made the cut:
Signals had the misfortune of being the studio follow-up to Rush's most popular record - Moving Pictures - so it was typically seen as a boldly synth-heavy (but ultimately weaker) successor. That said, the associated concerts were stellar. Taking place between April '82 and May '83, it provided an epic evening of cosmic lighting schemes and numerous classic tunes ("2112," "Tom Sawyer," "YYZ," "Closer to the Heart," etc.) While they're clearly the main attraction, backup sets from Riggs, Krokus or Rory Gallagher - each of whom were influential in their own right, as well as markedly different from Rush - definitely sweetened the deal.
Spin magazine also published a story on 1982 this past week, with their list of the 50 Best Albums of 1982, and Signals made the cut at #16:
Rush were not the only '70s prog-heads to hit big on '80s radio, but they were especially phenomenal at adapting to hard rock airwaves. Signals took a synth-heavy turn, and its leadoff track, the poignant "Subdivisions," made no bones about this direction. While it did not inspire the urban planning revolution North America desperately still needs, no song quite captures suburban alienation, the essential life force of '80s rock and metal. Rush's sound changed, but Neal Peart's pen didn't: Signals' other big single, "New World Man," is "Freewill's" liberatory fantasy with a healthy dose of Police influence; meanwhile, "Countdown's" gloriously nerdy awe at spaceflight is now mournful, given the Challenger disaster a few years later and the song's inspiration, Columbia, disintegrating upon reentry in 2003. - A.O.
Former Chicago bassist/vocalist Jason Scheff was recently interviewed for the Rock History Music YouTube channel (thanks RushFanForever), and spoke a bit about when he performed a few Rush classics with Alex at the Medlock-Krieger Golf Classic back in 2018. He also mentioned how Alex played on his 2019 solo album Here I Am, and how much he enjoyed working with Lerxst. He is hoping to have Alex play on his next solo album as well. You can watch the interview on YouTube here.
Reader Steve W alerted me to a Rush reference in the final episode (Episode 6) of the HBO documentary The Anarchists. The six-part docuseries, directed by Todd Schramke, shows the progression of the anarchist movement and its effect on the Mexican resort city of Acapulco. At about the 45 minute mark in the episode, a woman named Lisa references Rush and Time Stand Still, and about 5 seconds of the song is then played.
Loudwire posted a story this past week on Rock and Metal Bands That Have Played Over 2,000 Shows and Rush is mentioned as having played 2,415 shows in their 40+ year career.
Simon Reynolds wrote a piece for Tidal this past week on Songs about Songs and mentions Rush's The Spirit of Radio:
... Rush's "The Spirit of Radio" homes in on a similar idea: music, and its transmission system, provides "a companion, unobtrusive" to everyday life, filling the listener's world with songs "so elusive" yet so intimately penetrating. There's an electrifying, near-mystical sense of media as - potentially, at least - a system of mass liberation: "invisible airwaves crackle with life/Bright antennae bristle with the energy/Emotional feedback on a timeless wavelength/Bearing a gift beyond price, almost free." This faith in the power of music to "still be open-hearted/Not so coldly charted" is precarious: Neil Peart's lyric acknowledges the sales machinery, the pressure to compromise, the possibility that integrity is a foolish dream. In the end, it's the uplift of the music itself that keeps the promise, blasting away any doubts with its strength and surging purpose. ...
That's all for this week. Have a great weekend everybody!!