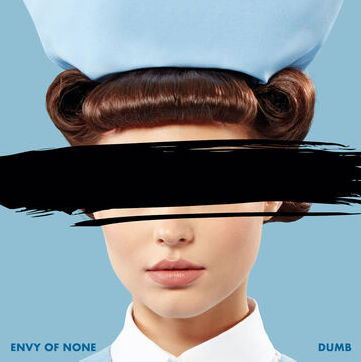 Alex Lifeson's Envy of None project with Andy Curran, guitarist Alfio Annibalini and vocalist Maiah Wynne released their self-titled, debut album back in April, and it's currently available for purchase and streaming worldwide via several different online retailers and services, including Amazon and the official Envy of None merch store. Yesterday they released a new music video for a remixed version of Dumb titled Dumb - Der Dummkopf Remix, which you can check out below or on YouTube. They also sent out a newsletter update to all of their fans which includes more info on the video along with news regarding the album release, their UNHCR fundraiser (sales from their 7-inch LE vinyl single raised over $90K!), touring plans (or lack thereof), and more. Here's what they said about playing live:
... We've had many requests to play live. It's probably the number one question other than "Who are those two ladies on your album cover and what does it all mean?" :) Anyway, we all like the idea of one day playing together live, but it's a massive undertaking to crank up the EON machine and not as easy as it might seem. Who will play drums? How about all the keyboard parts? What colour pants will Andy wear? Does Alex even have a guitar left to play live? Will Maiah's mom get to see her daughter play on Jimmy Kimmel? Is Alf's nick name really "St. Alfonzo "? All of these questions require some serious planning and consideration. Let's just say for now ... as Alex says, "We'll see!"
You can check out all the available purchase options for the album here, and follow the Project via their website, on Facebook, Twitter and Instagram for all the latest news.
The latest episode of the Something for Nothing podcast features an interview with Zebra vocalist/guitarist Randy Jackson where he talks about the beginnings of Zebra, Alex Lifeson's guitar playing, and what it takes to be in a band for decades. You can listen to the episode below or wherever you get your podcasts:
Anthrax bassist Frank Bello was recently interviewed for Bass magazine and spoke a bit about Rush and Geddy Lee. In reply to a question about Geddy Lee's influence on his playing - specifically the Moving Pictures album - Bello said the following:
To this day he's a huge influence on me. I'm still a student at this point in my career, and I want to learn something every day. Geddy has an infinite catalog of beautiful bass playing - from the one-finger playing he does, to the little runs that you have to pause to wrap your head around - I'm still learning from him. That particular album sculpted me so much. I listened to it on repeat and even bought both the cassette and vinyl. That was my training. It was so important to me to learn those songs and bass lines, and they sunk into my blood and became a part of how I write and play. ... It was the challenge of it for me. I wouldn't sleep; I would stay up all night to learn Geddy's lines, to figure out what he was doing. We didn't have YouTube or tab books back then - we had to learn it all by ear and just keep hacking away at it. It was all about repetition. When I would finally learn his parts, I could fall asleep, at last.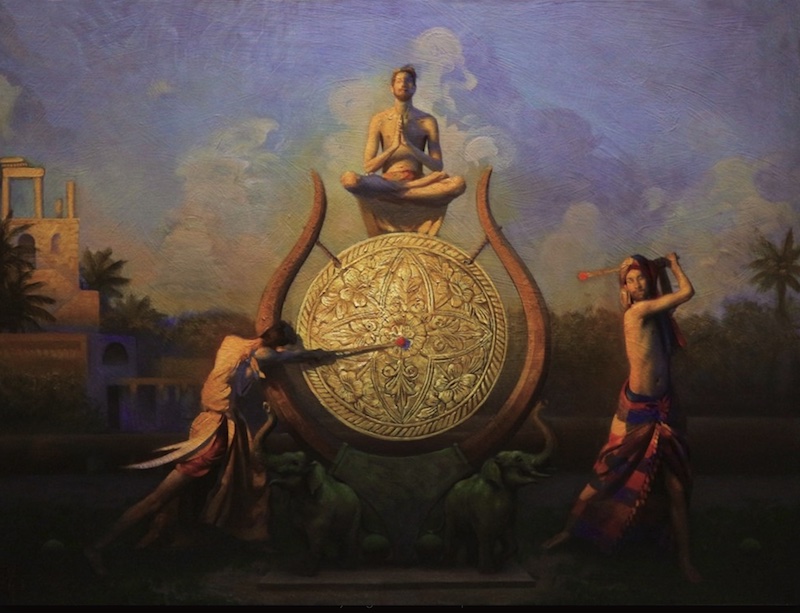 Mexican artist Diego Glazer will make his American debut next month with a unique exhibition of 15 lavishly executed oil paintings that are visual illustrations of Rush's Cygnus X-1 Parts 1 & 2: The Voyage & Hemispheres. Hemispheres: A Synethestic Visioning of Painting and Music will be on display at the Artemesia Galerie in Denver from August 4-28, with an opening event on August 4th from 6-8:30PM. The event will include wine, cheese, and other refreshments, along with a special performance art piece and the music behind the visual art. For all the details, and to check out a preview of some of the art pieces that will be on display, visit artemesiagalerie.com.
Rush was included in a couple of lists posted by Yardbarker.com this past week, both of which seem to be tailor-made for Rush. The first list features 20 notable songs with years in the title, one of which is Rush's 2112:
This opus from Rush, which spans the entire 20 1/2-minute Side One of the 1976 album of the same name, was reportedly inspired by Ayn Rand's 1937 dystopian novella Anthem. The title track, broken down into seven parts, is kind of a futuristic, sci-fi version of Rand's work. More or less. Of course, the creatively genius lyrics in "2112" from late Rush drummer Neil Peart would lead many to believe that he is the originator of the concept.
Their second list focuses on the best Canadian rock bands of all time, and - to nobody's surprise - Rush took the number one spot:
When it comes to progressive rock, Rush sits atop the mountain. While these Rock and Roll Hall of Famers no longer tour under the band's name following the death of legendary drummer Neil Peart (consider "YYZ" an homage), the legacy remains strong. Rush started out as a pure rock outfit after forming in the Toronto area, but soon, the band advanced the intricacies and structure of its songs. Just about any Rush album - Fly By Night (1975), 2112 (1976) or Hemispheres (1978) or Moving Pictures (1981) - is truly an experience. Fellow legendary bands like Iron Maiden, Metallica, and Red Hot Chili Peppers have cited Rush as a serious influence.
WhatCulture.com posted a pair of top 10 lists this past week which included Rush. The first was their list of 10 Amazing Hard Rock Concept Albums, one of which was Rush's Clockwork Angels:
... Adapted from a book that drummer Neil Peart was writing around the same time, Rush's swan song Clockwork Angels is one of the greatest albums of their later period, taking the bombast side of their sound and pushing it even further. With a narrative set in a steampunk world, you can feel that kind of otherworldly atmosphere from the minute that Caravan starts, as if it's the train pulling into the station before the real adventure starts. Going through the rest of the project, you can even hear bits and pieces of different characters, as well as moments that get borderline metal by Rush standards like Headlong Flight and The Anarchist. Being a much more operatic experience, the band also made it a point to bring in as much musical threads as they could, having an orchestra used on some songs and even touring with a string section for the promotional tour for the project so that nothing was lost when translating it to the stage. Since Rush is now firmly etched in stone, this feels like the best way to wrap up their career, remembered as the masterful storytellers of prog rock.
The second list featured their opinion of the 10 Biggest Sell Out Albums In Hard Rock Music History, one of which was Rush's 1982 Signals album:
... Though Rush would lean on synths pretty heavily on Moving Pictures, Signals is where things really started to get integrated properly, like on a song like Subdivisions where the whole song is driven on Geddy Lee's massive keyboard hook. Just because the synths are present doesn't mean that all hope is lost. Going through every single song on here, you can still hear the band trying to push themselves out of their comfort zones, like Alex Lifeson turning in one of his most fiery solos committed to tape on The Analog Kid or letting the song sprawl out a little bit more like on Losing It and Countdown. Even when the god Neil Peart is reduced to using electronic drums, you can still hear the human underneath it all, bringing in different world rhythms to create a unique spin on the kind of straight ahead rock and roll that they were adopting. The Rush that we all recognized from Tom Sawyer and Limelight were still in there somewhere...they were just trying on different musical outfits this time around.
Tomorrow would have been the 70th birthday of original Rush drummer John Rutsey, who was born on July 23, 1952. That's all for this week. Enjoy your weekend everyone!