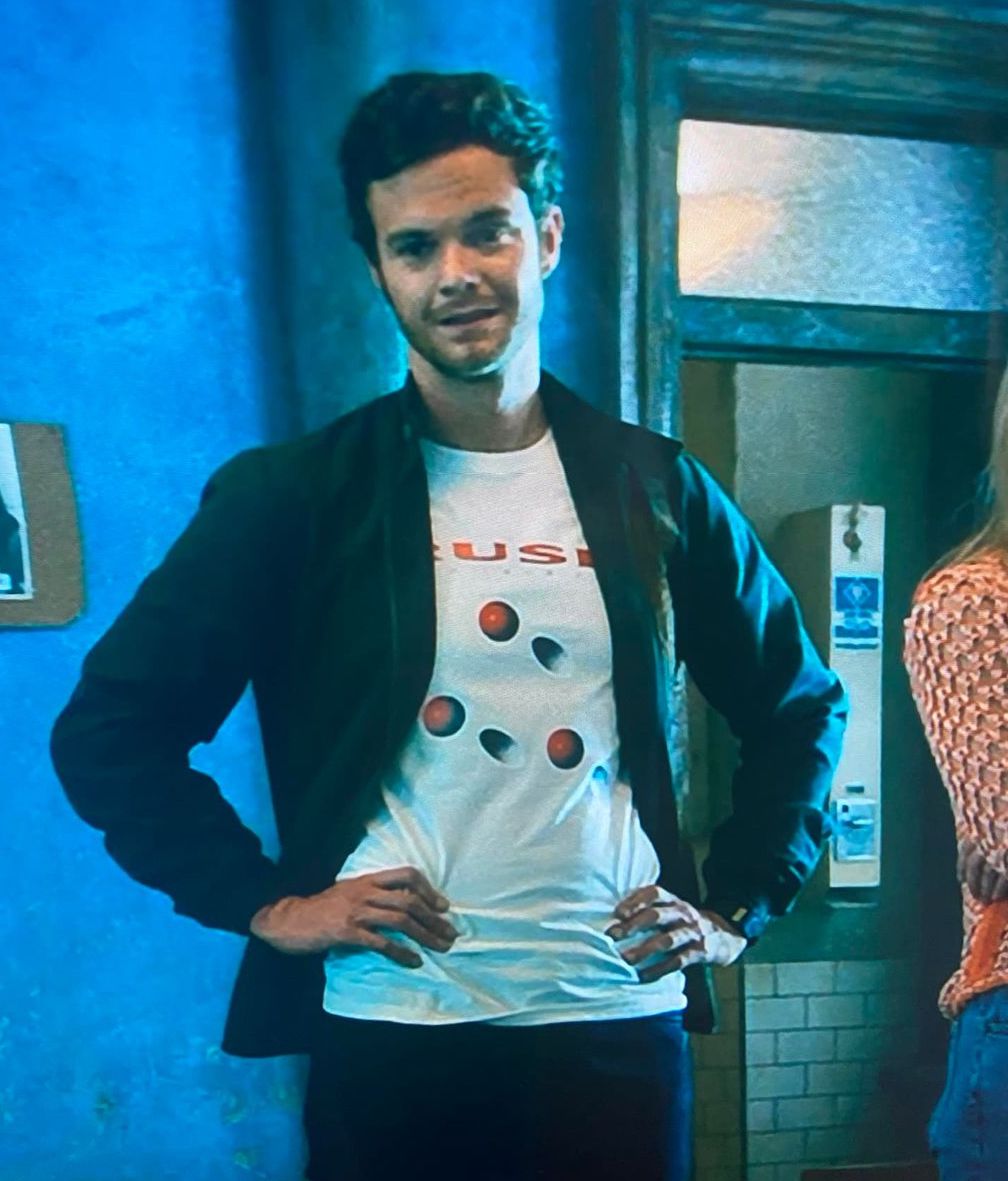 The season 3 finale of Amazon's The Boys aired last week, and it includes a Rush t-shirt sighting. Towards the end of the episode (Season 3, Episode 8 - The Instant White-Hot Wild) at around the 56 minute mark, Hughie (played by Jack Quaid) is wearing a Rush Hold Your Fire t-shirt as seen in this screenshot. Hughie has worn a number of great classic rock concert t-shirts in the show, including t-shirts from bands such as Van Halen, Billy Joel, Nirvana, Journey, Fleetwood Mac, The Ramones, James Taylor, AC/DC and many more.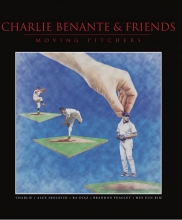 Anthrax drummer Charlie Benante was recently interviewed for BraveWords' Streaming for Vengeance and talks a bit about Rush and Neil Peart:
... what [Neil] did for other drummers, he would show that it's not all about the singer or the guitar player, it's also about that guy in the back right there, that people are taking notice to. I mean, let's face it, between Neil and Phil Collins, they invented air drumming. There's no way that you can sit and watch Rush and not, when that part comes up, you can't help doing the fills. I mean, at a Rush show, you'll see a lot of drummers just doing the fills. But Neil did so much for drumming, and I think a lot of other drummers understand and appreciate him for that. ... I think one of the most, the hardest Rush songs to play, and it's not because the parts are difficult, it's just that there's so many, is Natural Science. It has different movements in the song, and Neil's playing and the fills that he chose for that song, ah, they're just perfect. It ends with such a great tom roll [mimics roll] - it's just perfect Neil. So, I would say Natural Science is one of the songs that I think is the hardest to play. ... I love [Different Strings]. [Neil's] playing in that is awesome. I think I can play all the Rush songs, but of course you had to sit down and it was 'What was that little piece right there?'. 'Freewill' is another one, that middle section is a monster." ...
You can listen to the entire interview on YouTube here. This past April for Record Store Day, Charlie Benante & Friends released an EP of Rush cover songs titled Moving Pitchers, which Benante recorded during the Pandemic lockdowns with Testament's Alex Skolnick, Suicidal Tendencies' Roberto "Ra" Diaz, Brandon Yeagley, and Mee Eun Kim. You can get all the details via this post.
The Something for Nothing podcast posted their 150th episode this past week, and celebrated by bringing in Derek Bacharach to act as quizmaster for a few rounds of Rush trivia with hosts Steve and Gerry. To see who wins, listen to the episode below or wherever you get your podcasts:
Korn drummer Ray Luzier attended the 2nd annual Music City Drum Show in Nashville last week, and posted a video to social media of himself playing a replica of Neil Peart's R30 kit, which was on display at the show. You can check out the video in this Tweet (thanks Thomas P).
Classic Rock magazine posted a story this past week where they celebrate Alex Lifeson's iconic 2013 Rock and Roll Hall of Fame induction speech, and include this quote from Lerxst:
... Years later, Lifeson would comment on the speech, telling Rolling Stone: "Well, it just seemed like a good idea at the time. I had a speech written and I was trying to memorize it and I couldn't remember it. And I thought I might as well just [go] 'blah blah blah.' And I thought, 'Well, that's a good idea.' And so I thought it would tell the story of our history and how we got to that stage without using any words. And the interesting thing is that everybody remembers my speech."
Guitarist Eric Johnson was recently interviewed for Sonic Perspectives and was asked about his experience opening up for Rush back on the band's Roll the Bones tour. You can listen to the interview online at this location with the Rush question coming in at about the 17:55 mark (thanks RushFanForever).
The latest edition of Cleveland.com's CLE Rocks podcast focuses on the important role the city of Cleveland played in Rush's breakthrough onto the US music scene back in 1974. The episode describes how WMMS music director Donna Halper played Working Man on the station, and how it resonated with Cleveland rock fans. The success of the song in Cleveland led to the band signing a major record deal with Mercury Records, and the rest is history. The episode includes interview excerpts with music historian/author Peter Chakerian, radio executive John Gorman, Donna Halper, and others. You can listen to the show below on YouTube or wherever you get your podcasts.
That's all for this week. Have a great weekend!