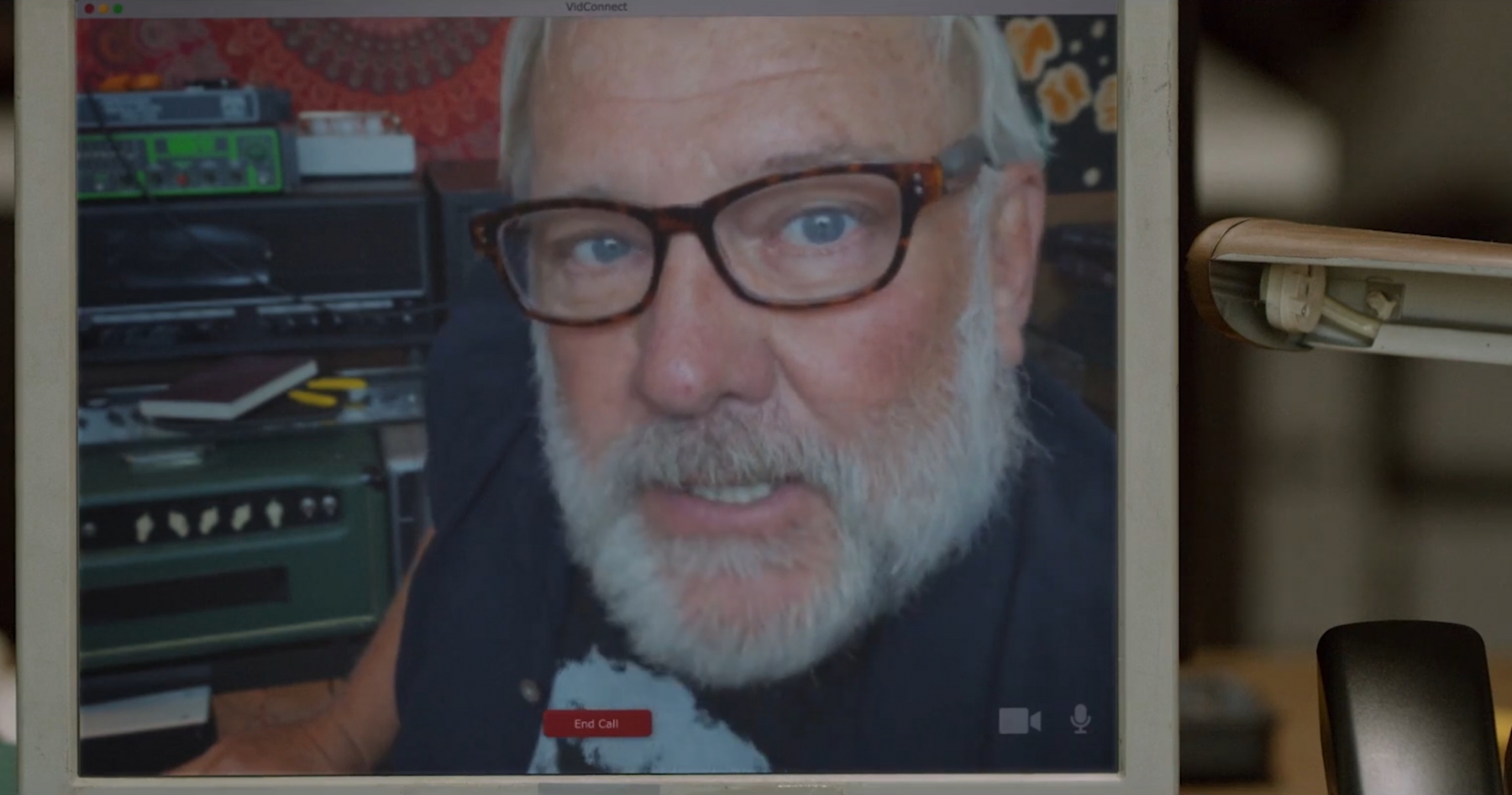 Rush's Alex Lifeson has a small role in the new Canadian horror film The Breach, which is based on a book by horror novelist Nick Cutter (aka Craig Davidson) with the screenplay co-written by him and Ian Weir. The film was directed by Mexican-Canadian Rodrigo Gudiño, and produced by Toronto's Hangar 18 Media with Guns 'N Roses guitarist Slash as an executive producer. It was filmed in Parry Sound, ON during September 2020 with an all-Canadian cast and crew, and starring Allan Hawco, Natalie Brown, Emily Alatalo and Wesley French. Raven Banner Entertainment will distribute The Breach in Canada. From the film's synopsis:
... THE BREACH tells the story of John Hawkins, counting down his last days as Chief of Police in the tiny town of Lone Crow nestled deep in the desolate woods of Northern Ontario. But when a mangled body with uncanny wounds washes up on the shores of the Porcupine River, he's pulled into a horrific mystery that defies comprehension.
Alex Lifeson plays the role of Alex and appears briefly in the film's new trailer, which was released last week. You can see Alex in the trailer starting around the 1:05 mark. Alex is on a Zoom call explaining the origins of the mystery to someone, and says:
Black magic rituals. They are opening the gates of hell here. And I'm telling you - Parsons - he's at the center of it!
The Breach will have its world premiere at the Fantasia international film festival in Montreal later this month. More info on the film can be found in this article. You can watch the trailer below or on YouTube at this location.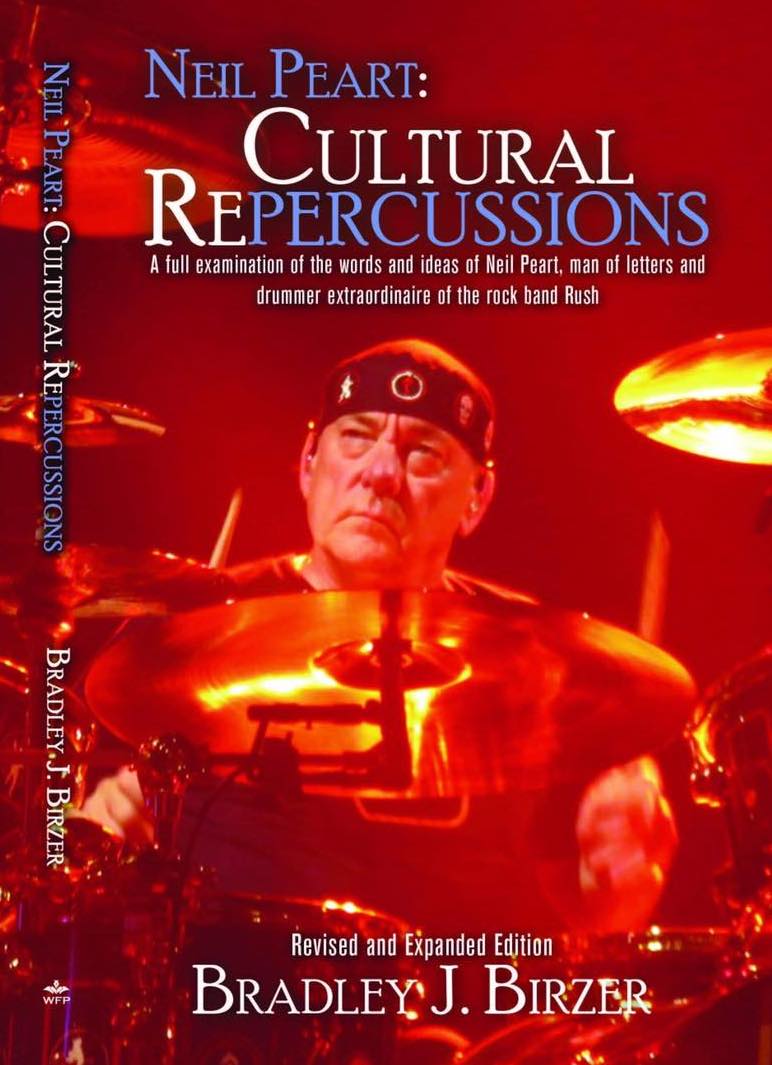 A newly revised and expanded edition of Bradley Birzer's 2015 book Neil Peart: Cultural Repercussions released a few weeks ago and is now available for purchase. The book is a biographical, in-depth examination of the words, ideas and professional life of Neil Peart, and the author has revised and expanded the original edition to incorporate Peart's final years. From the publisher's description:
In January 2020, the world lost not only one of the greatest drummers, but also one of the most insightful lyricists. And a brilliant writer. Though Neil Peart was universally lauded as drummer for legendary rock band Rush, few studies have been devoted to his writings. Yet, Peart was very much a man of his words. He wrote lyrics, travelogues, essays, cultural criticism, short stories, and fantasy novels. The themes in his writings are timeless: personal journeys, exploration, excellence, growth, philosophy, art, satisfaction and happiness, religion, politics, individualism, natural history, life, love, loss, redemption, and beauty. Peart wanted every person to persevere through individual trials, find unique gifts and abilities and, ultimately, true happiness. He did not just profess such things; he lived them. Never satisfied with second best or any form of defeat, Peart challenged himself to live up to his own philosophy. And he always succeeded with grace, which earned him even more fervent admirers. Since his death in 2020, Neil Peart has continued to inspire thousands through his music, his words, and his example. This book-revised and expanded to incorporate Peart's final years-carefully examines the influence that his life, his witness, and his words have had on others. Neil Peart lived life to the fullest, and he made us each better for it.
The revised edition also includes a new cover featuring a photograph of Peart taken by longtime RIAB reader and mega Rush fan Kelly D. A different photo by Kelly D also graced the cover of the original edition. Birzer was recently interviewed for the Rush Fans YouTube channel to talk about the book, his Rush fandom and more. You can watch the complete interview on YouTube at this location.
Toronto-based progressive blues-rock duo Crown Lands consists of drummer/singer Cody Bowles and guitarist Kevin Comeau, who bonded over their shared obsession with Rush seven years ago and formed Crown Lands shortly after. The duo released their blues-rock, riff-laden, self-titled debut album in 2020, and were named Breakthrough Group of the Year at last year's JUNO Awards, with the album winning Rock Album of the Year. The pair make no secret regarding their obsession with Rush - the Crowns Lands album includes a 10-part song with sections referencing Rush's work titled Context: Fearless Pt. 1. They made a demo of the song with former Rush producer Terry Brown, and later worked on the track with Nick Raskulinecz, co-producer of Rush's last 2 albums, and David Bottrill (who remixed Rush's Vapor Trails album). The pair also joined Alex Lifeson and others as part of an ensemble performance of a Led Zeppelin medley at the Andy Kim Christmas show this past year. Premier Guitar posted a 6-minute video of guitarist Kevin Comeau paying homage to Rush's A Farewell to Kings this past week:
Guitarist Kevin Comeau details how his mind was blown by Alex Lifeson's playing dynamics that were both medieval and melodic, while also revealing the peculiar chord he lifts from their stash.
The latest episode of the Something for Nothing podcast features hosts Steve and Gerry listing off their 5 favorite Geddy Lee basslines with the help of New Orleans-based singer/songwriter and enormous Rush fan Beth Patterson. You can listen to the episode below or wherever you get your podcasts:
WhatCulture.com posted their list of 10 Rock Albums That Went From Hated To Loved this past week, and Rush's Grace Under Pressure came in at #10:
There has never been any musical idea that doesn't suit Rush's style. Ever since they started, these Canadian icons were always looking to go down different musical avenues regardless of whether or not there was a market for it, and would often make a masterpiece out of it. That may have gone well in the '70s, but there's a certain portion of their fanbase who started to jump off the bandwagon the minute that keyboards were brought into the mix. During the '80s, Rush had a predominant focus on the synthesizers rather than the guitars, which meant a lot of hardcore fans leaving them as they tried to chase the new sounds of the time. Once you remove the more timely elements of their sound though, time has been much kinder to Grace Under Pressure, with some of the most emotional lyrics that have graced any Rush record. Even with the pop friendly sound, Neil Peart had a lot to unpack on some of these songs, from the paranoia running through Distant Early Warning to painting the picture of what it's like living in Nazi concentration camps on Red Sector A. The raw sounds of this record might seem a bit too self indulgent, but when you start to peel back the layers, these weren't the prog rock gods that we got to know in the days of Farewell to Kings. These were real people with some major emotional baggage, and this was the first glimpse at the band being human.
MetalSucks.net had Municipal Waste's Dave Witte take over their Beer Metal Playlist this past week, and add some of his favorite drinking tracks into the mix, one of which was Rush's Tom Sawyer:
Quite possibly the ultimate air drumming song of all time. Beer and air drumming will forever go hand in hand. I can't resist when I hear this song and not many others can either.
Ultimate-guitar.com posted an article this past week where they look back on Rush's Clockwork Angels album on its 10 year anniversary (the album was released in North America on June 12, 2012):
... "Clockwork Angels" may not have been explicitly intended as Rush's final album from the outset, but it would be hard to think of a better way for the veteran progressive rockers to go out. A combination of inspired songwriting, exceptionally strong performances ("Headlong Flight" in particular is just as bombastic, energetic, and complex as any Rush epic from their prog heyday), and a strong lyrical narrative meant that this album was more than just a culmination of the sounds they had explored on "Vapor Trails" and "Snakes & Arrows", their other two 21st century records, but a band looking to make a statement, knowing that they wanted to craft an album that would be looked upon as one of their finest. And listening to it now, an entire decade later, a lot of the songs still feel fresh, invigorating, and as poignant as ever. It's for this reason that "Clockwork Angels" deserves to sit alongside records like "2112" and "Moving Pictures" as some of Rush's finest work.
That's all for this week. Have a great weekend everybody!!!