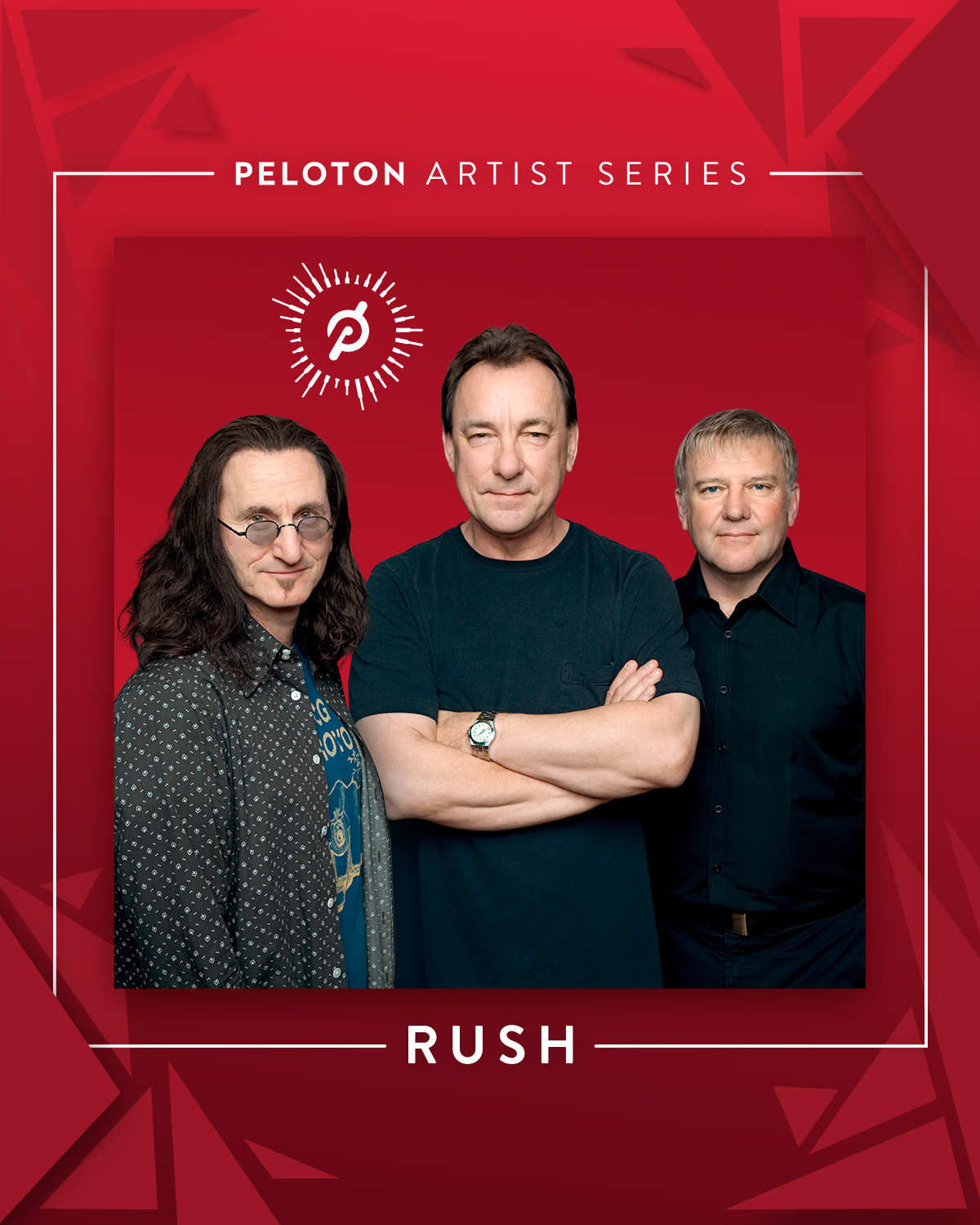 It's Canada Day today, so happy Canada Day to my Canadian readers! Peloton is featuring Rush as part of their Featured Artist Series in celebration of today's Holiday. From their announcement earlier this week:
This one goes out to our #PelotonCanada Members that put 2112% into each workout. Settle into classes every bit as epic as @rushtheband
's iconic songs as you run, ride, and lift your way to glory. New Artist Series classes go live Friday, July 1!
The series includes three classes featuring three instructors: Andy Speer (30 min. Rush Upper Body Strength), Matt Wilpers (20 min. Rush Run), and Denis Morton (30 min. Rush Ride). All classes are previously recorded and debuted earlier this morning at 10AM EST. You can get all the details via pelobuddy.com. Also in celebration of today's Holiday, the offical Canada D'Eh Run 5K kicked off this morning. This year's race features Rush as the Great Canadian to be included on the finisher's medal.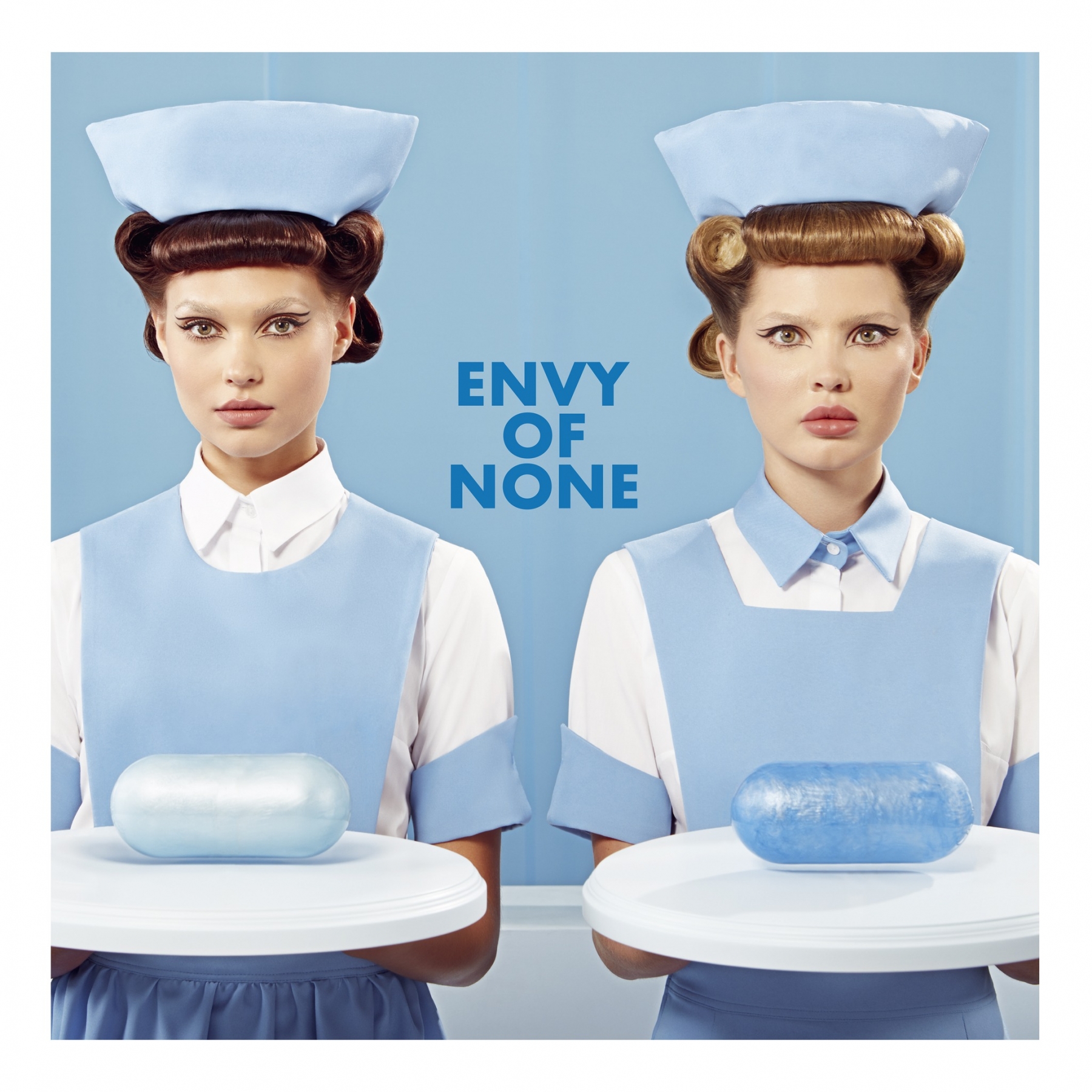 The latest issue of Vintage Guitar magazine includes a short, 1-page article/interview with Alex Lifeson where he talks about his Envy of None project with Andy Curran, guitarist Alfio Annibalini and vocalist Maiah Wynne. You can read the entire interview online here (thanks RushFanForever). Envy of None released their self-titled, debut album back in April, and it's currently available for purchase and streaming worldwide via several different online retailers and services, including Amazon and the official Envy of None merch store. The album is available on CD, and black, white and blue vinyl (the latter is exclusive to North America), along with a limited-edition deluxe version featuring a five-track bonus CD and a 28-page booklet with exclusive content. John over at Cygnus-X1.net has scanned the album artwork and made the images available online here, along with the expanded liner notes and lyrics here. They are also offering a LE 7-inch single for $50 ($100 for an autographed copy) with the funds going to UNHCR's Ukraine emergency response.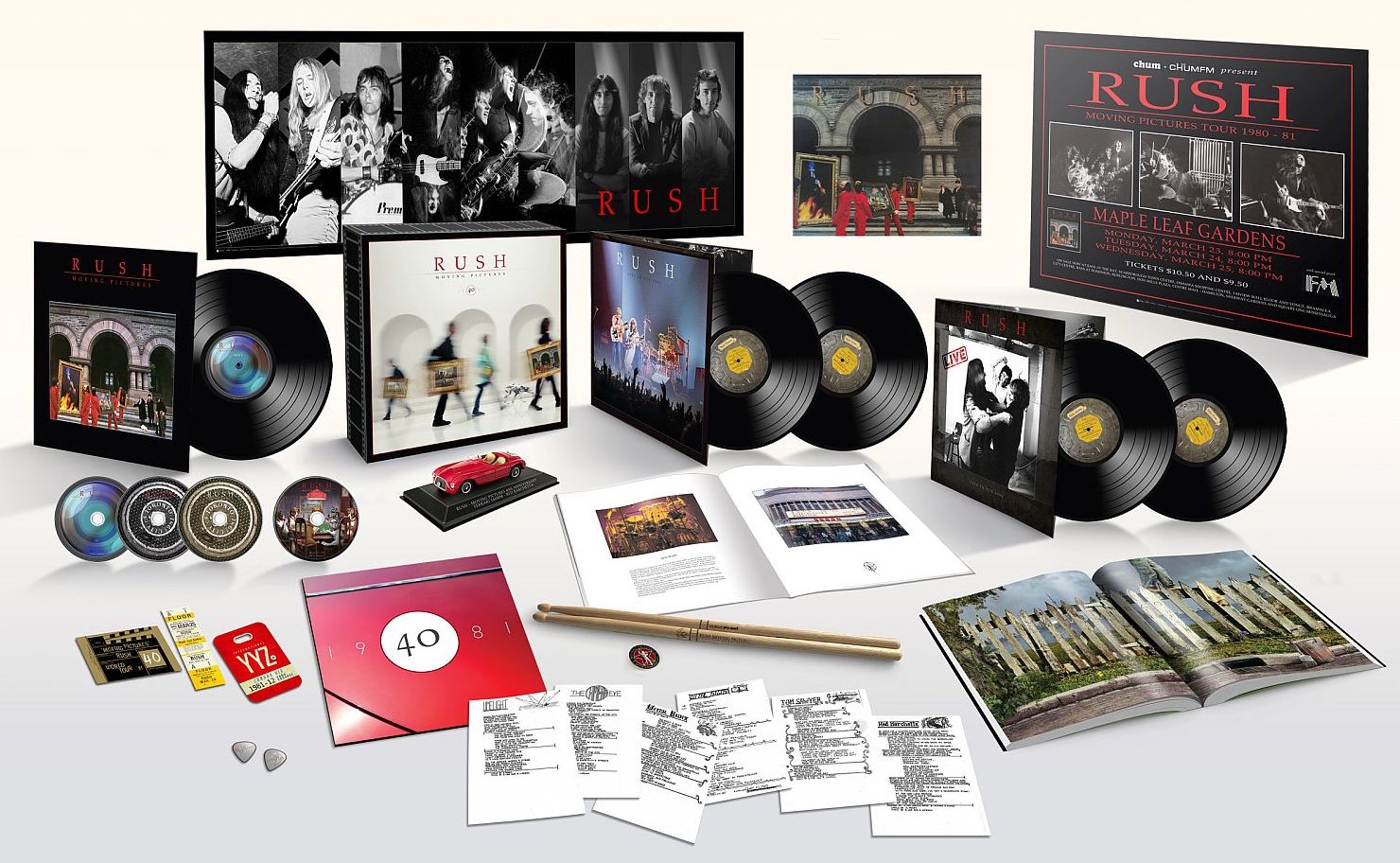 Rush's Moving Pictures 40th anniversary box set officially released back in April, and is currently available for purchase as a 3-CD set, a Deluxe vinyl edition, and a Super Deluxe Edition. John at Cygnus-X1.net has transcribed the liner notes and scanned all the images from the set and made them available online here. You can get all the details regarding the box set via the press release at Rush.com and order your copy today via Amazon (Super Deluxe, Deluxe vinyl edition, 3-CD edition) and other retailers. Stereophile.com posted a review of the box set earlier this week, focusing on the sound quality of the vinyl edition:
... Years after the album's first release, probably in the 1990s, a two-track analog backup was made from the Sony 600 digital master. That backup tape is the likely source for Sean Magee's 2015 remaster, which was made at Abbey Road Studios. Magee's remaster, in turn, is the source of this reissue and all the other LP reissues since 2015. All, including this one, were direct-metal mastered, at GZ Media.

Magee's remaster, like so many other recent rock remasters, increases the bass energy and crunches peak dynamics to make the album "loud," like modern rock releases. That's what I'm hearing on this reissue: The low end is very loud and the balance between bass and drums is significantly different from the original, especially noticeable when it's heard on full-sized speakers at room-filling volume. The stereophony is also different from the original, maybe because certain frequency bands were increased in volume relative to others. Pressed at GZ Media, the LPs are clean, flat, relatively quiet, and well-packaged in protective inner sleeves.

For the most part, it accomplishes what it aims to, what Magee aimed to accomplish with his 2015 remaster. Over smaller speakers and through most headphones and car systems, this new reissue will sound modern, just as a 2022 rock'n'roll fan expects it to sound. But it's less dynamic than the original, and it sounds quite different. The original 1981 LP may seem thin to 2022 ears, but it was Rush's original statement. ...
They also had good things to say about the included Live in YYZ 1981 concert:
... Perhaps the highlight of this set is the live recording. Those who had the privilege of seeing Rush live in that era will likely love it. It's looser and less polished than Exit ... Stage Left, the live album released later in 1981. It sounds just like what the audience must have heard when Rush played, on March 24 and 25, 1981, in front of their hometown crowd after a month of touring the album. The excitement is akin to a Stanley Cup hockey game.
On a related note, this past week's episode of the Something for Nothing podcast focuses on Live in YYZ and how it stacks up against Rush's other live recording from that era - Exit ... Stage Left. You can listen to the discussion below or wherever you get your podcasts: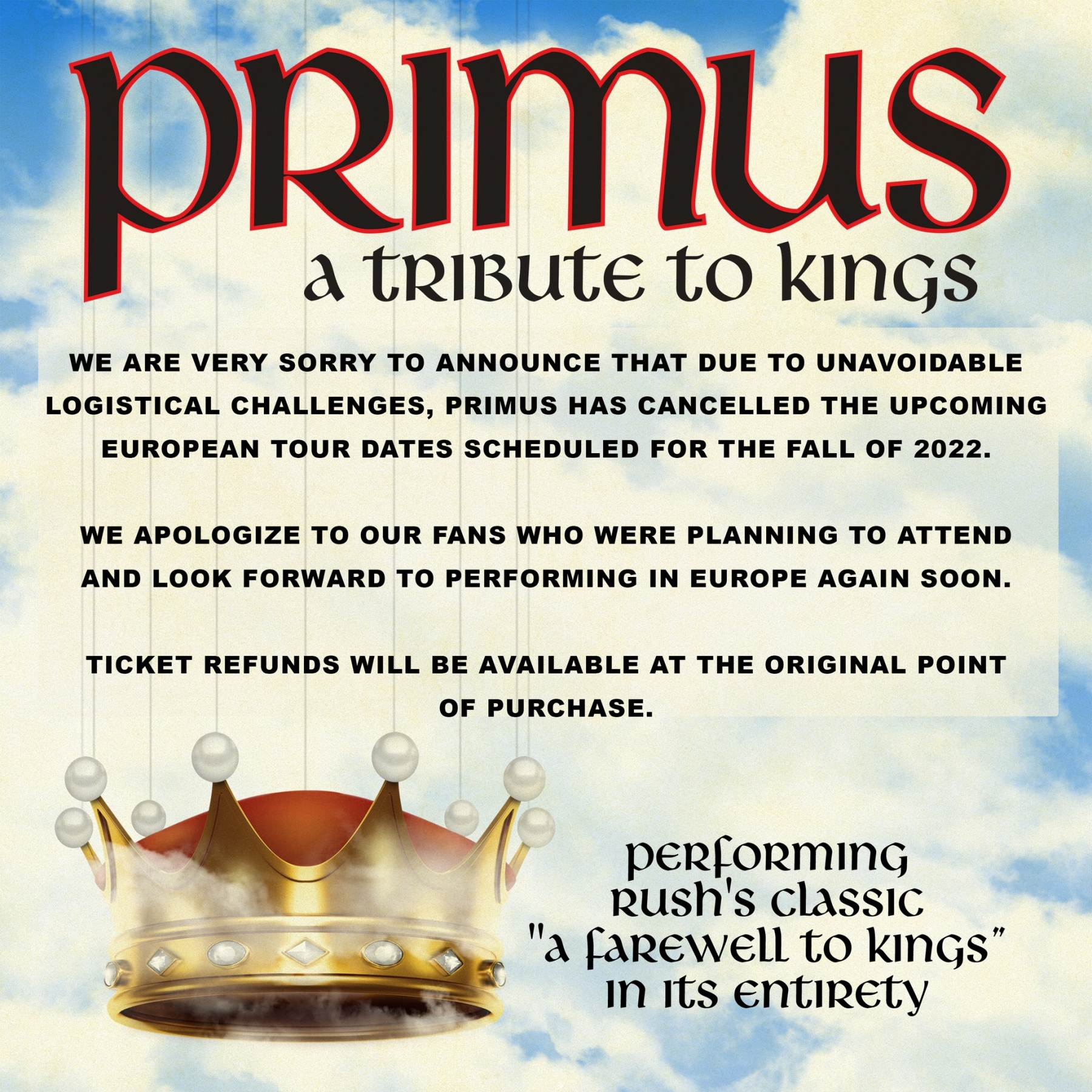 Primus announced earlier this week that they have been forced to cancel the European leg of their A Tribute to Kings Rush tribute tour, posting the following message to their website and various social media channels:
We are very sorry to announce that due to unavoidable logistical challenges, Primus has cancelled the upcoming European tour dates scheduled for the Fall of 2022.

We apologize to our fans who were planning to attend and look forward to performing in Europe again soon. Ticket refunds will be available at the original point of purchase.
The tour is currently on a break after wrapping up a West Coast stint of dates last week. They'll be playing four shows in Colorado in August to finish off the tour, and then that's it. The tour features the band paying tribute to their musical heroes Rush by covering the A Farewell to Kings album in full, mixed in with a couple sets of Primus classics. For all the details and to purchase tickets for the remaining shows visit primusville.com.
The Times of Israel posted a story this past week on June 26th (Holocaust Survivor Day) detailing the efforts of Google engineer Daniel Patt to identify Holocaust survivors from old photos using an AI platform he created called From Numbers to Names. When asked about the platform's many successes, Patt mentions Rush's Geddy Lee, and how he was able to identify his mother and several extended family members using the platform:
... We reached out to Geddy Lee, from Rush, with a photo we thought was of his mother. He was able to confirm this was indeed a photo of her at the displaced persons camp at Bergen-Belsen. Geddy was then able to subsequently discover photos of his grandmother, uncles, an aunt and other extended family by browsing the Yad Vashem collection where the initial photo came from. ...
Geddy's mother Mary Weinrib passed away last year at the age of 95.
Longtime Rush friend and collaborator Ben Mink was announced yesterday as a recipient of the Order of Canada "for his sustained contributions to Canadian music as a producer, multi-instrumentalist and writer" (thanks RushFanForever). Mink played electric violin on Rush's Losing It and also played on Geddy Lee's My Favorite Headache solo album. Rush were recipients of the Order of Canada back in 1997. Congrats Ben!!
Loudwire.com posted a story this past week on the 10 Most Metal Moments on Aqua Teen Hunger Force - the popular Adult Swim show that has 11 seasons and one film (with another on the way) under its belt. One of the episodes highlighted in the article is Spirit Journey Formation Anniversary (Season 2, Episode 14), which includes several Rush references:
Master Shake loves tormenting Meatwad, yet his quest to replace "Happy Birthday to You" with an original new song (for Meatwad's birthday) is a pleasant gesture. He enlists Zakk Wylde (and Rush's Geddy Lee) to help, only to realize that he owes Wylde $1.4 million. Soon, Wylde arrives (on his train of white stallions) to collect, promising Frylock that he'll give Master Shake an "indescribable" beating. Indeed, he impales an ax-shaped guitar into Master Shake's head. Still annoyed, Wylde ends up killed by his Black Mountain Scorpion Hoedown Bluegrass Experience Gang at the deserted Pizza Potamus restaurant. It's quite entertaining.
Note that Neil Peart appeared as a miniature version of himself in the Aqua Teen Hunger Force movie, which was released back in 2007.
Yardbarker.com posted an article on Iconic one-hit wonders over the past 50-plus years this past week, and 1982's Take Off by Bob and Doug McKenzie - which features vocals by Geddy Lee - is featured:
In the early 1980s, the fictional comedy duo known as Bob and Doug McKenzie (played by Rick Moranis and Dave Thomas) released a sketch album featuring the song "Take Off," which included guest vocals from Geddy Lee of the band Rush. The comedic song became an improbable chart-topper, landing itself at #16 on Billboard's Hot 100 list. The fictional brothers starred in the cult classic movie "Strange Brew" the following year, but never were involved with another hit song.
AL.com posted their list of 12 classic Huntsville concerts this past week, one of which was Rush's 1979 show at Von Braun Civic Center:
Tickets for Rush's first-ever Huntsville show started at a princely $6.50. The Canadian prog-metal trio was touring their 1978 LP "Hemispheres," with classic disc "Fly By Night" and concept opus "2112″ also in their catalog to that point, among others. Glam metal pioneers Starz opened the show. Rush setlist that tour featured gems like "Working Man," "Closer to the Heart" and all of side one from "2112." And of course, a drum solo from The Professor himself, Neil Peart. If ever there was a rock concert tuned to Huntsville's aerospace engineer backbone, it was '79 Rush.
Ultimate Classic Rock posted an article this past week showcasing photos of Geddy Lee throughout the years, featuring one photo of Geddy from each year from 1974 up through 2022. You can check out all the photos here.
The Rush Fans YouTube channel hosted a special, Rush-themed game show episode inspired by The Weakest Link this past week. The 8 contestants all put some money in a pot and picked a charity to sponsor, with the money going to the winner's charity. Chris Springer ended up winning the contest, and raised $235 for the ALS Association. You can watch the episode and play along below or on YouTube at this location:
That's all folks. Have a safe and relaxing long Holiday weekend everybody!!