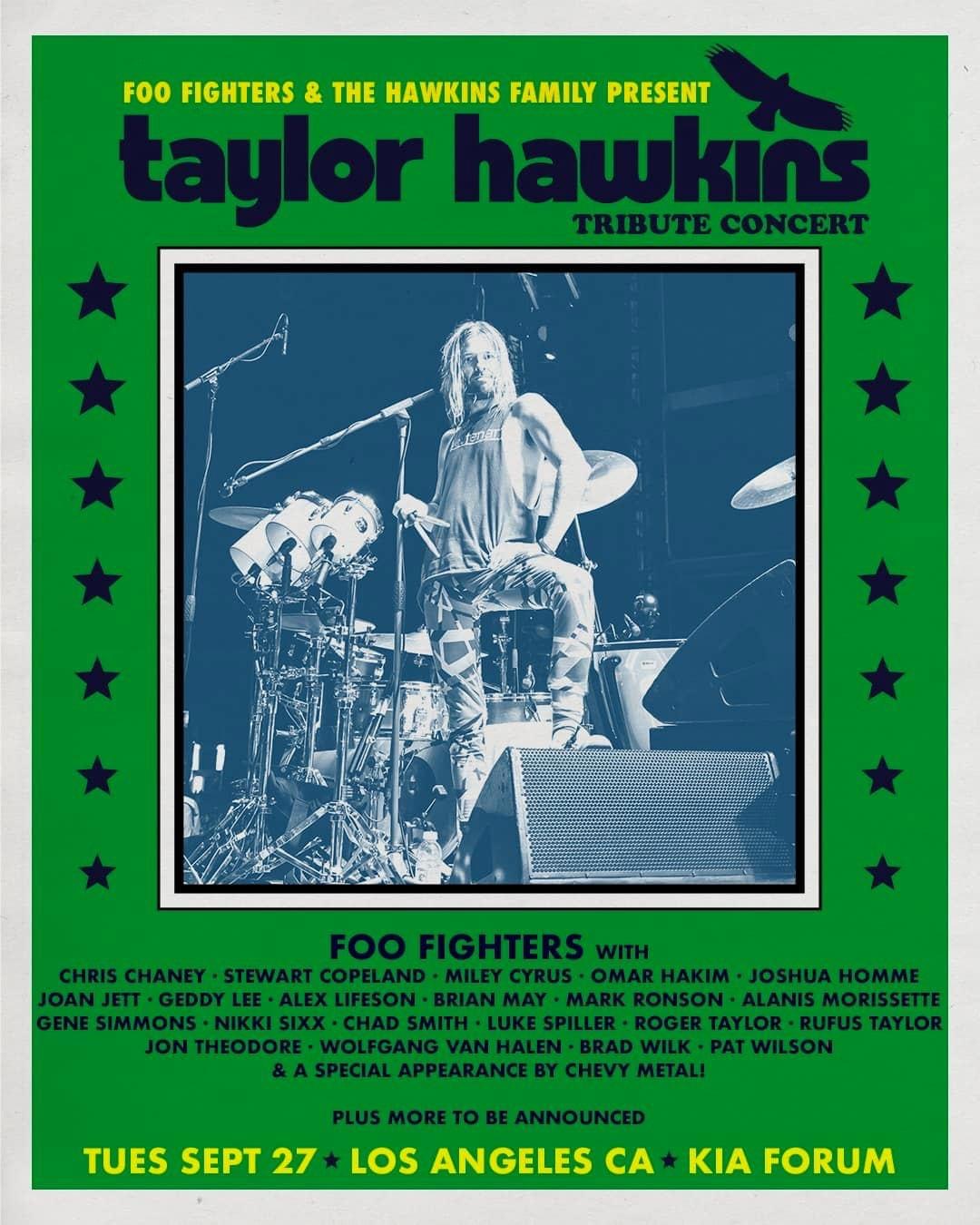 The Foo Fighters will be hosting 2 tribute concerts for the late Taylor Hawkins - the beloved Foos drummer who tragically passed away earlier this year. The first show will take place at London's Wembley Stadium on September 3rd and the second show at Los Angeles' Kia Forum on September 27th. A couple of weeks ago the Foos announced the first slate of guests for the two shows, and Rush's Geddy Lee and Alex Lifeson will be participating in both concerts, but it's still not clear in what capacity at this time. Unfortunately, tickets went on sale last week and are already SOLD OUT for both shows. Other guests on the London bill include Chris Chaney, Stewart Copeland, Liam Gallagher, Omar Hakim, Josh Homme, Chrissie Hynde, Brian May, Mark Ronson, Supergrass, Roger Taylor, Rufus Taylor, Wolfgang Van Halen and Chevy Metal, as well as a special appearance from comedian Dave Chappelle. Guests announced for the LA show include Stewart Copeland, Miley Cyrus, Josh Homme, Joan Jett, Brian May, Alannis Morissette, Gene Simmons, Nikki Sixx, Chad Smith, Roger Taylor, Wolfgang Van Halen, Brad Wilk and Chevy Metal. Proceeds will benefit charities in both the UK and the US chosen by the Hawkins family. More details as they become available.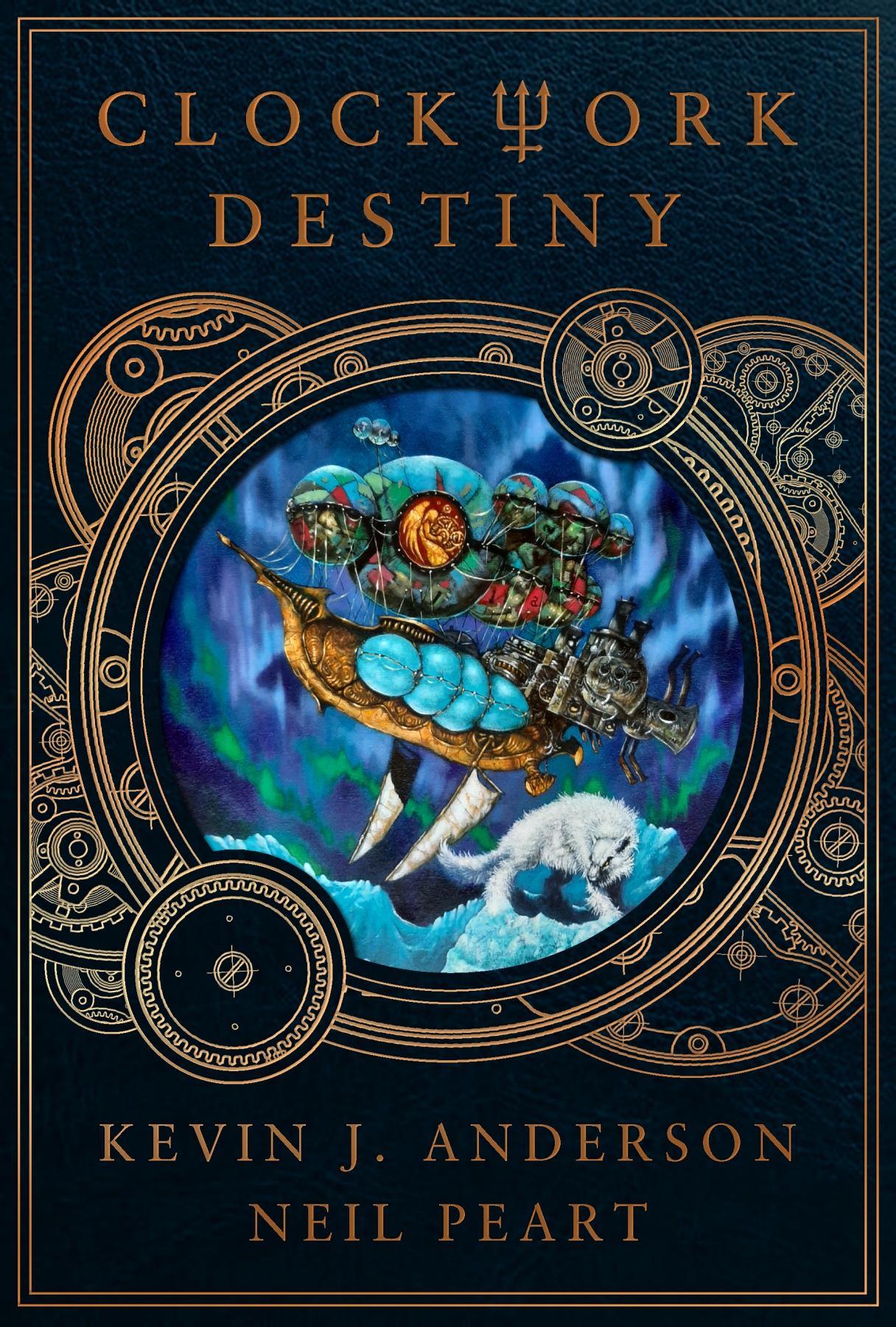 Kevin J. Anderson and the late Neil Peart's Clockwork Destiny - the 3rd and final novel in the Clockwork Angels trilogy - officially released last week on June 14th. The first 2 novels in the Trilogy - Clockwork Angels and Clockwork Lives - were released in 2012 and 2015 respectively. Clockwork Destiny is now available for purchase via Amazon and the publisher website at wordfireshop.com, including a signed, LE Deluxe Edition available here (there are only a few left though!). From the publisher's description:
The final volume in the New York Times-bestselling, award-winning steampunk trilogy by Kevin J. Anderson and legendary Rush drummer Neil Peart

In Clockwork Angels and Clockwork Lives, readers met the optimistic young hero Owen Hardy, as well as the more reluctant adventurer Marinda Peake, in an amazing world of airships and alchemy, fantastic carnivals and lost cities. Now Owen Hardy, retired and content in his quiet, perfect life with the beautiful Francesca, is pulled into one last adventure with his eager grandson Alain. This final mission for the Watchmaker will take them up to the frozen lands of Ultima Thule and the ends of the Earth. Marinda Peake must undertake a mission of her own, not only to compile the true life story of the mysterious Watchmaker, but also to stop a deadly new group of anarchists.

The Clockwork trilogy is based on the story and lyrics from the last album of musical titans Rush, with Anderson and Peart expanding the world, stories, and characters. The two developed the final novel in the trilogy in the last years of Peart's life, and more than a year after his passing, Anderson returned to that unfinished project, with the full support of Peart's wife, bringing Owen and Marinda's stories to a satisfying and stirring conclusion. ...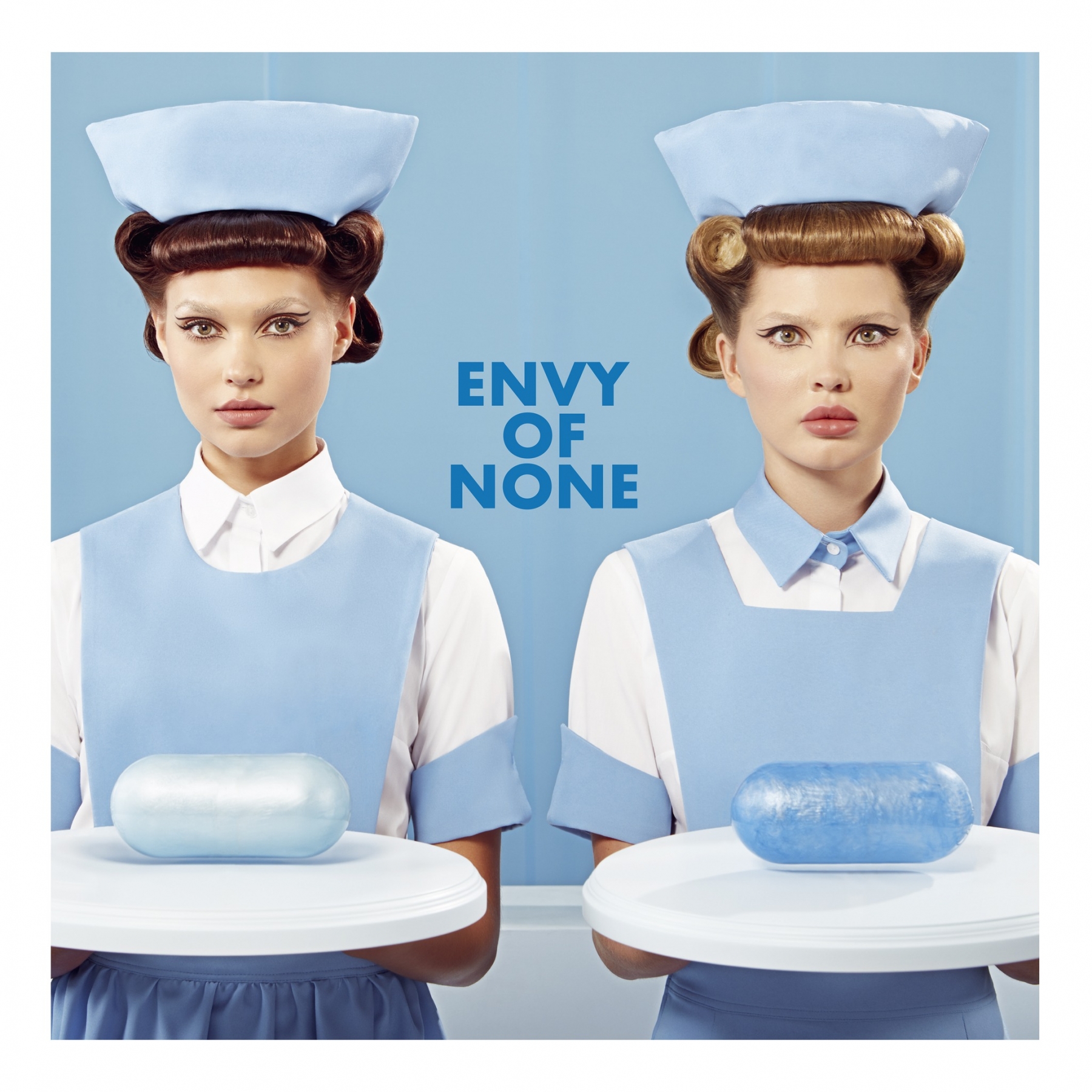 Alex Lifeson's Envy of None project with Andy Curran, guitarist Alfio Annibalini and vocalist Maiah Wynne released their self-titled, debut album back in April, and it's currently available for purchase and streaming worldwide via several different online retailers and services, including Amazon and the official Envy of None merch store. The album is available on CD, and black, white and blue vinyl (the latter is exclusive to North America), along with a limited-edition deluxe version featuring a five-track bonus CD and a 28-page booklet with exclusive content. John over at Cygnus-X1.net has scanned the album artwork and made the images available online here, along with the expanded liner notes and lyrics here. They are also offering a LE 7-inch single for $50 ($100 for an autographed copy) with the funds going to UNHCR's Ukraine emergency response. Earlier this week 97 Rock announced that they are auctioning off a 30-minute zoom call with all 4 members of Envy of None, including Lifeson (thanks RushFanForever). The bidding starts at $1000 with proceeds also going to UNHCR's Ukraine emergency response. The band is matching the winning bid and also contributing one of their limited edition 7" singles. Envy of None vocalist Maiah Wynne was a recent guest on the Michael's Record Collection podcast, where she talks about her career, her musical background, working with Alex Lifeson and Andy Curran in Envy of None, the stories and meanings behind the songs on the band's self-titled debut album, and much more. You can listen to the interview below or wherever you get your podcasts: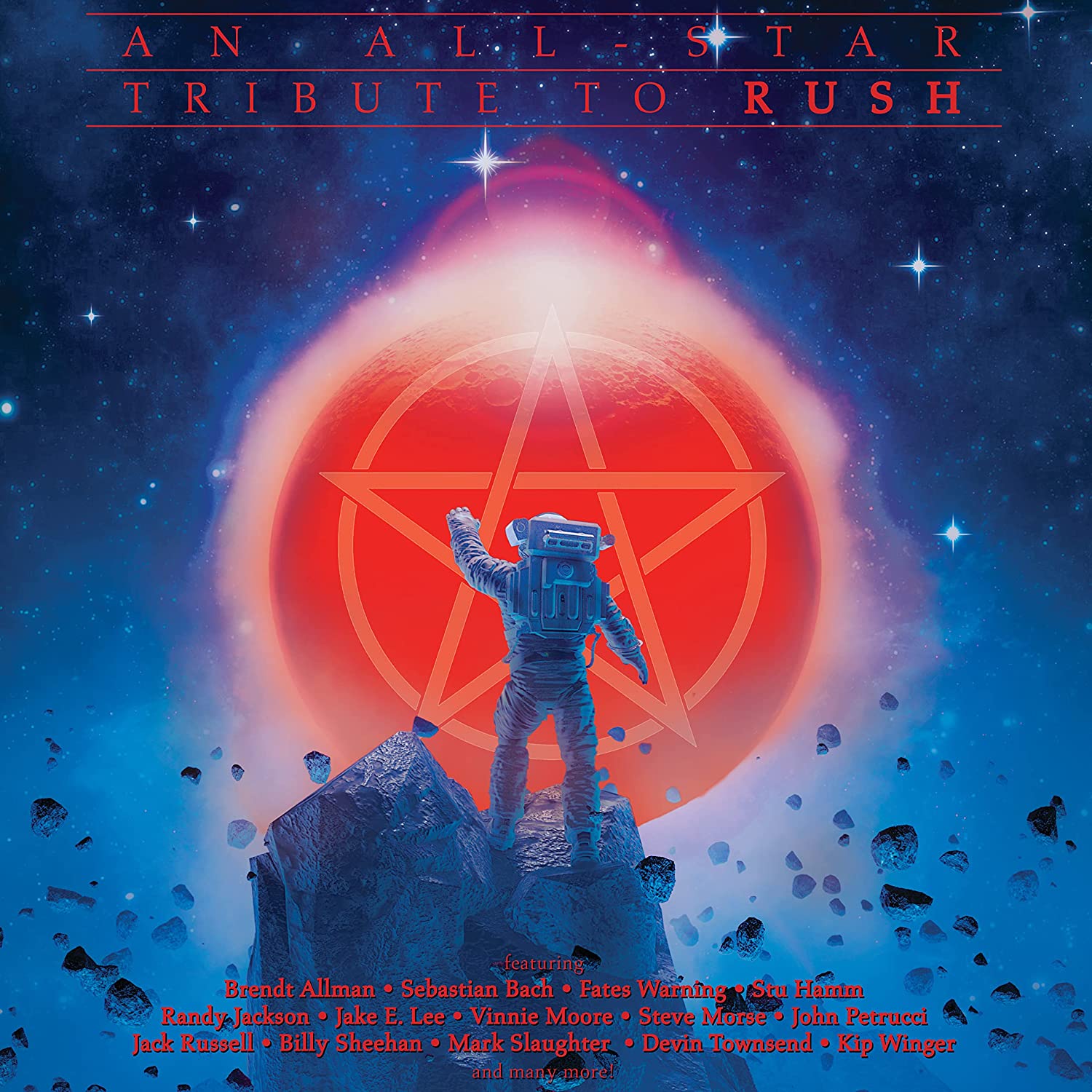 A "new" Rush tribute album titled An All-Star Tribute to Rush was officially released today via Magna Carta Records. The album is available as a deluxe 2CD digipak edition and also a deluxe 2LP red vinyl edition. It features all the covers of Rush songs from Magna Carta's previously-released Rush tribute albums; Working Man, Subdivisions, and New World Man.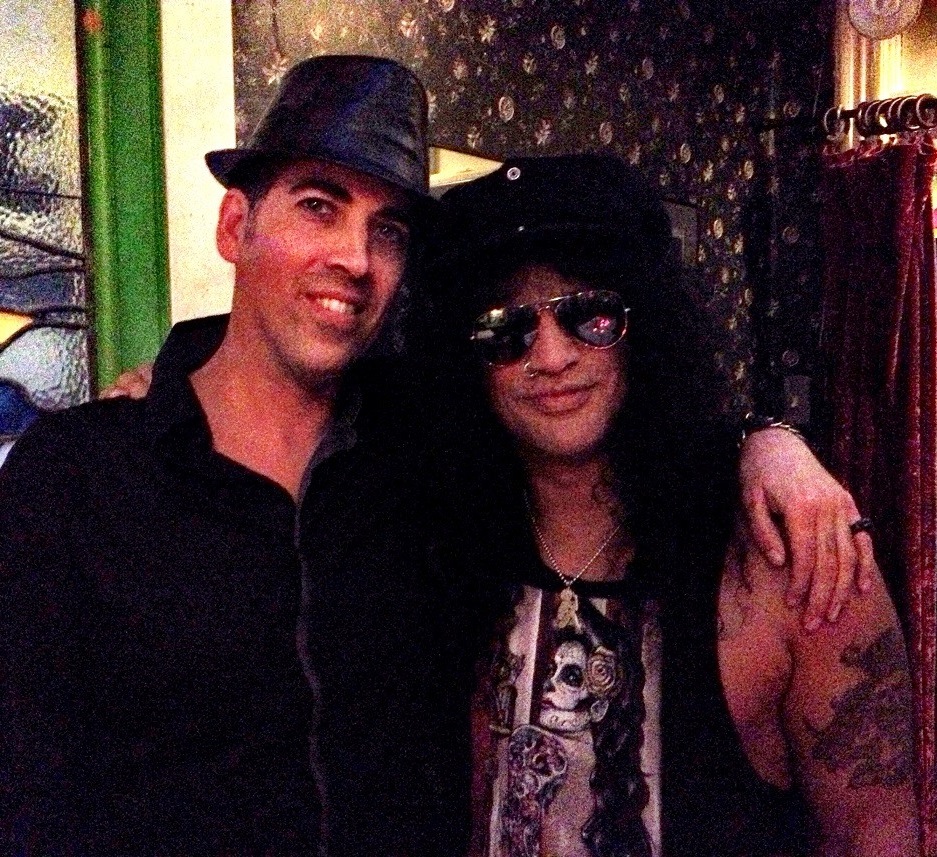 Back in December we learned that Alex Lifeson will have a small role in the upcoming Canadian horror film The Breach. The film was directed by Mexican-Canadian Rodrigo Gudiño, and produced by Toronto's Hangar 18 Media with Guns 'N Roses guitarist Slash as an executive producer. The film is based on a book by horror novelist Nick Cutter (aka Craig Davidson) with the screenplay co-written by him and Ian Weir. It was filmed in Parry Sound, ON during September 2020 with an all-Canadian cast and crew, and starring Allan Hawco, Natalie Brown, Emily Alatalo and Wesley French. The film's IMDB page was recently updated (thanks RushFanForever), and Alex Lifeson is now officially listed among the cast and crew as playing the role of ... Alex! The page also indicates that the film is completed and expected to premiere sometime next month, although no further details are given. From the film's synopsis:
... THE BREACH tells the story of John Hawkins, counting down his last days as Chief of Police in the tiny town of Lone Crow nestled deep in the desolate woods of Northern Ontario. But when a mangled body with uncanny wounds washes up on the shores of the Porcupine River, he's pulled into a horrific mystery that defies comprehension.
Veteran radio producer/broadcaster and Rush fan Ed Robinson recently launched a new music podcast called The 4-Song Thesis. In the latest episode of the podcast, Robinson makes the argument that Neil Peart belongs in the Songwriters Hall of Fame. You can listen to the podcast below or wherever you get your podcasts. From the episode description:
After being delayed due to the pandemic, the Songwriters Hall of Fame is finally getting around to celebrating their last inducted class, from 2020. But there's a lyrical scribe that needs to be considered for that Hall's future ... the late Neil Peart of Rush. Listen as Ed Robinson makes a compelling case for Neil to one day receive that accolade, & why the preconceived notions about Rush songs often cloud people's minds to the full scope of Neil's power as a songwriter.
On the latest 2 episodes of the Something for Nothing podcast, hosts Steve and Gerry wrap up their multi-episode deep dive into Rush's Hold Your Fire album. For part 4 they bring in Rush FAQ author Max Mobley to discuss Mission, and YYNOT bassist Tim Starace to tackle Turn The Page. For part 5 they bring in Jared Shofar to talk about the song Tai Shan and the mountain itself, which Shofar visited recently. They also welcome Vicki Flier Hudson to talk about her love of High Water. You can listen to both episodes below or via your favorite podcast service:
The 2 Guys Taking Rush podcast is back after a long hiatus with a new episode where host John Kane breaks down Rush's iconic Subdivisions music video. As a bonus treat, he also chats with Dave Glover, the actor who portrays a misfit high school student in the video. You can listen to the episode below or wherever you get your podcasts:
YardBarker.com posted a story this past week on Bestselling bands of the 80s, then and now, and Rush is featured.
Donna Halper wrote a piece for her blog last week describing what was involved in getting Rush their star on the Hollywood Walk of Fame. Halper led the charge in this effort, which saw Rush get their star on June 25, 2010 - 12 years ago tomorrow. Here's some video from the unveiling:
That's all for this week. Have a great weekend!!