UPDATE - 6/6@9:50AM: Rock 107 also did a Rock and Roll 500 Countdown for Memorial Day weekend, and here are all the Rush tracks that made the list:
396. Freewill
313. Limelight
280. Fly By Night
42. The Spirit Of Radio
18. Tom Sawyer
----- snip -----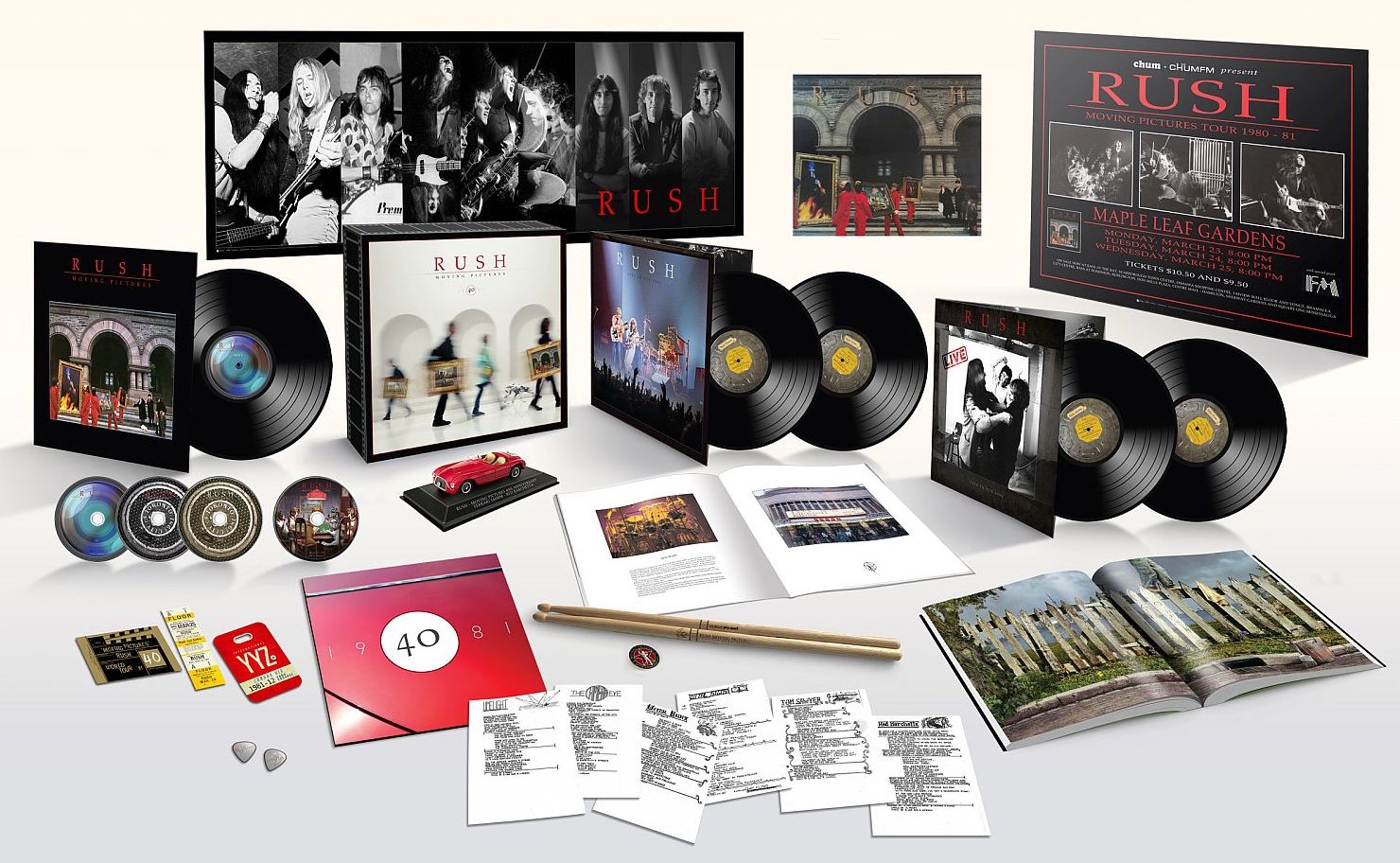 Rush's Moving Pictures 40th anniversary box set officially released back in April, and is currently available for purchase as a 3-CD set, a Deluxe vinyl edition, and a Super Deluxe Edition. John at Cygnus-X1.net has transcribed the liner notes and scanned all the images from the set and made them available online here. You can get all the details regarding the box set via the press release at Rush.com and order your copy today via Amazon (Super Deluxe, Deluxe vinyl edition, 3-CD edition) and other retailers. Prog magazine is running a contest where the winner will receive a copy of the Super Deluxe edition box set (thanks RushFanForever). For all the details and to enter, you will need to visit this link, fill out the form and answer this (very easy) question:
WHICH IMPRESSIVE STUDIO DID RUSH HIRE FOR RECORDING MOVING PICTURES? A) ROCKFIELD B) THE MANOR C) LE STUDIO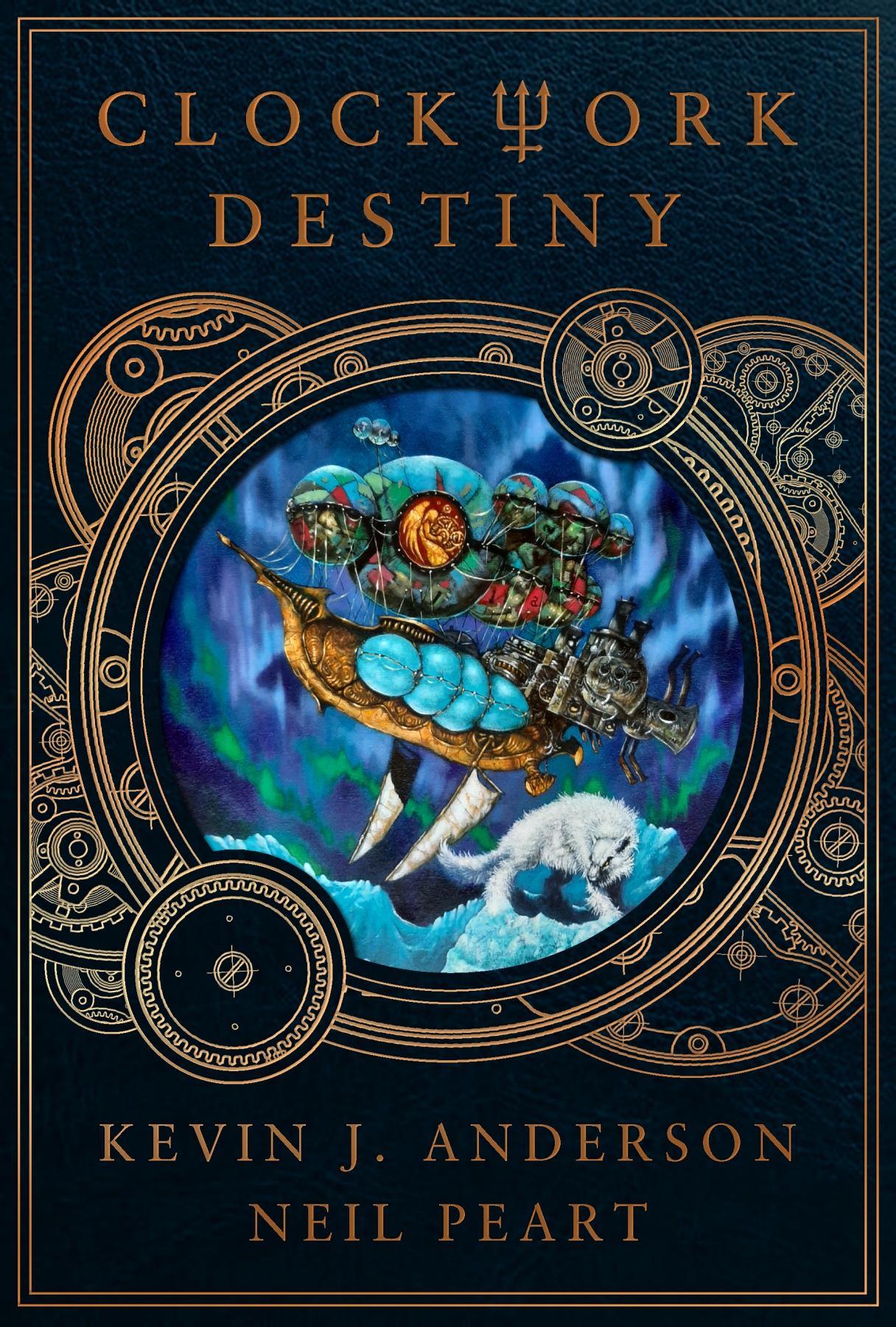 Kevin J. Anderson and the late Neil Peart's Clockwork Destiny - the 3rd and final novel in the Clockwork Angels trilogy - will be released in less than 2 weeks on Tuesday, June 14th. The first 2 novels in the Trilogy - Clockwork Angels and Clockwork Lives - were released in 2012 and 2015 respectively. Clockwork Destiny is now available for pre-order via Amazon and the publisher website at wordfireshop.com, including a signed, LE Deluxe Edition available here. From the publisher's description:
The final volume in the New York Times-bestselling, award-winning steampunk trilogy by Kevin J. Anderson and legendary Rush drummer Neil Peart

In Clockwork Angels and Clockwork Lives, readers met the optimistic young hero Owen Hardy, as well as the more reluctant adventurer Marinda Peake, in an amazing world of airships and alchemy, fantastic carnivals and lost cities. Now Owen Hardy, retired and content in his quiet, perfect life with the beautiful Francesca, is pulled into one last adventure with his eager grandson Alain. This final mission for the Watchmaker will take them up to the frozen lands of Ultima Thule and the ends of the Earth. Marinda Peake must undertake a mission of her own, not only to compile the true life story of the mysterious Watchmaker, but also to stop a deadly new group of anarchists.

The Clockwork trilogy is based on the story and lyrics from the last album of musical titans Rush, with Anderson and Peart expanding the world, stories, and characters. The two developed the final novel in the trilogy in the last years of Peart's life, and more than a year after his passing, Anderson returned to that unfinished project, with the full support of Peart's wife, bringing Owen and Marinda's stories to a satisfying and stirring conclusion. ...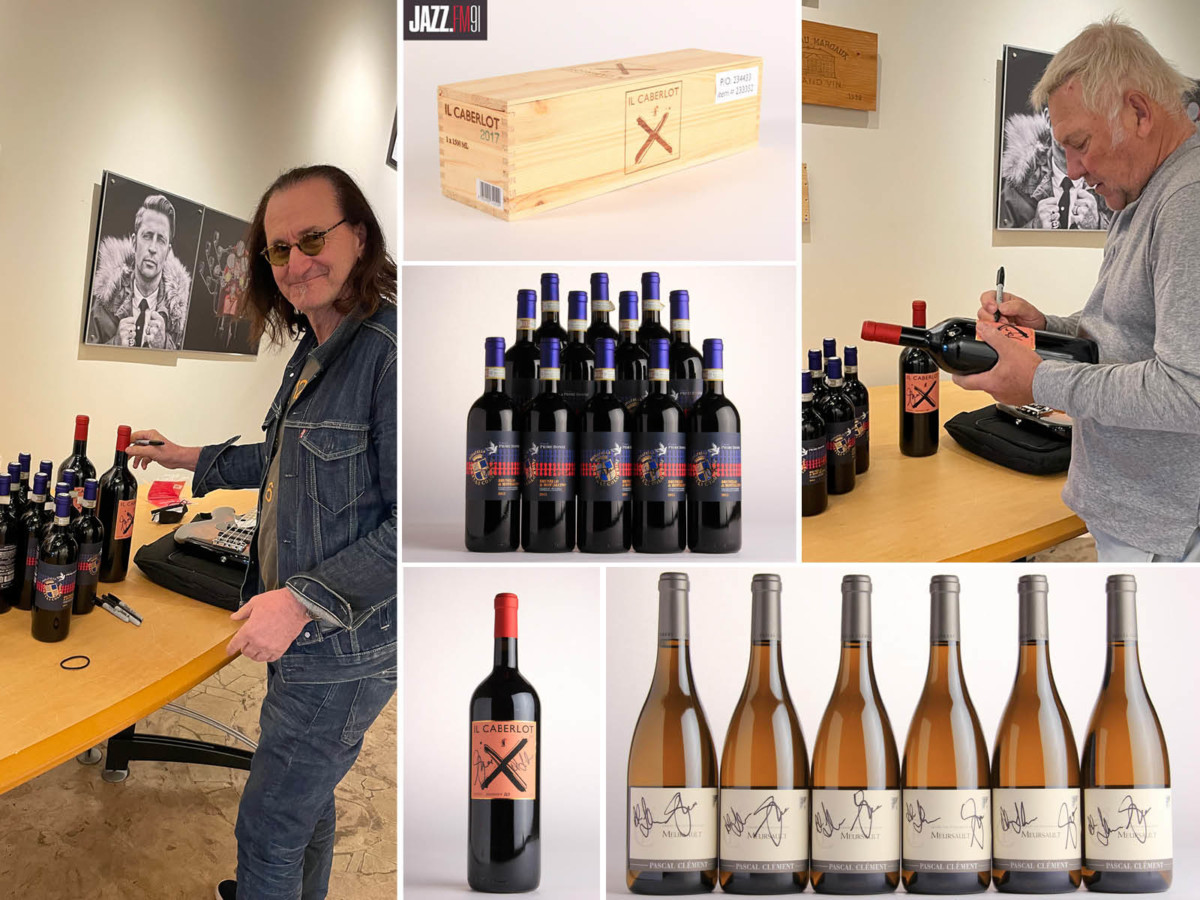 Canadian jazz music station JAZZ.FM91 is currently holding their 2nd annual online fine wine auction. Among the items available for bidding are several bottles of wine autographed by Rush's Geddy Lee and Alex Lifeson. JAZZ.FM91 is a not-for-profit, 24-hour jazz station out of Toronto, and all proceeds from the auction will go to support the station. From the JAZZ.FM91 website:
Our listeners and collectors across the province have generously donated more than 400 bottles ranging from affordable offerings to some of the most sought-after wines. We are thrilled to be working with Canadas premier wine auction house, Iron Gate Auctions. They have curated our donated bottles into 155 lots, including some very special bottles and collections curated and signed by Geddy Lee and Alex Lifeson of Rush and by Holly Cole. ...
The auction runs through this coming Tuesday, June 7th. For all the details and to place your bid, visit jazz.fm-wine-auction.
On the latest episode of the Something for Nothing podcast, hosts Steve and Gerry continue their multi-episode deep dive into Rush's Hold Your Fire album. For part 3, they bring in John Take of Rush Graphs and Steve Holmes of House of Drumming to chat about Prime Mover and Lock and Key. You can listen to the episode below or via your favorite podcast service:
Reader Vertigo2112 let me know about a brief Rush reference in the 2019 Canadian thriller Disappearance at Clifton Hill, which recently became available on Netflix. The film features Abby, a young woman who returns home to Niagara Falls, Ontario, when she inherits a family-owned motel in the city's Clifton Hill tourist district following her mother's death. At one point she decides to sell the motel to local businessman Charlie Lake, whose family has effectively owned the town for three generations. In one scene where she is finalizing the deal at Lake's mansion, she notices a wall of rock memorabilia and comments on it. At about the 46:25 mark, Charlie gets up and points to a picture which he calls his favorite. He then says, "Rush. They performed for my 18th birthday".
This past weekend Americans celebrated Memorial Day, and several rock radio stations continued their Holiday tradition of counting down the top 500 rock songs as chosen by their listeners over the long weekend. Two of those stations were QFM96 out of Columbus, and KSHE in St. Louis. Nine Rush songs were included in QFM96's list, including Tom Sawyer at #11:
350. Freewill- Rush
332. 2112 Overture/ The Temple Of Syrinx- Rush
263. Closer To The Heart- Rush
212. Red Barchetta- Rush
193. Subdivisions- Rush
86. Spirit Of Radio- Rush
55. Limelight- Rush
31. Working Man- Rush
11. Tom Sawyer- Rush
KSHE's list contained 8 Rush songs, with Tom Sawyer taking the top spot (thanks Matt C):
410. Freewill
386. 2112/Temples Of Syrinx
383. Closer To The Heart
380. Spirit Of Radio
328. Working Man
313. Limelight
311. In The Mood
1. Tom Sawyer
MSN Music posted their Ultimate Rush Playlist this past week, which includes their 20 must hear Rush tracks.
UDiscoverMusic.com posted their list of The 50 Best Prog Rock Bands Ever and Rush took the #3 spot (thanks RushFanForever):
Rush started life as a hard-rock trio and when pushed, they'd still insist that's what they were. But they spent their full career actively progressing, taking whatever sounds caught their fancy and doing it their own way, before bowing out with arguably their most ambitious concept album Clockwork Angels. Even when they became a platinum band, there were always more directions to try, more sounds to add, and more elaborate concerts to put on.
Twelve years ago this past Wednesday, June 1st, Rush released the Caravan single, which would eventually end up as the opening track on their Clockwork Angels album that they released 2 years later in 2012. Here's a music video for the track that was shown on VH1 Classic, which includes concert footage from the Time Machine: Live in Cleveland concert video:
That's all for this week. Have a great weekend everybody!!