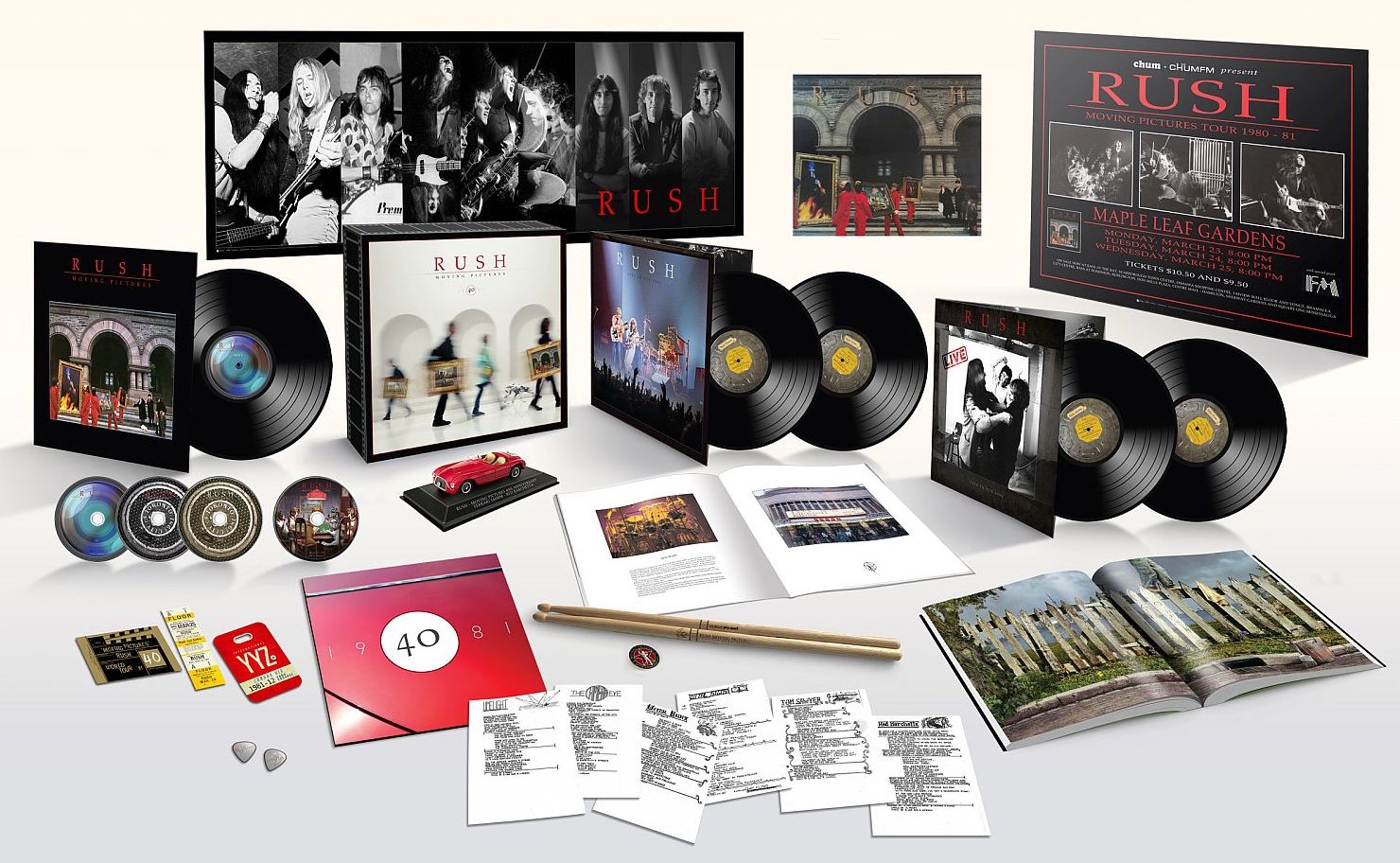 Rush's long-anticipated Moving Pictures 40th anniversary box set officially released a few weeks ago, and is currently available for purchase as a 3-CD set, a Deluxe vinyl edition, and a Super Deluxe Edition. Sales from the 40th anniversary edition have propelled the album back onto the Billboard charts, including a #11 position on The Billboard 200, #18 on The Artist 100, and #1 on the Top Rock Albums, Top Hard Rock Albums and Catalog Albums charts, as outlined in this Billboard.com article:
... Rush's Moving Pictures album, first released in 1981, makes a splash across a number of Billboard charts (dated April 30) thanks to the set's 40th-anniversary reissue. The album re-enters Top Album Sales at No. 2 and hits No. 1 on the Top Rock Albums, Top Hard Rock Albums and Catalog Albums charts for the first time. It also re-enters the Billboard 200 at No. 11 - the band's highest rank in nearly a decade. ... Moving Pictures sold 18,000 copies in the U.S. in the week ending April 21, according to Luminate, formerly MRC Data - an increase of 7,847% compared to its sales in the previous week. It marks the band's best sales week in over six years, since R40 Live sold 24,000 copies in its debut week, when it arrived at No. 14 on Top Album Sales (Dec. 12, 2015-dated chart). Of the 18,000 copies sold of Moving Pictures, physical sales comprise 16,500 (9,500 on vinyl and 7,000 on CD) and digital sales comprise 1,500. ...
A similar thing happened 10 years ago when the band released a 30th anniversary edition of the album, although back then it only propelled it to #137 on the Billboard 200. American Songwriter posted this review of the set earlier today, and Metal Planet Music posted this review last week:
... the cherry on this particular 40th anniversary cake is the full, two hour set from the tour to support the release, recorded in Toronto's Maple Leaf Gardens in March 1981. With a home crowd behind them, the trio really pull out all the stops and produce a career spanning set of songs that bristle with life, capturing the night in a really visceral way. ... the band are clearly enjoying themselves, this joy spilling out from the stage and into the audience. It's not just the older material that's well received, the band playing the majority of 'Moving Pictures', sees the new numbers welcomed as fervently as the classics. If ever you wanted to understand just how powerful trio were live then take a listen to this, a definite gem in a sea of Rush live releases. ... A remarkable album by one of the best bands of all time, all boosted by a live album that puts you in the centre of the front row, something this writer thrillingly experienced when he saw the band at Wembley Arena. Often imitated, never bettered, Rush were the Kings.
John at Cygnus-X1.net has transcribed the liner notes and scanned all the images from the set and made them available online here. You can get all the details regarding the box set via the press release at Rush.com and order your copy today via Amazon (Super Deluxe, Deluxe vinyl edition, 3-CD edition) and other retailers.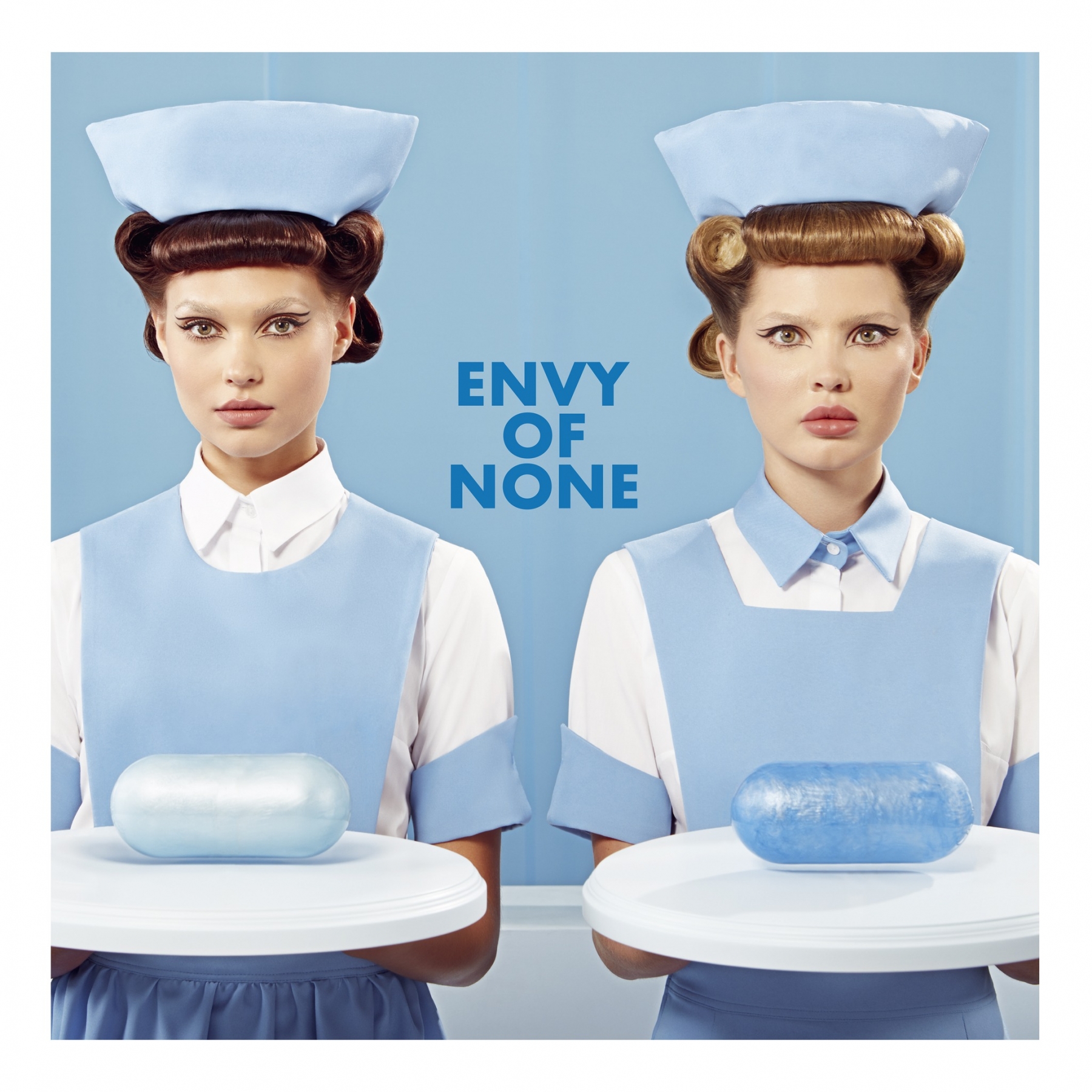 Alex Lifeson's Envy of None project with Andy Curran, guitarist Alfio Annibalini and vocalist Maiah Wynne released their self-titled, debut album earlier this month, and it's currently available for purchase and streaming worldwide via several different online retailers and services, including Amazon and the official Envy of None merch store. Earlier this week the project released the official music video for the album's latest single Never Said I Love You, and you can watch it below or on YouTube. The album is available on CD, and black, white and blue vinyl (the latter is exclusive to North America), along with a limited-edition deluxe version featuring a five-track bonus CD and a 28-page booklet with exclusive content. John over at Cygnus-X1.net has scanned the album artwork and made the images available online here, along with the expanded liner notes and lyrics here. They are also offering a LE 7-inch single for $50 ($100 for an autographed copy) with the funds going to UNHCR's Ukraine emergency response. Record Store Day Canada is running a contest where you can win a bundle that includes the Envy of None Deluxe edition, with all the entry details here. The latest edition of Classic Rock magazine includes a 2-page feature on the project where they chat with Lifeson and Curran. The article is included in this 19-page sampler on pages 10-11 (thanks RushFanForever). You can check out all the available purchase options here, and follow the Project via their website, on Facebook, Twitter and Instagram for all the latest news.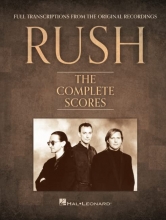 A new book titled Rush - The Complete Scores will be released this coming July via Hal Leonard publishing. The massive, 782-page hardcover book comes in a sturdy, protective slip case, and includes the full music and lyric transcriptions of 40 classic Rush songs. You can see the complete list of included songs here. The book is slated for release on July 24th and you can pre-order your copy via Amazon at this location.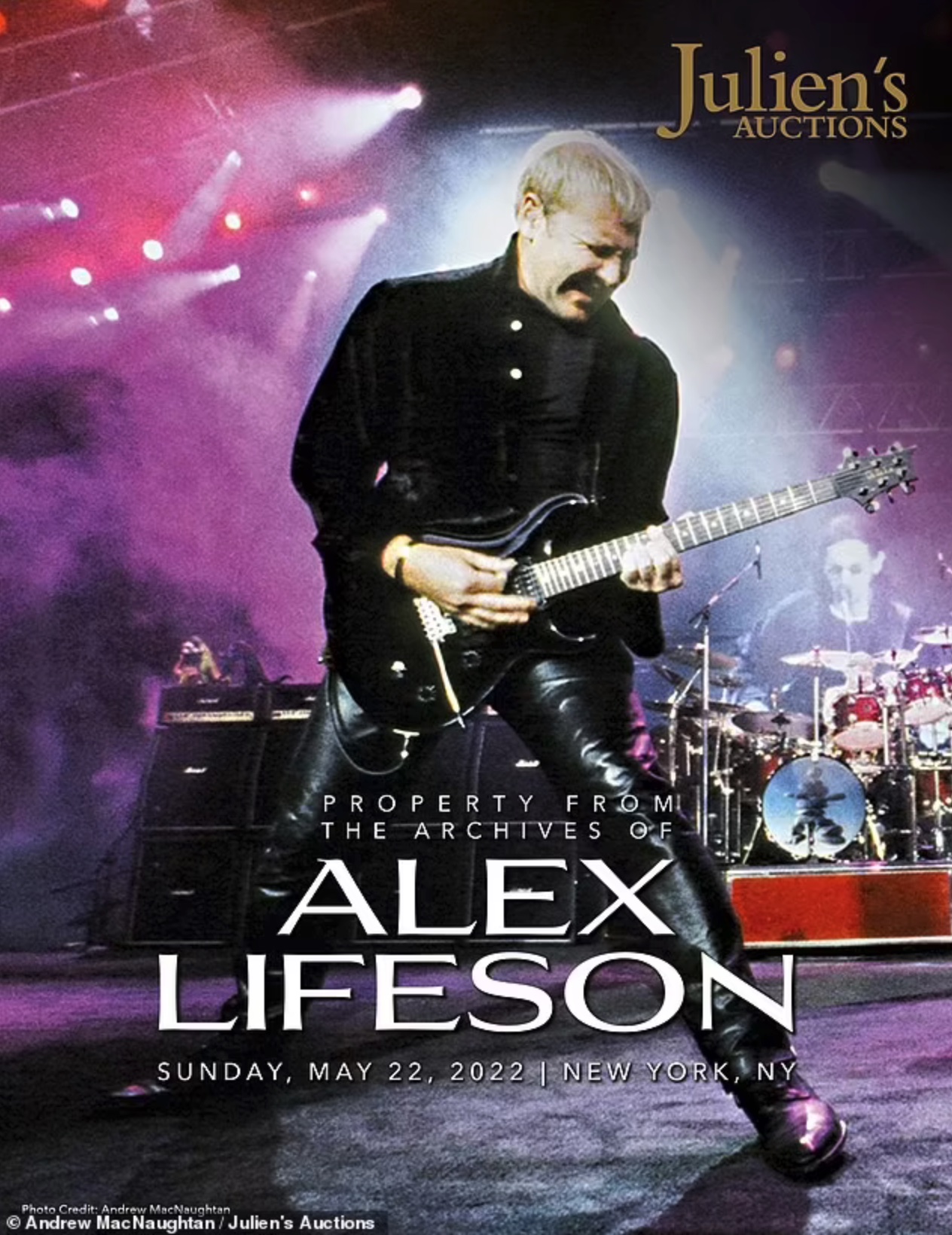 We learned last month that Alex Lifeson will be auctioning off a large portion of his legendary guitar collection via Julien's next month. Property From the Archives of Alex Lifeson will be the centerpiece of Julien's Music Icons event over the weekend of May 20-22. Lifeson's collection features over 60 vintage guitars and other career memorabilia, and will be auctioned off live from New York City's Hard Rock Cafe and online at JuliensAuctions.com on May 22nd. Juliens recently posted several videos to their Vimeo channel which offer up a 3-D look at the guitars along with voiceovers of Alex Lifeson giving some background on each one, including his 1976 custom-built Gibson ES-355TD, better known as Whitey (thanks RushFanForever). You can watch that video along with several others of Alex discussing the guitars on Juliens' Vimeo channel here (you'll have to scroll down on the page to find Alex's guitar videos). The auction will also include concert and tour ephemera, passes, and photographs as well as original lyric sheets. You can get all the details and learn how you can be a part of the auction via the Julien's website here. Additional photos can also be seen in this Daily Mail article.
Speaking of Alex Lifeson guitars, Make Music Matter is currently sponsoring a Healing in Harmony charity auction to help raise money for their music therapy program, which helps trauma survivors. The auction includes a number of signed guitars including a Gibson Les Paul signed by Rush's Alex Lifeson which you can bid on here. The auction runs through this coming Sunday, May 1st and you can check out all the items up for bidding here.
In the latest edition of the Something for Nothing podcast, hosts Steve and Gerry do a deep dive into Rush's Snakes & Arrows Live album. You can listen to the show below or via your favorite podcast provider:
Loudwire.com posted an article this past week on How 10 Huge Rock Stars Got Their Stage Names, one of whom is Rush's Alex Lifeson:
Even the most diehard Rush fans may not know that Alex Lifeson is actually Aleksandar eivojinović. So, why the change? As he explained to Goldmine in 2012: "It is basically an English translation of my Serbian name. My last name is very difficult for people to pronounce, as there are a lot of vowels. My father certainly went through a lot with our name when we moved to Canada, and he actually thought at one time about changing our name. ... Lifeson has been my professional name since I was, I don't know, 15 or 16 years old."
WhatCulture.com posted their list of 10 Hard Rock Music Bands That Avoided The Sophomore Slump and Rush's Fly By Night is included at #10:
... After a tour that left them without drummer John Rutsey, everything changed once Professor Neil Peart was brought on board. Contributing to the song arrangements as well as writing lyrics for almost every song, this is where the classic version of Rush really starts to come into view. Being the new kid in town, Peart is playing like he has everything to prove, turning the Bad Company stylings into a sound that feels like Yes by way of Black Sabbath on the title track. The lyrics also took a massive step up as well, talking more about literature like the Ayn Rand pastiche Anthem and getting salty about the state of America on Beneath Between and Behind. There are even a few hints at what Rush would be capable of in just a few years, with By Tor and the Snow Dog being their first attempt to write a story driven song with multiple parts to it. Even though it was only a few months in between both of these albums, you'd swear that these prog legends had grown up by 5 years in that timeframe.
That's it for this week. Have a great weekend everybody!