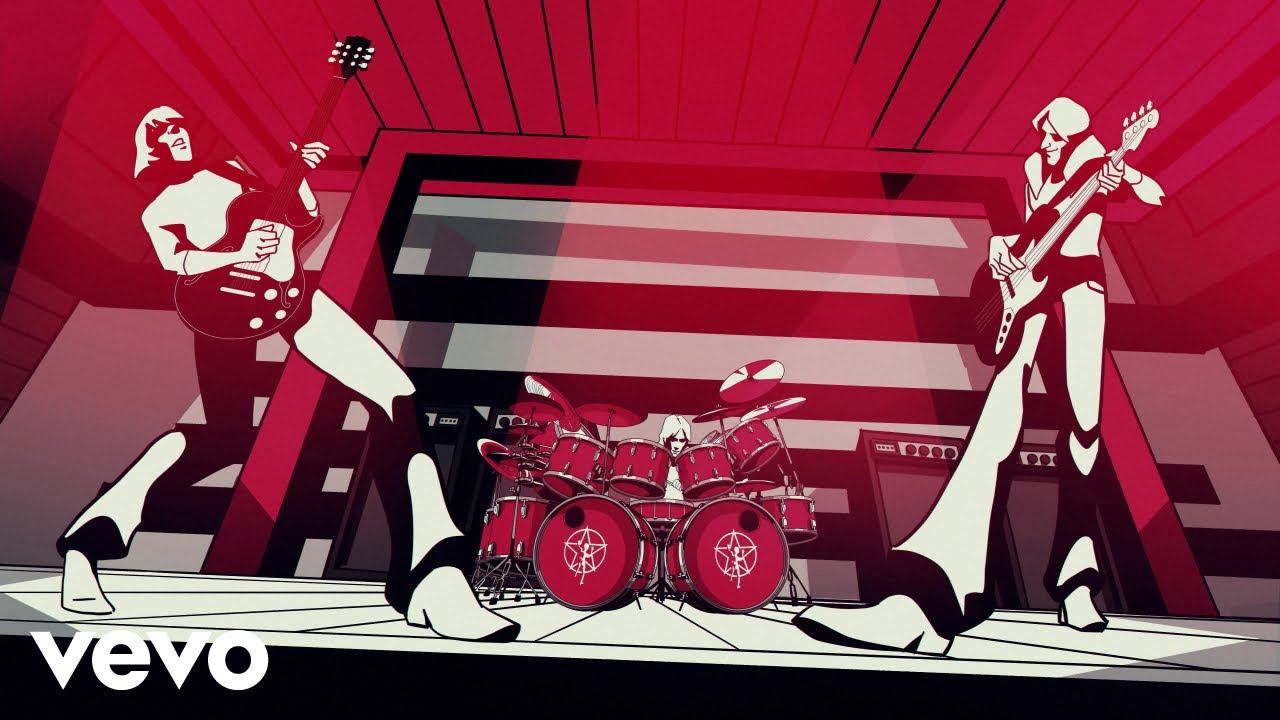 Today at 12PM EST - less than an hour from now (NOTE that is had originally been scheduled to premiere at 5PM) - Rush will be premiering via YouTube a new official animated video for YYZ from the band's long-anticipated Moving Pictures 40th anniversary box set, which is slated for release next month. The video was produced by FANTOONS, who also created the official animated music video for The Spirit of Radio for the band's Permanent Waves box set back in 2020.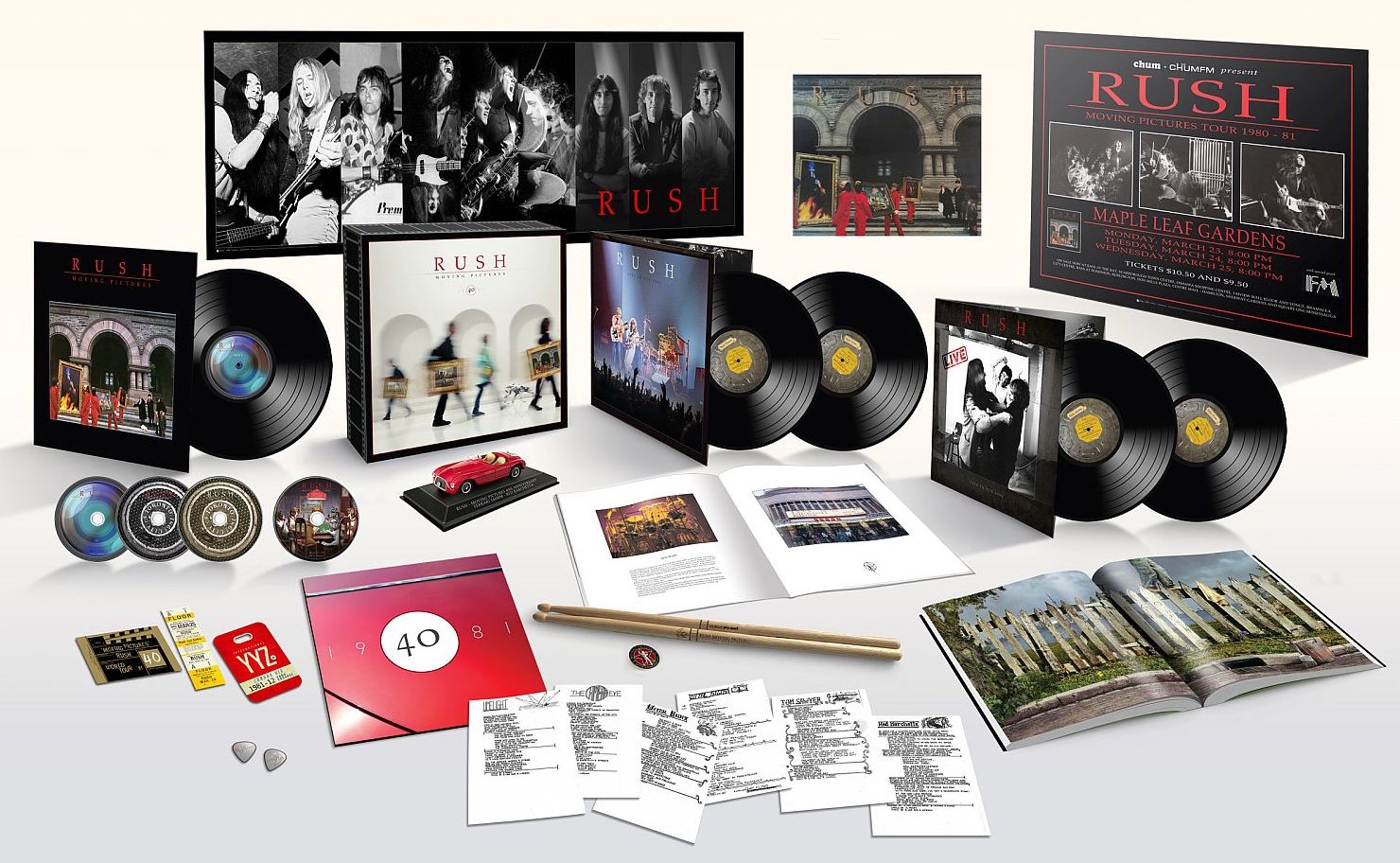 The band's Moving Pictures 40th anniversary box set is slated for release on April 15th and a number of purchase options/combinations will be available, including a Super Deluxe Edition which will contain three CDs, one Blu-ray Audio disc, and five high-quality 180-gram black vinyl LPs. The CDs include the Abbey Road Mastering Studios 2015 remastered edition of the album, along with two discs of previously unreleased and newly restored bonus live content titled Live In YYZ 1981. These 2 discs are newly mixed from the original analog live multi-tracks by Rush's original producer, Terry Brown, and feature the band's complete, unreleased Toronto concert from Maple Leaf Gardens in Toronto on March 25, 1981. The Blu-ray Audio disc includes the core album newly mixed from the original multi-tracks by producer/engineer Richard Chycki in Dolby Atmos (a Rush catalog first), Dolby TrueHD 5.1, and DTS-HD Master Audio 5.1 surround sound, alongside the previously available PCM Stereo mix. Also included on the Blu-ray are four bonus videos: a brand-new video for YYZ plus three remastered vintage promo videos for Tom Sawyer, Limelight and Vital Signs. Additionally, all of the vinyl in the Super Deluxe Edition has been cut via half-speed Direct to Metal Mastering (DMM) (another Rush catalog first) on five 180-gram audiophile LPs. The Super Deluxe Edition is housed in a premium lift-top box and also contains several exclusive items, including a 44-page hardcover book with unreleased photos and new artwork by original album designer Hugh Syme, a Red Barchetta model car mounted on a black perch with an MP40 nameplate, two Neil Peart signature MP40 branded drumsticks, two metal-embossed guitar picks, a replica of the Moving Pictures 1981 official tour program, an MP40 logo enamel pin, a 3D lenticular Moving Pictures in motion lithograph, an 18×24-inch Toronto 1981 concert poster, a replica concert ticket from the 1981 Maple Leaf Gardens show, a 12×36-inch Rush Through The Years 1973-1981 poster, a YYZ luggage tag, and an All Access World Tour '81 insert. You can also watch the official streaming audio for Vital Signs from the Live in YYZ 1981 bonus disc on YouTube here, along with a Super Deluxe Edition unboxing video here. You can get all the details via the press release at Rush.com and pre-order your copy today via Amazon and other retailers.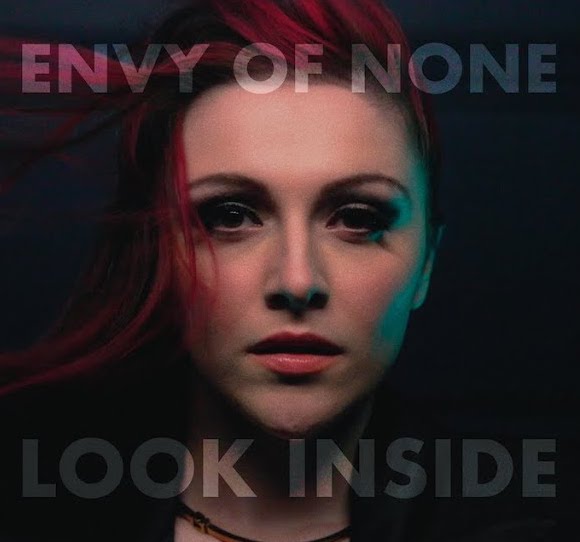 Earlier this week Alex Lifeson's Envy of None project released an official music video for their recently-released single Look Inside. The song was released for streaming last week, and is the 2nd single from the band's upcoming self-titled debut album, due out next month. The video prominently features Envy of None vocalist Maiah Wynne, and is available for watching below or on YouTube at this location. You can stream Look Inside along with the album's first single - Liar - via all the major streaming platforms here. Envy of None consists of Lifeson, Andy Curran, guitarist Alfio Annibalini and vocalist Maiah Wynne. The band's self-titled 11-track debut album will arrive on April 8th from KScope Music on black, white and blue vinyl (the latter is exclusive to North America) and also on CD. A limited-edition deluxe version of the release will feature a five-track bonus CD and a 28-page booklet with exclusive content. Last month Envy of None and Epiphone announced a contest where they will be giving away an Alex Lifeson Signature Les Paul Axcess Standard electric guitar. To enter the contest, fans need to scan the QR code hidden inside the Deluxe Edition of the forthcoming album. You can get the full details regarding the contest on the KScope website here, and check out all the available purchase options, including the Deluxe Edition, here. You can also follow the Project via their website, on Facebook, Twitter and Instagram. Vocalist Maiah Wynne was recently interviewed for AL.com and spoke a bit about Envy of None and how she became involved with the project, along with her own background as a Rush fan:
... [Wynne's] dad was a Rush fan and went to see the band in concert multiple times. When she was around 13, Wynne herself got really into rock as she was teaching herself how to play drums. "That definitely was a time where I got more into Rush," Wynne says. Rush's drummer Neil Peart is universally considered one of rock's greatest all-time drummers, and often tops such tallies. Wynne's a fan of more-challenging Rush material like the mystical math-metal on 1976 album "2112." She's also into 2012′s "Clockwork Angels," the band's final studio album. But like most humans she can't resist the hooks and riffs of signature song "Tom Sawyer." "I know that's like basic," Wynne says, "but it's a great song." ...
Wynne also spoke about the possibility of Envy of None playing some live shows:
... To promote the album, Wynne says the band's considering doing a few live shows, perhaps a festival or two and possibly a performance on late-night TV. "Alex, he's toured his whole life," Wynne says, "Huge, exhausting tours, so I don't blame him for not wanting to get back out on the road necessarily. I think we're all just sort of waiting to see how people feel about (the Envy of None album), and if there's a demand for it. But yeah, there's definitely a good chance there will be at least a couple performances." ...
Andy Curran and Maiah Wynne also provided the following quotes about Look Inside to Prog magazine:
"I was in my studio late one night, headphones on... a few glasses of red wine deep and thought, wouldn't it be fun to pull out my bass, blow up the tone, double it and play to a really messed up super slow drum groove," explains Curran, of Look Inside. "It's got a real stoner vibe to it. That's what happens when you mix wine and bass... Mission accomplished! ".

"Sometimes you have to shine a light on all the ugliest pieces of yourself in order to truly change, and you have to keep slaying that dragon over and over again," adds Wynne. "It is a continuous, slow and painful process. The guitars and bass really drive the grittiness and heaviness I felt when I wrote those lyrics. It feels like an all-encompassing sludge, and that is what I absolutely love about this song."
Curran was also recently interviewed for the Border City Rock Talk podcast to talk about the album, and that interview is available for watching here (thanks RushFanForever).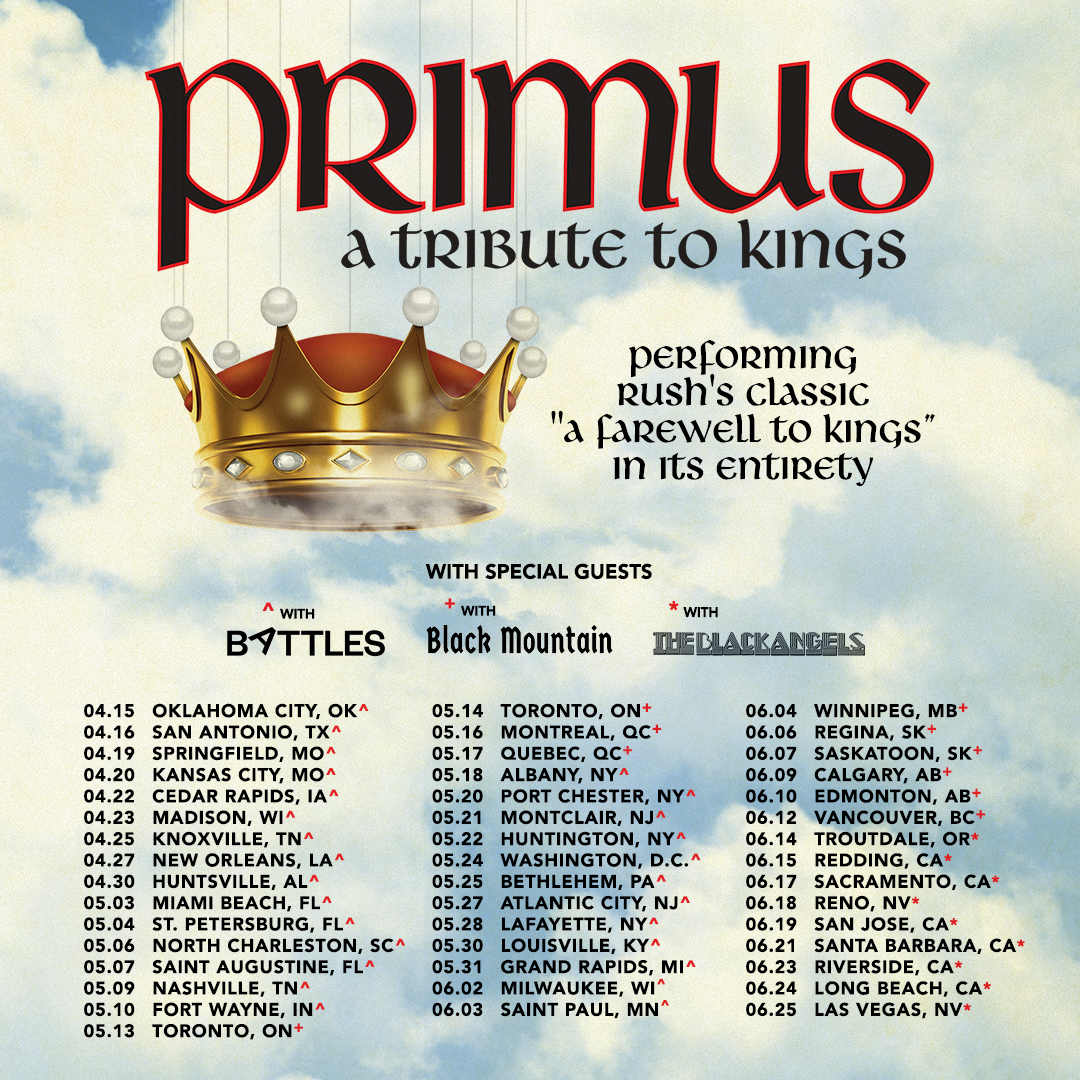 The 2021 leg of Primus' A Tribute to Kings Rush tribute tour finished off in Phoenix back in October, and - despite a few cancellations along the way due to COVID-19 - the tour was a huge success. The tour saw the band paying tribute to their musical heroes Rush by covering the A Farewell to Kings album in full as seen in these fan-shot videos (part 1, part 2), mixed in with a couple sets of Primus classics. Back in December, the band announced an extensive, 46-date, coast-to-coast 2022 extension of the tour, including several Canadian dates, which will kick off in Oklahoma City on April 15th, and conclude in Las Vegas on June 25th. For all the details and to purchase tickets visit primusville.com. Primus frontman Les Claypool was recently interviewed for MusicRadar.com to talk about the tour, his Rush fandom and relationship with the band, and getting some pointers from Geddy Lee himself:
... Geddy Lee interviewed Claypool for his Big Beautiful Book Of Bass, an interview request accepted on the condition that Lee - one half of MusicRadar's greatest rhythm section of all time - gave Claypool a bass lesson. "When he came to my house to interview my for that book, I said, 'Okay, I'll do the interview but the deal is you have to show me the proper way to play YYZ', and he did," says Claypool. "And I had been playing it wrong all these years. You'd sit with Geddy, and just the way he phrases things, the way he fingers things... It's like, 'Oh my God! It's Geddy Lee.' Nobody does it like that. "Like, I was playing the right notes but I was playing them totally different from how he does it, and that's what makes him Geddy Lee. It's like what makes Hendrix sound like Hendrix; it's how he approaches the instrument, not necessarily the buttons he pushes and the things he stomps on." ...
A Night for Neil: The Neil Peart Memorial Celebration concert and charity fundraiser has been postponed for a 5th time due to "multiple concerns and questions regarding the current travel restrictions in Canada", and will now take place on Saturday, October 22nd at the Meridian Centre in Neil Peart's hometown of St. Catharines, Ontario. The event had originally been planned to take place in May of 2020, but was postponed several times since due to the uncertainty surrounding travel restrictions in Canada brought on by the Pandemic. From the A Night for Neil Facebook page:
Due to multiple concerns and questions regarding the current travel restrictions in Canada, we have rescheduled our event once more so that our attendees are fully prepared for the new date. The comments and support from the fans have been overwhelming to say the least. It warms our hearts to hear of so many people that want to convene together and honor the man who has been an intricate part of our life's portfolio, Neil Ellwood Peart. "A Night for Neil" is now re-scheduled for Saturday, October 22, 2022 at the Meridian Centre in St. Catharines which happens to be a lovely time of year in Canada. This event has been carefully crafted by fans for fans and includes both memorial and celebratory segments. Our confirmed artists for the event still include David Barrett, Brandon Dyke, Devah Quartet, Jacob Moon and Fleesh as well as Rush tribute bands Solar Federation and Permanent Waves. More artists and special guests will be announced once their re-scheduled tour dates are confirmed. ... Tickets purchased for this event will be honored for the new date. Should you require a refund, they are available at point of purchase. This may be accomplished up to 14 days before the event. If you don't have tickets and want to celebrate Neil's life together with other fans, find yourself a seat we will see you there!
Please follow the event on social media (Facebook, Twitter, Instagram) and/or subscribe to the email list at this location to get the latest information.
In this past week's episode of the Something for Nothing podcast, Steve and Gerry chat with David Binks - author of the new book That Night at Massey Hall, which details the rich history of the iconic Toronto concert club. The venue looms large in the history of Rush, where they recorded their first live release All The World's A Stage over a three-concert run in 1976. You can listen to the interview below or via your favorite podcast service: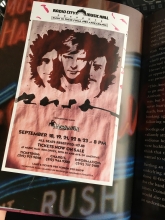 Marillion's Steve Rothery was recently interviewed for Sonic Perspectives to talk about the band's recently-released 20th studio album An Hour Before It's Dark (thanks RushFanForever). At one point he was asked about opening for Rush back in the '80s, and mentions the band's lukewarm reception from Rush fans, as seen here. On a related note, Marillion released a special deluxe edition of their 1984 album Fugazi last year, which includes a printed booklet covering the history of Marillion's early years. The booklet talks a little about the band touring with Rush, and includes a tour poster of when they opened for Rush at Radio City Music Hall in 1983 as seen here (thanks Andy G).
Yardbarker.com posted an article with their ultimate Rush playlist earlier this week.
Ultimate-guitar.com posted their list of the 15 Best Uses of Orchestra in Rock and Metal this past week and Rush's The Garden was included at #11:
Of course, the greatness of Rush is undisputed. But we can't express how awesome the band's final album "Clockwork Angels" is. For this list, we have "The Garden." It's saddening to know that we'll most likely never get the chance to witness this again live.
That's all for this week. Have a great weekend and don't forget to Spring Forward.