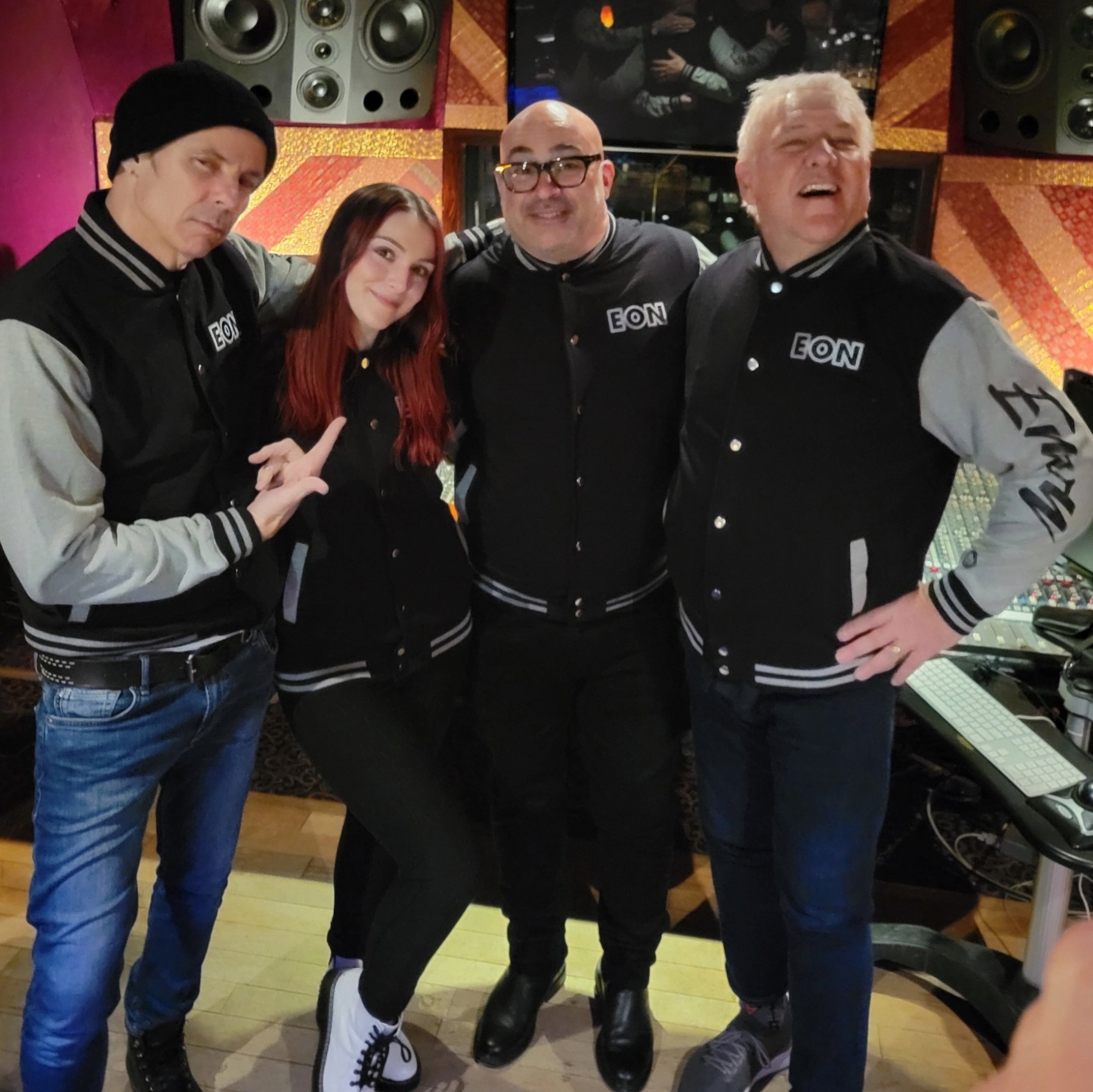 Alex Lifeson's Envy of None project released its first single last month via their newly-launched website at envyofnone.com. The song is titled Liar and you can listen to it via all the major streaming platforms here, or watch the official lyric video on YouTube. Envy of None consists of Lifeson, Andy Curran, guitarist Alfio Annibalini and vocalist Maiah Wynne. The band's self-titled 11-track debut album will arrive on April 8th from KScope Music on black, white and blue vinyl (the latter is exclusive to North America) and also on CD. A limited-edition deluxe version of the release will feature a five-track bonus CD and a 28-page booklet with exclusive content. Last week Envy of None and Epiphone announced a contest where they will be giving away an Alex Lifeson Signature Les Paul Axcess Standard electric guitar. To enter the contest, fans need to scan the QR code hidden inside the Deluxe Edition of the forthcoming album. You can get the full details regarding the contest on the KScope website here, and check out all the available purchase options, including the Deluxe Edition, here. You can also follow the Project via their website, on Facebook, Twitter and Instagram. The four band members got together in Toronto recently and posed for a photo in their snazzy, new Envy of None custom jackets, as seen here. The photo caption teases that there will be "more to come soon", so perhaps we'll be seeing another single or two released before April.
Reunited at last in Toronto. Thank you all for listening to Liar - more to come soon! pic.twitter.com/9eMPLpXyil

- Envy Of None (@EnvyOfNone_) February 16, 2022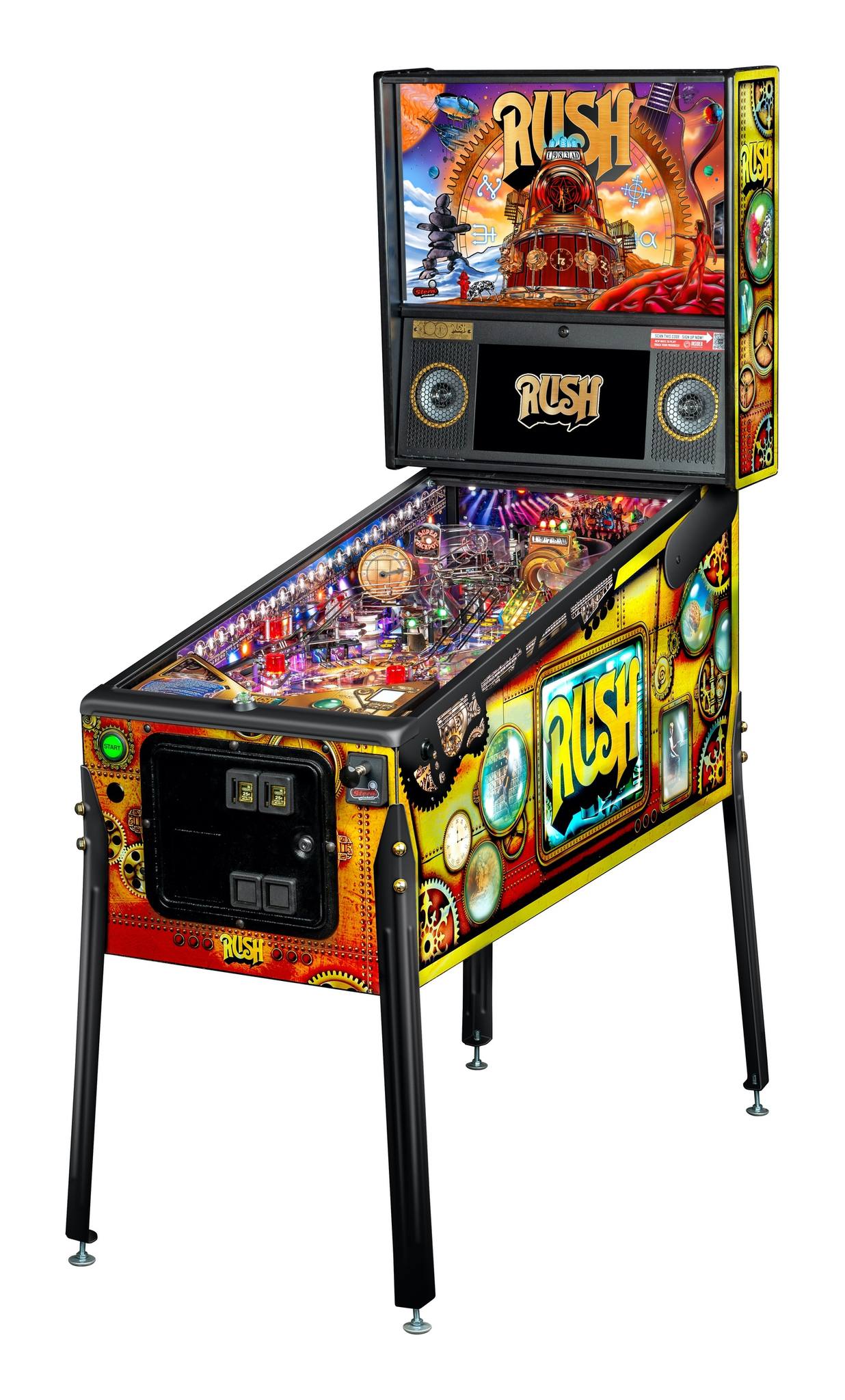 Last month, Rush and Stern Pinball released a line of Rush pinball machines as detailed in this official announcement from the band and this video trailer giving a first look at the pinball machines. The machines are available in Pro, Premium, and Premium Limited Edition models, and include Rush music, concert footage and custom speech from Alex Lifeson and Geddy Lee. Stern Pinball's website also features dozens of photo's of the machines, videos of the specific model features, and a hilarious 4-minute, behind-the-scenes video of Alex Lifeson, Geddy Lee, and Ed Robertson of the Barenaked Ladies in the studio recording voice-overs. Robertson is an avid pinball machine collector and directed Ged and Al's voice-overs in the studio. The Rush pinball machines and accessories are available to order now through authorized Stern Pinball distributors and dealers around the world, and are already available to play at a number of locations across the country as seen at pinballmap.com (just search "Rush"). The Eric Church Band apparently owns one of the machines and has been hauling it around the country on their Gather Again tour as seen in this Twitter photo:
The Eric Church Band on the "Gather Again" tour with their Rush pinball machine! They take it to every show!🎸

ericchurchmusic driverwilliams

📸 theanthonydangio #SternPinball #EricChurch #Rush #Pinball #OnTour #GatherAgainTour pic.twitter.com/jkBbA6WFc0

- Stern Pinball (@sternpinballinc) February 16, 2022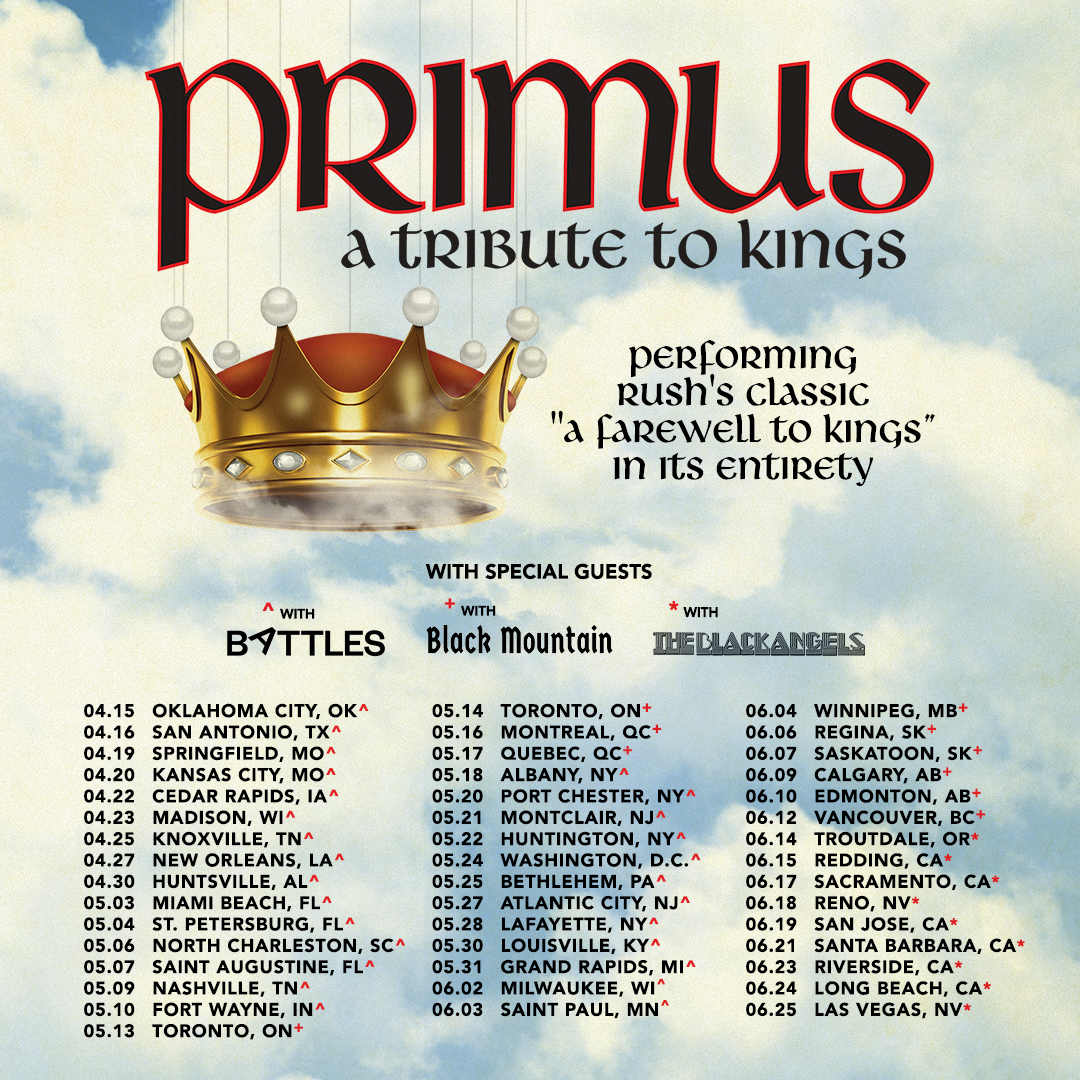 The 2021 leg of Primus' A Tribute to Kings Rush tribute tour finished off in Phoenix back in October, and - despite a few cancellations along the way due to COVID-19 - the tour was a huge success. The tour saw the band paying tribute to their musical heroes Rush by covering the A Farewell to Kings album in full as seen in these fan-shot videos (part 1, part 2), mixed in with a couple sets of Primus classics. Back in December, the band announced an extensive, 46-date, coast-to-coast 2022 extension of the tour, including several Canadian dates, which will kick off in Oklahoma City on April 15th, and conclude in Las Vegas on June 25th. For all the details and to purchase tickets visit primusville.com. Primus frontman Les Claypool was recently interviewed for Ultimate Classic Rock to talk about the tour, his Rush fandom and relationship with the band, and the difficulty level of playing/rehearsing Rush songs:
... the thing is that Primus never rehearses. Even when we do get together to rehearse, we jam a little bit and then we go have a steak and drink some wine. We've never been a rehearsing band. Even when we were making records, it's like, we're so lazy about it. But with this thing, we had to rehearse our asses off. You had to. Rush fans -- and I am one of them -- are some scrutinizing motherfuckers! You can't go half-ass on it. We really worked hard on it, which was actually a wonderful thing for the band. We bonded much more than we have in a long time. I just built this new little rehearsal space and it really was a good thing for the three of us. Very invigorating, rejuvenating. It's been a positive thing all the way around, except for the clammy notes [at the first show].
In the latest episode of the Something for Nothing podcast, hosts Steve and Gerry do a deep dive into Rush's Rush in Rio live album. You can listen to the show below or via your favorite podcast service:
In celebration of Valentine's Day earlier this week, Ultimate Classic Rock ran a story on some of rock's longest-lasting marriages, including both Alex Lifeson's and Geddy Lee's marriages:
Alex Lifeson and Charlene Zivojinovich - Married March 12, 1975

Charlene Zivojinovich was not only Alex Lifeson's high school sweetheart, she was also the first girlfriend the guitarist ever had. Rush had a concert the day after the couple were married, so Charlene flew down to their honeymoon spot alone and he trickled in the next day. Charlene, gave birth to their eldest son, Justin, in October 1970, and another son, Adrian in 1977, two years after they married. Adrian is also involved in music and performed on two tracks from Lifeson's 1996 solo project, Victor.

Geddy Lee and Nancy Young - Married 1976

Geddy Lee met his future wife, Nancy Young, via her brother, Lindy, who was a member of Rush for a short time in the early days. Lee has been private about his marriage and family life over the years, and went through a time when he wouldn't speak much to the media unless it was strictly related to his musical endeavors. Lee has been described as an atheist but married Nancy in a Jewish ceremony, reportedly to make his mother happy. They have a son, Julian, and a daughter, Kyla Avril Young.
Foo Fighters drummer Taylor Hawkins was recently interviewed for PROG magazine to talk about his love of prog rock, and credits Rush for introducing him to the genre:
I got into prog when I started drumming. I must have been 10 or 11, and the first band I heard were Rush. It was the live album Exit...Stage Left [1981]. I picked up so much from listening to Neil Peart. In fact, I got the chance to play with Geddy Lee and Alex Lifeson when I was in Toronto not that long ago. The guy who produces us, Nick Raskulinecz, also worked with Rush on their Snakes & Arrows album, and he called them up and arranged it all. You can imagine how nervous I was, but I got through YYZ with them. Even though they told me I was playing too fast! The nerves I was going through; here I was replacing Neil Peart in Rush - well, almost! It was thanks to Rush that I got into Genesis. After listening to Neil, I bought the Seconds Out live album, which was released in 1977. It's just amazing. ...
This past Tuesday, February 15 was the anniversary of the 1975 release of Rush's Fly By Night album, and Rush discoverer and unofficial big sister Donna Halper wrote a blog post where she reminisces about the first time she (and most other fans) heard the album's title track at a Cleveland show back in late 1974:
... They did a live concert at the Agora Ballroom in Cleveland on Monday December 16, 1974, and they played a couple of the new songs they'd been working on. As I recall, the songs were so new that they hadn't performed them before-- "Fly By Night" was one, and I loved it immediately. So did the audience-- a very receptive and enthusiastic crowd that fell in love with Rush the same way I did-- after hearing "Working Man" in the spring of 1974. ... And I remember how Geddy and the band got ready to play "Working Man" at the Agora, but first he stopped and gave me a shout-out, and encouraged the crowd to do the same. I was not expecting that-- as I've said many times, over the years, I helped lots of bands and never got so much as a thank-you. But Rush were always unique in that regard-- they never forgot the people who were there for them. Geddy looked right at me and smiled, and the audience gave me some applause, and then the guys launched into a dynamic live version of "Working Man." And just like the opening chords of "Finding My Way" still give me chills, I can't help but feel a sense of pride whenever I hear "Working Man." I was able to watch the guys go on to have a successful career: "Fly By Night" was just a preview of their new direction, and it proved that Neil's contribution would be immense. It was amazing to witness it first-hand. ...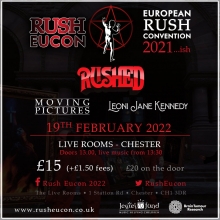 The annual European Rush fan convention Rush Eucon will take place tomorrow, February 19th at The Live Rooms, Chester. The event will feature Scotland's Moving Pictures, an acoustic guitar set of Rush songs by Leoni Jane Kennedy, and headliners Rushed. Proceeds from ticket sales will go to Jessie's fund and Brain Tumor Research in honor of Neil Peart. For more information, follow Rush Eucon on Facebook and Twitter, and get tickets via seetickets.com.
Here's 7-year-old drummer and viral YouTube sensation Caleb performing his cover of Rush's Subdivisions:
That's all for this week. Have a great weekend!!