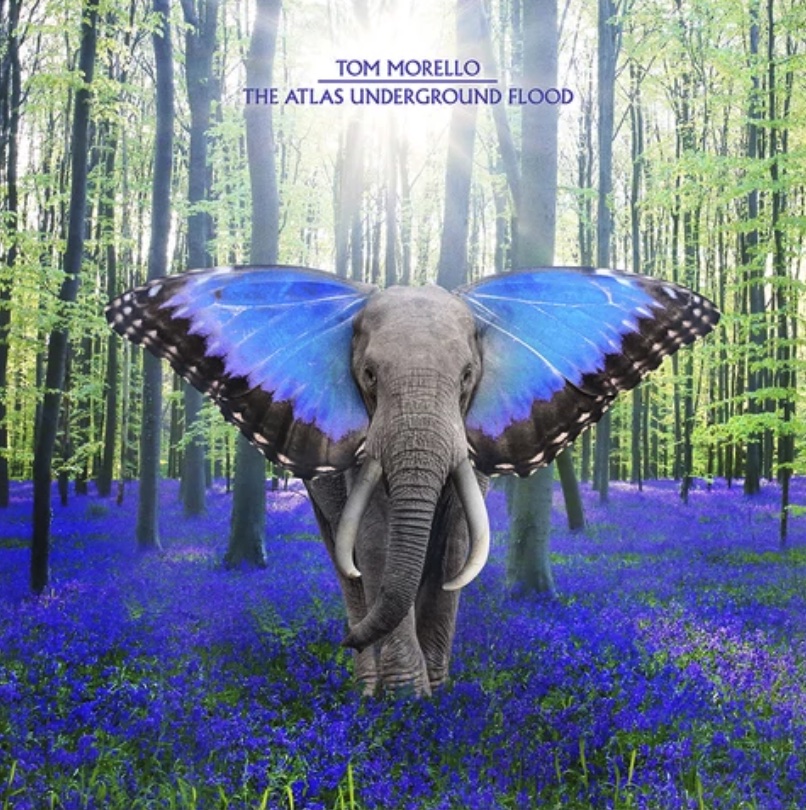 Rage Against the Machine guitarist Tom Morello's new album The Atlas Underground Flood was released today and is now available for digital purchase and on most streaming platforms. The album is the sister project to Morello's recently-released Atlas Underground Fire album, and features guest appearances from Nathaniel Rateliff, Jim James, IDLES, Ben Harper, X Ambassadors, Barns Courtney, Manchester Orchestra, Andrew McMahon in the Wilderness, Kirk Hammett, Rush's Alex Lifeson and others. The track which Lifeson appears on also feature Metallica's Kirk Hammett and Dr. Fresch, and is titled I Have Seen the Way. You can listen to the track below or via YouTube at this location. Lifeson had the following to say about the track back in June:
... Morello kept things simple for his new project, sending over a couple of different riffs as a starting point for Lifeson. "He said, 'Put whatever you want on it - the more the merrier,'" Lifeson recalls. "He was going to give it to Kirk Hammett, and Kirk was going to do the same thing." Still, Lifeson didn't stick to his usual playbook for his contribution. "Being the contrarian, I did all of [these other styles], not just heavy rock stuff," he says. "We were all talking to each other while we were doing it, and we just had such a riot. I sent my stuff in and it went to Kirk then, and he sent his stuff in." Lifeson recently heard an early mix of the track and was thrilled with the result. He thinks fans will dig it, too. "It's really some fun music," he notes. "It's so Tom Morello, his parts. I just smiled the whole way through listening to it. I thought it was really, really cool the way it turned out." And even though Morello most likely meant the song to be a one-off collaboration for the trio, Lifeson, for one, is up for more. "I'm hoping that he might have something else to send along," he says.
The album is currently available for digital purchase via Amazon at this location, and will be released next month on CD with an LP release coming later next year.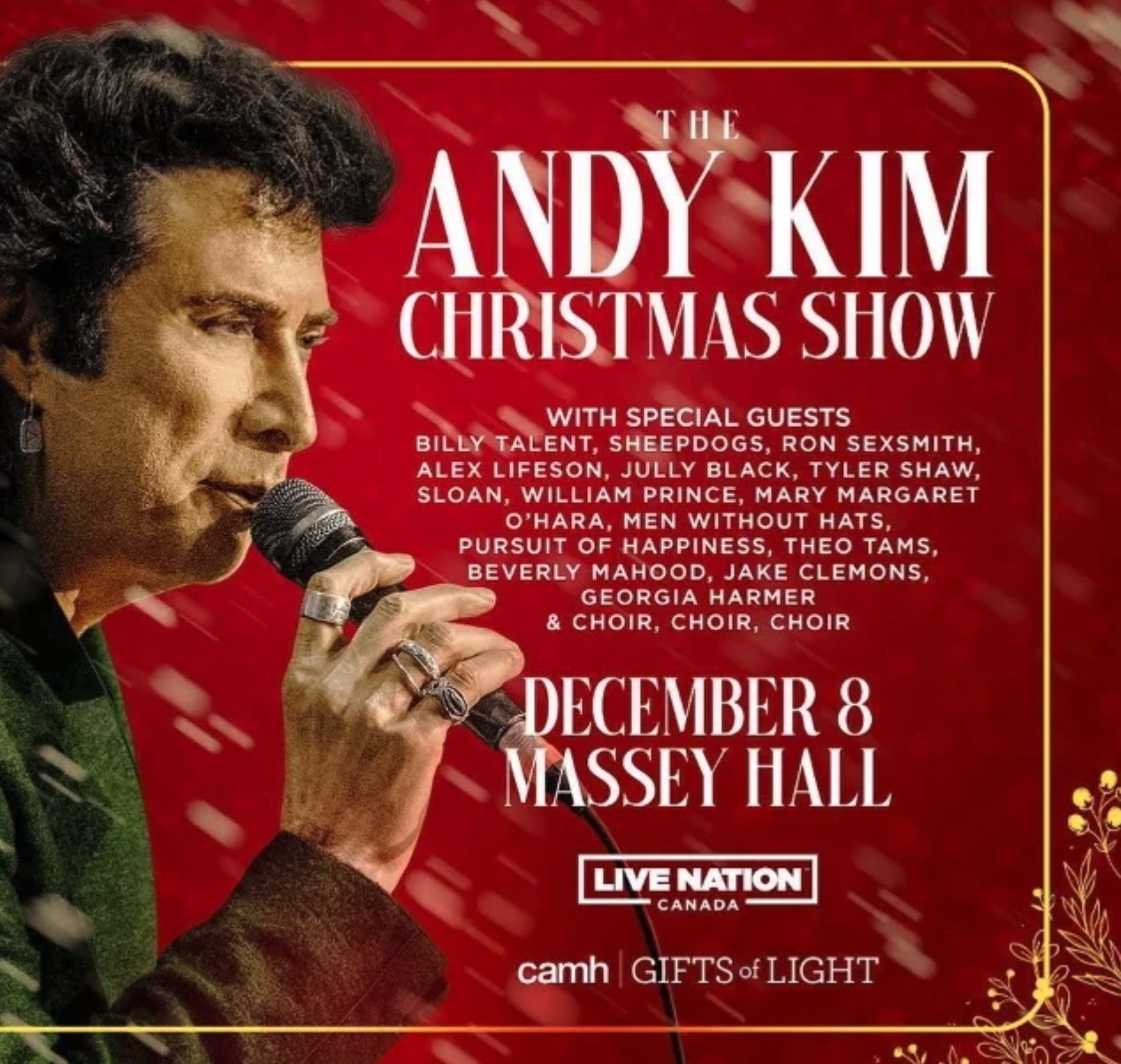 The 17th annual Andy Kim Christmas show in support of CAMH Gifts Of Light will take place this coming Wednesday, December 8th at the newly-renovated Massey Hall in Toronto, and Rush's Alex Lifeson will be one of the many artists to participate. Other artists slated to perform include Billy Talent, The Sheepdogs, Ron Sexsmith, Jully Black, Tyler Shaw, Sloan, William Prince, Mary Margaret O'Hara, Jake Clemons, Men Without Hats, Pursuit of Happiness, Theo Tams, Beverly Mahood, Georgia Harmer and Choir, Choir, Choir. From the press release:
... "It's an honour for us to host a true Canadian music legend in Andy Kim and the institution known as The Andy Kim Christmas at Massey Hall. We've always admired Andy's selfless commitment to helping others, rallying his extensive circle of talented friends to put on one of the year's best nights of music, all while raising funds for CAMH Gifts of Light. It's an inspiring demonstration of music's power to bring people together and better our community. We can't wait for December," said Jesse Kumagai, President and CEO, Massey Hall.

"I have long wanted to do the Christmas show at Toronto's historic Massey Hall and with the support of Live Nation Canada, I am excited to be one of the first to perform after their revitalization and bring The Andy Kim Christmas back in front of a live audience. It has been many, many long months and hopefully we can once again raise an incredible amount of money for CAMH Gifts Of Light," said Andy Kim.

During this one-of-a-kind charity event, patrons will be treated to a classic variety entertainment show. Featuring holiday performances by some of the country's most sought-after singer / songwriters and performers. ... Join us for a magical evening jam-packed with Canadian talent and Christmas music.

Last year, the concert brought people together from coast to coast on television, raising over $200,000 to bring its cumulative money raised to over $1.8 million.
You can get more information and purchase tickets at this location.
Canadian musician Greg Godovitz (Goddo) is running an auction for an acoustic guitar signed by a number of Canadian musicians, including Rush's Alex Lifeson and Geddy Lee. 100% of the proceeds from the auction will go to assist Canadians in British Columbia that were affected by flooding due to heavy rainfall earlier this month. In addition to Alex Lifeson and Geddy Lee, so far the guitar has been signed by Eddie Kramer, Kris Kristofferson, David Clayton Thomas, Murray McLauchlan, Ronnie Hawkins, Gordon Lightfoot, Kim Mitchell, members of Anvil, Triumph, Blue Rodeo and Styx, and more. The current high bid is $6500 and the winner will be announced next Saturday, December 11th at Noon. To place your bid, just send Goddovitz a PM via Facebook here, or email him directly at rocktalk@shaw.ca. Thanks to Chris K for the heads up.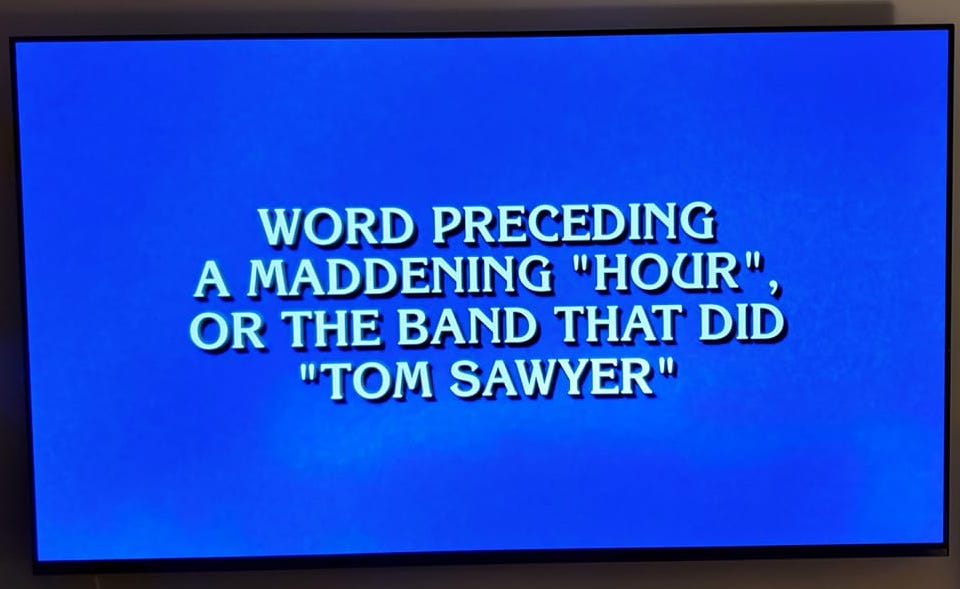 There was yet another Rush reference on the popular American quiz show Jeopardy! this past Monday evening. It was a $600 clue in a category called In other words ... Run!. Here's it is:
Word preceding a maddening "hour", or the band that did "Tom Sawyer".
And the question was ... you guessed it - What is Rush! The contestant answered correctly as well. Jeopardy! seems to have a love affair with Rush, and have used the band in MANY clues over the last several years. Here's a short video tweet of the clue/answer:
Another shout out to @rushtheband @rushisaband on Jeopardy! #RUSH pic.twitter.com/GSdGEPNHHE

- Gump (@gump66_major) November 29, 2021
On the latest episode of the Something for Nothing podcast, hosts Steve and Gerry do a deep dive into the first five tracks of Geddy Lee's one and only solo album - 2000's My Favorite Headache. You can listen to the show below or via your favorite podcast service:
In the latest episode of the 2 Guys Talking Rush podcast, hosts John and Dan chat with Chris Stankee - global director of artist relations for Sabian cymbals and a very close friend of the late Neil Peart. You can listen to part 1 of the interview below or via your favorite podcast service:
Former Twelfth Night bassist Clive Mitten has announced details of his upcoming new album Tales From A Misspent Youth - Volume 1, which will feature orchestral covers of some of his favorite '70s-era progressive rock songs, including Rush's Countdown, La Villa Strangiato and Xanadu. In addition to Rush, the album will include covers of tracks by Pink Floyd, Genesis, Supertramp, Jethro Tull and more. Tales From A Misspent Youth - Volume 1 will be released on January 28th in a jewel case as a double CD and is now available for pre-order at this location.
Spin magazine posted their list of 10 Albums Where a New Drummer Put a Spring in the Band's Step last week, and Rush's Fly By Night is included:
When Rush recorded their 1974 self-titled debut with original drummer John Rutsey, they were a talented, if derivative, power trio that played Led Zeppelin-esque anthems like "Working Man." But when Rutsey stepped down from the band while dealing with health complications from diabetes, Rush drafted a new drummer from another Canadian band improbably named Hush - and everything changed. Neil Peart's precise and sophisticated approach to drumming, with a wide array of tom-toms and cymbals - as well as an affection for complex time signatures and linear song structures - turned Rush into a prog rock band virtually overnight. Within 6 months of Peart joining the band, Rush recorded its second album, Fly By Night. The drummer even wrote most of the album's lyrics, including fantasy-tinged narratives like the 8-minute "By-Tor and the Snow Dog."
Part 4 of Rock History Canada's interview with Andy Curran was posted last week, and Curran talks a bit about Neil Peart's illness and how it was kept a secret for over 3 years, right up until the time of his death in January of last year. You can listen to the interview via YouTube at this location (thanks RushFanForever).
Carrie Brownstein of punk rock band Sleater‐Kinney and her good friend St. Vincent were recently interviewed for the BBC to talk about their new music documentary/comedy film The Nowhere Inn. Towards the end of the interview they are asked to name some of their favorite documentaries and soundtracks, and Brownstein brings up the 2010 Rush documentary Beyond The Lighted Stage:
... The Rush documentary is amazing. ... I didn't know too much about Rush. I knew their hits but hadn't done a deep dive. And you watch this film, and this is what great documentaries do. Oh my God, this band is incredible. I hadn't really thought about the guitar playing. I mean ... everyone talks about Geddy Lee's voice and Neil Peart's drumming, but it was the guitar playing that I suddenly became obsessed with and went back and listened to all of their records. Also they just don't have the typical cliche drama that other bands have. They are just good people. They all got along. I hate to ascribe it to their Canadian-ness, but just putting it out there. Coincidence? We just don't know ...
You can listen to the interview at this location with the Rush part coming in at about the 54:30 mark (thanks Mark W).
Megadeth drummer Dirk Verbeuren was recently interviewed for the Drum For The Song podcast and was asked about his thoughts on legendary drummers John Bonham and Neil Peart (thanks Ultimate-guitar.com):
... Without sounding disrespectful here because that's really not my point, for me, that's not so tough. I would definitely go with John Bonham for two simple reasons. One of the reasons is that I never really listened to Rush over the years. The other reason is that John Bonham's style just speaks more to me personally. But that, again, I just want to make it clear that I'm not disrespecting Neil in any way. He's an incredible drummer. Obviously, he's on the covers of magazines for a reason, and I've since grown to enjoy some of their music a lot, nothing but respect. But John has a personal feel because when I was growing up, my dad always played Led Zeppelin to me. ...
Incubus vocalist Brandon Boyd was recently interviewed for the Fan First podcast, and spoke about the time he learned that Rush's Geddy lee was a fan of Incubus (thanks Ultimate-guitar.com):
... We got a call from Geddy Lee from Rush, I think he heard [the second Incubus album 1997's] 'S.C.I.E.N.C.E.' and he expressed interest in working with us. I'm not sure whatever happened with that, I don't know why we didn't because that would have been incredible. ...
Earlier this week uDiscoverMusic.com posted an article titled The Visual History Behind The Greatest Prog Rock Album Covers and both Rush's Permanent Waves and Moving Pictures albums are featured (thanks RushFanForever):
Longtime designer Hugh Syme was right in tune with Rush's cerebral sense of humor, which found its finest expression on one of their best-loved albums, Moving Pictures. The 1981 cover makes a triple visual pun on the title, with a crew moving paintings out of a museum, teary onlookers being moved by the scene, and a movie crew filming it. There are subtler jokes too: How many museums would have a chilling painting of Joan of Arc's death right next to one of dogs playing poker? (There's an infinite loop here too: Joan is played by the cover's photographer Deborah Samuel). Friends of the band are in the crowd, including Crowbar lead singer Kelly Jay as one of the movers; and it was shot at the three-arched Ontario Legislative Building in Toronto. And this beloved cover almost didn't happen: The label felt that Rush's concept would cost too much, so the band shelled out the expenses itself.
That's all for this week. Have a great weekend!!