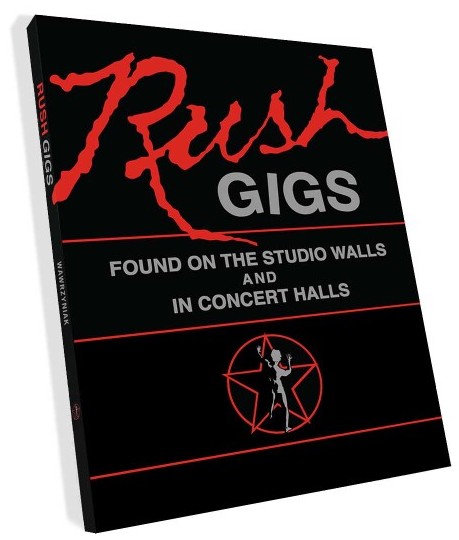 Last Friday Rush announced the release of a new, 208-page book of Rush concert ads and posters titled Rush Gigs. The book is now available for pre-order and will begin shipping this coming Wednesday, December 1st. An autographed edition had also been available but quickly sold out. From the Rush Backstage Club:
Over Rush's long 45+ year history, they played everywhere from "drop-ins" in suburban Toronto to the largest stadiums across the world. Along the way, many bar owners, local newspapers, club designers, and large entertainment conglomerates advertised these shows, these "gigs"- in magazines and marquees and myriad other places.

Within these pages, you'll learn about the first time Neil Peart ever took the stage with Rush, how Santa Claus (!) opened for Rush, and just how extensive their touring really was. You'll see ads and gig posters promoting everything from Rush's first concert in America to the largest crowd they ever played (a benefit show in Toronto) to their final act, at the fabled Forum in Los Angeles. A must for fans of one of the most storied rock acts of all time, Rush.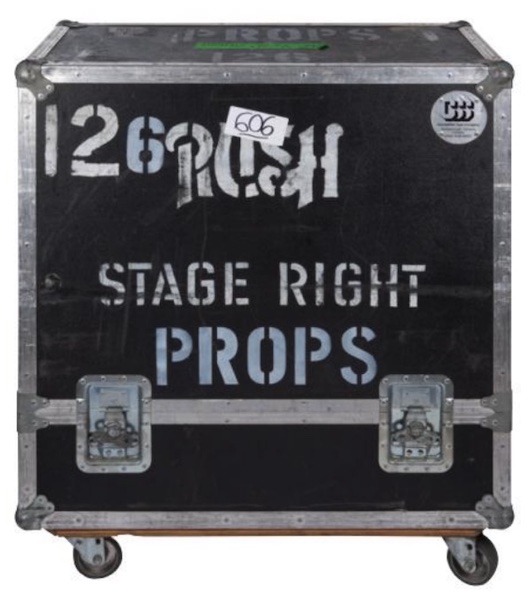 Van Eaton Galleries in Los Angeles is hosting a Music Rising charity auction on Saturday, December 11th to support musicians in the Gulf South who have been impacted by Hurricane Ida and the Pandemic. The auction was put together by U2's The Edge and producer Bob Ezrin, and includes guitars and other artifacts donated by a number of musicians including The Edge, Slash, Paul McCartney, Dave Grohl, Lzzy Hale, Tom Morello, Noel Gallagher, Joan Jett, Bono, Adam Clayton, Paul Stanley, Alex Lifeson and many more. Lifeson's contribution is a tour-used Alex Lifeson signature Hughes & Kenner TriAmp MICEI tube amp and Hughes & Kettner CC412B30 cabinet half-stack Rush rig as seen on pages 30-31 of the auction catalog, and with an opening bid of $2000. For all the details and to place your bid, visit VEGalleries.com.
Speaking of Lerxst and charity donations, Canadian musician Greg Godovitz (Goddo) is running an auction for an acoustic guitar signed by a number of Canadian musicians, including Rush's Alex Lifeson. 100% of the proceeds from the auction will go to assist Canadians in British Columbia that were affected by flooding due to heavy rainfall earlier this month. In addition to Alex Lifeson, so far the guitar has been signed by Eddie Kramer, Kris Kristofferson, David Clayton Thomas, Murray McLauchlan, Ronnie Hawkins and Gordon Lightfoot. The current high bid is $3500 and the winner will be announced Saturday, December 11th at Noon. To place your bid, just send Goddovitz a PM via Facebook here. Thanks to Chris K for the heads up.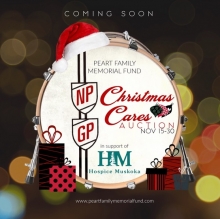 The Peart Family Memorial Fund's Christmas Cares online charity auction is now underway and open for bidding through this coming Tuesday, November 30th. The auction features dozens of unique Rush and Neil Peart related items, several of which are signed by Peart's family members, along with some photos signed by Alex Lifeson. From the auction website:
Thank you for joining us! We are raising funds for Hospice Muskoka, where our Father passed away on June 12, 2021. We hope to have something for everyone! You can also donate directly in memory of a loved one. Thank you so much for your support!
To check out all of the items, and place your bids or make a donation, visit trellis.org.
On the latest episode of the Something for Nothing podcast, hosts Steve and Gerry list off their top 5 Rush albums with the help of Michael Citro of the Michael's Record Collection podcast. You can listen to the show below or via your favorite podcast service:
In the latest episode of the 2 Guys Talking Rush podcast, hosts John and Dan continue their conversation with award-winning Polish filmmaker/innovator Zbigniew "Zbig" Rybczyński, who was responsible for Rush's iconic music video for Hold Your Fire's Time Stand Still. You can listen to part 3 of the interview below or via your favorite podcast service: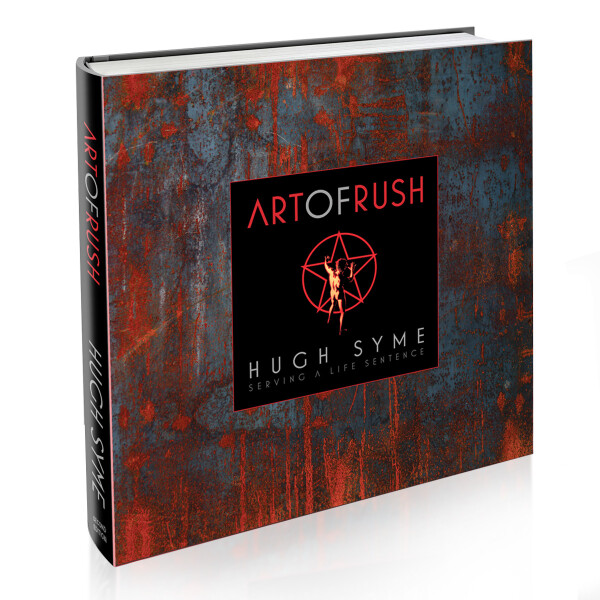 The latest issue of Prog magazine (issue 125) includes a new interview with Rush album artist Hugh Syme, where he talks about his long career working with Rush and other artists (thanks RushFanForever). As an added bonus, the issue comes with an exclusive Art of Hugh Syme calendar featuring Syme's artwork from Rush, Dream Theater and more. Syme released a newly expanded and updated second edition of his Art of Rush: Serving a Life Sentence last month (the original edition was released back in 2015), which is currently available to purchase via Amazon and other retailers. This updated edition includes a newly designed cover along with an additional 24-page section featuring Rush artwork that has been released since 2015, including the 40th anniversary box set releases from recent years, and the upcoming Moving Pictures 40th anniversary box set (not officially announced yet, but expected out early next year).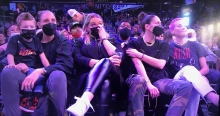 Professinal women's soccer star Mega Rapinoe attended the Suns-Mavericks NBA basketball game last Friday night in Phoenix, and was spotted wearing a Rush t-shirt as seen in this video and screenshot. Thanks to Rafael B for the heads up.
Guitar Player magazine has released a collector's issue featuring the greatest guitar solos of all time as chosen by other famous guitarists, one of whom is Dream Theater's John Petrucci. One of the solos he picked was Alex Lifeson's La Villa Strangiato solo:
"Rush was the first concert that! ever attended, back in 1982, and when I saw them play that song live and witnessed Alex perform that solo, it literally blew my mind! Alex starts off very bluesy and melodic but slowly builds to this insane crescendo. That solo-building technique was so impactful and is something that I try to incorporate in my own playing."
The issue also included the results of a readers poll to determine the 50 greatest solos, and Rush's Limelight came in at #31:
Alex Lifeson has often cited the solo in "Limelight" as his own personal favorite, specifically referencing its sad and lonely qualities and how they reflect the narrative elements of drummer Neil Peart's lyrics, which detail the isolation he felt amid Rush's commercial success. Underscoring that point, the solo section seems to exist in its own atmosphere. The time signature shifts, and everything about Lifeson's guitar playing changes. Instead of the dry, jagged sound he employed on the verses and choruses, his tone becomes spacey and disoriented, an effect he achieved by running his Hentor Sportscaster electric guitar through multiple delays. After hitting a B harmonic, he plays dreamy, elastic notes that cascade over each other, working his vibrato arm to modulate pace and feel. From a series of woozy, bluesy bends, he builds to a thrilling staccato burst and ends with a powerfully sustained high E that cries out as the overdubbed arpeggio riff rises to the surface. The result is pure poetry and a solo for the ages.
Thanks to RushFanForever for the info.
Kip Winger was recently featured in Classic Rock magazine's 10 records that changed my life series, and one of the records he chose was Rush's 2112:
"I'm a huge Rush fan, and was in a three-piece band most of my youth. This record was the pinnacle of three-piece band excellence. I learned all the bass parts the week it came out. My band did our (bad) rendition of 2112. It was like a master class in prog rock. Genius on every level."
Rolling Stone posted their list of the 70 Greatest Music Documentaries of All Time yesterday and the 2010 Rush documentary Beyond the Lighted Stage made the cut at #40 (thanks RushFanForever):
Few bands have had such a divide between critical praise and fan adulation as Rush. Sam Dunn and Scot McFadyen's straightforward doc chronicles the Canadian group from its beginnings as a high school band to the arena-filling prog behemoths they would become. Trent Reznor, Les Claypool, Jack Black, Kirk Hammett, Gene Simmons and Billy Corgan all appear to laud the group's music and influence, but this one makes the list for the treasure trove of archival footage geared toward the Rush completist (including a teen Alex Lifeson fighting with his parents about not finishing school). When the film was released, the self-described "world's most popular cult band" were still three years away from their Hall of Fame induction, but Stage functions as the cinematic accompaniment to that cherry-on-top honor. -J.N.
Now that the Holidays are fast approaching and Old Man Winter is rearing his ugly head, it means that the time is ripe for some celebrity winter advice from Geddy Lee.
I hope all of my US readers had a happy Thanksgiving yesterday and are surviving the madness of Black Friday. Have a great weekend everyone!!