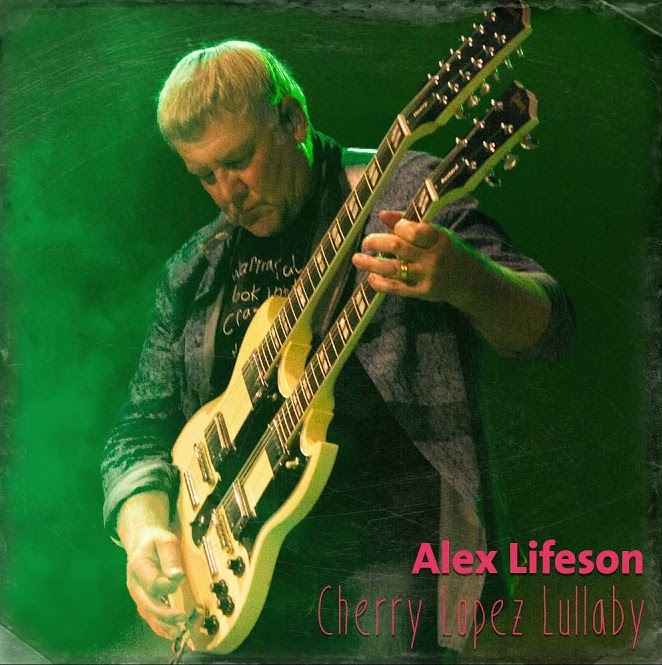 Alex Lifeson sent out his first official AlexLifeson.com newsletter this morning, announcing his new song Cherry Lopez Lullaby along with his new Lerxst Omega bluetooth speaker. The newsletter started out with this message from Lerxst:
Dear Humans,
Thank you for signing up to receive the official Alex Lifeson newsletter! I hope it's worth your effort! I'm sure it might be, maybe...
There's also this hilarious video of Big Al hanging out by his computer and giving us a little update on the Envy of None project:
... Envy of None's coming along and it sounds so amazing ... [long pause while Lerxst mugs for the camera] ... So it sounds so amazing, and we're mixing it and it's gonna be good. It's gonna be good music. ...
The newsletter also announced the release of Alex's new song Cherry Lopez Lullaby which you can listen to below or on YouTube here:
This was written during the mix session of Clockwork Angels while in LA for months starting early 2012. I did an interview with High Times and the interviewer brought along a friend, an esteemed grower who provided a sample of his creation named Cherry Lopez. Because I was on an EST body clock, I was up most mornings @ 5:00 AM. I'd order coffee, sit on my hotel room balcony, read the paper and wake and bake then dive into making some fun sounds while the city was waking up. I had some borrowed acoustic and electric guitars for the duration, thankfully, as sitting around waiting to go to the studio was tedious and certainly, a bowl of Cherry kept my appetite healthy.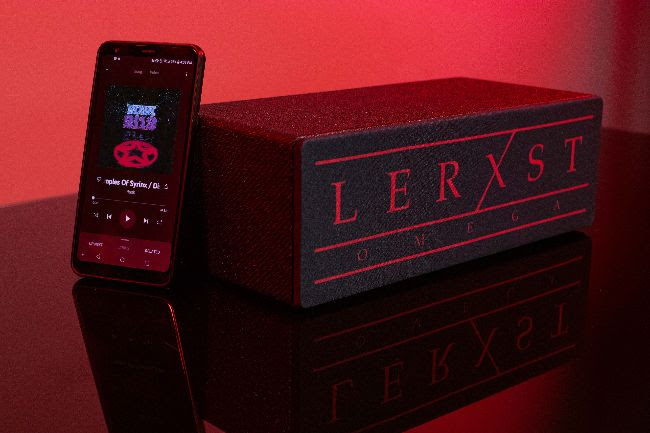 And that's not all! Alex has teamed up with the speaker wizards at Audio Engine to create a custom B2 Home Wireless Music System called the LERXST Omega Limited Edition B2 bluetooth speaker:
Hey Kids, here's your chance to own The LERXST Omega Limited Edition B2 home wireless music system! WOW, NO WIRES!! And you get some speakers, maybe around 2, included with this unbelievable package and man, they sound like a thousand speakers, probably. And if that wasn't enough already, it will arrive in a professional, recyclable, all cardboard box with a hi-tech plastic handle that you don't need to return...go ahead, keep it! Order yours today and for a *limited time offer, we will ship it to you, most likely! *offer only good until we change our minds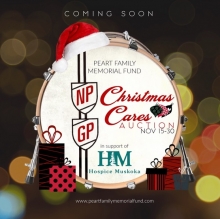 The Peart Family Memorial Fund will be sponsoring a Christmas Cares online charity auction next month from November 15-30. The auction features dozens of unique Rush and Neil Peart related items, several of which are signed by Peart's family members, along with some photos signed by Alex Lifeson. From the auction website:
Thank you for joining us! We are raising funds for Hospice Muskoka, where our Father passed away on June 12, 2021. We hope to have something for everyone! You can also donate directly in memory of a loved one. Thank you so much for your support!
To check out all of the items and make a donation, visit trellis.org.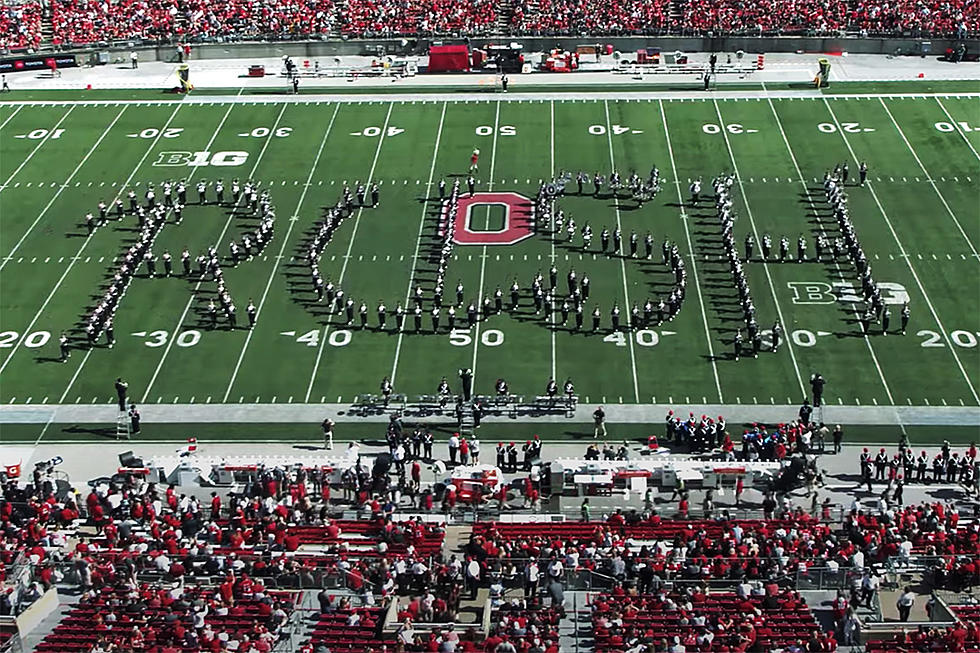 The Ohio State University Marching Band's amazing halftime performance of the music of Rush earlier this month garnered a lot of attention over the past few weeks from the music press and fans worldwide, with even Rush themselves chiming in via Twitter saying, "We're speechless". You can watch the entire performance on YouTube at this location. The Band also performed the show at the Buckeye Invitational last week and recorded a bass drum POV video which you can check out here. OSU Director of Marching and Athletic Bands, Dr. Christopher Hoch, was the guest on this past week's episode of the Something for Nothing podcast and spoke with hosts Steve and Gerry about the difficulty of performing Rush songs, and all the positive feedback the performance received. You can listen to the episode below or via your favorite podcast service:
In the latest episode of the 2 Guys Talking Rush podcast, hosts John and Dan chat with Rush video director David Davidian, who won Video Director of the Year at the Parnelli Awards in Las Vegas in 2013 for his work on Rush's Clockwork Angels Tour video. You can listen to part 1 of the interview below or via your favorite podcast service:
A new musical based on the Oscar-winning 1982 film An Officer and a Gentleman had its world premiere last week at the Clemens Center in Elmira, kicking off a multi-season national tour that will visit more than 50 cities in the 2021-2022 season. The musical is written and directed by Tony nominee Dick Scanlan and features a score of 1970-80s music that includes Rush's Fly by Night along with the Grammy-winning hit single Up Where We Belong and hits from Rick Springfield, Styx, Debbie Gibson, Richard Marx, Wilson Phillips, Pat Benatar, and more. You can get all the details via the musical's website at officerandagentlemanmusical.com (thanks RushFanForever).
Drummer Mike Portnoy (Dream Theater, Winery Dogs) recently sat down for an interivew with Twisted Sister bassist Mark "The Animal" Mendoza's Internet show 22 Now and was (once again) asked the hypothetical question regarding his interest in taking over the drumming duties in Rush with Geddy Lee and Alex Lifeson:
... Of course. That would be a dream to play with those guys. But I don't wanna see the Blabbermouth headline right now, me thinking that I deserve the gig. I'm not saying that. You're asking me a question. Hypothetically, of course, it would be a dream come true. Neil was my hero, and always will be, and Geddy and Alex are as well. ... I don't think in a million years they'll play without him; I really don't. But in a hypothetical dream scenario, I mean, come on - of course. But I don't think in a zillion years it will happen. But it's a nice dream to hypothetically wonder about. But I honestly don't think it would ever happen. But who knows? You never know. As much as hypothetically it would be fun, it would be amazing, it would also be an impossible role to fill. It's a no-win situation. Really, it would be impossible, 'cause his fans are as obsessive as they get - and count me amongst them. So, yeah, that would be a tough one. ...
Portnoy also addressed Rush's final tour in 2015:
... They went out on such a high. Their last tour was a farewell tour. I don't think anybody expected Neil to pass, but they wanted to stop touring, so they really went out with such an amazing tour. That tour was just so well done, so perfectly executed, and they went out with all three of them still at the top of their game. So I give them all the credit in the world for that. It's just sad that Neil didn't get many years to enjoy the retirement before he got sick. That saddens me. ...
Thanks to Blabbermouth.net for the heads up and the transcription.
Kevin Comeau and Cody Bowles of Canadian prog-rock duo Crown Lands were recently interviewed for Guitar.com to talk about their new EP White Buffalo. The pair are huge Rush fans and were asked whether they think they could ever get Geddy or Alex to play on a Crown Lands record (thanks RushFanForever):
KC: "We met Geddy a few years ago when we toured with Primus. Les was doing The Claypool Lennon Delirium gig in Toronto and Geddy came onstage to play Tomorrow Never Knows by The Beatles with them. So afterwards we went backstage and hung out. Geddy was really sweet, but he was more interested in talking about wine with Les, which is totally understandable [laughs]. He just came to see his buddy and we're there like, 'We're not worthy!'"

"But who knows? I don't even know what they think of Crown Lands. They could see this and think 'who the fuck are these kids?'"

CB: "But we're all inspired by somebody, so just own it! People take inspiration from everyone [moves camera to show Rush posters in their room]."

KC: "We haven't met Alex yet, but I'd love it if we could jam with them. They're in their own worlds and they deserve to enjoy their lives. They've been nothing but music for 40 years."
WhatCulture.com posted their list of 10 Perfect Rock Albums Of The 1980s this past week and Rush's Permanent Waves was included at #10:
... Coming at the very start of the '80s, Permanent Waves is the sound of this Canadian three piece finally finding out what works best for the Rush mold, incorporating everything from reggae music to multi part songs without batting an eye. Though some of these tracks are a bit on the long side for rock radio standards, it would take a strong listener to hear the opening lick of Spirit of Radio and decide to turn the dial. When breaking down the lyrics, this is also one of the more emotional albums that Rush would ever make, with Neil Peart dealing with the idea of freedom of choice on Freewill and the harsh realities that come with trying to find human connection on Entre Nous. The subject matter might seem dour as all hell on the first listen, but the actual music is some of the most fun that you will have while listening to prog rock.
UltimateClassicRock.com posted an article this past week on how 16 rock acts changed their sound on their first album after Grunge hit the music scene back in the early '90s. One of the albums profiled is Rush's 1993 Counterparts album:
Although some fans have theorized that the heavier, more guitar-oriented approach of Rush's 1993 Counterparts album was a reaction to the ascension of grunge, Alex Lifeson told UCR it wasn't that clear-cut. "Maybe a little subconsciously," he noted. "I think there were some moments where we leaned towards that grungy sound or arrangement. I think more so, it was a reaction to the previous couple of records, Roll the Bones and Presto. We changed coproducers, and those records, in terms of sound, were lighter. I was never quite comfortable with that." Still, the guitarist was quick to praise the younger bands and acknowledge their connection to Rush. "Soundgarden, Pearl Jam - I loved those bands and I thought they were all so good," he said. "I think we influenced a lot of those musicians. Certainly a lot of them have mentioned us in their bios. It's nice to have been a part of it in that way."
This past week uDiscoverMusic.com posted their list of the 72 Best Albums of 1978 and Rush's Hemispheres made the cut at #41 (thanks RushFanForever):
The Canadian rock band's sixth studio album is a trippy prog rock classic that traverses sci-fi, politics, and the state of the world in a way that still resonates today.
Today is the 40th anniversary of the release of Rush's 1981 live album Exit ... Stage Left! In celebration, here's the ESL Medley (By-Tor and the Snow Dog/In the End/In the Mood/2112: Finale) from the Exit ... Stage Left concert video. Happy anniversary!!
That's all for this week. Have a great weekend and a happy Halloween everybody!!