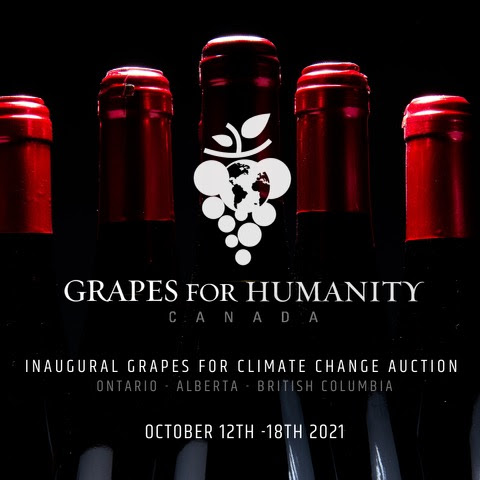 Grapes for Humanity is an organization that helps to raise funds to benefit humanitarian causes around the world with the assistance of the international wine community, and Geddy Lee is a member of the board of directors. The charity is hosting a Grapes for Climate Change online fundraiser auction, and have kicked off three Canadian provincial wine auctions in Ontario, Alberta and BC, to raise funds to aid in the battle against the threat of climate change. The proceeds will benefit Nature Conservancy Canada, and Tree Canada, along with global communities in need. These inaugural auctions are handled by Irongate Auctions, and the Vancouver Club in BC. The auctions began yesterday and will run through Monday, October 18th at 9PM. The items up for auction include guitars and other items signed by Geddy Lee and Alex Lifeson, as described by Geddy (via the Rush newsletter):
"Last year, my BFF Alex and myself donated numerous signed items to benefit the struggling hospitality industry and you came through with flying colours to help all manner of restaurants and their workers get through the pandemic. Today we are asking for your support once again. Wines from my personal collection, Luxe Editions of the BBBoB, An Alex Lifeson Signature Epiphone Guitar and one of my Signature Fender Jazz Bass models. All signed and in effort to raise money for Grapes for Humanity, this time in aid of the dire Climate Change Crisis we are facing, as well as the variety of programmes around the globe, that GFH Canada has been supporting through the years." - Geddy Lee
The Rush-related items are part of the Toronto-based auction and are as follows by LOT number:
* #56 - Autographed Alex Lifeson Epiphone Signature model Guitar - signed by Alex Lifeson and Geddy Lee

* Lot #57 - Autographed Fender Jazz Bass - Geddy Lee signature model - signed by Geddy Lee

* Lots # 58, 59 and 64 - each lot contains 4 bottles of 2005 Hospices De Beaune Burgundy made specifically for Geddy Lee by Lucien Le Moine and each bottle signed by Geddy Lee ( Mazis-Chambertin, Volnay Santenots, and Beaune des Avaux)

* Lot #'s- 60,61, 62, 63, 65, 66, 67, 68, 69, and 70 are all either bottles or Magnums of wine which came directly from Geddy Lee's personal collection and each are signed by Geddy Lee - they include fine Burgundy, Barolo, Felton Road Pinot Noir, and Brunello from various top producers.