UPDATE - 9/21@12:33PM: The imitation leather hardbound version of the book is now available for pre-order via Amazon, and currently due to release on April 5, 2022.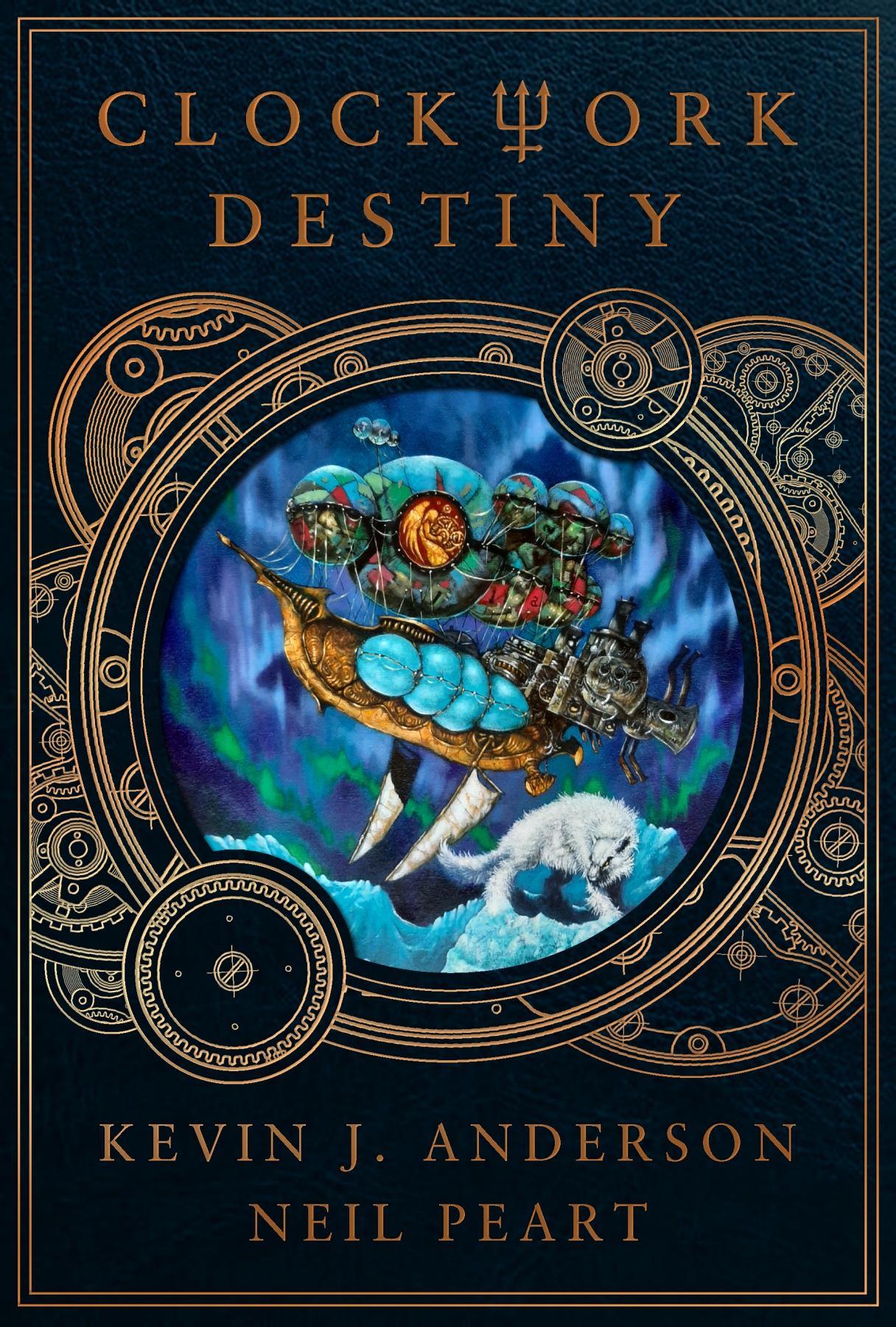 Over the past year, author Kevin J. Anderson has been busily working on Clockwork Destiny - the 3rd and final novel in he and the late Neil Peart's Clockwork Angels trilogy. The first 2 novels in the Trilogy - Clockwork Angels and Clockwork Lives - were released in 2012 and 2015 respectively. Clockwork Destiny is slated for release in April of 2022, and publisher ECW Press has provided Rushisaband.com readers an exclusive first look at the impressive cover art by Steve Otis, along with these comments from author Kevin J. Anderson:
"Neil and I plotted one more great adventure with Owen Hardy in his last years. And the Steve Otis cover painting perfectly evokes the color and mystery of the Watchmaker's amazing world. I think Clockwork Destiny is my best work-can't let the Professor down."
You can view the full cover art here. From the publisher's description:
The final volume in the New York Times-bestselling, award-winning steampunk trilogy by Kevin J. Anderson and legendary Rush drummer Neil Peart

In Clockwork Angels and Clockwork Lives, readers met the optimistic young hero Owen Hardy, as well as the more reluctant adventurer Marinda Peake, in an amazing world of airships and alchemy, fantastic carnivals and lost cities. Now Owen Hardy, retired and content in his quiet, perfect life with the beautiful Francesca, is pulled into one last adventure with his eager grandson Alain. This final mission for the Watchmaker will take them up to the frozen lands of Ultima Thule and the ends of the Earth. Marinda Peake must undertake a mission of her own, not only to compile the true life story of the mysterious Watchmaker, but also to stop a deadly new group of anarchists.

The Clockwork trilogy is based on the story and lyrics from the last album of musical titans Rush, with Anderson and Peart expanding the world, stories, and characters. The two developed the final novel in the trilogy in the last years of Peart's life, and more than a year after his passing, Anderson returned to that unfinished project, with the full support of Peart's wife, bringing Owen and Marinda's stories to a satisfying and stirring conclusion. ...