UPDATE - 9/14@9:22AM: Here's Geddy's Instagram tribute to Neil on his birthday:
----- snip -----
UPDATE - 9/13@9:17AM: There was brief homage to Neil Peart in last night's Season 5.5 premiere of Showtime's Billions (Season 5, Episode 9 - Implosion). Wendy Rhoads (Played by Maggie Siff) was talking to her boyfriend painter Nico Tanner (played by Frank Grillo) about his rise to popularity and says, "Penthouse walls, echo with the sound of salesmen." To which Nico replies, "That guy was an artist. Right? Neil Peart?". The reference comes in around the 9-minute mark. Thanks to RUSHnATL and Kelly P for the heads up. Showrunner Brian Koppelman is a huge Rush fan and purposely inserted the reference, as he warned in this tweet yesterday:
Today is Neil Peart's birthday. Artistic giant. Legend. Gone way too soon. For Peart fans, there's a little something for you in tonight's ep of #Billions. It's already avail on demand and on showtime anytime. As NP said: You can choose.

- Brian Koppelman (@briankoppelman) September 12, 2021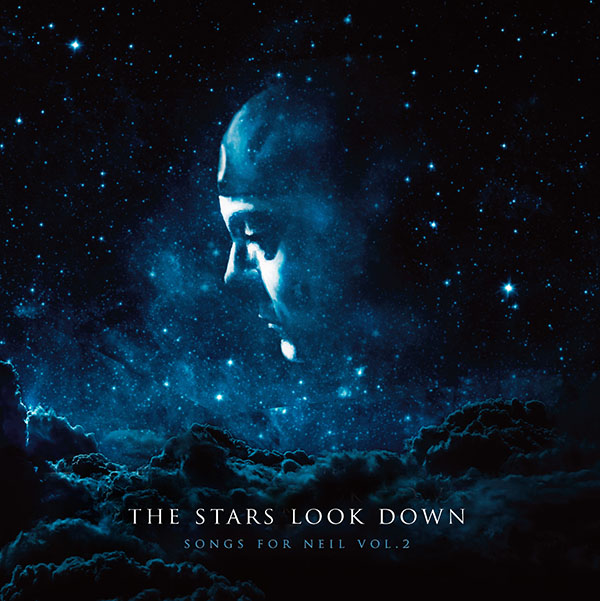 Today is a bittersweet day for Rush fans as we recognize our 2nd September 12th without Neil Peart. Neil was taken from us early last year on January 7th after a long battle with glioblastoma. Today would have been his 69th birthday. Last year on Neil's birthday, RUSHfest Scotland sponsored the release of an album of Rush songs dedicated to the iconic drummer titled TRIBUTES - SONGS FOR NEIL VOL.1, played by Rush tribute bands and musicians from around the world. Proceeds from sales of the album were split equally between two charities - Glioblastoma Foundation Neil Peart Research Award in the USA and Cancer Support Scotland (registered charity SC012867). They are following up that release with THE STARS LOOK DOWN - SONGS FOR NEIL VOL. 2, releasing today in celebration of Neil's birthday. Bands featured on the release include YYNOT (USA), Huis (Canada), Jacob Moon (Canada), Fleesh (Brazil), Rushed (England), 2YY2 (Spain), and Moving Pictures with Seeing Red (Scotland). As before, all profits from sales of this album will be going to Cancer Support Scotland in the UK and the Glioblastoma Foundation Neil Peart Research Award in the US. The album is available in blue-marble vinyl (limited to only 300 copies), CD, and digital formats. Artwork for the package is also available. Visit the RUSHfest Scotland website for all the details and to order your copy.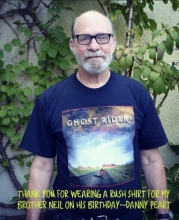 Just like last year, musician Brandon Dyke has made a request on behalf of Neil Peart's brother Danny Peart (Brandon and Danny have been collaborating on various music and poetry projects) via this YouTube video asking fans to wear a Rush t-shirt in tribute to Neil today:
On behalf of @dannygpeart , (Neil's brother) I want to let you know that he would like all of Neil's fans, friends, and family to celebrate Neil's birthday on September 12, 2021 by wearing a Rush Shirt to honor Neil. (And a great band!) If you feel like sharing your picture with your Rush shirt on social media, Feel free to use any hashtag like this: #happybirthdayneil #happybirthdayneilpeart #happybirthdaybubba #bubbarulez etc. ( Pratt, The Professor, Ellwood tc ) ...
One of Neil Peart's favorite mantras was, "What is the most excellent thing I can do today?" I can think of no more fitting way to celebrate Neil Peart's legacy than for everyone to take this advice and go do something excellent today in honor of The Professor on his birthday.