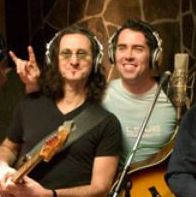 Barenaked Ladies frontman Ed Robertson was recently interviewed for Classic Rock magazine's upcoming issue to talk about the band's new album Detour de Force among other subjects. Classic Rock posted a brief teaser of the interview earlier today and Robertson revealed that he is currently working on a secret project with Rush's Geddy Lee. From the article (thanks RushFanForever):
... In the upcoming issue of Classic Rock, Robertson opens up about his love for [Geddy], describing their bond to be similar to that of family. He also shares that he's been in the studio with Lee working on a project he "can't talk about". "Geddy is somewhere between my surrogate father and imaginary big brother," he tells Classic Rock. "I love him so much. I was in the studio with him yesterday for a super-secret project that I can't talk about." ...
No other details are provided. The issue of Classic Rock referenced goes on sale next week. The Barenaked Ladies and Rush have crossed paths many times in the past. Geddy indirectly contributed to BNL's new album by letting them borrow his Taurus bass pedals as Robertson and bassist Jim Creeggan have both described in many recent interviews. Geddy also inducted BNL into the Canadian Music Hall of Fame back in 2018.